Collins' Crypt: Horror Returns To The LA Film Festival
After a few years of slim pickings, the LAFF has included a whopping seven horror/thriller movies in the 2016 lineup.
For as long as I've been writing about horror movies for a non-living, I've attended the Los Angeles Film Festival (LAFF), coincidentally held here in Los Angeles. Thanks to it, I got to see gems like Let The Right One In, The Innkeepers, and the first Conjuring long before their theatrical releases, not to mention the thrill of seeing the insane Embodiment of Evil with a big crowd (that one, unsurprisingly, did not get any sort of theatrical release here in the US, far as I know). But over the years they have seemingly gotten VERY selective with their genre offerings; when I first started going (2007) I would often have at least four or five movies in my wheelhouse, but those numbers seemed to dwindle over time. In fact, in 2014 they didn't actually have a single horror film in the lineup, which is insane to me.
Granted, for all I know they didn't get any submissions, but it would seem silly for filmmakers to skip trying to get their film into the festival. The limited horror selections mean local horror fans (and I believe Los Angeles has more than a few) would all but ensure a popular screening, as they wouldn't be spread too thin - a far cry from the October festivals, of which we have far too many in my opinion, resulting in some scarcely populated showings as there are always a dozen other things vying for our attention. And that's the other benefit - even if LAFF always had a healthy amount of horror films on their schedule, it'd still be the only game in town at a time when nothing else is going on, in terms of festivals known for their genre highlights. The spring fests like SXSW are over, the summer ones (Fantasia, Frightfest UK) are a ways off, and obviously it's a long wait before the fall craziness - you can guarantee some buzz at a time when it won't be drowned out by anything else.
Here's a good example: last year there was a really great horror movie that was truly scary, fairly original, and featured a pair of Game of Thrones actors, and it played at Sundance. You're probably thinking I mean The Witch, but I could also be describing The Hallow, which was picked up by IFC and well received, but its acclaim was drowned out by cries of "Black Phillip!" and much deserved praise for its (newcomer) lead Anya Taylor-Joy. I mean, as fans I guess it's a good thing that there was more than one horror movie worth raving about, but it's a pity that The Hallow (which is also more traditionally horror and thus likely to be enjoyed by the mainstream a bit more than The Witch) kind of flew under the radar because all of the attention went elsewhere. Granted, LAFF is no Sundance, but if the film had premiered there instead, all of the major horror sites (Dread Central, Shock Till You Drop, etc.) would likely have been in attendance and giving it its due at a time when there wasn't much else to distract readers.
Luckily, this year is a return to the early days, with at least five new horror movies premiering at the festival, plus a premiere of The Conjuring 2 for good measure (albeit only a few days before its traditional release, as opposed to the month's lead that the original got - though I guess they don't need to build buzz for a sequel to the highest grossing horror movie of the past decade). As a result, this means I'll actually be using my pass more than once or twice (and thus, while I'm there, more open to checking out non-genre offerings I otherwise wouldn't make an exclusive trip to see*), and it also means - if they're good - that a few films can start building awareness among horror fans NOW as opposed to a couple months from now, when you'll be hearing about so many new movies that it'll be impossible to keep track of all the ones you need to check out when they're released to the masses.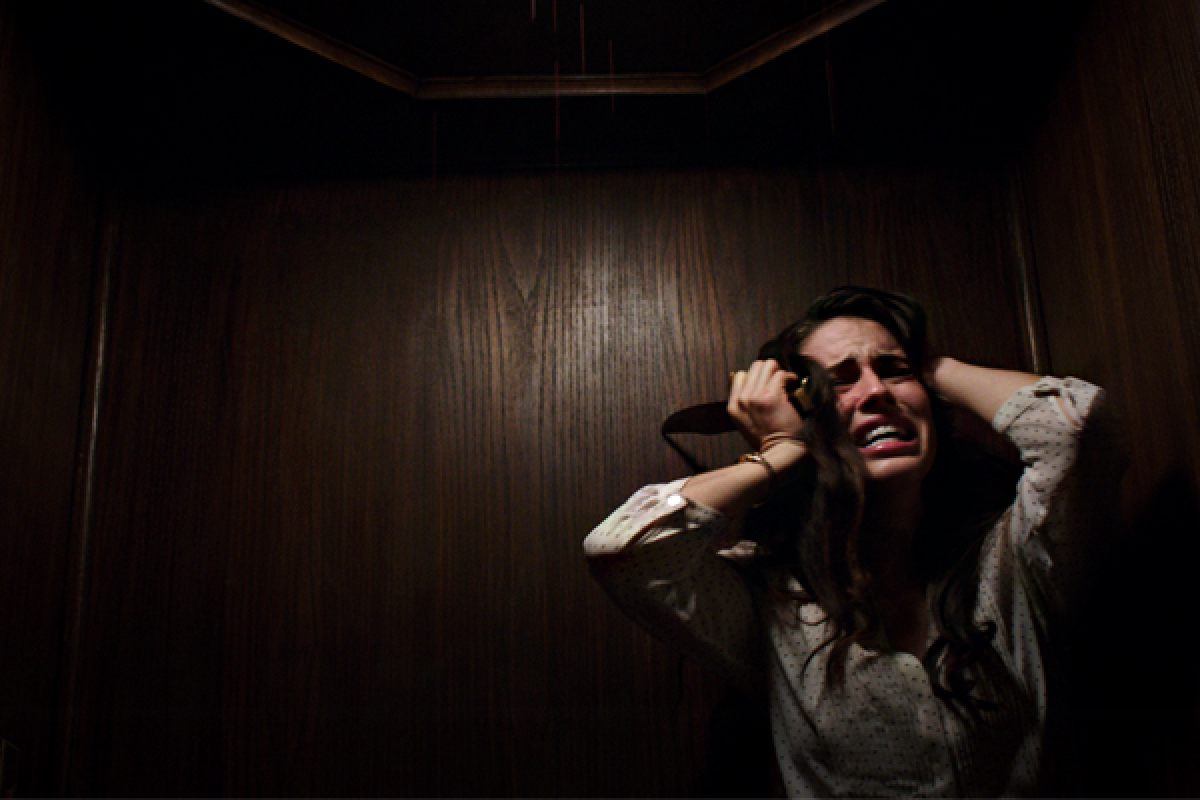 Of much interest to me is Abbatoir, which is Darren Bousman's first traditional horror feature in a while and is based on the comic book he created a few years back (which I read and quite enjoyed). The comic dealt with a mysterious man who was buying houses where someone was murdered... but WHY? The movie is said to be a new story within that world, not a direct translation of the six issue miniseries, so that should make it appealing for fans of the book and total newcomers alike. The cast includes the great Joe Anderson, a few genre favorites like Lin Shaye and Michael Paré, and Deadwood/Sons of Anarchy's Dayton Callie, which should also help its chances of finding an audience on VOD and/or in theaters when it comes along later this year. If Bousman can apply his penchant for Grand Guignol theatrics to a haunted house story (which is what he's described it as), it should make for a fine alternative to the PG-13 Insidious films (not to mention that franchise's numerous wannabes), and I'm always up for more comic book movies that don't involve superheroes and cities being destroyed.
I'm also always up for more movies with Barbara Crampton, so I would be insane to miss Beyond the Gates, in which she plays the host of a haunted VCR board game that unleashes deadly consequences for those who play it (so it's Jumanji meets Evil Dead, I guess?). When I was a kid I had a horror-themed VCR game called Doorways to Horror that was completely incomprehensible to me (the entire video is on Youtube; go to 1:53 for an example of its baffling gameplay), and every time I tried to figure it out I'd just get frustrated and settle for watching the tape, which was comprised of clips of public domain horror movies, with added "Haunted House" cheapo music and laughable narration - it was pretty awesome. If the movie, which also features Brea Grant and John Dies at the End hero Chase Williamson, can evoke some of that appeal and tell its own intriguing story, it should be a winner - not to mention a rare "fun" horror film for the fest, as their limited horror selections tend to be of the more serious nature.
Don't Hang Up is an interesting one, in that it sounds like a reversed-sexes remake of William Castle's I Saw What You Did (which I oddly enough just watched today, and even odder - I learned later today is the anniversary of Castle's death). It's from a pair of first-time filmmakers, Alexis Wajsbrot and Damien Macé, who have a visual FX background (including Game of Thrones), and while that is usually a red flag, it's worth noting that the film doesn't seem to be an effects-heavy affair. That is usually the problem with FX guys who direct - their movies are just showcases for their own companies (see, or actually never ever see, anything from the Strause Brothers). Director pairs are sort of in vogue for the genre these days - we can thank two directors for the likes of Starry Eyes, Inside, and The Strange Colour of Your Body's Tears (not to mention Lord & Miller, the Russos, etc.). I don't know too much about it beyond the concept (a prank call going deadly wrong), but like Beyond the Gates, it seems like it could be a little more commercially appealing and thus not the sort of thing you see too often at the fest.
Mercy comes from Chris Sparling, who made his name as a screenwriter for a few high concept thrillers - Ryan Reynolds' pretty great Buried and the woeful ATM, about three people trapped in an ATM vestibule. But he also made his directorial debut on The Atticus Institute, which I found to be one of the better faux doc horror films of the (too) many that have sprung up over the past few years (note the distinction - it was presented as an actual documentary, not a "found footage" movie), and thus I can forgive him for ATM once and for all if this turns out good. It's a home invasion movie, which is also getting to be a bit too omnipresent of late, but if he could impress me with a fake doc horror when I had long grown tired of such things, it shouldn't be that hard to win me over with home invasion, which I'm not sick of at all - just getting to the point where a new one doesn't excite me as much as it might have four or five years again. Plus it's unique in that it's a very male-centric cast, with four brothers and their overbearing father (plus a girlfriend, yes) defending the comatose matriarch from the usual masked attackers. Yes, it seems a bit You're Next-y, but it'll be a cold day in hell before a horror movie can/should be dismissed for having similarities to another (easiest example: Halloween and Black Christmas).
I don't know a damn thing about Villisca, the movie, but I do know the true-crime story it's based on, and it's a chilling one I'm surprised hasn't been mined to death over the past hundred years (or at least, the portion of the past hundred years where people thought it was OK to make horror movie entertainment on real life tragedies). In 1912, a family of six (parents and four children) and two of the children's friends were all killed by a killer or killers who have never been identified. There were some suspects, including a reverend named George Kelly who was tried TWICE for the murders (hung jury first time, acquitted the second), but no one was ever positively marked as the culprit, leaving the case unsolved (being that it was in 1912, whoever did it is obviously dead by now, so it probably always will be) and the story an obvious magnet for ghost tales. Indeed, the case has been covered on a couple of those paranormal shows, and the house can be rented as a hotel to would-be ghost hunters, so it's no surprise that the film is NOT a Zodiac-like account of the tragedy but a modern day story of three high schoolers who enter the house with their EPK equipment and things, I assume, get spooky. I'm not exactly starved for paranormal haunting movies, but the real-life case has always unnerved me, so I am curious about that element - enough to let the ghost-y stuff slide.
And as mentioned, The Conjuring 2 will premiere as part of the festival, a few days before its standard, presumably very successful theatrical run. James Wan has the Midas touch as of late and I can't see this being an exception, but of less certainty is Lights Out, which he produced but did not direct (David F. Sandberg did, and apparently has Wan's blessing as he's also directing the Annabelle sequel). But LAFF is giving Sandberg a bit of a good luck charm slot - like the original Conjuring, it's showing at the festival over a month before the film hits theaters (on the same weekend Conjuring struck gold in 2013), so I'm sure they are hoping for the same sort of success. I'm not sure if I'll check it out then - knowing it's coming just five weeks later makes it less of a priority, and I'm not seeing anything else that night (June 8th) so it'll come down to whether or not I feel like driving to Culver City for the 6th night in a row just to see one movie I know I'll get another chance to see later.
But with these others, it's less of a guarantee. I've noted this in several other Crypt articles - there are movies I've seen at festivals that have never been picked up for distribution at all, let alone released (not to mention movies like poor Livide, which WAS purchased and has been sitting in a Dimension vault for nearly five years now). And there's also no guarantee the ones that do get sold will land theatrical distribution, so it can be only chance to see these five films (and whatever other non-genre films I find time for) in my preferred setting - with a big crowd of people who presumably want to be there. The festival kicks off tomorrow, June 1st, with a premiere of Lowriders, followed by the first full day of programming (including Beyond the Gates' sold out first screening) on Thursday the 2nd. It runs until June 9th and will be held at the Culver City Arclight - more info can be found at their site here. I should be at Gates - see some of you there I hope!

*The last time I did that at the festival, it was for Cold Souls, a Being John Malkovich wannabe with Paul Giamatti that might be one of the worst professionally made movies I've ever seen.