We Traveled The Beam To Bring You DARK TOWER Set Photos
Roland takes Manhattan!
Nikolaj Arcel's The Dark Tower was filming in NYC this weekend, and all the major players were on-hand: Roland Deschain (Idris Elba), The Man In Black (Matthew McConaughey), and Jake Chambers (Tom Taylor).

Luckily, so were two badass Birth.Movies.Death. readers, Tom Lorenzo (@ragingbull1990, if ya nasty) and Anthony DiCaprio (who can be found at @ohsnapitsDiCap). These heroes braved mild weather and what appears to be very slight crowds in order to snag some truly awesome The Dark Tower set photos for us. Say Thankee, and we are forever in their debt.

(Actually, I'm just gonna send both of 'em some sorta prize, at which point we'll be square, but whatever. The point is, we owe these guys our thanks, because these pics are awesome.)

Below you'll find a bunch of pics from both Anthony and Tom, and I'm opening up the floor for everyone to pick them apart for clues: are those blue taxis what yellow cabs look like in Jake's world? What's up with Roland's strappy-ass vest? Why are Jake and Roland together in NYC, given that this is the first The Dark Tower movie?

I think I know the answer to that last one, but explaining it will involve some digging on my part, so I'll address that in a separate post later in the week. For now, let's all ogle Anthony and Tom's photos and see what else we can see.

Let's start with Tom's.
Pretty cool, right? Now let's look at Anthony's.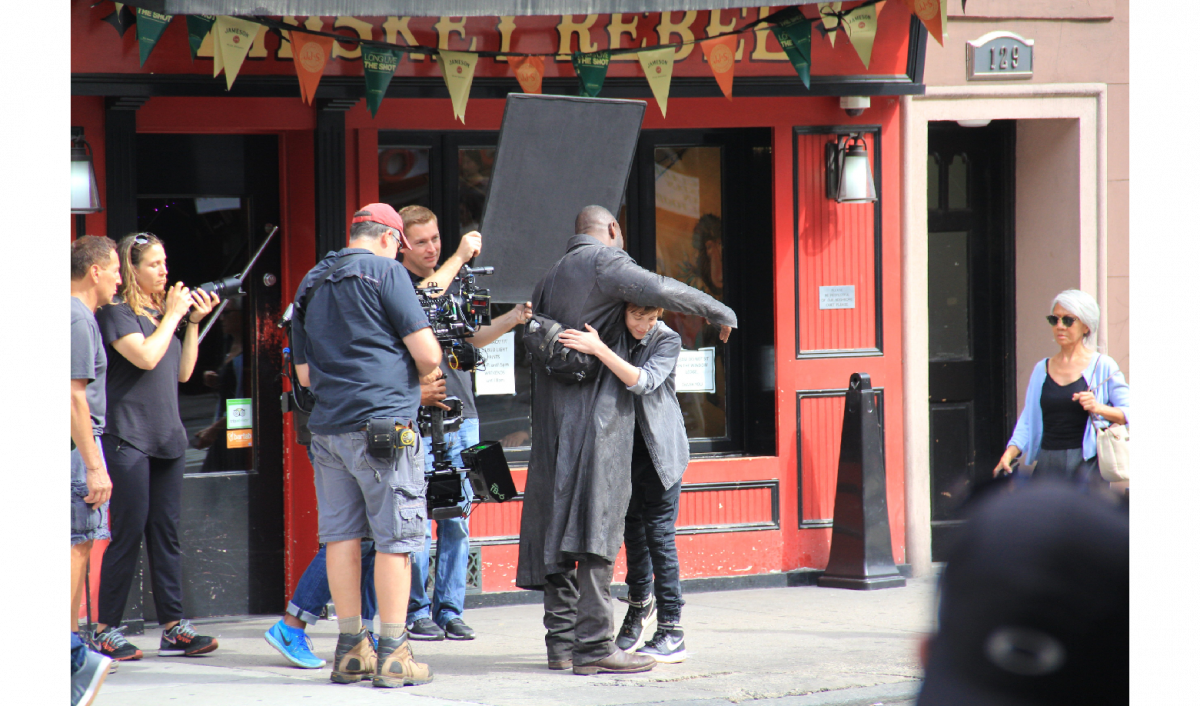 Holy SHIT. That is Roland hugging Jake Chambers on the streets of NYC. Never thought I'd see the day.
Anthony also sent along a description of what he saw being filmed. It reads as follows:
The two pics of them hugging I think was them messing around after the they cut, but who knows, it could be an embrace after Jake remembers Roland. Also the PA's were calling this scene the "First Meet." Not sure if they're meeting for the first time after Jake dies. Who knows man they're taking a lot of liberties with the story.

They also shot a quick scene of Jake walking down the street next to a friend reading a sheet of paper, I threw one pic of that in here, I couldn't really get a good shot of it. Not sure what it means storywise, but I figured I'd mention it.

Also the cabs were blue making me think its an alternate version of New York, like in the book when Eddie grew up in Coop City in Brooklyn when it's actually in the Bronx.
All of this sounds really cool. Bummer we couldn't be there to see it for ourselves, but thanks to Anthony and Tom, we got the next best thing. Let's all say thanks to these guys in the comments below, and stay tuned for a deep(er) dive into what may be going on here later in the week.