Pssst: There's A Secret Hidden In EW's THE DARK TOWER Cover
What's The Man In Black reaching for, anyway?
Last week, Entertainment Weekly debuted the cover of its SDCC issue, and there was much rejoicing from Dark Tower fans the world over. Finally, a nice, big, totally official look at Idris Elba and Matthew McConaughey as Roland Deschain and Walter, The Man In Black. These guys really do look so much better without the Just Jared logo plastered over them.
Anyway, the cover was great, and was accompanied by a series of wildly-informative posts about the film. For the first time, Idris Elba spoke on the record about Roland's race-swap. We got our first look inside the Dixie Pig. We got a new batch of photos, some of which provided our first look at Mid-World. And of course, there was the bombshell: The Dark Tower movies are meant to function as a sequel to Stephen King's epic series, not a straight adaptation.
This was all very exciting, but as it turns out, Entertainment Weekly had one more trick up its sleeve. You just had to know where to look for it.
If you head on over to thesombragroup.com, you'll see that Sony's set up a faux website for The Sombra Group, one of the nefarious fictional companies that play a role in The Dark Tower cycle. There's not much there, but at the bottom of the page you'll see that the Sombra Group's got a downloadable app. Download that app and you'll find yourself looking at this screen: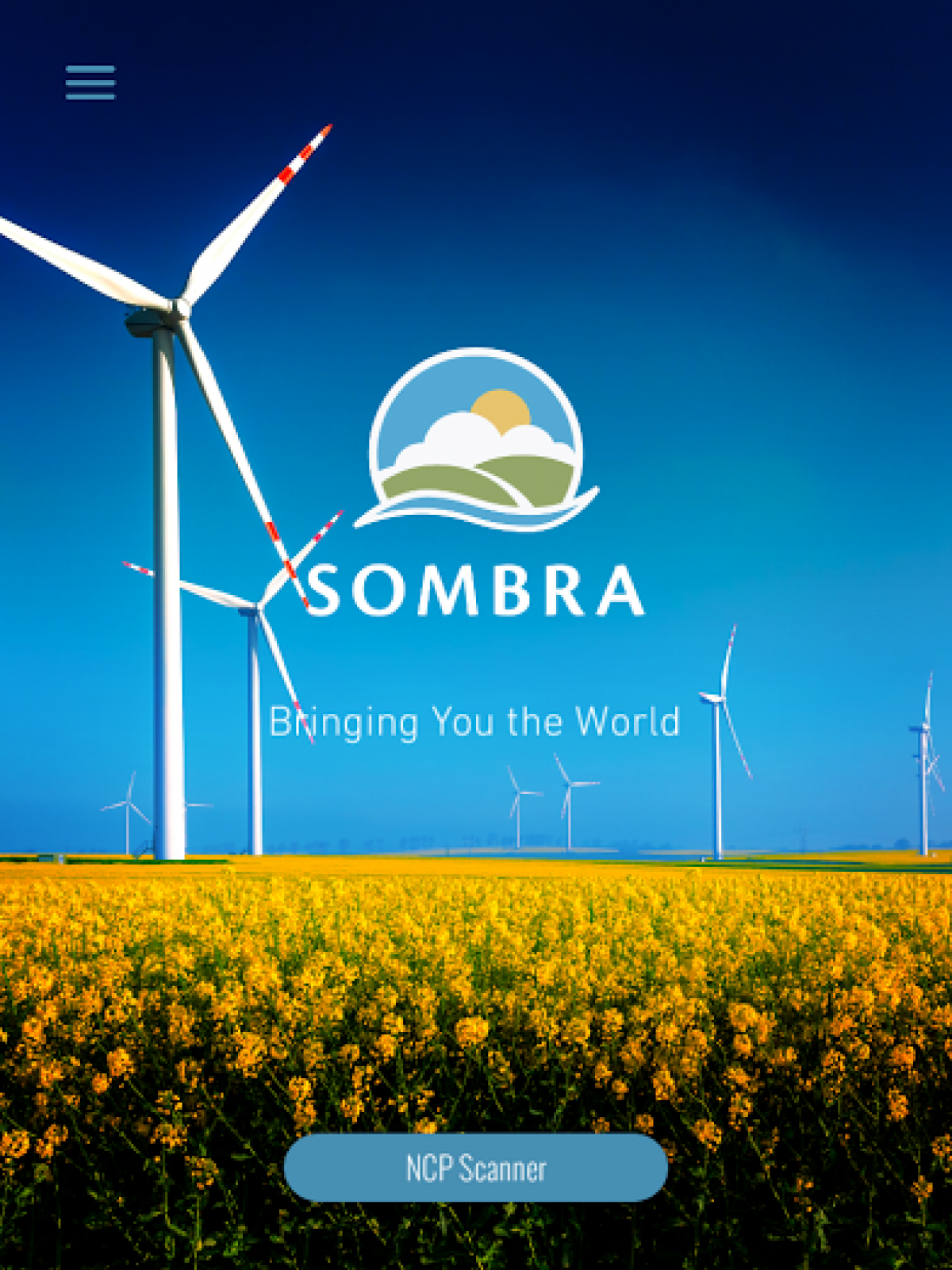 Poking around will take you to a few different screens (one of which also name-drops North Central Positronics and LaMerk Industries, names which will be immediately familiar to any Dark Tower fan), but the real meat of the app appears to be a scanner that does...well, that's where it gets interesting.
Pointing your phone or iPad's camera around at the surrounding area will cause whatever's in your field of vision to be highlighted with ghostly blue light. It's hard to get a good picture of, but you can kind of get the idea in this photo, which co-stars my two dogs.
It's a cool effect (sorry for the quality, by the way; my iPad's got an outdated camera), but the Sombra Scanner doesn't really do much...until you point it at Entertainment Weekly's Dark Tower cover. And then...
...boom, there's the Rose (if you're wondering what a magic rose has to do with any of this, you haven't read the Dark Tower series, and need to get on that immediately). Point your Sombra Scanner at the image below, which Stephen King Tweeted out all the way back in May, and you'll get another surprise.
The Dark Tower is close, now. The Crimson King awaits. Soon Roland will raise the Horn of Eld. And blow. pic.twitter.com/rqGSKM3dWL

— Stephen King (@StephenKing) May 19, 2016
Isn't that awesome?! What a cool little easter egg for Dark Tower fans! I wonder what else might be hiding out there...
Speaking of which, Sony does not have a panel in Hall H at this year's SDCC, but the word on the street is that The Dark Tower will definitely have some sort of presence there. If you're going to SDCC this year, be on the lookout for any potential Dark Tower goodies. Send 'em to me via @LimitedPaper on Twitter, and we might use your photos in an upcoming post.
Stay tuned, Dark Tower fans. I think we've got an interesting week ahead of us!