Mondo's FIGHT CLUB Vinyl Demands That You Destroy Something Beautiful
You have to see this.
This Wednesday, the good folks at Mondo will release the score for David Fincher's Fight Club in a double-vinyl set. That's exciting in and of itself, but what's really cool about this release is the packaging, designed by Alan Hynes. You have got to see this thing in action.
Check it out.
This is flat-out brilliant. I have nothing more to add. Brilliant.
Here's the specs/a special message from Mondo:
Fight Club - Original Motion Picture Soundtrack 2XLP. Music by The Dust Brothers. Sleeve Design & Packaging by Alan Hynes. Pressed on 2x180 Gram Pink Soap Vinyl. $35

Mondo is proud to present the soundtrack to Fight Club on vinyl for the first time in over 15 years.

The Dust Brothers only film score to date, Fight Club is arguably one of the most enjoyable soundtrack albums to come out of the 90's and part of that has to do with the fact that it's one of the best sequenced scores of all time. Weaving all of the films cues from the film into 16 songs, the album winds up feeling like the best instrumental Trip-Hop album you've never heard.

Buy it or you will be incomplete. But be warned, this album will not stay beautiful, clean or perfect. It will not stay mint, or even VG+. It will become fair at best. Just like you.
And here's some photos of the album, before and after its destruction.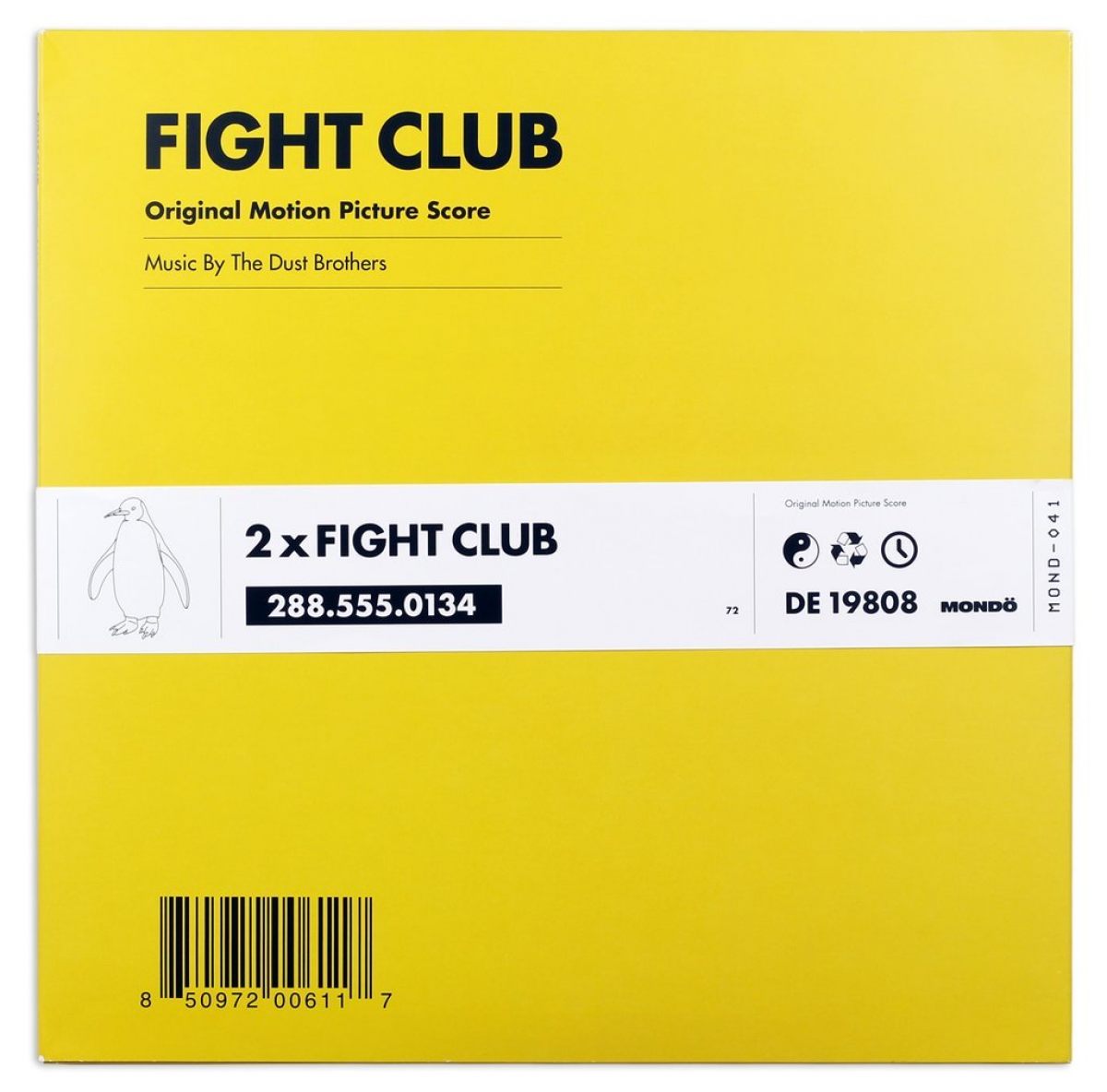 There's all kinds of cool little details packed into this thing (I like that the vinyl is marked as being from Paper Street Soap Company, and I actually laughed out loud when I saw the "Sacrifice" tab on the album's sleeve for the first time), and this is a heavily-anticipated release. If you collect vinyl, my advice is to be standing by tomorrow in order to snag your copy with a quickness: they probably won't stick around long.