Exclusive: Matthew Woodson Walks Us Through The Creation Of His Incredible UNDER THE SKIN Poster
The artist behind the best Mondo poster of the year breaks down his thought process.
Without any hesitation, I can tell you that Matthew Woodson's Under The Skin poster, released at this year's MondoCon, is my favorite poster of the year.
Intricate, haunting and alive, it stopped me dead in my tracks the first time I saw it, and as soon as I got it home I had it framed and hung directly next to the desk in my office, so that I can sit and gawk at it whenever I'd like (I do this more often than you might believe). It's the most clever piece of conceptual work I've seen in a long, long time.
I ended up so enraptured with this poster that I eventually reached out to Woodson and asked him if he'd be willing to give the Birth.Movies.Death. readership a walkthrough on the creation of the piece. Woodson was gracious enough to agree, and got back to me with a ton of work-in-progress images and commentary which reveal how this gorgeous print came to be. For art nerds like me, this is straight-up porn.
Find Woodson's images and commentary below, and be aware that he will be selling his AP copies of this print via his store tomorrow at 12PM CST.
Early on in the concepting stages for the Under The Skin poster, I had an emotion I wanted to illustrate but wasn't exactly sure how to execute it. I wanted the poster to evoke yearning, and the feeling of being lost outside of your element. At this point I also had the clear sense that I did not want to depict "The Female" as too sexy or aggressive, but more cold and alien. At this stage, I was also already playing with the idea of "The Female" being a black silhouette made of stars.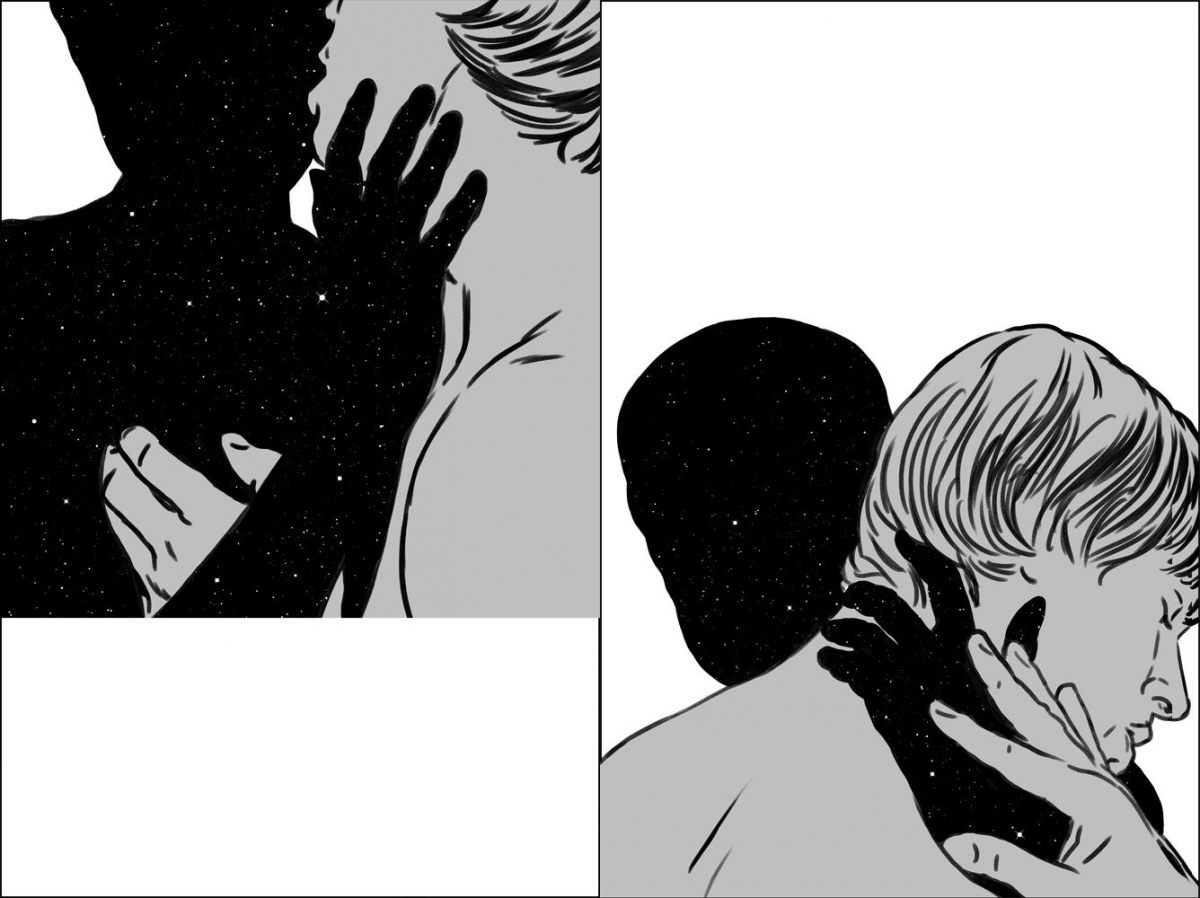 For the next round of concepting, the guys at Mondo and I decided to focus on the two ideas we thought represented the film best. It's at this point that I started to struggle with the "make-out" concept. It was focusing too much attention on her relationship with men, and we were losing the cold and alien feel that I was initially going for. Mondo also felt that the "make-out" concept was clearly telegraphing that she was an alien (spoilers!), and we really didn't want to give that away at first glance with this poster.
With that in mind, I turned my attention to the concept that would later result in the final poster. I was already playing with the idea of doing everything on black paper, and having her silhouette be something transparent against that black paper. But I was still struggling with The Female's relationship to men as well, and her sexuality in general. I felt that too much attention was being drawn to the dope in the foreground at this point, when the film for me at least was entirely about The Female. I was also worried about the poster being a little too on-the-nose as far as depicting a scene directly from the film. However, it was also at this stage that I started playing with the idea of her reflection being something different than what it was reflecting. As it turns out, that was exactly the trick I was looking for to help evoke the emotions I initially approached this poster with.
This is where Rob Jones over at Mondo made the great call to lose the guy entirely, and focus all of the attention on The Female and her reflection.
At this point, I moved forward with taking the sketch to final line work. However, I was still playing with options as to what exactly we wanted The Female and her reflection to be. I made basically an illustrated paper doll in Photoshop with different elements to swap in and out to see what worked best.
Even once we decided that we wanted to show her removing her coat, there were still even more options left when it came to how to handle the silhouette and reflection.
Once we were all happy with her alien silhouette on top and her "skin-self" being reflected on the bottom, it was time to move forward working out shadows and highlights to use as a template for color. Doing this step in greyscale allows me to balance my shadows and highlights without committing to any sort of palette just yet. I struggle with color a lot of times, so being able to stare at a piece in black and white for hours and hours gives me time to start playing with colors in my head. I knew that I wanted to use a lot of similar creams, blues, and pinks from the film, but I just didn't know yet how they were going to lay on the paper.
Rob Jones and Jay Shaw whipped up this tone-perfect title and billing block while I found a happy place with the colors. But there was still the question of how the varnish should be arranged in the print. We knew that we wanted her silhouette, but didn't know if we wanted to also make her reflection glossy, or make the whole surface that she was standing on reflective and glossy. In the end we decided to do the varnish over both her silhouette and her and her clothing's reflections. This gave the illusion of a glossy reflection, without making a fragile poster with so much varnish that could be easily damaged and ruin the illusion.

When I finally got a peak at the printed poster before Mondocon, I was absolutely floored by D&L Screen-printing's work on this poster. Their work is always stellar, but this poster in particular just dances on the paper. What started out as a frustrating mess of half-thought concepts, ended up being one of the pieces in recent memory that I am most proud of. There is a life to this print that I will be trying to replicate again for years to come.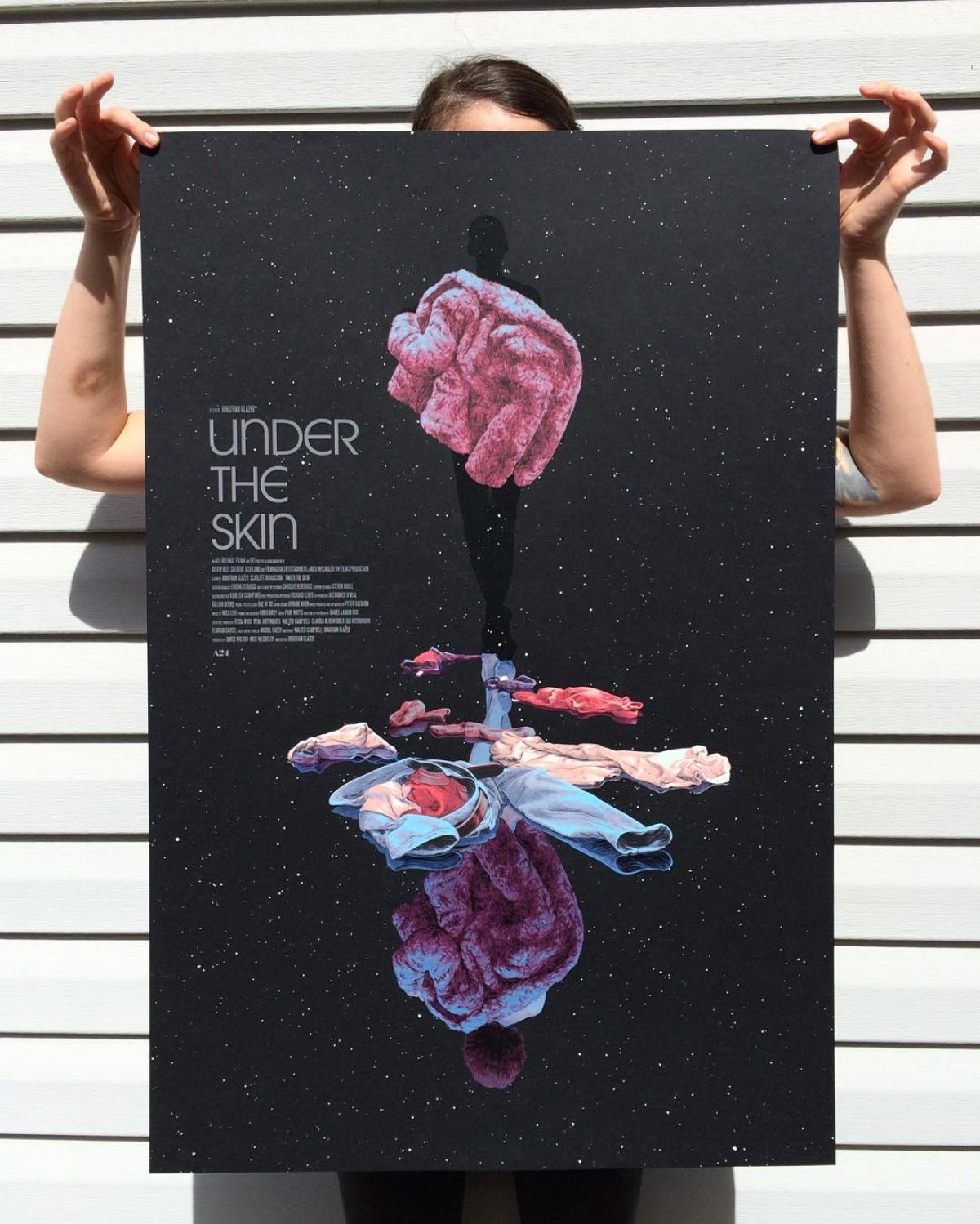 I'd like to say a very, very big thank you to Matthew for taking the time to show us how this piece came together (you rule, man). To everyone else, be aware that a very limited number of AP copies of this print will be available via Matthew's online shop tomorrow at 12PM CST.
With Christmas on the way, I suppose I oughtta be suggesting that you pick up a copy for a friend ... but let's be real: as a proud owner of this print, I have to insist you take care of yourself first. Trust me when I say you want this showstopper on your wall.