Meredith's Top Ten Movies Of 2016
It wasn't easy but she did it. She made a list.
You know the drill. We watch movies and then rank them. Every year there are too many great movies to narrow down to just one list but then we do it anyway. So let's do the thing.
(And if you want to read my Top Books of the Year post, go here.)
10. SING STREET
I watched Sing Street the night after the election. Like most of you, I was stunned and hurting. Nothing made sense, and I felt certain I'd never feel normal again. And then I saw John Carney's Sing Street on Netflix, and for 106 minutes, I felt like I might be okay, like the world was still good in spite of all of the bad. It's the feeling that art can give you at the worst moments of your life: recognition, familiarity, a tiny bit of hope. It's the gift of happy-sad, and for the rest of my life, I'll be thankful to Sing Street for giving me a brief moment of happy at one of the saddest points of my life.
(I wrote about it here.)
9. HAIL, CAESAR!
I hate this idea of a "lesser Coen film," because all anyone ever means by that is a Coen Brothers comedy. And to my eyes, there is no greater gift than a comedy from Ethan and Joel Coen. Hail, Caesar! is a perfect example - here's a great-looking, hilarious, genre-jumping tribute to Old Hollywood, the kind of movie that we'd all plotz over if it were made by anyone else, but because it's missing the life-changing significance of, for instance, Inside Llewyn Davis, Hail, Caesar! was largely dismissed by so-called Coen fans this year. But as far as I'm concerned, all that counts is this: eleven months later, this is still one of the best times I had at the cinema this year.
(I reviewed it here.)
8. GREEN ROOM
Jeremy Saulnier's Green Room is a movie I feared would fall into the festival pit - I saw it at Fantastic Fest 2015, but it wasn't eligible for last year's list, and I hated the idea that this perfect thriller would be pushed out with well over a year before I could claim it in my Top 10. I needn't have worried - this movie is so powerful, so indelible, that I think I'd probably still count it even if it weren't eligible until 2020. Green Room is a study in tension, in economy of story and coherence of stakes. It's relentless and stomach-churning and still manages to be quite moving - even, weirdly, a bit optimistic. It's got so much adrenaline that my heart is racing just thinking of the damn thing. It's an all-timer.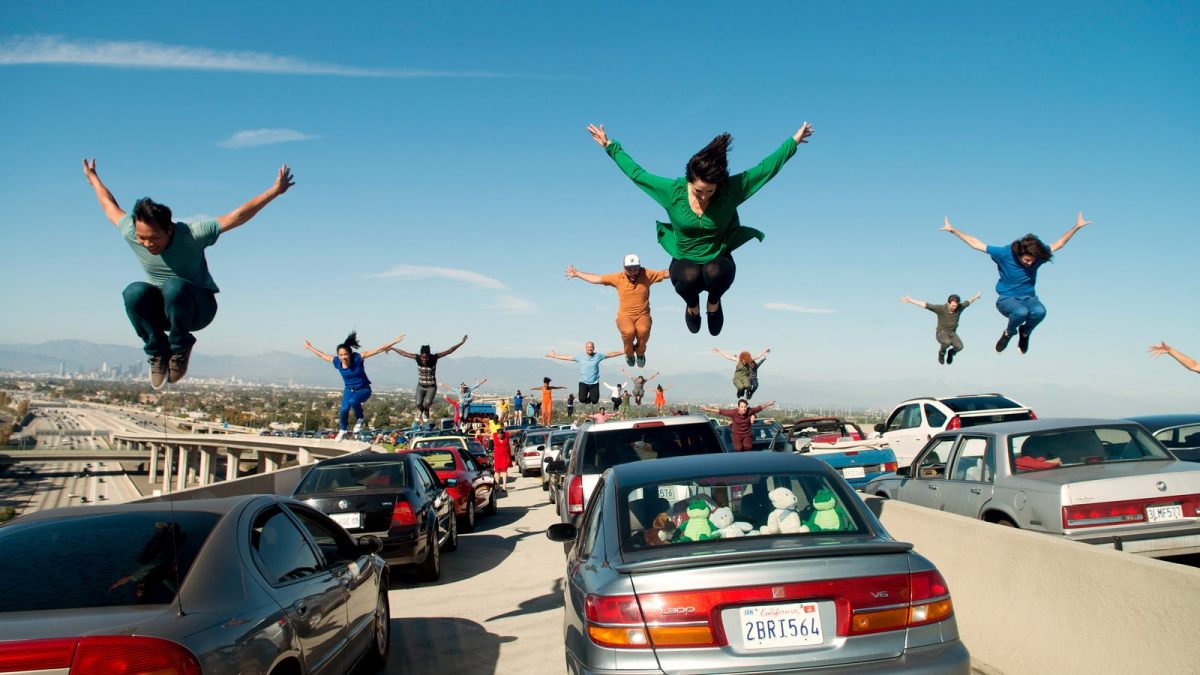 7. LA LA LAND
We've had some really beautiful writing on the site about Damien Chazelle's stunning musical, because it's the kind of art that inspires other art, that moves people to write and create in its honor. It's a spectacular visual and technical achievement, but it's also a small, lovely story about two people who meet, fall in love, and galvanize each other to greatness. It's a gift of a film, gorgeous and exhilarating, and it's one that I suspect will deepen in impact over the years.
6. THE INVITATION
Damn, I love Karyn Kusama. She's the visionary behind one of my favorite horror films of all time, and her latest proves that she is every ounce as adept at creating an entirely different kind of horror. Where Jennifer's Body was camp, The Invitation is pressure, ceaseless, accelerating pressure. It's also a profound character study and an examination of the ruinous effects of grief, all tidily fastened in a puzzle of paranoia or genuine threat. It takes place in one location and feels both claustrophobic and vast. It's a remarkable film from a remarkable filmmaker.
5. THE LOVE WITCH
I can't stop talking about Anna Biller's The Love Witch. This is one of the most singular films I've ever seen, made with an utter devotion that takes it far beyond pastiche into true outsider art. It's also a fascinating feminist text, just unabashed, unfiltered, woman. It's funny and stunning, and Biller has created a lifelong disciple with this opulent horror story that she wrote, directed, edited, designed, composed and more.
(I reviewed it here and interviewed Biller here.)
4. THE HANDMAIDEN
Oh my god, The Handmaiden. This movie is HOT. Chan-wook Park continues to make fascinating films about being a sexually charged human in a sexually oppressive society, and each of those movies continues to surprise and entertain in its own unique way. But few movies this year are as surprising and entertaining as The Handmaiden, which wraps romance, intrigue and con artistry into a breathtaking costume drama. It's sexy and twisted and still very human. It's one hell of a yarn, and it's awfully nice to look at, to boot.
3. HUNT FOR THE WILDERPEOPLE
How did it take me so long to watch Taika Waititi's Hunt for the Wilderpeople? This movie is tailor-made for me, a funny, heartwarming delight featuring a chubby ballbuster of a kid, Housebound's great Rima Te Wiata in my favorite supporting role of the year and Sam Neill with a prodigious beard. This may be the most charming movie of 2016, just utter, freewheeling fun and heart. And it's got my vote for best original song: "Happy Birthday, Ricky Baker," indeed.
2. MOONLIGHT
Moonlight floored me. Barry Jenkins' story of a young boy from Miami who loses and finds himself over the course of his life is rapturous and universal, one that you will forcibly connect to whether or not your life looks anything like Chiron's. This is a powerfully personal film, a story of grace and beauty and enormous social consequence. Moonlight isn't like anything I've seen before, but the moment I saw it, I knew it was something I needed, something we all need.
1. THE EDGE OF SEVENTEEN
Kelly Fremon Craig's coming-of-age film feels like an instant classic, at once current and lasting. It's got all of the charm and heart of your favorite '80s movie, but it's telling this story in a new way: from the too-little-seen point of view of a super pissed teenage girl. Hailee Steinfeld's Nadine is, frankly, a bit of an asshole, because life sucks and it's hard. Watching Nadine grow in her ungraceful way from self-involved jerk to slightly less self-involved human reminded me so persuasively of my own teenage journey that I fell at once in love with the perfect truth of The Edge of Seventeen.
(I wrote about it here.)
HONORABLE MENTIONS: Arrival, The Autopsy of Jane Doe, Don't Think Twice, Hello My Name Is Doris, High-Rise, Jackie, Love & Friendship, The Nice Guys, Popstar: Never Stop Never Stopping, Rogue One: A Star Wars Story, The Witch