Siddhant's Top Sixteen Films Of 2016
A great year at the cinema.
Don't let anyone tell you it was a bad year for movies.
2016 may have been a disaster in most respects, but I feel confident in saying films are as good as they've ever been, so much so that I had trouble deciding what to include on this list, and picking one single film as my absolute favourite was keeping me up at night. Instead, I went with two. Is that cheating? Sure, but in a year this good for art and this bad for everything else, we can afford a little celebratory indulgence.
Just how good was 2016? So good that even legitimate masterpieces like Chan-wook Park's twisted lesbian period-drama The Handmaiden and Andrea Arnold's meandering pastoral American Honey didn't make the cut. How crazy is that? I love those films dearly, but I'm not sure I could've featured them even if I expanded this list to twenty. Those additional spots would likely belong to first-time director Kelly Fremon Craig's messy, angsty coming-of-age dramedy The Edge of Seventeen, Sang-ho's Yeon's allegorical Korean zombie-horror Train to Busan, Jaume Collet-Serra's taut shark-survival thriller The Shallows, and Nicholas Winding Refn's hypnotic, head-spinning plunge into the imposed gender contradictions of beauty and narcissism The Neon Demon; a set of films so unique and so wildly different from one another that I may as well make a parallel list. Man, what a year.
(While we're on the subject, I'd also like to give a shout out to Richard Linklater's delightful Everybody Wants Some!! because why the hell not)
Now that the honourable mentions are out of the way, it's time for actual roundup. Numerical rankings are arbitrary, etc. etc., but regardless of your feelings on approaching art in list form (ignore the actual numbers if it suits you), these are films that exemplified the very best of cinema in 2016, and we're going to be talking about them for quite some time.
Enjoy.
15. SONGS MY BROTHERS TAUGHT ME (Chloé Zhao)
Country: United States
Language: English
Stories about modern Native American struggles are far and few between, thus leaving Chloé Zhao's debut feature with the task of being as all-encompassing as any small film about loss, family and community can be. In that, it succeeds admirably. It's a film about bonding through mourning and learning from each others' experiences, one that floats through South Dakota's Pine Ridge Indian Reservation alongside eleven-year-old JaShaun Winters and her older full-brother John, two siblings trying to navigate the trials of being forgotten while the third sits behind bars. After their father Carl dies in a fire, the twenty-five children he fathered with nine women gather at his funeral.
Some took his last name. Some did not.
Like America itself, the spectre of Carl Winters looms large over all these youths, either through his involvement in their lives or through his early abandonment. Their local culture is an amalgam of the modern music and images of immigrant America, and that of a people trying to hold onto their Native traditions seven generations removed from Wounded Knee. JaShaun tries to fix things within her community in whatever little way she can, helping a former inmate sell his art. John on the other hand, having done damage to his people through illicit liquor sales, hopes to escape to LA with his girlfriend and leave it all behind. Songs My Brothers Taught Me presents no simple answers (nor an easily identifable plot, meandering as aimlessly as its characters), but its simplicity allows it to be spiritually transportive; time and place and culture captured through wide lenses, allowing us to absorb the environment while in close proximity to people trying to do their best despite the hand they've been dealt.
A soulful meditation on the weight and impact of American history.
14. THE INVITATION (Karyn Kusama)
Country: United States
Language: English
Fans of The Invitation have only two questions on their mind: Where's Choi, and why isn't Karyn Kusama being courted for everything? It's a film I don't really want to discuss in the open until I'm sure everyone has seen it, so if you're here in search of Netflix recommendations, I'd suggest making it a priority. It's a airtight, razor-sharp psychological thriller that gives equal weight to the thrills and the psychological, imbuing its indie dinner-gathering sensibility with a looming sense of grief and paranoia.
Logan Marshall-Green ("The poor man's Tom Hardy"? Please. Tom Hardy wishes) plays the grief-stricken Will, a man stepping out of his shell and jumping right into the lion's den by attending a dinner with his ex-wife and their close mutual friends. Loss affects everyone differently, and in our search for self we may not always like what we find, but when it comes to Will's ex, her boyfriend, and two strangers they met in Mexico, the line between denial and acceptance blurs in ways that don't add up. How does this manifest? Well, that's for you to discover, as Will deals with the whiplash-effect of constantly having to re-orient his perspective, and that's before things start to fly off the rails completely. "Where the fuck is Choi?" (Full Review)
13. LEMONADE (Jonas Åkerlund, Beyoncé Knowles Carter, Kahlil Joseph, Melina Matsoukas, Dikayl Rimmasch, Mark Romanek, Todd Tourso)
Country: United States
Language: English
Intuition. Denial. Anger. Apathy. Emptiness. Accountability. Reformation. Forgiveness. Resurrection. Hope. Redemption.
Each chapter in Lemonade feels revelatory, both in its visual bravura – often channeling Julie Dash's Daughters of the Dust, the first wide-release film directed by an African American woman – as well as in the creation of its own unique cinematic tapestry. Aided by the thought-provoking words of Somali poet Warsan Shire (and, at a pivotal moment of understanding of the self, Malcolm X's famous "Who taught you to hate yourself?" speech), Lemonade not only acts as an extension of arguably the best music album of 2016, but as a definitive modern text on the experiences of African American women. Beginning from the tabloid-infused gossip topic of her husband's infidelity, Beyoncé turns her righteous anger outward, upward and Forward, providing an audio-visual meditation on the lives of her kin; from their childhood's when they stare in the mirror and first apply their mothers' lipstick, to when they become mothers themselves and lose young sons to a vicious police state.
It both mourns and celebrates the state of black womanhood, with appearances from the mothers of Mike Brown, Eric Garner and Trayvon Martin, as well as a who's who of accomplished black female celebrities: Serena Williams, Amandla Stenberg, Zendaya, and even twelve-year-old Quvenzhané Wallis. Whether gasping for air in her submerged southern home or gleefully swinging a baseball bat at car windshields and firehydrants, Beyoncé and her all-star lineup of directors boast some of the year's most stunning, most potent visual imagery in any medium anywhere… And I guess since the "Formation" video makes an appearance, Lemonade also technically has the best post-credits scene of all time.
12. THE VVITCH (Robert Eggers)
Country: United States, Canada
Language: English
It feels oddly dissonant to follow Lemonade with a period piece built entirely on puritanical fears and gender politics, but Robert Eggers' twisted New England folktale preys on every feminine morality trope under the sun in an effort to craft the most simultaneously unsettling and alluring horror film of 2016. Yet another stunning debut, one drenched in Salem paranoia and meticulously era-appropriate dialogue and design, The Witch's focus is a family so ideologically blinded that even the Puritans cast them out, leaving them to deal with a supernatural force that seduces children and bathes in their blood.
The witch's possessive powers are borderline orgasmic, yanking the young Caleb into premature adolescence as he writhes and speaks in unfamiliar tongues, all while casting doubt on his older sister Thomasin, the young, vulnerable potential vessel for Satan himself. As if a creepy pair of twins aren't enough, the film also turns an unassuming Billy goat into a mouthpiece for the Devil, with empty spaces and whispers in the darkness more impactful than any jump scare, and horrors rooted entirely in character. It's a film that crawls deep beneath your skin, staying there for days on end like an addiction you can't satisfy until you've seen it again, but it's also intoxicating to the point that you feel guilty for enjoying it, magnifying the traditional nexus between "evil" and female sexuality. "Wouldst thou like to live deliciously?"
11. NOCTURNAL ANIMALS (Tom Ford)
Country: United States
Language: English
Speaking of jump scares, boy, it's only a matter of time before Tom Ford (yes, that Tom Ford) shows every horror director how it's done. The seven year wait for a second Ford film has proven to be worth it (A Single Man features some of the best use of sound and colour in contemporary American cinema), as Nocturnal Animals both skewers and indulges the male creative ego, presenting a riveting story-in-story as interpreted by a writer's ex-wife. A decade since she last saw him, bourgeois artistic sellout Susan Morrow (the incomparable Amy Adams) receives a manuscript from her once-husband Edward (a film-stealing Jake Gyllenhaal), a violent Western revenge novel about a family torn apart by forces outside their control.
Edward's fictional wife played by Isla Fisher bears an uncanny resemblance to Morrow (what casting, eh?), though it's never clear whether this is a result of Edward's description, or merely Morrow's self-projection. Traits typical of scorned male writers are awash in Edward's draft, but its clichés are made heart-pounding through expert tonal control, even as we're quite literally taken out of the story to experience the memories it triggers. It's an intricate exploration of the unique relationship between author and interpreter, both as actual people with an interpersonal history, and as conceptual embodiments. A conversation on art through art itself, externalized via two vastly different yet spiritually connected character pieces, with top-notch performances all 'round... Oh, and Michael Shannon is in it. Probably should've opened with that.
10. MORRIS FROM AMERICA (Chad Hartigan)
Country: Germany, United States
Language: English, German
Irish-American Chad Hartigan was born and raised in Cyprus, and he brings his outsider coming-of-age experience to the screen in Morris From America, further filtering it through the lens of coming-into-blackness. Morris Gentry (Markees Christmas) and his single father Curtis (The Office's Craig Robinson) live in small-town Germany where young 'Mo' learns German in his downtime under the tutelage of Inka, a New York-bound grad student and his pseudo-spiritual advisor, as he spends his school days navigating the outskirts of every social clique in an environment where he's an anomaly. He finally finds an in with it-girl Katrin, an older student he's smitten with and one who's equally fascinated by Morris, likely the first black person she's met.
It's a unique position to be in, to say the least, having to deal with not only white cultural perceptions of American blackness, but friction with his own father in the form of their differing connections to Hip Hop, not to mentions Morris' inauthenticity as an aspiring rapper, channeling the superficial words and images of a culture that ought to be his. It's a sweet film that works overtime to make us feel Morris' racial isolation, and it offers entirely new perspectives on growing up, finding yourself, and in Morris' case, channeling the uniqueness of cultural experience through art, much like Hartigan does with this film.
9. BAD BLACK (Isaac Nabwana)
Country: Uganda
Language: English, Swahili
The criteria for this list is films that received theatrical releases in 2016, but given that Bad Black may never have that opportunity, I'm afraid I need to make an exception. From the creators of Who Killed Captain Alex?, a micro-budget Ugandan romp (seriously, it cost maybe $250 at best) that set YouTube on fire cir. 2010, Bad Black is a product of will and insanity that benefits from (and quite simply demands) consideration of the context in which is was created. The slums of Wakaliga are home to Wakaliwood, a "studio" that has electricity maybe three days a week, and receives its creative inspiration from the '80s American action movies it pirates. Isaac Nabwana has made dozens of films, most of which are lost to sands of time (or rather, the sands of re-writable DVDs) and like so many of his other works, Bad Black is an action movie made from literal scraps, incorporating the locality's traditional "VJ" (Video Joker) to provide a running commentary on the film, acting as both expository mechanism and lamp-shading comedian, sometimes even fast-forwarding through the "boring" parts so we can get to the action and melodrama.
As for the plot… where do I even begin? It draws from real-world stories of gang violence and slum children being abandoned, but it also features costless self-taught visual effects, nonsensical gun-violence galore, a white doctor from New York who goes on a killing spree after his military dog tags are stolen (in the logic of this universe, being a commando is hereditary), and training montages led by an eight-year-old martial arts mentor named Wesley Snipes.
It's a start-to-finish riot, completely aware of its own existence and that of the action films it borrows its language from. At one point it even name-drops Zoe freaking Bell (What? WHAT?!?) during a prison escape where a woman takes out an entire militia while armed with nothing more than a boxing glove. I say this without a hint of irony, Wakaliwood is action cinema at its absolute purest, with a laser-focus on audience enjoyment. There's beauty in its intent, and the result is more fun and more meaningful than even the most expensive studio blockbuster. I saw the film twice at Fantastic Fest, where the audience was treated to a tailor-made prologue in which the crew destroys the Alamo Drafthouse by flying a two-dimensional chopper into it, After Effects explosions and all.
It is hands-down the single most maniacal theatre experience I've ever had, and that's before you count the director Skyping in after the screening and recording us dying of "super Ebola" for his next feature. VJ Emmie delivers side-splitting lines at the rate of the film's scrap-metal machine guns, and one of his jokes even received a standing ovation. When was the last time that happened?
8. WHITE GIRL (Elizabeth Wood)
Country: United States
Language: English
White Girl is a hypnotic experience, emphasis on the "experience." A masterful directorial debut that shoves young Leah (Homeland's Morgan Saylor) right in the middle of two interrelated yet immiscible New York worlds she doesn't fully understand; the publishing industry and its drug-fueled parties, and the alluring Latino drug dealers on her street corner. After her new beau Blue gets locked up, she begins selling his cocaine stash in order to pay for legal fees and gets in way over her head, slipping further and further into both these disparate settings and acting as a bridge between them.
Not since Spring Breakers has there been a film so sickly enchanting, a pulsating construct of decadence that cracks at just the right moment (making excess feel truly, nauseatingly excessive), presenting a nightmarish vision of a sheltered young woman taking on far more than she knows how to handle. A violent and, in its own depraved way, exciting piece that straddles uncomfortable material with finesse. I can't wait to see what Wood does next.
7. LION (Garth Davis)
Country: United Kingdom, United States, Australia
Language: English, Hindi, Bengali
In what might be the most surprising revelation of 2016 (based on my expectations, anyway), Dev Patel turns in the kind of performance that places him shoulder-to-shoulder with the greatest actors the world over. One of five debut directors on this list, Garth Davis accomplishes the Herculean task of making scrolling through Google Maps feel like a sweeping adventure, as Patel's Australian adoptee Saroo Brierly searches for both the Indian village he was displaced from as a child, and a sense of definite cultural identity as he walks a fine line between the seemingly irreconcilable parts of himself.
This, of course, comes after an arduous journey undertaken by equally captivating Sunny Pawar as young Saroo, wandering through the unfamiliar streets of Calcutta as he encounters specific forms of apathy and cruelty born out of systemic hardship, before finally being adopted by a kindly Tasmanian couple. Lion is the kind of film that ought not work, marketed as yet another instance of award-bait poverty porn and cultural voyeurism, but the depths of its understanding of both loss of self and deeply personal obsession make it one of the most moving and most lifelike films about cultural identity in recent memory. (Full Review)
6. PETE'S DRAGON (David Lowery)
Country: United States
Language: English
Disney's still got it.
A remake of a silly cartoon that feels on par with the thoughtfulness and childhood comfort of E.T., David Lowery's Peter Dragon is bare-bones fantasy filmmaking at its finest. A rustic tale of isolation and un-belonging with a core focus on imagination and a doglike dragon made of CGI and heart-stopping beauty. It's a film where even the villains are afforded redemption (Kubo and the Two Strings and Moana, other children's adventure films I wish I could've included here, both deserve praise for having similar trajectories), one where the magical dragon becomes a stand-in for childlike wonder, a vital part of ourselves that we needn't abandon as we grow up.
If only all kids' movies were this good.
5. THE SALESMAN (Asghar Farhadi)
Country: Iran, France
Language: Persian
Asghar Farhadi's films have never been my cup of tea, but The Salesman injects a gripping intensity into his neo-realist ruminations on life in modern Iran in a way that feels borderline explosive.
Taraneh Alidoosti's Rana becomes the vessel for men's violence and stubborn insecurities, with her assault taking place off screen and her husband Emad (Shahab Hosseini) hijacking the narrative in order to exact revenge despite her insistence otherwise. In typical Farhadi fashion, lies begins to chip away at the foundation of their relationship, until the far-reaching domino effect comes to a head in unexpected fashion; a climax so powerful that its simplicity is jaw-dropping.
Like a knife twisting slowly, The Salesman is an agonizing treatise on violence and ego, culminating in a single slap that carries the emotional weight of a thousand cuts. Arthur Miller would be proud. (Full Review)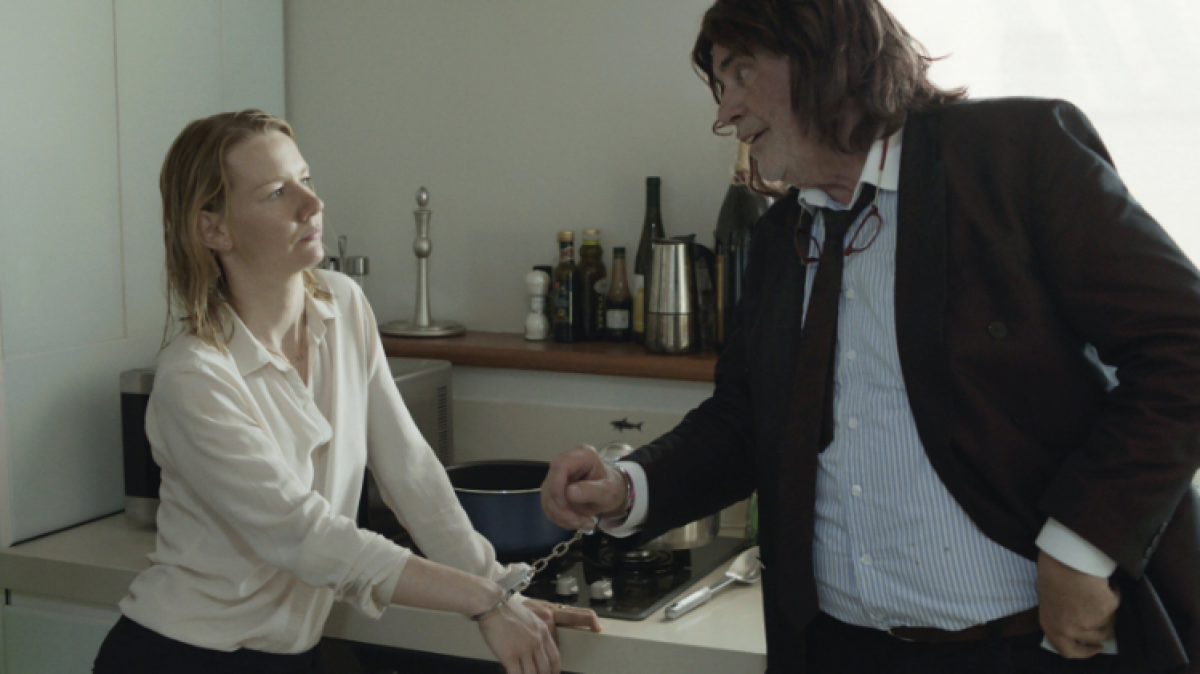 4. TONI ERDMANN (Maren Ade)
Country: Germany, Austria
Language: German, English, Romanian
Toni Erdmann is nearly three hours long, but boy does it earn its runtime. Rife with performances you could watch for ages – among them, Sandra Hüller's corporate cog Ines Conradi and Peter Simonischek as her well-meaning, busybody father Winfred – it's a comedy masterpiece that builds to both moments of rip-roaring lunacy (at the hands of Winfred's "alter ego" Toni, whose sloppy wig and buck teeth turn the aged patriarch into something of a sad clown, constantly meddling in Ines' personal and professional life), as well as culminating in tear-jerking moments of reconciliation.
An embarrassment of riches that turns potential cringe-humour into something warm and heartfelt, reaching through those awkward layers in an effort to assist and to understand, in the form of a father helping his daughter see all the beauty and freedom life has to offer. Winfred fulfills his fatherly duty not only through dad jokes, but by becoming the embodiment of "dad joke" itself, in all its love and silliness. The epitome of cinematic catharsis.
3. MANCHESTER BY THE SEA (Kenneth Longergan)
Country: United States
Language: English
The award-season conversation around Manchester by the Sea has increasingly become about the allegations against Casey Affleck (as perhaps it should), but let it not be forgotten what a monumental achievement Kenneth Lonergan's film is. An unrelenting examination of grief and all its accompaniments, one that creates an all-encompassing sense of loss through flashback at just the right moments using jagged sound as a subtle trigger for the constant anger it brings. It peppers a dark sense of humour across its runtime, with characters lashing out and dealing with unpredictable emotions amidst familial interactions that feel specifically Northeastern, affording young Lucas Hedges the opportunity to combine comedic timing with a very real sense of abandonment
Affleck himself does career-best work, as Lonergan taps into exactly what makes him such a great actor: his incredible restraint, which feels like the film's secret weapon. Grief is a confusing, at times inexplicable phenomenon, but while this realistic portrait of it in Manchester by the Sea might feel insurmountable, it's also a shared experience for the characters, as well the audience, and that makes it easier to bear. (Full Review)
2. THE FITS (Anna Rose Holmer)
Country: United States
Language: English
In a just universe, The Fits would be one of the most talked about films of 2016. The tiny indie that could, Anna Rose Holmer's debut feature straddles the worlds of gender-as-competition via its eleven-year-old lead Toni (Royalty Hightower, delivering a mature, withheld, powerhouse performance) as she peers through doors and windows into the two worlds she inhabits: the boxing ring and the dance floor.
When the older girls in the dance troupe experience mysterious seizures, each one a seeming manifestation of their individuality, these 'fits' become a sort of social rite of passage, a means through which Toni and the girls her age can finally externalize their messy internal rhythms, should the opportunity present itself. It's this internal confusion, the psychology and physiology of female adolescence that Holmer magnifies through her creeping camera with the help of an unsettling, pulsating score that'll fill you with adrenaline, making even its most unsettling genre elements alluring and commanding. (Full Review)
And finally, the two films that made deciding this top spot an impossible task…
1. MOONLIGHT (Barry Jenkins)
Country: United States
Language: English
This is a miracle movie. There are no two ways about it. It's astounding that Barry Jenkins finally managed to get it made, and the film in itself is miraculously assembled. Each frame is a beautiful haze, with light reflecting off black skin like hope in the distance, and the only emerging clarity is the characters' sense of self, a growing understanding that the film externalizes through lingering glances. Chiron, a shy young black boy isolated and bullied in his Floridian locality is inducted into the throngs of manhood by the kindly Juan (Mahershala Ali's dark-skinned Cuban, a man with his own constructed black masculinity), whilst being neglected by his addict mother and finding refuge in the only child who seems to understand him, the enigmatic Kevin.
As Chiron and Kevin enter their teens, their presence in each others' lives is at best adjacent, but they reach a point of crossroads between their gender and their sexuality, wherein being "a man" is challenged by their mutual attraction and the sense of camaraderie it brings. As estranged adults, each having settled into their own respective images of American manhood, they congregate and reminisce at a local diner (Kevin's place of employ), in a simple sit-down simply bursting with sexual and romantic energy, and the kind of comfort bordering on spiritual. If there were a single scene this year that exemplified cinematic romance, it would be Kevin feeding Chiron his delicately prepared Chef's Special, a lovingly garnished Cuban selection as the two catch up over wine in plastic tumblers, enveloped by the melody of "Hello Stranger."
Moonlight is a divine film that reaches out beyond the screen in an effort to capture understanding itself, and more importantly, the feeling of finally being understood. (Full Review)
1. LA LA LAND (Damien Chazelle)
Country: United States
Language: English
Will La La Land stand the test of time and be remembered as a classic? I'd like to think so, but none of us can really say. What matters is that it feels like history unfolding before our eyes, and very much the kind of movie we need right now. Drenched in the language of classic Hollywood, it follows Emma Stone's aspiring actress Mia and Ryan Gosling's wannabe Jazz club owner Sebastian, embodiments of tinsel town aspiration as they engage in musical romance and inspire each other to follow their dreams. It's a film that feels as old as cinema itself, but it exudes a distinctly youthful energy, bursting with colour at every turn and updating its own visual style as it plays (in keeping with its mantra of "How are you going to be a revolutionary if you're such a traditionalist?"), with one foot planted firmly in the past, and a constant gaze towards the future.
It recontextualizes the "happy ending" we've grown accustomed to, and posits that idealization of lived experience doesn't need to exist in contention with less-than-ideal reality, unearthing the aching beauty beneath even the most painful of experiences. In a joyous, viscerally moving and profoundly affecting finale with the impact of a freight train, it grants its characters the kind of closure that we don't often afford ourselves; we may be the sum of all our experiences, but we can build our future on the very best parts of them, and the movies will always be there to guide us along.
They still make 'em like they used to. (Full Review)
"Here's to the ones who dream…"