The Top Ten Movies Andrew Wanted To Write About At The End Of Year 2016
To hell with traditional top-tens.
Critics hate and love making top ten lists, much as they hate and love themselves. Try condensing any large body of art into ten pieces, and you inevitably end up abandoning some that you loved. Look back at the list a week later, or in a different frame of mind, and you might wonder why you made certain decisions.
Outside the United States, it's even trickier: living in New Zealand as I do, many films I saw theatrically this year were technically 2015 releases, given a delayed bow in foreign territories (as with Oscar films, which get released in February to capitalise on buzz). Likewise, many 2016 films that might have ended up on my Top Ten simply haven't been released here yet. And via attendance at festivals, I saw several films that won't be released until 2017. It's all a bit of a mess.
So I'm doing away with a traditional Top Ten and simply writing about ten films I saw for the first time in 2016. I'm leaving out films I've already published pieces on (Arrival, She's Allergic to Cats, We Are The Flesh, Tickled, On the Silver Globe, and I Am Not A Serial Killer, which would all be on or near my conventional Top 10, alongside well-established greats like Hunt For the Wilderpeople, Swiss Army Man, Sing Street, and The Neon Demon) and focusing on films about which I've got something to say. In alphabetical order:
Belief: The Possession of Janet Moses (2015)
Premiering last year and continuing to do the festival circuit in 2016, Belief is merely one of a great crop of films out of New Zealand this year. Documenting an event that took place in New Zealand a decade ago, Belief is largely made up of re-enactments more harrowing than any horror film this year. Its tale of a family that murders one of its own in a botched attempt at a Maori exorcism is a profound tragedy, all the more so for its cultural implications. It hammers home the importance of understanding and respecting cultural traditions, both for the family in question - whose misapplication of superstition resulted in one death and nearly caused another - and for the courts, which struggled to judge the situation under their colonial system. And more primally, it's a story of collective obsession on a crushingly personal level - the kind of psychological phenomenon that, in its purest state, can kill.
Crazed (1978)
Also known as Slipping Into Darkness, Crazed isn't only notable for its twisted central plot - involving an accidental drowning, an obsessive creep, and a touch of necrophilia. It's also packed full of bizarre scenes tangential to the story. A university professor borderline screams about Shakespeare and the importance of "discipline, discipline, DISCIPLINE." Character actress Belle steals the scene in her final role as the senile landlord of the film's horror house. Lazslo Papas is great as Grahame, the Norman Bates-alike beset by hallucinations and flashbacks who ends up indulging in the aforementioned necrophilia. It's a bit of a Psycho ripoff, but there's plenty to set Crazed apart. I saw this in the middle of the night and have a surreal memory of it myself, and I look forward to returning to it in a more sober state.
Dangerous Liaisons (1988)
I hadn't seen Dangerous Liaisons before this year. It looks, outwardly, like a stuffy period piece, but it's more like a drastically classed-up remake of some lost Andy Milligan gutter-trash: a sex-crazed romp about horrible human beings doing horrible things to one another. John Malkovich and Glenn Close play duelling sex maniacs, manipulating the people around them in order to score petty points on one another. Seeing Malkovich and Close play verbal tennis with one another is one of life's great pleasures, as is Malkovich's seduction of a puritanical Michelle Pfeiffer, and the awkward romance between a young Keanu Reeves and an even younger Uma Thurman is hilarious whether it's intended or not. I only saw the inflight version of the movie, which cuts out the hanky-panky, but in a way that made the film's sexuality all the more fiendish, communicated exclusively through barbed dialogue and sultry glances. It's the horniest costume drama I've seen this year, at least, and if there's a hornier costume drama outside of porn, I'd love to see it.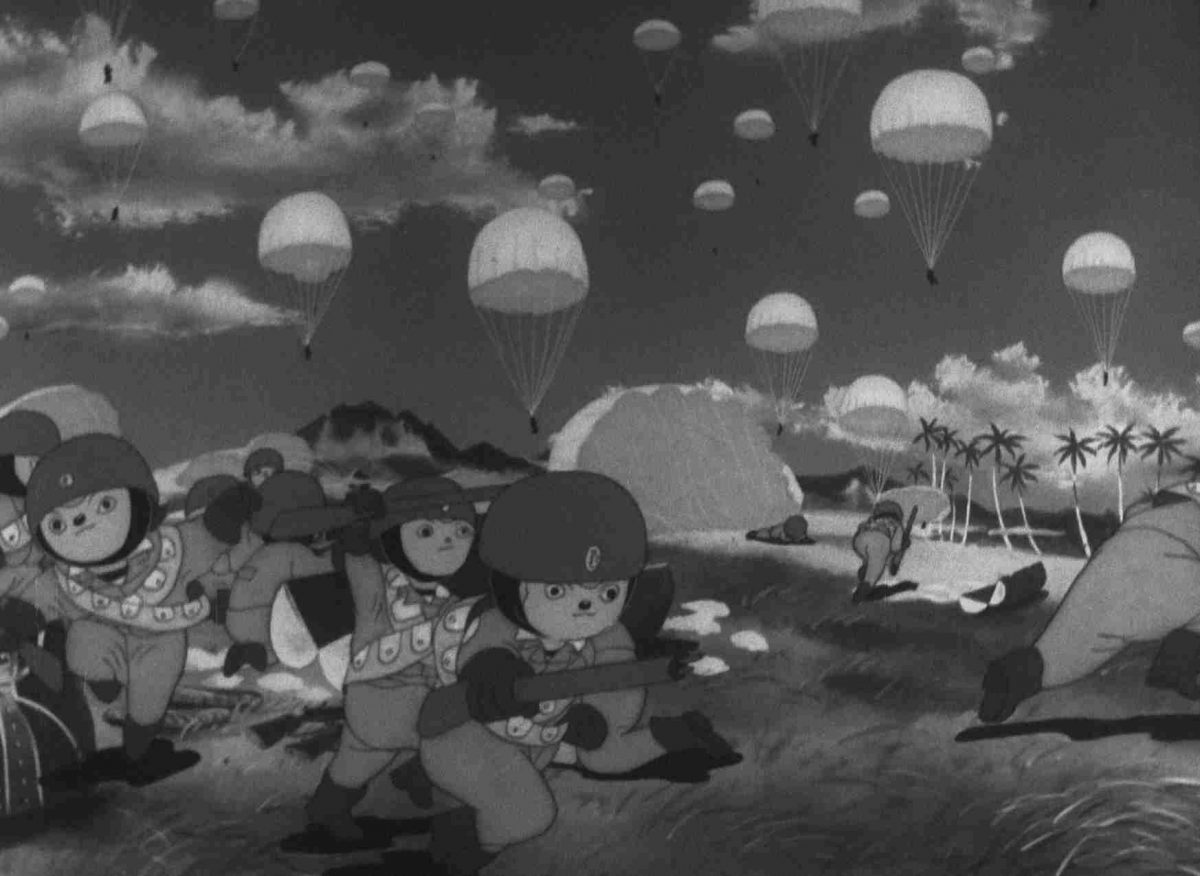 Momotaro's Divine Sea Warriors (1945)
Japan's first-ever animated feature film screened at Fantasia Fest this year, and it's fascinating for its place in the history of cinema and of the world. Commissioned by the Japanese government, it's a story about a bunch of adorable jungle animals - who join Japan's proud, humanitarian military to fight off evil, incompetent British and American forces. The idea behind the film, inspired by Fantasia, was to invoke patriotism in the children of a country consumed by war. Donald Trump's incoming administration may well end up birthing unapologetic propaganda along these lines, but he can't lay claim to the birth of feature anime - only to the exploitation of its fans. Worth watching for many reasons, but certainly for its caricatures of the Allied military, who rarely get seen in such a light nowadays.
Nocturnal Animals (2016)
Thanks to a glut of torture porn movies earlier in the decade (and exploitation flicks like the appropriately-titled Thriller: A Cruel Picture), our sense of cruelty in cinema has become skewed towards the physical. But while losing an eye or being flayed alive would certainly be painful, cinema is (in my opinion) far better at communicating psychological cruelty, the effects of which feel more personal. Nocturnal Animals is a phenomenally cruel movie. Many might focus on the cruelty exacted on Jake Gyllenhaal's character in the film-within-a-film that constitutes most of its running time, but it's the ice-cold act of revenge at the film's bleak heart - both overwrought and understated, culminating in one final act of humiliation - that strikes the hardest. Some might dislike Nocturnal Animals' chilly disposition, but that's what makes it so successful. Tom Ford is two for two.
Prince of the City (2012)
If Prince of the City were 20% less competent, it'd be nonstop entertainment. Believe it or not, I saw this Malaysian straight-to-video thriller on a 35mm print, which only heightened its strange qualities. A corporate crime thriller featuring a heavily-eyelinered Michael Madsen, the banality of its story is leavened by some phenomenally odd filmmaking choices. Madsen sleepwalks through his role, but the film's villain glares holes in the screen, while another actor serves up the hammiest death of the year. The film's also surprisingly chaste for this kind of story, with the camera consciously avoiding steaminess in its brief attempts at romance. The inclusion of cellphone-video drone shots and a sound mix that straight-up lacks background sound is just icing.
Safe Neighbourhood (2017)
Mainstream audiences won't get to see Safe Neighbourhood until next year, according to the preamble we got at Monster Fest, but boy will it be worth the wait. A surefire future mainstay of the alternative holiday movie pantheon, Safe Neighbourhood inverts conventions with a downright psychopathic glee. I don't want to spoil the film's many delightful surprises, but suffice it to say that Home Alone haters will get a serious kick out of Safe Neighbourhood. Anchored by three great teenage performances, Safe Neighbourhood is a single-location suburban comedy-thriller with an axe to grind and probably the year's best cinematic villain. It's so great I don't want to say anything more; put a note on your fridge and see this next year when it comes to a cinema near you.
Secret Admirer (1985)
Poor C. Thomas Howell. The only one of The Outsiders never make it to a major franchise, Oscar winner, or popular TV series, Howell's career peak ended up being '80s comedies like Secret Admirer. Lucky, then, that Secret Admirer is fucking great. An borderline Shakespearean story of mistaken identities plays out against an '80s high school setting, sweeping a bunch of teens - and their parents - along with it. The whole movie is laced with terrific physical and spoken comedy, with an energy most modern comedies lack. Sure, it's packed with more narrative conveniences than is probably believable, but that's part of its charm: its mystery-letter plot device gets hashed out to its limit, only stopping short of the orgy the whole audience wants to see by the end. Just me? Okay.
Split Image (1982)
Ted Kotcheff was the guest of honour at Monster Fest this year, delivering a keynote address and attending screenings of some of his wildly varied filmography, from First Blood to Wake In Fright to Weekend At Bernie's. But it was Split Image - a film I'd never heard of - that impressed me most, playing at the end of an all-night marathon of religious cult movies. Following an athlete who gets recruited into a cult commune (led by Peter Fonda!), it's sensitive to the reasons why people fall into such groups, and never seeks to outright demonise them. James Woods shows up as a deprogramming expert, ripping into the protagonist with a fury only Woods can truly muster, in a rather uncomfortable sequence of psychological torture. Cults may strip away your freedom, the film posits, but everyday life ain't no picnic either. Kotcheff directs with all the attention to character and action shown in his other work, never once taking sides. It's not the most-seen film in his back catalogue, but hey - you can always take steps to remedy that.
Steve Jobs (2015)
Steve Jobs came out in January in New Zealand, and it hit me significantly harder than expected. Its stagey, three-scene screenplay structure is brilliant, and its investigation into corporate and creative obsession thorough, but it's the father-daughter story smartly positioned at the centre of the film that ruined me. I saw my dad in Steve Jobs - certainly his inability to understand what children need from a parent. Jobs gives his daughter Lisa a computer to draw with and an iPod with which to carry music, but what he can't comprehend is that simply being there is half the battle - and frankly, it's the more important half. Michael Fassbender does subtle, career-best work, encapsulating Jobs without impersonation and doing something far more important: carrying the film's emotional theme. If I'd seen Steve Jobs ten years ago, I would've just been geeking out over its tech history; now, I'm more interested in what it's really about.
How about you? What were your favourite movie discoveries - new or old - in 2016? Let's get it all out so we can attack 2017 with renewed verve.