The Five Best COMEDIANS IN CARS GETTING COFFEE Episodes
A closer look at the ultimate chill out show.
Comedians in Cars Getting Coffee's Crackle run recently came to a close. The next time we see the show, it'll be a Netflix jam. It's doubtful much about it will change. Netflix seems pretty hands-off when it comes to the creation of their original content, and the show already has a remarkably relaxed approach to begin with. Netflix won't even require set running times. There'll be no commercials, and you'll be able to watch them all at once instead of in weekly installments. That's about it as far as expected changes go.
So the show's not likely to take a huge leap in any new direction. Nevertheless, that Crackle run deserves at least some recognition. And since the show's audience is certain to grow with the switch to Netflix, a small primer on what the show has to offer feels appropriate.
The show's premise couldn't be simpler. Jerry Seinfeld picks up a pal, usually a comedian but that gets stretched a bit, drives them around in a fancy car and then takes them out to eat. And they just… talk. Whatever happens, happens. Sometimes, nothing happens at all. But even then, it still fascinates because good or bad, you get an unprecedentedly candid look at Jerry's guests and Jerry himself. And that Jerry Seinfeld is not a normal guy.
The show's been on for nine seasons, with most seasons running around six episodes. Except for episodes where people are in character (the George Costanza one or the unwatchable Miranda Sings episode), the entire run's low bar is exceptionally high. Still, some episodes stand out. I feel the following five are the most special for various reasons. They are not in any particular order.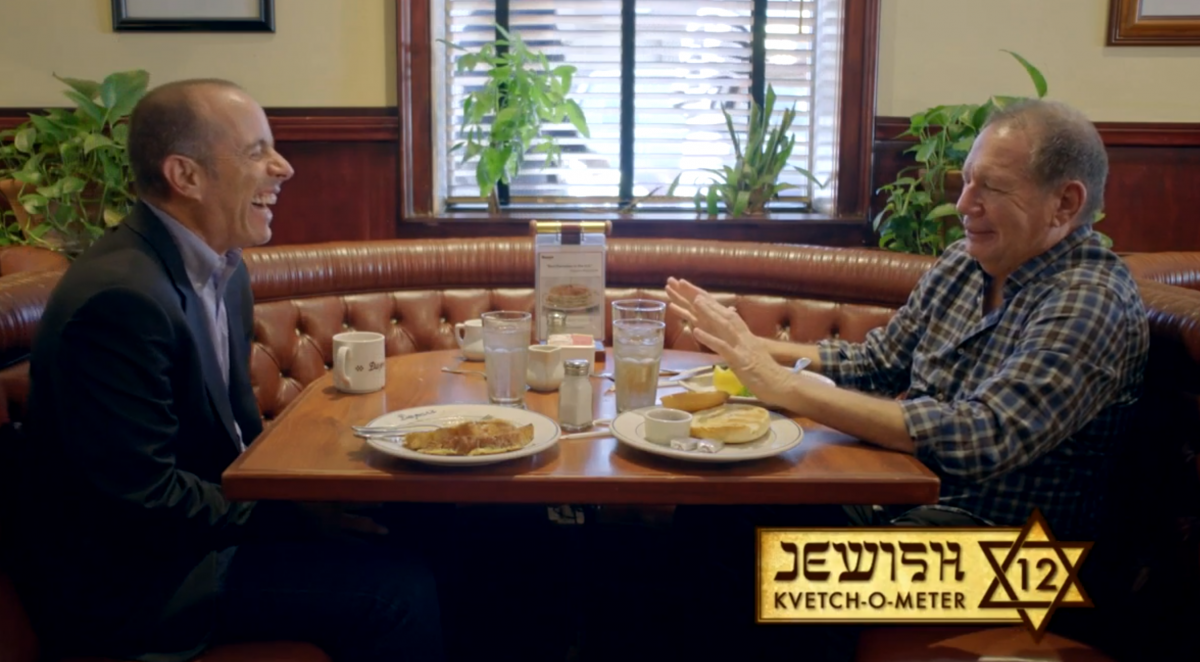 S7 E4 Garry Shandling "It's Great That Garry Shandling is Still Alive"
The horrific irony of this one's right there in the title. But that mournful feeling runs through the episode itself, even without the added significance of Shandling's death.
Released January 20, a little over two months before Shandling died on March 24, Jerry frames the episode with the nostalgia of two old friends looking back at a lifetime of working in close proximity to each other. They meet with an embrace that is surprisingly long and meaningful. They visit the Comedy Store. They talk about old times.
But Shandling being Shandling, it's not long before he starts talking about his ill health and fear of death. Even in retrospect, however, this ends up funnier than that sounds, particularly a bit where editors keep a rising count of Shandling's impressive health complaints throughout one simple conversation.
S9 E6 Bob Einstein "It's Not So Funny When it's Your Mother"
This episode's significance as the Crackle era's final outing has nothing to do with its place on this list. That's just a trivial coincidence. Instead, this is here because I firmly believe it's the show's funniest episode.
But maybe that's not such a coincidence. After all, it features Bob Einstein, the only person to make a second appearance on this show. Not only that, but Jerry promises him the car of his dreams if he brings his A-game, which he does. Bob Einstein's C-game is remarkable, so seeing him fire on all cylinders is something to behold.
And the clincher is, this extremely kind gesture from Jerry is all just a ruse. He ends the episode not giving Einstein the car after all. That's about as Jerry Seinfeld as it gets.
S6 E6 Stephen Colbert "Cut Up and Bloody but Looking Good"
Not every episode of Comedians in Cars Getting Coffee works, but that open, "who cares?" perspective on being entertaining is one of the show's most fascinating elements. You can usually tell one of these is coming by a shorter running time. For instance, this year's cringeworthy Christoph Waltz episode barely breaks thirteen minutes.
This one with Colbert gets to about seventeen, but it's also not as blatant a misfire. These guys give it a lot effort, but Colbert's overall warmth simply does not match up well with Seinfeld's "only comedy matters" point of view.
This gets illustrated in a major way when Colbert begins discussing the strangeness of just being alive by reciting Neutral Milk Hotel lyrics, to which Seinfeld reacts with extreme discomfort and disregard. There's a line of sincerity Seinfeld has a very difficult time crossing, and watching him squirm as Colbert takes him right up to it is fascinating.
S1 E9 Carl Reiner & Mel Brooks "I Want Sandwiches, I Want Chicken"
Watching this episode feels like a privilege and serves as the prime example of how candid this show can get. Seinfeld literally gets invited into Carl Reiner's home to witness him and Mel Brooks hanging out while eating dinner. Even if there weren't footage, that would be a story. But we get to witness it as well. They're not wearing makeup. Their microphones are openly just taped to their shirts. There's even a bit where Mel Brooks tells a great anecdote with a huge chunk of food stuck to his face. It's as close as you're ever going to get to hanging out with such legends.
And of course it's hilarious. It's Carl Reiner and Mel Brooks. These guys don't have to try to be funny.
S1 E10 Michael Richards "It's Bubbly Time, Jerry"
I'm not interested in defending Michael Richards, nor do I care to defend Jerry Seinfeld's increasingly frequent trips into uncomfortable territory. This isn't really about that. I mean, it can be about that if you want, but if you can look past it, there is something really special to witness here.
For getting famous by making extremely relatable jokes and observations, Jerry Seinfeld is not a relatable guy. He's not one of us. I like him because he never tries to be. He just doesn't give a shit. The guy's love for comedy supersedes a lot of what we might call normal personality traits.
Which is why it's so strange and moving to see him be sincere. It almost always happens when complimenting other comics on their skills. You can see it a tiny bit in the Shandling episode as well, as the two guys walk down their comedy memory lane together. But until the Michael Richards episode, I hadn't seen Seinfeld get deep or emotional about anything other than comedy.
As should be expected, it's super weird. It doesn't help that Michael Richards has always had a slightly scary edge to him (go look up Seinfeld bloopers to see what I mean), and it certainly doesn't help that Seinfeld thinks the world is ready to forget the tirade of racial slurs that got Richards in trouble in the first place.
But on the other hand, they're friends, and it's personal to them, and witnessing them confront it almost feels like too much, particularly coming from the normally cool as a cucumber Seinfeld. This episode was when I really fell in love with the show.
And not for nothing, but it's a particularly hilarious entry. Richards has problems, but the man is a physical comedy genius. There are plenty of incredible moments, but my favorite is when Jerry starts discussing jail as a way grown-ups punish children: "Mr. Manson! That was supposed to be a party! You should be ashamed of yourself."