Roger Moore's 1973 Book About The Making Of LIVE AND LET DIE Is Straight-Up Bonkers
This vintage movie tie-in has EVERYTHING: cheap producers, hairdresser woes, race relations, a JFK conspiracy...
It's so rare to get truly candid thoughts from an actor about a film of theirs. Performers hit the promotional circuit to support a film's opening, say a lot of publicist-approved things, and that's usually that. Commentary tracks - when anyone bothers anymore - are often done immediately after the film has wrapped, allowing no time for thoughtful reflection or emotional fermentation. What movie stars genuinely think of their work is, these days, more often than not a closely guarded secret.
That's what makes 1973's Roger Moore as James Bond 007 such a fascinating, jaw-dropping, and at times fucking surreal read.
A daily journal of the actor's experience making Live and Let Die, this Amazon Marketplace find is a delightfully candid glimpse into not only the making of that film, but into its star's head. Moore's very un-self-conscious observations, often only tangentially related to the production, reveal so much more than I was expecting. That it was published to coincide with the release of the film is mind-blowing, as Moore just types and types unflattering details about the producers, shooting conditions, and even his own personal peccadilloes.
But don't take my word for it. Enjoy these 007 choice excerpts that take you inside the mind of Moore.
001: James Bond Vs Harry Saltzman. One popular theme of Moore's is consistently fucking with Bond producer Harry Saltzman, usually over money (kind of hilarious, especially when/until you realize that the financially beleaguered Saltzman would be forced to sell his 50% stake in Bond to MGM two years later):
002: Manners Maketh The Man. Not content to razz Saltzman over financial matters, Moore seems to spend a great deal of time watching on in horror as his producer mistreats restaurant servers:
003: Moore Abhors Gabors. Once in a while Moore trades in his MI6 credentials to become a culture critic:
004: Roger Moore, Multi-tasker. Here he talks about how much he loves co-star David Hedison while displaying a subtle technique for maintaining his alpha status:
005: Bond. Woke Bond. Here he waves quite the progressive flag while simultaneously not missing an opportunity to show producer Saltzman being kind of terrible:
006: This Time, It's Personal. Moore is unafraid to show himself in less-than-ideal situations. He reacts to some devastating news in a rather emotional fashion, and please, please do not forget his birthday when he hasn't had his laxative cereal: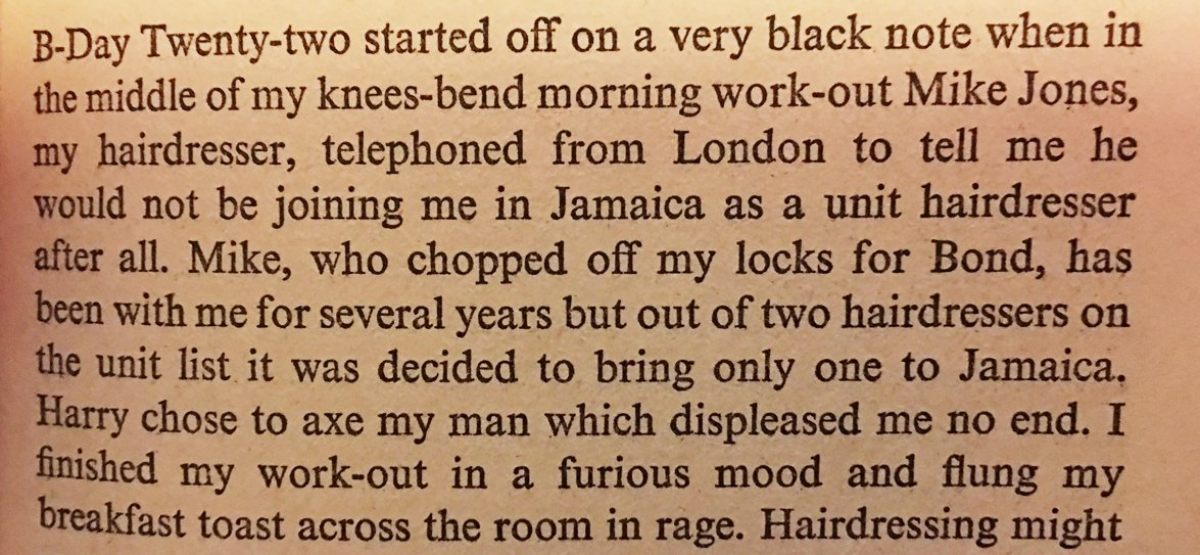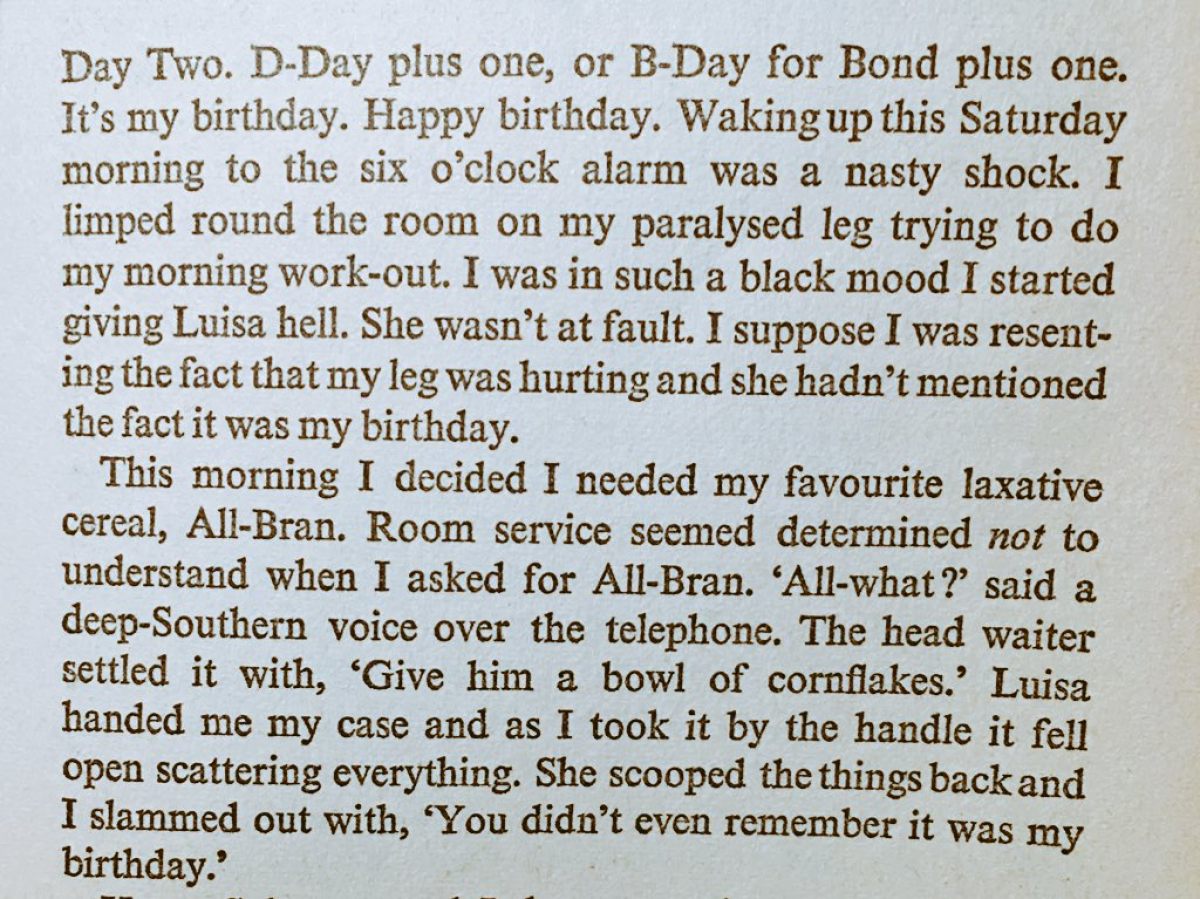 007: Oswald Did Not Act Alone. Moore claims to have some inside info on the JFK assassination, nbd:
In short, this is the best $5.25 I've ever spent. We're so conditioned to see this kind of candor in a tell-all published years later, it's nothing short of amazing that Moore's unfiltered account of shooting mishaps, penny-pinching producers, and his own persnickety behavior was published as a TIE-IN for the movie's release. What a strange moment in time.
You can find used copies for anywhere from $10 to $50 on Amazon or eBay (sometimes under the title of Roger Moore's James Bond Diary). If you're a fan of the 007 franchise, behind-the-scenes filmmaking stories, or Alan Partridge-type personas, this book is for you.
Big thanks to fellow Bond fan Matt Lynch for discovering this book last month and putting it on my radar.