Authors Kiwi Smith And Kurt Lustgarten On Feminist Adventure Comic MISFIT CITY
The writer behind LEGALLY BLONDE and 10 THINGS I HATE ABOUT YOU has a great new comic out - today!
Misfit City is a new female-driven adventure comic from Kiwi Smith and Kurt Lustgarten, and the first issue is in stores today. I got a chance to read Misfit City #1, and I'm in love with this clever, meta take on The Goonies, a modern revision that puts a group of extremely cool ladies in the middle of the adventure this time.
Smith is the screenwriter behind such brilliant, cheerfully feminist gems as Legally Blonde, 10 Things I Hate About You and She's the Man, and she and Lustgarten have taken a beloved property and renewed it in the best possible way. It's got the same great, adventurous spirit, but acknowledges that The Goonies isn't really a story for everyone. And Misfit City gleefully nods to a truth that most people who write about movies online have known for years: that film fans can truly be the worst.
The plot:
Wilder lives in Cannon Cove, the Pacific NW location of '80s blockbuster adventure movie The Gloomies. She truly loves her town, but is less enamored with the jerk Gloomies fans who blow in to obsess over filming locations and then blow right out again. Her friend Macy (in the Ramones shirt on the cover, and she's my fave) works at the local museum, and after an old captain who has long lived in Cannon Cove passes away, the museum inherits a mysterious trunk. Inside that trunk Wilder and Macy find an ancient treasure map once belonging to a pirate named Black Mary. The first issue ends with Wilder, Macy and their friends ready to embark on a journey, find the treasure and save Cannon Cove.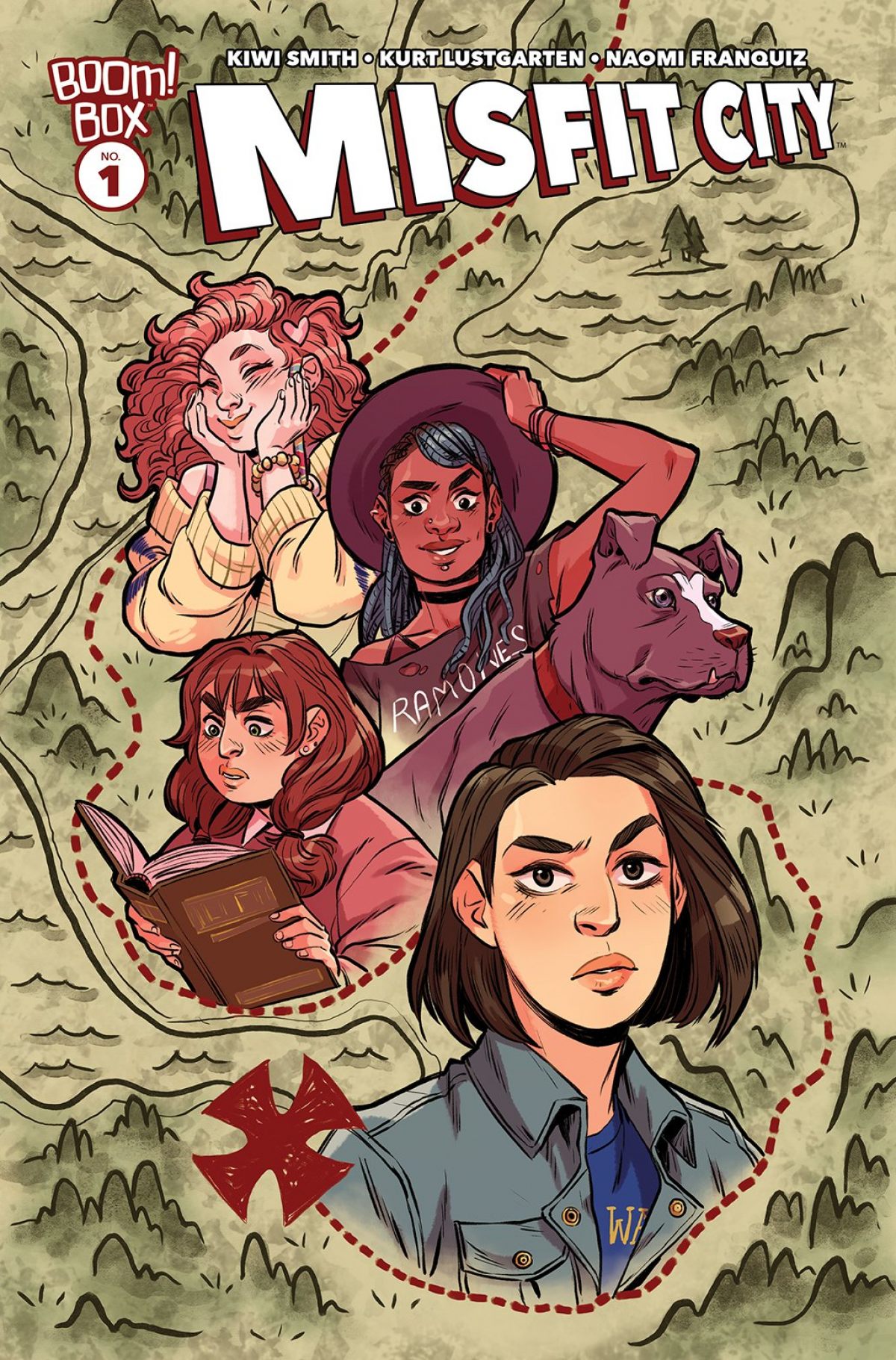 I love the more broadly-minded goals of Wilder and Macy. Whereas The Goonies' Mikey and Brand just want to save their own house, these girls are trying to save an entire town from the effects of pollution and invasive tourism. And, man, do these ladies rule. You will want to hang out with them so hard. I liked The Goonies as a kid, but always felt a bit left out of the fun. Smith tells us she felt the same way, and that's part of her inspiration behind Misfit City:
Kurt's favorite movie is The Goonies, but I was never obsessed with it because it wasn't female-centric enough for me. So the idea of giving girls their own treasure-hunting adventure with this kind of meta spin is a chance to do something boundary-breaking and just freaking FUN.
"Fun" is the right word for Misfit City. You'll blow through this comic because it's a complete blast, as instantly engrossing as finding your very own treasure map. The art is by Bitch Planet's Naomi Franquiz, and it's a perfect collaboration, with every page blazing with life. And yeah, you'll get a very distinct and deliberate Goonies vibe, but Lustgarten talked to us about the other '80s inspirations behind this caper:
The book is influenced by The Goonies, sure, but also movies like The Monster Squad, Explorers, and Raiders of the Lost Ark. I think we both really appreciate the tactile feel of those '80s adventure movies and that's something we wanted to evoke with Misfit City -- although, as Kiwi said, this time with a cast of girls who get to have their own adventure.
Misfit City is out from BOOM! Box Comics, and it feels like the perfect home for this story. From Smith, who has until now stuck to films and novels:
I was lured into the comic world when I got a cold email from BOOM! Studios editor Shannon Watters, asking me if I'd ever thought about writing a comic or graphic novel. I was really intrigued by her imprint BOOM! Box, which publishes so many rad feminist and inclusive books, so it felt like a gift from heaven that this bright young editor could take me by the hand and usher me into the world of comics. I'd always had the fantasy of creating a comic, I just had no idea how to go about it.
And why this particular comic?
Shannon and I started talking about ideas and the one that really stuck was an idea Kurt and I had come up with originally as a movie idea. We were driving through Astoria, Oregon, where The Goonies was shot, and we started brainstorming about a group of kids who live in a small town, in the shadow of an iconic movie.
You guys should absolutely dive into Misfit City - it's weirdly perfect for both fans and non-fans of The Goonies, lovers of adventure, anyone who's craving more fun, feminist escapades in their lives. So, everyone, basically. It hits shelves TODAY, and you can pick one up at your local comic book store.
And check out this great variant cover: