Mondo Goes Full LeeLoo for Eric Serra's THE FIFTH ELEMENT On Vinyl
Mondo adds another classic score to their collection of remastered vinyl soundtracks
It's hard to believe it's been twenty years since Luc Besson's enigmatic space production The Fifth Element (1997) graced theater screens. It's the rare film that is both rooted in nostalgia and simultaneously ahead-of-its-time. Two decades later, it's still difficult to pinpoint the period of cinema when this was made based on its visual, aural, and narrative context.
A large part of its charm is derived from Eric Serra's masterful music. He fused electronics with huge symphonic swaths to create something that hasn't likely been heard before or since. It's difficult to incorporate technology of the period and create something timeless. When we think of synth scores in general we associate them with music that reeks of qualities characteristic to the decade in which it was created. That's part of what gives synth music its charm. This is mostly due to the ever-evolving technology of the period. What Serra manages to capture with his score for The Fifth Element is a slice of timelessness that transcends the technological boundaries of the period. It's a score that gets better with age as new things reveal themselves whether it's the tenth time you're hearing the score, or the thousandth.
The pinnacle of this cryptic fusion culminates with the memorable opera scene. Here we have Korben (Bruce Willis) seated in a cavernous concert hall as a blue tentacle-headed alien sings the beautiful strains of a heavenly aria. This is an exemplar of Besson's penchant for extreme culture-clashing manifesting itself in a singular piece of music. We have the aural characteristics of the extreme past married to the stunning visuals of the extreme future. Suddenly, the music turns on a dime and morphs into an aerobically energetic dance number brimming with electronic rhythms and pulses as the alien reveals some of the "impossible" vocal techniques of which she is capable. It's a truly unique moment in cinema.
Besson's theatrics coupled with Serra's kaleidoscopic vocabulary creates a slice of cinema that is often imitated but rarely duplicated.
The music mavens at Mondo will be commemorating the film's 20th anniversary with a release of Eric Serra's masterful score on vinyl. This deluxe edition collector's item boasts eye-catching artwork by London-based illustrator Shan Jiang and comes in two different colored-vinyl variants. The first sporting a giant orange stripe on white vinyl reminiscent of Leeloo's iconic orange hair and "suspenders" and the other, a limited-edition "Super Green" variant limited to just 500 units. The 26-track listing is identical to the Virgin Records CD release which came out around the time of the film and has been remastered for vinyl exclusively for Mondo.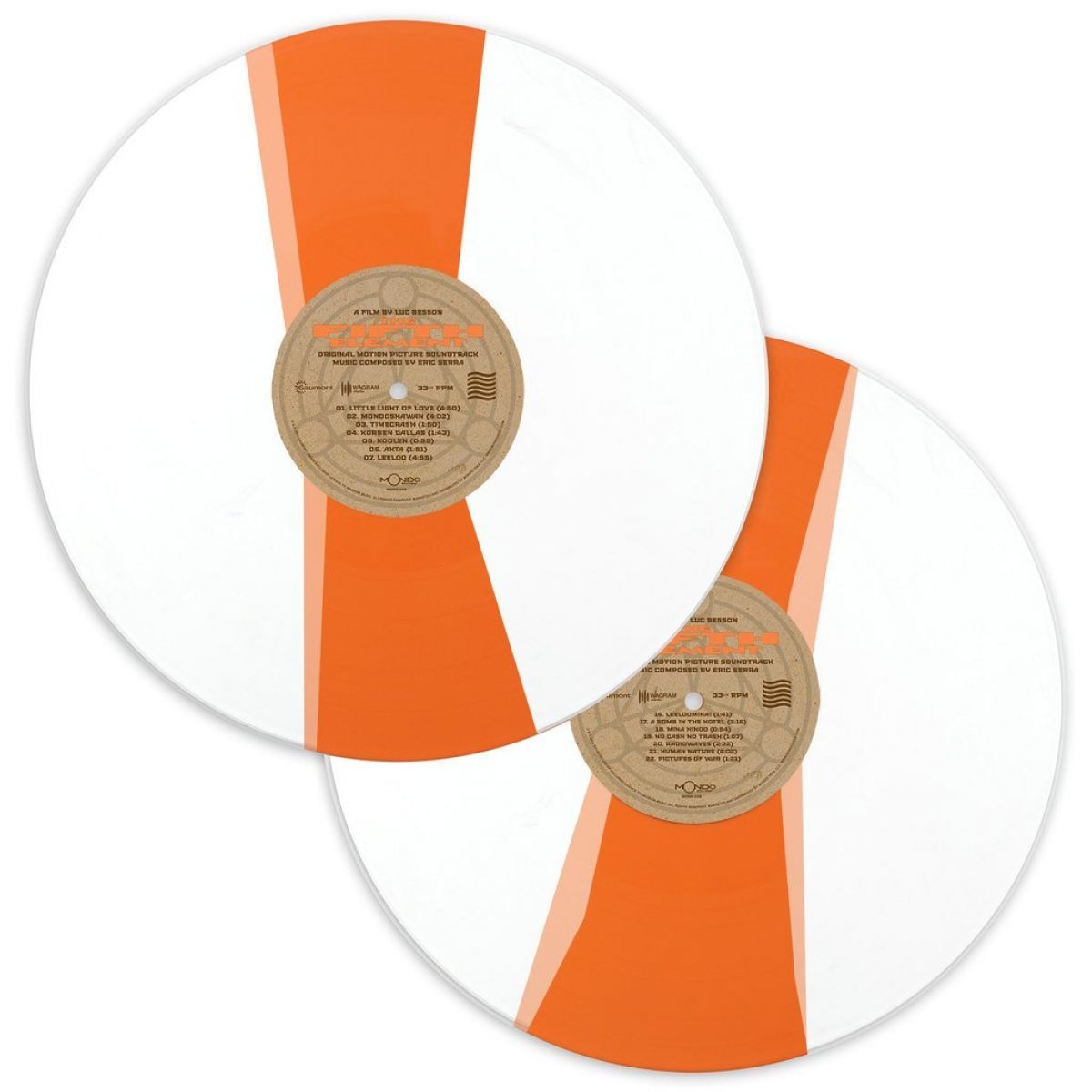 The album goes on sale Wednesday, May 17th at 12:00PM CST at Mondo's website.