Mondo's Dropping An Awesome LABYRINTH Print By Laurent Durieux Tomorrow
And we asked him some questions about it!
For almost as long as Mondo's been screenprinting movie posters, fans have been asking for a Labyrinth poster. Tomorrow, their wish will be granted in the form of an awesome new print from Brussels-based artist Laurent Durieux.
The print (which represents Mondo's first-ever collaboration with the Jim Henson Company) will - in the great Mondo tradition - be available in two different colorways, a regular edition and a variant.
The only question is, which one are you gonna go for? Let's have a look!
Labyrinth (Regular Edition) by Laurent Durieux
24" x36" Screen Print
Edition of 425
Printed by DL Screenprinting
$65
Labyrinth (Variant Edition) by Laurent Durieux
24"x36" screen print
Edition of 225
Printed by DL Screenprinting
$85
And here's Mondo's press release on the matter:
Tomorrow we will are celebrating one of our favorite films of the '80s, LABYRINTH, with a poster by the inimitable Laurent Durieux and new enamel pins from DKNG.

Absolutely brimming with creativity and innovative puppetry and creature effects, Jim Henson's 1986 fantasy film tells the story of Sarah (played by Jennifer Connelly) as she journeys into a dreamlike world inhabited by all sorts of memorable characters and puzzles to retrieve her baby brother from David Bowie's iconic Jareth, the Goblin King. Laurent Durieux has done a beautiful job capturing the magic and insane variety of creatures born of the film portrayed as various toys positioned around Sarah's desk. Labyrinth is one of our favorite films and we couldn't be more pleased about Laurent's work here.

We'll also have beautifully designed enamel pins by DKNG featuring Sir Didymus on Ambrosius, a Fireys and his detachable head, and the Worm ('ello!).
Obviously, this print's going to be a pretty big deal for Labyrinth fans and longtime Mondo fans, so we felt it'd only be appropriate to sit down with the artist to ask him a few questions about how the whole thing came together. Here's what he had to say...
BMD: Tell us a little bit about yourself!
Laurent Durieux: I am graphic designer and illustrator living and working in Brussels, Belgium. I have been doing this for the last 25 years or so. I have been working on alternative movie posters since 2011. My favorite artists, or at least the ones that have inspired me to do what I do today are Jean Giraud (aka Moebius), François Schuiten and all the anonymous artists who have been designing the countless covers for Modern Mechanix, Popular Science, or the early Fortune Magazines from the '30s. I am passionate about retro-futuristic imagery.
Tell us about your relationship to Labyrinth. You're a fan, I take it?
I had seen the movie when it came out in 1986, and it honestly didn't make a huge impression on me at the time. I was more into adult sci-fi like Blade Runner, Dune, Alien, Back To The Future, The Incal, etc…I'm a big fan of Jim Henson, though, he was a visionary and a genius. Like many of us, I grew up watching The Muppet Show and Sesame Street. I now watch it with a lot of nostalgia, as those were the days…sigh…
Walk us through your process in designing the piece: where'd the concept come from?
The piece actually was a private commission as an original drawing. It took me so long to find the right concept for it, many months in fact. After having watched the film for the 4th or 5th time, searching for an idea, I realized there was something to be done with Sarah's bedroom and all the stuff that was in it. I then realized that all the characters in the story were in fact appearing as stuffed toys in Sarah's bedroom. So that's the direction I went for!
This is Mondo's first collaboration with the Henson Company. Did that make you feel any additional pressure? Seems like quite an honor!
Not really, I'm finding it out now in your question (laughs). Anyway, I put enough pressure on myself already, I am very hard with myself. And yes, that goes without saying, it is an honor to be working for any property that is related to the genius of Jim Henson and David Bowie! Also, I have always had a crush on Jennifer Connelly.
You've tackled a wide variety of films and genres while working with Mondo. Which films have you NOT already created a poster for that you'd be interested in tackling?
I'd love to work more for any Film Noir genre. The classics from the '40s and '50s, for sure. I'm way more interested to work on movies with characters that are psychologically deep. Also, Kubrick, Scorcese, more Spielberg, Jean-Pierre Melville, Lynch, DePalma, Polanski, etc.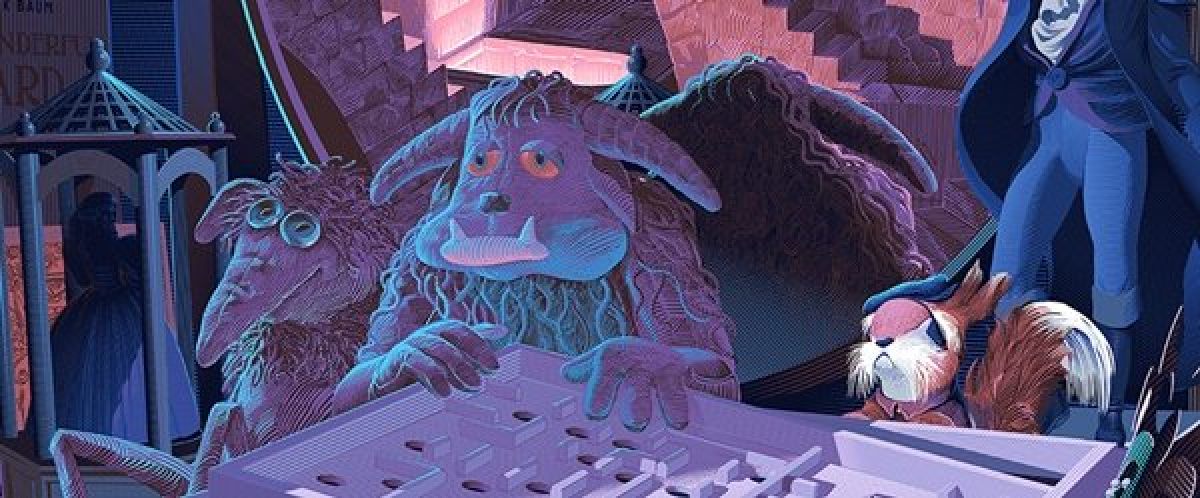 As mentioned above, Durieux's poster isn't the only bit of Labyrinth merchandise hitting the Mondo store tomorrow - we'll also be getting several new pins, designed by DKNG: Sir Didymus and Ambrosius ($10), a Fireys two-pin set ($15), and The Worm ($10). All are soft enamel pins with rubber clutch backings, and can be purchased separately or together, as a set, for $30. They look like this:
As previously noted, Mondo's Labyrinth print (and the accompanying pins!) will be available tomorrow at a random time at Mondo's website. Copies will last only until they've sold out, so make sure you're keeping a close eye on Mondo's front page - and its Twitter feed - for the announcement that it's gone live.
Special thanks to Laurent Durieux for taking the time to answer our questions, and good luck to anyone who's going after one of these awesome Labyrinth goodies tomorrow! Which version do you think you'll pick up? Think I prefer the reg, but something about the purple in the variant definitely works for me, as well.