Gawk At Annie Leibovitz's STAR WARS: THE LAST JEDI Set Photos
Featuring first glimpses at Laura Dern and Benicio Del Toro.
The prophecy of the collectible covers has been fulfilled: Vanity Fair's big Annie Leibovitz Star Wars shoot is here. Leibovitz's photographs can be found within the magazine's newest feature article - an article that contains a bevy of information about The Last Jedi's new characters and ethos, not to mention its status as Carrie Fisher's final film. Though the article is absolutely worth a read, it's a long one, so we've picked out some (but not all! Ha!) of the most interesting photos and details for your skimming pleasure.
First up is this shot of Rey on Ahch-To (the planet last seen in The Force Awakens' final moments), training for the dangerous sporting event that is lightsaber relay:
Rey chills out with new BFF Chewbacca in the Millennium Falcon cockpit:
A group shot of some of the film's heroes, including the late Carrie Fisher as General Leia, Oscar Isaac as Poe Dameron, John Boyega in full Dameron drag as Finn, and Kelly Marie Tran as Resistance maintenance worker Rose Tico, whose plotline takes her behind enemy lines with Finn:
...and one of the villains, including a freshly-Brylcreemed Domnhall Gleeson as General Hux, a freshly-scarred Adam Driver as Kylo Ren, and a freshly-unmasked Gwendoline Christie as Captain Phasma:
Two images of grotesquely wealthy assholes from the casino city of Canto Bight, described as "a Star Wars Monte Carlo–type environment, a little James Bond–ish, a little To Catch a Thief" by director Rian Johnson, and as "The 1% Cantina" by me:
Carrie Fisher, Rian Johnson, Mark Hamill, and producer Kathleen Kennedy are joined on-set by good pups Gary Fisher and Millie Hamill:
Droid-makers Brian Herring, Dave Chapman, Matthew Denton, Lee Towersey, and Joshua Lee are joined in-studio by R2-D2, BB-8, and what must by now be an extremely suit-fatigued Anthony Daniels:
Kylo Ren directs airplanes coming in to land: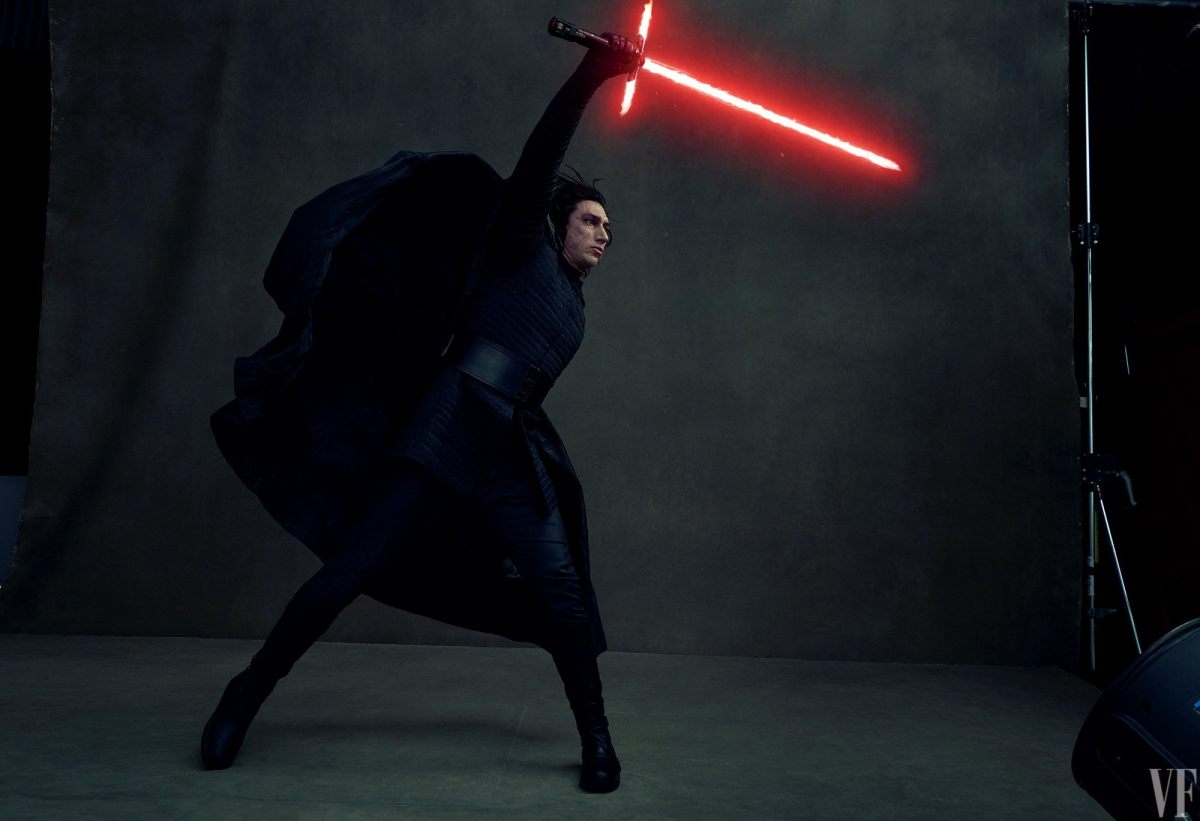 Our first look at Laura Dern as the magnificently purple-haired Vice Admiral Holdo of the Resistance:
Benicio Del Toro as a shifty dude the filmmakers refer to as "DJ" (for "a reason" that will become clear, apparently), but who for whatever reason is not named in the film:
And finally, a pair of heartstring-pulling shots of Carrie Fisher with Hamill and her daughter Billie Lourd (as Lieutenant Kaydel Connix), respectively:
A few more details from the article:
Rose has a sister: a gunner named Paige and played by Vietnamese actor Veronica Ngo.
According to John Boyega, Finn spends the first part of the film in a bacta suit, which is surely more accommodating than the tanks they were using in Empire's comparative medical dark ages.
Rian Johnson began his writing process by listing each character and asking, "What's the hardest thing they could be faced with?" - a fairly standard screenwriting practice, but one that must be giddily exciting (and daunting) when writing a Star Wars screenplay.
Preparation for directing The Last Jedi included watching WWII films and "funky '60s samurai stuff."
We have Brad Bird to blame for Colin Trevorrow's Episode IX hiring, as he came recommended by the Pixar and Mission Impossible helmer.
Carrie Fisher's advice to John Boyega following The Force Awakens' racist kickback? "Ah, boohoo, who fuckin' cares? You just do you."
Fisher slaps Oscar Isaac's Poe in one scene: "I think we did 27 takes in all, and Carrie leaned into it every time, man. She loved hitting me."
General Leia's role is expanded greatly from that in The Force Awakens, and had Fisher not passed away at the end of 2016, Episode IX would have been "her movie," according to producer Kathleen Kennedy. That movie starts shooting in January and is being "reconceived" around the loss of Fisher.
On that note, a quote from Kennedy: "We don't have any intention of beginning a trend of re-creating actors who are gone."
Still no hints at Noah Segan's role in all this business.
There's plenty more in the Vanity Fair article, arranged in the form of what I insist is a pretty great read, so be sure to click through and give it a good perusing.