How Mondo Made Their Incredible New GUARDIANS OF THE GALAXY Vinyl Figure
Mike Mitchell and Mondo walk us through the creation of their latest collectible vinyl figure.
Yesterday, Mondo announced its latest collectible vinyl figure: the Rocket & Groot: Treehugger set, based on Mike Mitchell's SDCC-exclusive Guardians Of The Galaxy poster. As with every collectible toy Mondo produces, the quality on this set appears to be top-notch, and we were curious to learn more about how it all came together. To that end, we spoke to Mondo's Brock Otterbacher and Mitchell himself, both of whom were happy to walk us through the creation of the piece.
Says Mondo's Brock Otterbacher:
"A few years ago, the Lil' Mikey vinyl figure was one of the first of our collectibles we offered, and it was also the first of our 3D interpretations of artist Mike Mitchell's Just Like Us poster series. Now, several years (and many collectibles) later, we're continuing Mitchell's line with the Rocket & Groot: Treehugger vinyl figure set, based on his San Diego Comic Con exclusive Treehugger print from several summers ago."
If you don't recall, here's Mitchell's original piece.
Otterbacher goes on:
"It started when Mike turned us on to another artist who had already rendered the piece in 3D, Willem-Paul Van Overbruggen. While he had done the piece just for fun, WP's piece was absolutely fantastic, and a great starting point for this project, so we contacted him, got the files, and were off to getting this set made."
I asked Mitchell if seeing his art turned into toys has been as nervewracking as I'd expect it to be. Mitchell says:
"Oh yeah, with Lil' Mikey we had to change quite a bit to make him able to stand and such. For Tree Hugger, it was a bit easier as my old pal Willem-Paul Van Overbruggen had done a 3d model for fun, so we started there. I think the final result for Tree Hugger managed to stay pretty true the JLU print it's based on!"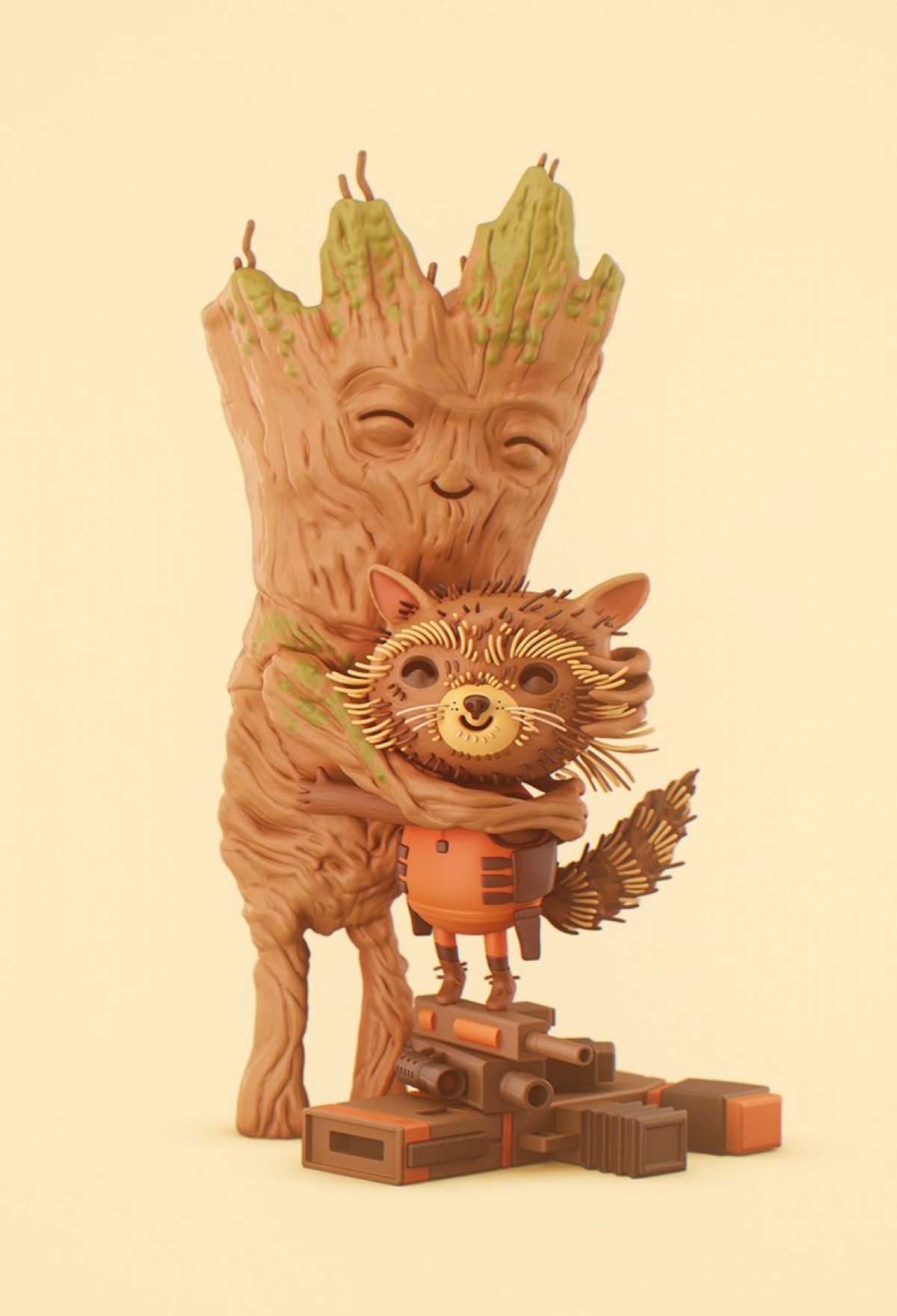 Next step: turning Willem-Paul Van Overbruggen's 3D renderings into something that could be produced in volume. Says Otterbacher:
"Unbox Industries was the next step, as they had sculpted and produced the Lil' Mikey, so it was a no-brainer to go back to them for Treehugger. Using WP's digital files as the basis, Unbox needed to make the piece more production friendly, as well as render out the rest of the characters' details, as in the original piece, they were only meant to be viewed from this one angle."
Here's the work-in-progress renderings, based on WP Van Overbruggen's take:
As always, however, it was decided that a Mondo-exclusive variant needed to be created. What to do? Otterbacher had ideas:
"While all this was going on, we, along with Mike, decided we needed something extra for the Mondo fans, so Mitchell sketched out Baby Groot in his JLU style, which we would then pass to Unbox to have turned into a mini vinyl figure."
Here's that sketch (warning: incoming cuteness overload):
Says Otterbacher:
"And finally, once all the sculpting was done, we have the fully painted Rocket & Groot: Treehugger vinyl figure set, along with the Mondo Exclusive Baby Groot mini vinyl figure, in all its adorable glory."
Adorable is right! Just look at this thing!
Asked what it's like seeing all this play out, Mitchell says:
"It's great! A bit stressful, because you have to compromise to make it work. I've got a pretty large toy collection, so it's cool to be on the other side of it, though it requires a lot more patience than I'm used to."
That patience definitely paid off: this Treehugger set is absolutely adorable (note: this is not a word I throw around loosely). Both the regular and variant versions of the set went on sale via Mondo's website yesterday. If you want to pick one up - or just get a closer look at either set! - hit one of those links, check 'em out, and make your purchases before they're gone forever (especially the variant edition, which will only be on sale through the 6th of June).
Oh, and one last thing: I asked Mitchell if he had any other prints he was itching to turn into toys, and here's what he told me:
"Oh, man, I actually have a handful of ideas for toys I want to make, but it's tough to make happen. Lucky for me, most of the work for Tree Hugger was done by Unbox Industries, Willem, and Brock. To do it myself is another thing entirely. We'll see though. I'd certainly love to do more JLU toys, but I'm also trying to get a Skully figured made. In time I hope."
We're standing by! In the meantime: thanks to Mondo's Brock Otterbacher and Mike Mitchell for walking us through this process! Head on over to Mondo's site to learn more.