The Mondo Gallery Announces Sonny Day's ALL THE FLOWERS AT MY FUNERAL
This is going to be something else.
A few summers ago, the Mondo Gallery threw open its doors on a most unusual showcase: Sonny Day's Mind Intern. That show offered a bizarre, oddly personal experience to those who attended (you can read my report from the frontlines here; sorry about all the missing photos), and was - in this writer's estimation - one of the Gallery's greatest achievements.
And so, it's with great excitement that I bring you the following news: Sonny Day's coming back to Austin with a new showcase, and it sounds just as weird as the last one.
Here's the news, via the Mondo Blog:
"We are all going to die. That sounds morbid but that's the truth. Funerals are solemn affairs but what if as a parting gift you could share the music that represents you? These small works are celebration of my love of life and music and how that drives my work. Each painting stands in for a song from a playlist that would be played at my funeral."

We're thrilled to welcome Sonny Day of Australian-based design duo webuyyourkids back to the Mondo Gallery for his second solo show, ALL THE FLOWERS AT MY FUNERAL. The exhibit will feature a collection of acrylic paintings on wood panel inspired by songs that would be played at his funeral.

The Opening Reception (Listening Party) will take place Friday, June 30th from 6-10PM. Funeral attire suggested.

On display through July 2nd (12-6PM).
Mondo's released a quintet of images from the showcase, and they're all excellent (I'm calling dibs on the rubber ducky painting now).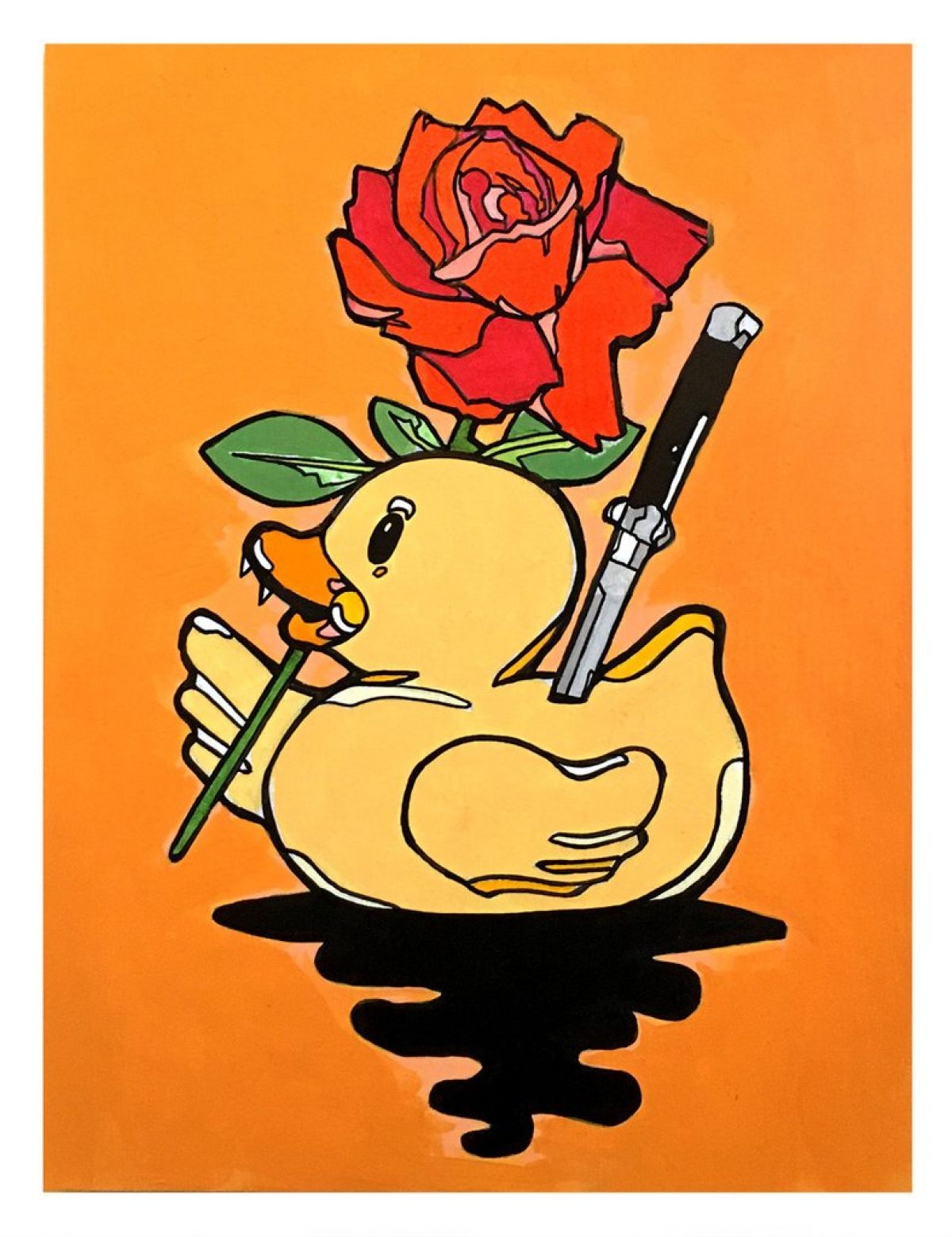 Mondo's Creative Director, Rob Jones, had the following to say about the showcase:
"It's no secret, if you get to know me past a Sunday smile, that I'm a miserable crank. You can ask Mitch, it's exhausting. I'm saying this because Sonny's show is one event I know that will make me naturally smile. You know in the movies when somebody has some magic, they look back at the camera and grin as a giant cartoonish star twinkle erupts from their right eye…usually with a little ding sound. Sonny is the most likely candidate of actually having that power, doubly so for his art."
Well said, Rob.
All The Flowers At My Funeral opens at the Mondo Gallery on June 30th and will remain on display through July 2nd. You can safely assume that I'll have a report for you from that show sometime during that weekend. Stay tuned.