What If IT CAME! And Nobody Saw It?
A very obscure direct-to-video flick used a rather common bit of genre titling.
It Comes at Night is out now! Buy your tickets here!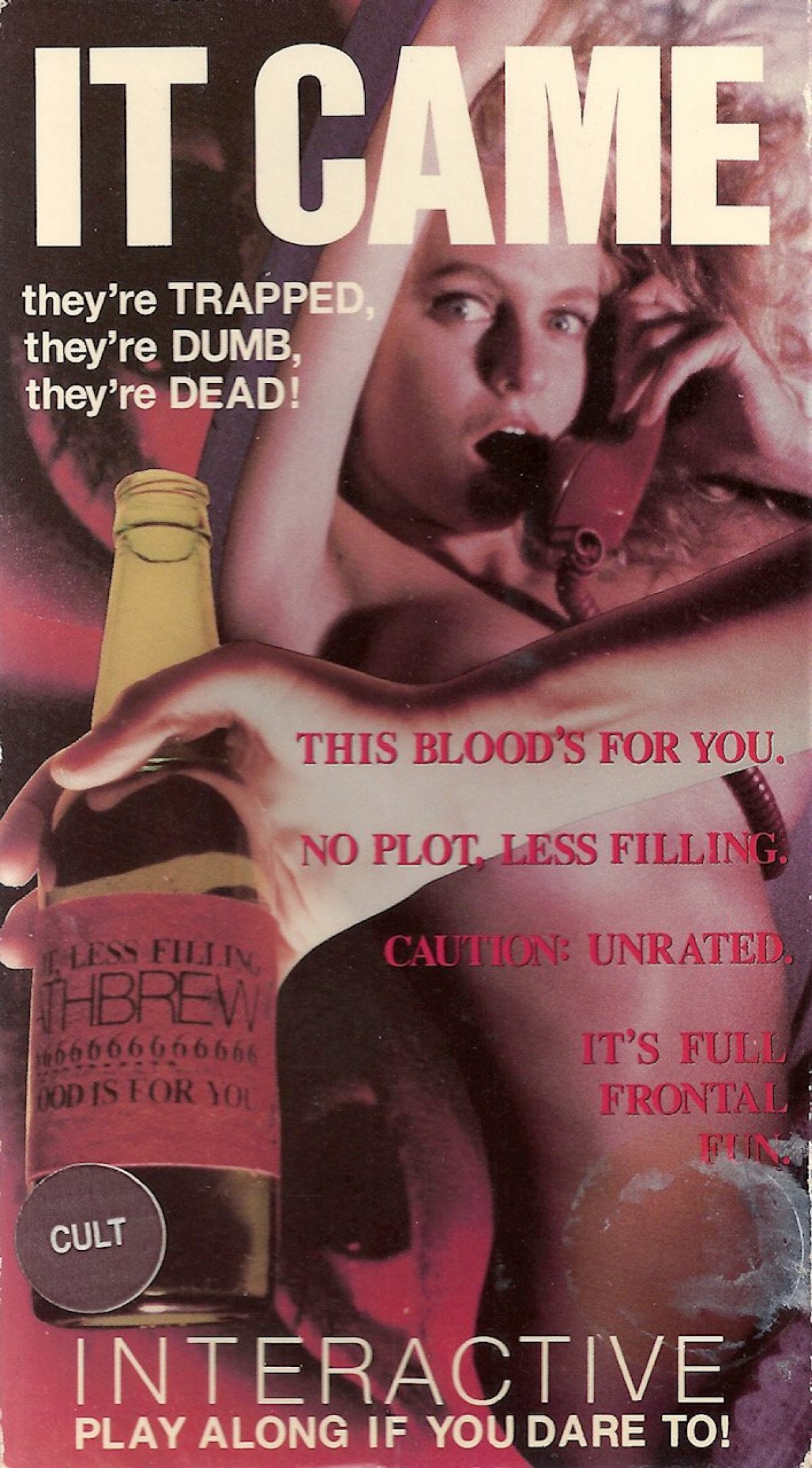 Before It Comes at Night and the present-tense immediacy of its title, a number of science fiction and horror movies used the past-tense variation in their titles. There were It Came from Outer Space and It Came from Beneath the Sea in the '50s, the 1980 alien-on-Earth flick Without Warning was rechristened It Came Without Warning midway through its run, and It Came from Hollywood backhandedly saluted bad cinema in 1982. Distilling this monikering trend to its essence was the 1993 direct-to-video release It Came!—which, ironically, went almost nowhere.
In all my travels through the VHS scene, the only copy of It Came! I ever saw was part of a massive inventory being sold off by a New Jersey video store that was going out of business. This was quite a store—it's also the only place I ever came across the domestic DVD release of Alexandre Aja's pre-High Tension sci-fi film Furia. Needless to say, I snapped them both up.
I've always been a sucker for videocassette obscurities like It Came!, even though they're often more fun in theory than in reality. Such was the case when I first popped this one into my VCR, though I was a little impressed when what I assumed would be a no-budget shot-on-video production appeared to have been lensed on film. Opening shots of a giant satellite dish in operation, no doubt grabbed guerrilla-style, also add to the production value, and set up a storyline in which a mysterious alien soundwave gets beamed from the dish into an operations room where the buttons sport labels like "Recieving Transmission" and "Aboart" (sic). Here, employee Yuri (John O'Neil, speaking in a badly dubbed Russian accent) is shirking his duties, instead calling the 1-800 line of Throbbing Video, purveyors of fine adult entertainment like Bobby Fucks Assholes and Big Fucking Dicks. (O'Neil gets an "Introducing" credit in the opening titles, among a lot of other actors who were also undoubtedly making their first movie—I love stuff like that.)
The extraterrestrial force fries Yuri's equipment and also Yuri, leaving him with the phone fused to his head, and jumps from there into the circuits of Throbbing Video. We then meet the company's employees, an assortment of misfits and ne'er-do-wells, in their cramped offices, which become a killing ground as one-by-one they are overtaken by the entity and turn violently on their co-workers. Just because they get gored doesn't mean they stay down, however; foul-tempered boss Mr. Zinema (Joseph Tudisco) gets his hand pinned to his eye with a soldering iron (via a sloppy prosthetic effect), which doesn't stop him one bit from spewing profanities and pitching attitude.
Despite the double-entendre title, and the promise of "Full Frontal Fun" on both sides of the box and "abundant…gratuitous safe sex" on the back, the only nudity in It Came! occurs when employee Henry (Alex Emanuel) gets it on with topless security guard Marsha Law (Nancy Aguilar). The box copy is accurate when it describes the movie as "Interactive": it opens with actor Howard Arneson as Dr. Vibrum Moroflex setting up the rules for a drinking game. Every time Dr. Moroflex takes a swig on screen, the viewer should as well—and considering that this scientist is such an alcoholic that he keeps pulling from his bottle even with a cigarette already in his mouth, that's a considerable challenge. And Dr. Moroflex is not much help, even when he arrives with a cop at the Throbbing office with an "ultra-high-frequency wave detector" in an attempt to stop the menace.
As should be obvious by now, It Came! is not meant to be taken seriously; the tone is that of Troma circa the first Toxic Avenger, with over-the-top characters and gore (death by power drill, fluorescent light tube, etc.) but stopping short of winking at the audience. True cleverness is in short supply, though, and there's a lot of down time between the gags and gore that work, all backed by an incessant, repetitive musical score. Dr. Moroflex tells us at the outset that anyone playing the drinking game who can "understand—or remember—the plot" by movie's end is the winner, but really, just making it to the joke-strewn closing credits is some kind of victory.
It Came! was the directorial debut of Bret Stern, who actually went on to make several other features, including the PI drama Perfect Lies and the thriller Dark Tides (both 1998), and the indie-filmmaking comedy R2PC: Road to Park City, featuring Teenage Mutant Ninja Turtles' Paige Turco and screenwriting guru Syd Field as themselves. Stern based the latter on his own book How to Shoot a Feature Film for Under $10,000 (and Not Go to Jail), which was described by EW.com as "A boorishly sexist how-to tome…[that] has a tendency to read like stereo instructions authored by Andrew Dice Clay." His Amazon.com bio on the listing for this tome says that Stern and his cohorts shot his first movie over a week during Christmas break at their college, using gear raided from its equipment room. Presumably that film was It Came!, and if so, those circumstances explain an awful lot.