Collins' Crypt: Screamfest Kicks Off Tonight!
BC has zeroed in on a few of the many films showing at this year's fest.
It's official: I am getting old. The season produces a ridiculous amount of options that cater to my horror-loving interests - screenings, festivals, haunts, etc. - and I've never been smart enough to give myself a break every now and then, so it gets harder and harder for me to keep up. Ten years ago, I'd be sad when Halloween night was over and everything went back to normal, and maybe five-ish years ago I'd be kinda glad it was almost over when the last week of October rolled around. Now? It's only October 10th and I'm already exhausted, finding excuses to skip things at a rate I find somewhat troubling. To be fair, I broke my big right toe last week (which has made walking around and sitting in oft-uncomfortable theater seats for hours on end to be less than desirable), but even now that it's feeling better I'm still kind of relieved when I look at the calendar and see nights where I am able to stay home without feeling bummed about missing something.
But then again, Screamfest starts tonight, and that will probably give me a much-needed boost of energy and enthusiasm. Like all festivals, I'm not going to love every movie I see, but what I love about Screamfest is that they don't program a lot of things that have played elsewhere yet, nor are they the films that will be opening wide in a few months (I saw Arrival at last year's Fantastic Fest, and while I loved it, I still wish I went to see something that wasn't getting a 2,300 screen release six weeks later). No, the majority of these films will get smaller releases, perhaps not even theatrical ones, meaning that this might be the only time I get to see them with a crowd, which is an experience I relish (as long as the crowd isn't made up of assholes). I've seen a number of my favorite recent horror films at the fest, and they were all films that I knew nothing about beforehand - as opposed to "on my radar" selections that I usually find at other festivals. That's more exciting to me, personally - even if a film isn't *as good* as a recent festival darling, the sense of discovery usually balances it out.
I also love variety, and it was with that in mind when I highlighted a number of the films that are playing at the festival, which kicks off tonight at the TCL Chinese theaters in Hollywood. The below list runs the gamut from crowd-pleasing comedy/horror to grimmer fare, and from period pieces to timely tales. It's even got some repertory screenings, always a bonus for a festival as it's fun to celebrate the old while championing the new, and even though their revival showings are tinged with sadness (they're tributes to masters we've recently lost), there's never *not* a good time to relive the classics on the big screen, regardless of the reason they were programmed in the first place. I probably won't be able to make all of these, but I'll try my damnedest - hope to see you at some or all of them!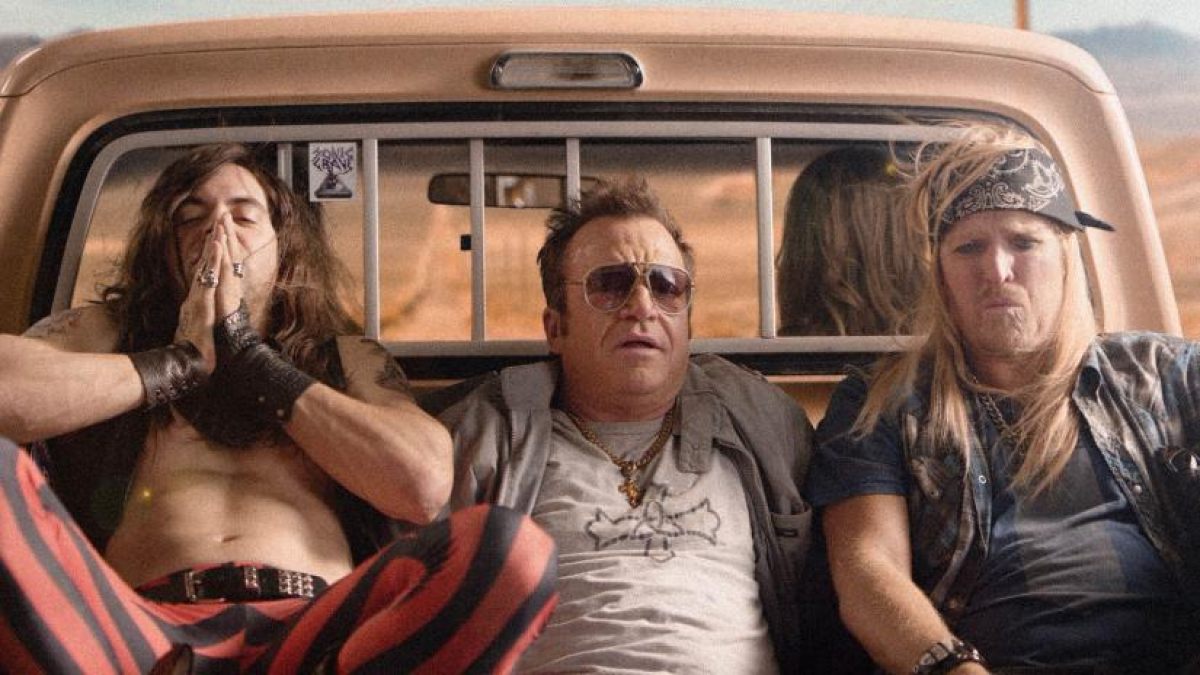 DEAD ANT
Tuesday, October 10, 2017 - 7:30pm
Synopsis: When the "one-hit-wonder" glam-metal band "Sonic Grave" embark on a trip to Coachella in hopes of a comeback, their peyote trip pit stop in Joshua Tree incites an "unworldly" vicious attack, and they must "rock" themselves out of harms way.
Directed by: Ron Carlson
Cast: Tom Arnold, Sean Astin, Jake Busey, Ryhs Coiro, Leisha Hailey, Cameron Richardson and Danny Woodburn
The synopsis leaves out the specifics of what attacks them: ants! Giant ants, specifically - from rat sized ones that can get you in "safe" spots to giant ones that tower over our heroes, the trailer promises lots of carnage, not to mention the unusual but awesome choice of protagonists: a cheesy hair metal band. It's a goofy combination of elements that will hopefully come together in a crowd-pleasing way; the legitimately fun B-movie has been making a low-key comeback in recent years thanks to the likes of Big Ass Spider and Wolfcop, and this looks likely to join their ranks.
ALONE
Wednesday, October 11, 2017 - 9:30pm
Synopsis: Leïla is 16. She wakes up late, like any other morning. Except that today, no one is here to tell her to get moving. Where are her parents? She gets on her bike and rides through the neighborhood: it's all empty. Everybody has disappeared. Thinking she's the sole survivor of an unexplained disaster, she eventually crosses ways with four other teenagers: Dodji, Yvan, Camille and Terry. Together they will try to understand what has happened and to learn to survive in a world that has become hostile... But are they really alone?
Directed by: David Moreau
Main Cast: Sofia Lesaffre, Stéphane Bak, Jean-Stan Du Pac, Paul Scarfoglio, Kim Lockhart & Thomas Doret
Ils (aka Them) is one of my favorite home invasion films, and I was sad to see its directing team of David Moreau and Xavier Palud wasted on the American remake of The Eye for their followup. It seems they've split up since then, but hopefully Moreau can handle things on his own in a film that sounds like a teenagers' ideal wish fulfillment movie - but will likely be less fun than its protagonists originally think. Apparently it's not really horror (IMDb lists it as Fantasy/Sci-Fi, and it's based on a comic book), but that's OK - suspense (which Ils delivered in droves) is nothing to scoff at, and piecing together the mystery will hopefully more than make up for the lack of terror elements.
LEATHERFACE
Friday, October 13, 2017 - 7:30pm
Synopsis: In Texas, years before the events of the Texas Chainsaw Massacre, in the early days of the infamous Sawyer family, the youngest child is sentenced to a mental hospital after a suspicious incident leaves the sheriff's daughter dead. Ten years later, the Sawyer teen kidnaps a young nurse and escapes with three other inmates. Pursued by authorities including the deranged sheriff out to avenge his daughter's death, Sawyer goes on a violent road trip from hell, molding him into the monster now known as Leatherface.
Directed by: Julien Maury, Alexandre Bustillo
Main Cast: Stephen Dorff, Lili Taylor, Sam Strike, Sam Coleman, Vanessa Grasse
Maury and Bustillo have had zero luck with North American distribution for their films so far, and their curse was seemingly going to be lifted with Leatherface, since it would be a new sequel to a major franchise (the last three entries have a combined $200m gross worldwide). But alas, for whatever reason even this one won't have much of a theatrical release, as it premiered on DirectTV (huh?) before a traditional VOD/Theatrical release on October 20th via Lionsgate. If tradition for such releases holds, this means the theaters showing the film will be out of the way and perhaps only showing it once or twice per day, so Screamfest's showing might be the only way to see it with a giant crowd of fans. As a bonus, the screening will be followed by a revival showing of Tobe Hooper's The Funhouse, one of his more underrated efforts and a much more inspired choice than more obvious choices like Texas Chainsaw or Poltergeist.
1922
Saturday, October 14, 2017 - 8:00pm
Synopsis: After murdering his wife with the help of his teenage son, Wilfred James' life unravels, and he is haunted by visions of what he has done.
Directed by: Zak Hilditch
Main Cast: Thomas Jane, Molly Parker, Dylan Schmid, Kaitlyn Bernard, Bob Frazer, with Brian D'arcy James, and Neal McDonough
OK, when it comes to casting Tom Jane in a Stephen King adaptation, you might end up with a masterpiece like The Mist, or you might end up with... whatever Dreamcatcher is (it ain't boring, that's for sure - and they didn't exactly "ruin" the equally insane book). Either way I'm bound to enjoy myself, and the addition of Molly Parker and Neal McDonough doesn't hurt. Plus this is not a story I'm familiar with, so I can go in blinder than I can with the other King adaptations as of late.
Also, sounds like a weird father son bonding movie.
TRAGEDY GIRLS
Sunday, October 15, 2017 - 8:00pm
Synopsis: Best friends Sadie and McKayla are on a mission to boost their social media fandom as amateur crime reporters hot on the trail of a deranged local serial killer. After they manage to capture the killer and secretly hold him hostage, then realize the best way to get scoops on future victims would be to, you know, murder people themselves. As the @TragedyGirls become an overnight sensation and panic grips their small town, can their friendship survive the strain of national stardom? Will they get caught? Will their accounts get verified?
Directed by: Tyler MacIntyre
Main Cast: Brianna Hildebrand, Alexandra Shipp, Josh Hutcherson, Kevin Durand, Jack Quaid, Craig Robinson
MacIntyre's last film, Patchwork, is a delirious and inventive blend of The Hangover and Frankenstein, and I've been eager to see what he'd do next. Making fun of social media stars (in a plot that sounds like a comedic version of Nightcrawler) is definitely an easy way to get my approval, with the added bonus of the great Kevin Durand, who is always fun to watch even if the material is beneath him (how else do you explain The Strain making it to a fourth season?). If you can't make it, please check out Patchwork (which also played at Screamfest) at your earliest convenience, it's such a fun flick.
RUIN ME
Monday, October 16, 2017 - 7:00pm
Synopsis: Alexandra reluctantly tags along for Slasher Sleepout, an extreme event that is part camping trip, part haunted house, and part escape room. But when the fun turns deadly, Alex has to play the game if she wants to make it out alive.
Directed by: Preston DeFrancis
Main Cast: Marcienne Dwyer, Matt Dellapina, Chris Hill, Eva Hamilton, John Odom, Cameron Gordon, Sam Ashdown
Honestly I just saw "Slasher Sleepout" and decided I would be seeing this movie regardless of anything else it might be about. Don't tell me.
TO HELL AND BACK: THE KANE HODDER STORY
Tuesday, October 17, 2017 - 7:00pm
Synopsis: Featuring interviews with cinema legends, including Bruce Campbell (Ash vs. Evil Dead), Robert Englund (Freddy Krueger), and Cassandra Peterson (Elvira: Mistress of the Dark), To Hell and Back: The Kane Hodder Story peels off the mask of Kane Hodder, cinema's most prolific killer, in a gut-wrenching, but inspiring, documentary. To Hell and Back is the harrowing story of a stuntman overcoming a dehumanizing childhood filled with torment and bullying in Sparks, Nevada. After surviving a near-death burn accident, he worked his way up through Hollywood, leading to his ultimate rise as Jason Voorhees in the Friday the 13th series and making countless moviegoers forever terrified of hockey masks and summer camp. After decades of watching Kane Hodder on screen, get ready to meet the man behind the mask in To Hell and Back – an uniquely human story about one of cinema's most vicious monsters.
Directed by: Derek Dennis Herbert
Main Cast: Kane Hodder, Robert Englund, Bruce Campbell, Cassandra Peterson, Adam Green, Mike Aloisi, John Carl Buechler, Sean S. Cunningham
Some of these movies I might miss because of work or whatever, but I can guarantee I'll be at this one - I'm moderating the Q&A with Kane after the film! I've met him a number of times over the years and have always enjoyed talking to him; he's got great stories and lots of respect for his peers (including the other Jasons - just last month at a screening of the new Hatchet film he gave Derek Mears lots of love for his performance in the Friday remake), and I expect that the documentary will reflect that attitude. And I love that they got Englund on board; if you've ever seen him talk you'd know that the director probably had enough material to fill the movie just from him alone, and like Kane he's equally generous when it comes to respect for his fellow men behind the masks. And as I've spent a number of hours over the summer getting killed by Jason in the Friday the 13th game (Kane did the motion capture work for all of the Jason models, not just the ones based on the films he appeared in), I'm looking forward to asking him about his experience with that as well.
NIGHT OF THE LIVING DEAD/DAY OF THE DEAD/CREEPSHOW
Thursday, October 19th - 5:00pm
As you all know, we lost George Romero over the summer, a devastating loss to any self-respecting horror fan, as he was still actively working and thus in the process of giving us a fresh batch of nightmares. With so many classics, it would be impossible to pick just one for a tribute, so Rachel Belofsky and the rest of the Screamfest team opted to turn their entire closing night over to the Master, with a triple feature of Night of the Living Dead (which will be free!), Day of the Dead, and Creepshow - the only one of Romero's films to top the box office. I'm not sure if they'll have any of his collaborators or friends on hand to offer a few words, but the films speak for themselves anyway, and I think it's a perfect way to end the festival. George was fiercely independent and a huge inspiration to the folks that made these and countless other films that have played the festival in the past, and even though he's gone his talent and spirit will continue to inspire who knows how many future generations of budding genre filmmakers that will hopefully join Screamfest's legacy.
The festival runs from October 10th-19th at the TCL Chinese in Hollywood. Tickets and passes are available from the Screamfest site.