Exclusive: Matthew Woodson Walks Us Through The Making Of His 2001: A SPACE ODYSSEY Poster
"I drew monolith fan-art for myself."
Matthew Woodson's 2001: A Space Odyssey poster must to be seen to be believed.
That's not all hype, honestly. The 18" x 36" print is 11 colors on special-ordered Chromolux black gloss paper. That impossibly black, reflective monolith in the center of the print? That's the paper. It's a clever use of screen printing on top of being a bold concept, and it works. More saliently, photographs don't do it any justice. It's a poster that should be seen in person to appreciate the full effect. No surprise, then, that Woodson's 2001 was released and sold out on the first day of MondoCon 4 this year. A fitting debut for this tricky poster, which began as just an idea at the convention last year.
"It all started at some event during MondoCon 3," Woodson explained during an interview at his home office. "[Mondo Creative Director] Rob Jones, in his magical Rob Jones way, leaned over and asked if I would be interested in tackling a Kubrick poster. At this point, I had just seen Rory Kurtz's stunning A Clockwork Orange, and basically just laughed off his suggestion."
After ruling out other well-explored Kubrick movies including The Shining, Woodson settled on 2001: A Space Odyssey. "I ended up rewatching it to see if I could even attempt to make a poster," Woodson said. "The last time I saw 2001 before then was back in high school, and it didn't really register with me. On rewatch, I was just completely floored by 2001 from the opening sequence—like I had never seen it before. It blew my goddamned mind. I watched it again three or four times that week, and then reread the book. It just flipped a switch."
Read on below, as Matthew Woodson talks us through the process of creating this striking piece, including tons of inspiration, alternative versions, and work-in-progress images. Anyone who'd like to see this 2001: A Space Odyssey poster with their own eyes can find Woodson's AP copies for sale at his online shop, Monday November 27th at 1pm CST.
"Making the poster, I knew I didn't want to invite any comparisons to the late Robert McCall's original one sheets, because they're my favorite posters that have ever existed. The paintings on those have been burned into my head, they're part of my visual library. They're the reason why I wanted to do posters to begin with; I didn't want to cheapen them by doing my own version.
So I knew what I didn't want in the poster. I didn't want to tackle anything that involved monumental scale in space. I also knew I didn't want any of the characters from the movie. While the space stations, Pantone spacesuits, and sweeping cosmic backdrops are beautiful, they aren't what 2001 is about for me. The whole movie is about the monolith and what it does to anyone who interacts with it. So I wanted the poster to be about a monolith—monolith TMA-0 specifically—and what it does to whoever's looking at it. How does it make you feel? It defies understanding and demands understanding. It exists without context as this mesmerizing, cosmic thing. The monolith gives you this primal fear because you don't understand what's on the other side of it.
I wanted my 2001 poster to make you feel the way the movie makes you feel when you watch it. I think my Jonny Quest poster [for Mondo in 2014] does that pretty well. I feel like I'm watching Jonny Quest when I look at it. That's what I want, and I like to think that's what other people want."
"So, this was the first sketch I sent to Mondo after not saying anything about a 2001 poster for months. By this time, I had already decided that I wanted the monolith to be a special element within the poster; so it was already knocked out in the sketch to show "there's gonna be something else here.
"Pretty much straight out of the gate I knew I wanted in the poster: the African landscape with a night sky, the monolith, the kitty cat, and some kind of cosmic event happening. I wanted the poster to be tall and skinny—to represent the height of the monolith, and the experience of looking at it from the bottom to the top. At 18" by 36", the poster isn't the same proportions as the monolith, but it's a complimentary shape.
I just made a love letter to 2001: A Space Odyssey. It's all about the monolith, honestly. It isn't about the apes, Space Station V, or HAL, or the dudes on the moon. It's about the monolith. The monolith just appears, and then things happen. The concept of this object from beyond the stars is so beautiful to me—it's unknowable. I drew monolith fan-art for myself."
"Knowing the elements I wanted and the composition I wanted, I was able to just dive straight into line work on the terrain and the leopard. Then I started to work on the light source, which I knew was going to be super weird. It's nighttime, and not only is there moonlight, there's light reflecting strangely off this monolith, too. There are just so many light sources that the planning process for that started really early. You can even see it if you go back and look at the initial sketch."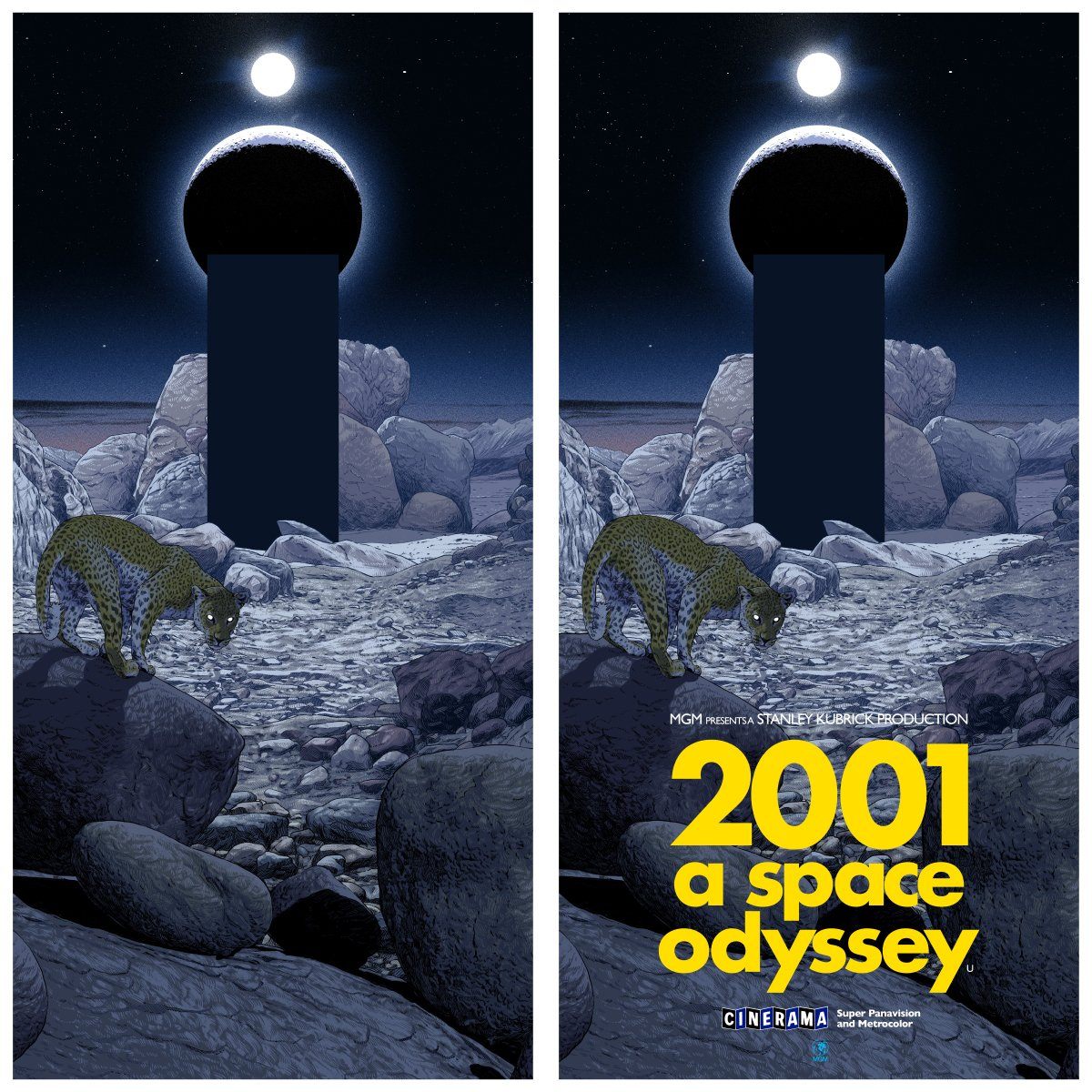 "After I fleshed out the sky and the moon, I started to think about the type again. I started pulling the Futura and typesetting directly from the original theatrical poster and implementing it into mine. When I started to look at it, though, I started thinking that yellow was not complimentary to the poster. I also thought the overall shape of the text block was not complimentary. It messes up the depth of field, and that was the whole point of this poster—achieving a dolly zoom effect that pulls you into the monolith while disorienting you."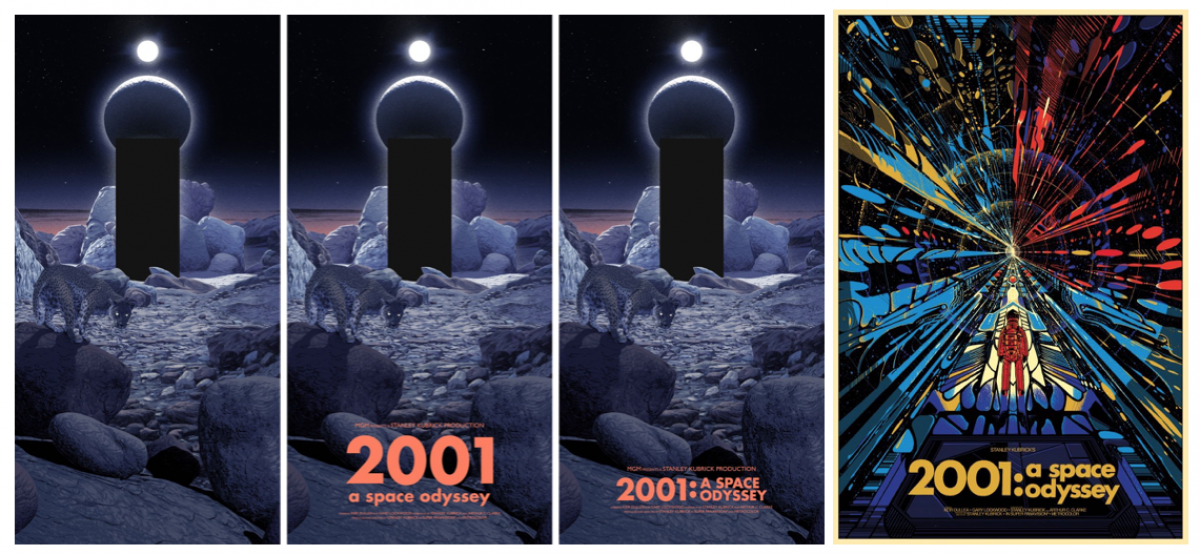 "So then I started to work on finding a type treatment that looked a little better in that space, but still honored the original one sheet. I started playing with the different layouts for the type from the original 2001 posters while considering the use of my space a little better.
Eventually I had to give up. The main reason was Kilian Eng's 2001: A Space Odyssey poster. It's one of my favorite alternative posters for that movie, and I realized that he ended up doing the same thing with the original titles that I was exploring. At that point I wanted to avoid trying to do anything that Kilian had already done."
"I went back and forth a lot on what I was going to do with the type, and I ended up using a thinner period typeface that came off a little more modern, matched the poster a little better. And that's the first version we sent through to the Kubrick estate for approval. It's also the version they said looked too much like a perfume ad. In retrospect, I agree. It's slick and abstract, center-aligned, and has a big sexy kitty on it. I'd buy the hell out of that perfume, though. It would smell like space."
"After that round of feedback from the estate, I nixed the moon entirely. It was distracting and the poster was overall kinda confusing because of it, and not in a fun way. Once we got rid of the moon, we were left with this huge white sun, which I thought was overwhelming. I already had this light source all set up for the image, though, so we needed to have some bright point in the sky to explain it. We couldn't lose the sun entirely."
"I started playing with the white sun versus a full eclipse: How much light did I want coming off of it? How did I want the shape to look in the sky? What would give me the best overall balance of dark and light? I had to figure out how to get these elements to play off of each other without taking anything away from the monolith. I thought maybe we should lose the glow around the monolith; maybe it was too distracting. But in the end, the monolith needed to glow."
"I did a few more adjustments in the sky and some final color work, and then sent the file off to the printer, expecting it to be completely unprintable. My favorite part of making posters is the physical object you get in your hands, that thing you made. With screen printing, there's always a question of "What's that going to look like?" Because as an artist, you make something, and then it goes off to the screen printer—who is also an artist, making the poster with you—and sometimes things get lost in translation, or things just turn out differently than you expect.
2001 had to be more than a print, more than ink and paper. It had to feel like something from another world. I wasn't going to come up with a better concept for using varnish than I did for Under the Skin. Maybe in 20 years, but not now. After talking with Rob Jones about it for a long time, we got samples of every weirdo black paper. Chrome blacks, mirror-shiny blacks, suede blacks, velvet blacks, every kind you could imagine. At the bottom of this pile was the blackest black paper I'd ever seen, and I knew we had to use that paper. It looks like it goes on forever. It absorbs light, it absorbs your attention. It's perfect for the monolith."
(2001 companion handbill, "TTAO-000")
"Because Mondo had to special order this really nice paper, and since 2001 is this unusual size, we had an excess of this glossy black paper running up the side of the posters. Mondo offered me the extra paper, colors, everything from the 2001 poster to do my own prints. I figured that I had burdened them with all this extra paper, so I should try and make the best of it. I took an early sketch of the leopard from 2001, finished it up, and made it into a companion piece for the poster.
It printed great, honestly. Not that you can tell from a picture, though. I apparently wanted all my work to be impossible to sell online. I can't photograph the work I do anymore, because the details and finishes just don't show up. I just want everything to have this tangible, special quality that you can only really appreciate when you hold it in your hands."
This article was adapted from a recorded interview, edited for clarity and length. A heartfelt thank you to Matthew Woodson for taking the time to sit me down and explain all of the work that went into the creation of this arresting piece. And to anyone thinking about getting their hands on one of the very limited number of AP copies of this print or its companion handbill, "TTAO-000," find them at his online shop on November 27th at 1pm CST.