Siddhant's Top 20 Films Of 2017
"A man's reach should exceed his grasp, or what's a heaven for?"
Cinema is strength. I've always believed that, and in a world intent on tearing itself apart, it feels especially vital to be able to communicate and empathize across boundaries. Sometimes that means reflecting on the ghouls we've become as our ego takes physical form, like David in Alien: Covenant. Sometimes it means striking down those ghouls and standing tall in a moment of Colossal victory. Sometimes it means gawking at ghoulish inhumanity as it spills spaghetti on its shirt in The Killing of a Sacred Deer, but sometimes it means recognizing that the ghouls are entirely human, and the way to defeat them is by loving as fearlessly as The Shape of Water.
It can mean contextualizing what love has come to mean in the modern world, like cross-cultural rom-com The Big Sick, or what loss has become in the digital age, via arthouse tech-horror Personal Shopper. It can involve questions of memory, identity and all that we are, as in Don Hertzfeldt's animated short World of Tomorrow Episode 2, or it can be as frivolous as pushing the limits of artistic acceptance by monkeying around inside The Square. It can mean empathizing with innocent animals in Okja. It can mean understanding why detestable people are worthy of kindness in The Disaster Artist. It can mean fun adventures with the women of Girls Trip, or being yanked into adulthood through fear and loss alongside the kids of IT, and it can even mean watching our favourite superheroes deal with family, abuse and trauma in Guardians of the Galaxy Vol. 2.
It can be Daniel Day-Lewis' last film. It can be Greta Gerwig's first. It can be wild escapism rooted in relevant subtext – a Thor comedy about colonialism! An anti-militarist King Kong! A xXx relaunch rooted in globalist action cinema! – just as it can be the meaningful naturalism of Loev, Wonder or Brigsby Bear, each rooted in escape itself. Cinema had to live up to an increasingly dour and bizarre reality these past twelve months, and it did so admirably across the spectrum. The incredible aforementioned works are testament to that fact and they each deserve a spot on this list. Alas, there's only so much we can celebrate in one sitting.
Let's get to it, then. The very best films of 2017:
20. CASTING JONBENET (Kitty Green)
We never see footage or photos of the real Ramsey family in this True Crime documentary. Neither parents Patsy and John, nor older brother Burke, nor murdered six-year-old JonBenet. Only the local actors auditioning to play them.
Netflix's Casting JonBenet is born in its own pre-audition interviews, wherein we catch glimpses of not only the performers' opinions on the subjects, but the parts of their own lives that, intentionally or otherwise, inform their feelings on the case. As small-town gossipmongers, they're quick to judge. But as actors, it's their job to empathize with characters they disagree with – or in this case, real people they suspect of murder.
Some actors are great. Others aren't, but that isn't the point. One by one, and sometimes even all at once, we get to see the confluence of their personal experiences and their perspectives on the Ramseys, colliding in the form of wildly differing re-enactments of the day of JonBenet's murder. Some actors are quiet, some are loud. Some are hysterical, some are reserved. Some are innocent. Some are guilty. They are all, each and every one of them, providing a perspective on unknowable events like the genre itself, only here we get to explore both the root of how these perspectives form, and how they shift as the performers move from a place of judgment to a place of empathy. The result – an emotional explosion of each and every auditioner performing in the same space at once – is breathtaking.
19. THE STORY OF O.J. (Jay-Z, Mark Romanek)
Beyoncé's Lemonade made it to my list last year, so it's fitting that something off Jay-Z's response/expansion/apologia 4:44 is worth mentioning twelve months later. After all, rapper and entrepreneur Shawn Carter may be partially responsible for one of the best pieces of Western animation this year.
Where similarly inspired works like the brilliant videogame Cuphead played a game of substitution, replacing black characters from the stereotypical 'toons of old whilst inadvertently letting the tropes surrounding them linger, Jay-Z and Mark Romanek's audacious music video leans all the way in to the racist imagery that ran rampant during America's past. The picture it paints is of the historical commonality of black American experience in all its diversity, punctuated by self-aware whimsy as Klansmen and violent lynchings – elements present just outside the walls of these cartoons when they were first popular – finally make their way into the narratives they helped birth. A reclamation of history at a time when it seems most necessary. (Full Review)
18. BLADE RUNNER 2049 (Denis Villenueve)
We haven't been able to appreciate the full scope of Blade Runner 2049 yet. I don't think we'll be able to for some time. For one thing, it's about technological anxieties we haven't even thought to have yet. For another, it cuts straight to the heart of questions posed by Ridley Scott's 1982 original in ways that continue to influence sci-fi today, as if to engage in textual debate with its own predecessor. That is a lot to process.
What makes us human? Is it experience? Is it the imprint of experience? Moreover, how do we hit the moving target that is finding these answers when human authenticity itself is shifting in an increasingly digital world? Where is the line between human and replicant? Or the line between replicant and A.I.? How does our consciousness and ability to learn differ from, say, a porn-bot programmed to learn and evolve into a loving companion? No film this year has felt like such an incredible journey inwards, into consciousness itself, helped along by imprints of the past – Frank Sinatra, Elvis Presley, Rick Deckard himself – lost to the sands of time as humanity moves forward, re-living age-old conflicts in newer, more terrifying iterations without stopping to appreciate the snowfall, or asking what it is that allows us to appreciate in the first place.
17. LIPSTICK UNDER MY BURKHA (Alankrita Srivastava)
Lipstick Under My Burkha would've warranted some sort of year-end recognition even if it didn't turn out great. The filmmakers fought the Indian censors' ludicrous objections to the story being "lady oriented" (among other things), thus turning the mere act of theatrical release into a win for democracy and a feminist victory lap. On top of that, the film really is one of the best and most honest things to hit cinemas all year.
It only makes sense. The corrupt fear speaking truth to power.
The narrative is a uniquely assembled romp, chronicling the lives of four Indian women: parentally-controlled Muslim teen Rehana (Plabita Borthakur), engaged Hindu-girl-in-love-with-Muslim-boy Leela (Aahana Kumra), carnally dissatisfied married hustler Shireen (Konkona Sen Sharma) and most tenderly dramatized of all, elderly widow Usha (Ratna Pathak), whose sexual re-awakening is the linchpin of the entire narrative. While trying to recapture her youth and seduce an attractive local swim coach, Usha enjoys a pulpy erotic novel in secret. Her narrations of the story of Rosie, a woman caught between sexual desires, score the tales of all four characters either as affirmation or rebuke – much like lipstick itself, presented as either liberation or prison depending on the scenario.
There is no ultimate victory or tearing down of patriarchal structures, but what we're treated to feels far more vital: an opportunity for its characters to commiserate over the cost of being a woman, across generations. (Full Review)
16. THREE BILLBOARDS OUTSIDE EBBING, MISSOURI (Martin McDonagh)
Martin McDonagh drives a hard bargain with Three Billboards, a film filled with awful people in which even the most decent folks get hurt. But in true McDonagh fashion, it's an opportunity for reflection centered around two or more opposing characters pushed to their extremes.
Whether or not every person is redeemable, they're worth empathizing with. Whether or not they're worth forgiving, they're worth understanding. While there's plenty of disagreement about who deserves what form of redemption (and to what degree), what we're left with is an emotionally conflicting, morally complicated work that provides no easy answers for its difficult characters, but comes wrapped in seismic fury at systemic ineptitude. We don't deserve Frances McDormand and Sam Rockwell, but we do deserve Mildred Hayes and Jason Dixon, people on opposing paths and at various degrees of endearing and detestable, turning Three Billboards Outside Ebbing, Missouri into a challenge to empathize when it seems most daunting. (Full Review)
15. I, TONYA (Craig Gillespie)
Nakedly derivative filmmaking at its most exciting, I, Tonya is film that speaks the cinematic language of Martin Scorsese thought and through, from the construction of its differing narrative perspectives, to its use of music, all the way to the specifics of how and when it pushes in on its broken characters. But it does so entirely with purpose, playing like a B-side to Raging Bull. Where Scorsese's 1980 boxing classic was concerned with the interior life of an abuser, connecting the dots between the violence in the ring to the violence at home, I, Tonya approaches the subject matter from the perspective of the abused, blurring the lines between the power dynamic that leads to domestic violence, and that which colours mass media culture's obsession with the unempathetic creation of pariahs.
The film is perpetually in motion and is scored by familiar hits from Doris Day to Fleetwood Mac, lulling you further into a sense of comfort and innocent excitement before introducing the sudden whiplash of physical abuse in an otherwise mundane domestic setting, be it at the hands of Sebastien Stan's violent sweetheart or Allison Janney's terrifying matriarch. It captures the normality of abusive relationships as viewed from within as well as the worldviews they help instill, crystalizing in perhaps the most complicated close-up this year. Margo Robbie's Tonya Harding, in an effort to cover up her physical abuse, puts on makeup for the cameras that resembles the very bruises she's trying to hide as she tries to smile, as if the film is taking to task the manufactured, sanitized "real world" drama that we all want to gawk at from a distance, no matter the human cost.
14. CALL ME BY YOUR NAME (Luca Guadagnino)
No film this year captured the sheer profoundness of self-discovery like Luca Gudagnino's Call Me By Your Name, a tender, dreamlike queer romance that feels like warmth incarnate. It's like sharing secrets, being shattered, and being rebuilt through human kindness all in one sitting. I don't need to say much more than that. Armie Hammer is good. Timothée Chalamet and Michael Stuhlbarg are great. Sufjan Stevens now resides within my very soul, and the final shot that plays over the closing credits is seared into my mind like a sunset. Watching it feels like being allowed to simply be. (Full Review)
"Nature has cunning ways of finding our weakest spot."
13. COCO (Adrian Molina, Lee Unkrich)
Coco, named for the protagonist's great grandmother, is a momentous work. A Pixar tear-jerker steeped (authentically) in Mexican culture, performed with the broad strokes of a telenovela yet conceived as a glowing tribute to the nuances of tradition itself.
Young Miguel shies away from shoemaking and familial commemorations in order to pursue music, an art form that has caused his family nothing but pain. It's the Day of the Dead and rather than spending time at his family's ofrenda to welcome back departed spirits, he chases a forbidden dream even it means desecrating a mausoleum to steal a guitar he believes to be his great great grandfather's. The result? A curse that banishes him to the Land of the Dead (a fully realized, magical riff on Mexico City), wherein he must earn his late family's blessing and return to the world of the living by sunrise. His only help? A wayward spirit on the verge of being forgotten on Earth and disappearing for good, giving Miguel another reason to go back.
The film is a fun, colourful adventure, but it's also a reconciliatory melodrama about bridging dreams and responsibilities, with a focus on why culture matters in the first place. For a film like this to come out of American cinema, a studio system insistent on individualism to the point of dilution, is a thing of wonder. It's a film about family, and a film about remembering where we come from.
12. THE FLORIDA PROJECT (Sean Baker)
On the outskirts of Walt Disney's America in Orlando lies the real America, a land of hustle and depending on kindness to get by as the gilded pillars of American institution stare you down. It's mothers making ends meet any way they can. It's men helping each other move a refrigerator. It's kids letting ice-cream drip down their hands in the sweltering sun because they can't afford a trip to Tomorrowland, and it's the interplay of all these dynamics at once meeting in a pair of garishly designed Disney knock-off motels. This is America today, and in many ways, it always has been. It's everyone just trying to get by.
You won't see a better performance this year than seven-year-old Brooklynn Prince. You won't witness a more heroic scene than Willem Dafoe chasing off a child predator, and you won't experience a more euphoric moment than Sean Baker's ingenious climax: a last ditch effort at finding simple, childlike joy when all seems lost.
11. THE LOST CITY OF Z (James Gray)
The thirst for adventure is historically caught up in all manner of short-sightedness (much of it colonial), but it is a thirst tied intrinsically to the human experience. The Lost City of Z not only captures that spirit, it does so in the name of forgiving (though not excusing) our failures and arrogant obsessions, as all that held humanity back in the 20th century is hung out to dry, cast aside in favour of something pure in its final act. Something ethereal and elemental. Something out of a fever dream, despite its deadly, retributive implications.
Charlie Hunnam and Robert Pattinson lead Gray's cast admirably, but cinematographer Darius Khondji is the real star, painting the film with warm tones that feel plucked straight from the Amazon in a different era – like a rediscovered relic, here to teach us both the lessons we refused to learn, and the lessons we've known deep in our hearts for generations. Who we are is ugly. We who are is pig-headed. But who we are is also a question that cannot be adequately answered through mere archeological discovery. It's a question that isn't about mind or body or the occasionally locked doors of language. It's about the spirit. It's about that which is carried elsewhere when the physical bounds of adventure aren't enough, or are far too misguided.
The soul and what it wants cannot be quantified. (Full Review)
10. T2: TRAINSPOTTING (Danny Boyle)
Now we're getting to the good stuff.
I don't mean because we're in the Top 10 – although that arbitrary figure based on the digits at the end of our limbs is one of the ways in which we orient ourselves in a chaotic universe. Rather, this is the point at which this 2017 list starts to become truly about 2017. We live in a culture that's nostalgic for its own past. Sometimes that means rebooting twenty-year-old franchises. Other times it means voting to return to some skewed form of past national glory (Trump, Brexit or otherwise) that is inherently exclusionary, but it all comes from the same instinct: the comforts of the familiar regardless of detriment.
T2: Trainspotting is all about the detriment.
It's a much-awaited sequel to a film in which characters disappoint each other, and it embodies that disappointment tenfold. Nostalgia may as well be its heroin. The film makes disappointment alluring. It makes failure feel like a cinematic virtue, wherein needle-drops and visual punctuation arrive not in the form of victory (as they do in its predecessor), but at the absolute lowest moments in the lives of these characters. It's about learning to recognize the failure to be better, the failure to move on, the failure to improve and mend relationships, even when those failures come in the same wrapping as past success. The film opens with the effects of the past and all its excitement – Renton's drug habit, made so glorious by the original's distinctive formalism – catching up with him as he collapses on a treadmill decades later. What follows are his, Begbie's, Sick Boy's and Spud's attempts to deal with the past substantively, in ways they haven't managed to without confronting the root cause of all their pain and disappointment: each other.
It's a film about facing the parts of the past that make us afraid to live in the present and look to the future.
9. HASAN MINHAJ: HOMECOMING KING (Christopher Storer)
Media lines have begun to blur these last few years given streaming-as-distribution at one end, and the return of long-form cinematic storytelling at the other. One person who's been working smack-dab in the middle of that grey area is Christopher Storer. He hasn't been working alone of course; in 2013 he directed what., an experimental Bo Burnham special that led to their 2016 collaboration Make Happy, which gave credence to the idea that even stand-up comedy could serve a distinctly cinematic function, an idea that Storer has now cemented with Netflix's Homecoming King, a narrative-based live performance by The Daily Show's Hasan Minhaj.
The tools of the theatre overlap with cinema as it is – the precise use of light, sound and space to create moments of emotional honesty – but here, it's the camera and the edit that become distinctly suited to the form, with the live audience acting more as musical overture than primary target. Whether projecting for the back row or speaking directly into camera, Hasan recalls tales of racial and cultural trauma that defined his youth in a brilliant, bilingual one-man routine that's equal parts side-splitting and emotional. It's timed to perfection, with every beat highlighted by Hasan's place in the frame, and its ultimate goal is collective healing. It's a touching, hilarious look at deeply entrenched spiritual wounds inflicted by a narrow world intent on destroying itself from within, rooted in stories of sweet-hearts and sisters and fathers.
"हिम्मत होनी चाहिए, हसन I हिम्मत होनी चाहिए I"
"Himmat honi chahiye, Hasan. Himmat honi chahiye."
"You have to be brave, Hasan. You have to be brave."
8. WONDER WOMAN (Patty Jenkins)
"Maybe you're better off without me, yeah?"
"No, Charlie. Who will sing for us?"
Patty Jenkins had to fight to keep the "No Man's Land" sequence in Wonder Woman. Let that sink in for a moment. Arguably the biggest statement in any film this year, the arrival of a hero who represented not only hope for a broken series of films that ought to be so much more, but hope for humanity itself during one of its darkest periods, almost wasn't.
But it was. Neither Jenkins nor Diana took "No" for an answer, resulting in a film that not only straddles the worlds of superhero movie, Greek myth, fish-out-of-water comedy and World War I epic (a four-way tightrope that seemed unimaginable six months ago), but does so with finesse and with one eye focused on belief. Not in Gods and monsters or some unattainable idea of perfect goodness, but the belief that people ought to be shown kindness and compassion even when they don't deserve it. It's a re-orienting of both Diana's inexperienced worldview at the start of the film and that of the millennia-old Christ myth, finally come full circle in this strange DC Universe previously intent on portraying imperfection through cynicism rather than through a lens of virtue.
It's a film in which everyone has worth – thieves, liars, smugglers, even killers – and a film in which Diana's true heroics come not in the form of punching the bad guys (which she does along the way, with the help of her friends) but in the form of believing humanity is worth saving even when it's the hardest thing to believe. (Full Review)
7. STAR WARS: THE LAST JEDI (Rian Johnson)
At its best, Star Wars has been a reflection of America at its worst. The original was an anti-Vietnam War movie, positioning the United States as the evil Empire taking on ill-equipped rebels, and even Episode III – Revenge of the Sith got in on the critique by painting the Emperor and his bloody, imperialistic conquest as a parallel to George W. Bush's "war on terror," going so far as to all but quote the President's "You're either with us, or against us" speech by putting the words in the mouth of Darth Vader. What the films have never been critical of however, is themselves. More pertinently, they've never been wholly critical of the "good guys," their mythology, or the ideologies supposedly meant to fight fascist forces. Until now.
In 2017, an approach that asks what we as a people even believe in anymore is especially apt. The old structures have failed us, but how do we tear them down without tearing down ourselves in the first place? How do we keep pushing forth with ideas of heroism and sacrifice when they keep coming up short? The answer seems to lie in the saga's very through-line: Hope. The survival of hope is more vital than ever, "the spark, that will light the fire that'll burn the First Order down," and that hope is something that must survive even through total failure.
Hope, the Force, what have you, these things are no longer about physical prowess. That was an ideal that despite its heroic presentation over the years, fell in line with the very fascism Star Wars has always opposed. In The Last Jedi, Luke Skywalker's final stand isn't some destructive show of outward strength to crush his enemies, but an extension of the peace and balance within nature and within himself, taking advantage of fascism's instinct to dominate through strength, and in the process providing the Rebellion – the galaxy's last remaining shot at hope – an opportunity to live on.
Through Leia, the Force is graceful. Through Luke, failure is a lesson. Through Poe, Finn and Rose, victory is keeping hope alive. Through Rey, and through an unassuming stable-boy removed from the Saga's legacy, heroism is no longer a noble birthright. It is something innate. Something born out of hope itself.
"That's how we're going to win. Not fighting what we hate, saving what we love."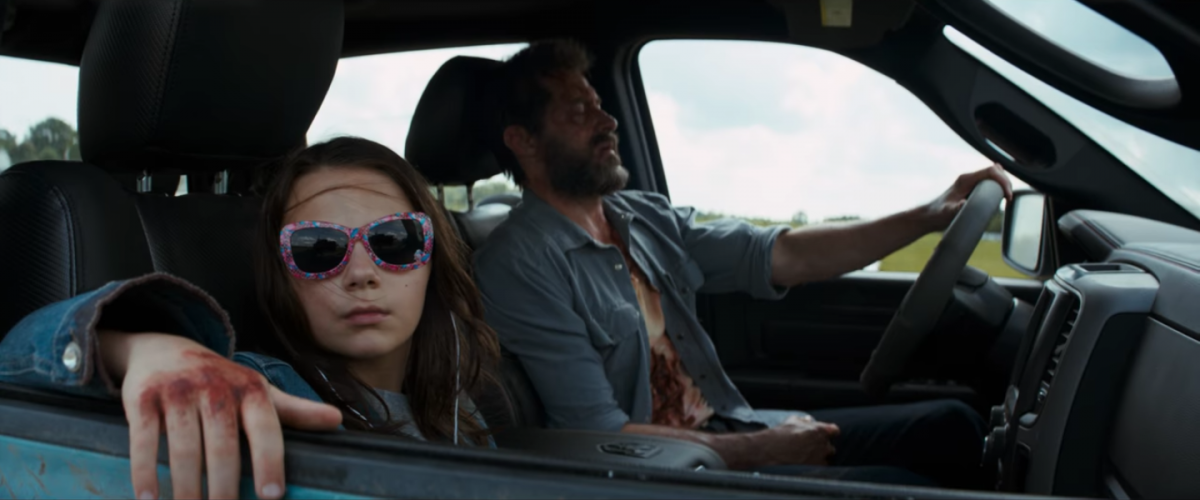 6. LOGAN (James Mangold)
Following one critical look at myth & legend is another, capping off seventeen years of relatively disappointing films by making its characters embody disappointment itself. The heroic Wolverine now exists solely to die. Charles Xavier, once a father-figure to all mutants, has become coarse and unstable. Mutants have all but died out. The X-Men have failed.
But there is still light to be found and passed down. Even when old wounds refuse to heal, both in the form of physical scars and the monumental weight of one's own past. Even in death and disappointment, there are still ways to make the most hellish world better for those who need to be guided through it. (Full Review)
"Now you run on home to your mother, and tell her... tell her everything's all right. And there aren't any more guns in the valley."
5. WAR FOR THE PLANET OF THE APES (Matt Reeves)
The confluence of technological leaps and clear, simple storytelling, War is the third and perhaps most ambitious in this new Planet of the Apes trilogy, which finally gives up on humanity… for the most part. It doesn't so much make you root of human extinction as it does condemn humanity in its current form.
It's an all-out war film, topping even its perfectly constructed predecessor thanks to some ingenious work by director Matt Reeves and the likes of Andy Serkis (Caesar), Steve Zahn (Bad Ape), Karin Konoval (Maurice), Terry Notary (Rocket) and the folks at Weta Digitial, who add nuance and indelible detail to the apes in ways you never thought possible. It's an emotionally harrowing film, ripping apart apes and humans alike in both body and soul as it makes it characters claw their way through the mud in order to find any form of hope or redemption. It's a warning of things to come if we continue to speak without actually communicating. (Full Review)
4. GET OUT (Jordan Peele)
How do you create an iconic work in today's quick-fire media climate, wherein words and images stay in the public eye only for a single "meme-cycle" before fading into the milieu? How do you create something truly original when everyone seems so intent on taking comfort in the familiar? The answer seems at once simple and infinitely complex: you don't aim for comfort at all. You create something "original" only insomuch as you articulate the uncomfortably familiar in ways that no one else has yet.
Films about violent, overt racism are a dime a dozen. Get Out however, is about the unseen. The unspoken. The insidious. The latent racism that comes disguised behind a smile and calls itself complimentary. It's the racism that's horrifically normal to black people but invisible to oblivious liberals, to the point of systemically co-opting both black bodies and black consciousness itself. It's racism that explicitly calls itself not racist, hoping to steal the eyes of a black photographer and use it as license to define black narratives, as American whiteness has for centuries. The kind of racism that leaves deep psychological scars that others can simply ignore since they don't physically manifest. The kind of racism that has gone unaddressed so long that it took a genre film about hypnosis and body-snatching to make non-black folks realize just how much there is to be gained from the perspective of blackness.
Are you seeing Get Out on almost everybody's year-end list? There's good reason for that. It's a uniquely enjoyable work, an economically told horror movie that doesn't waste a single second before digging deep into the root of its subject matter – black people finally controlling the black narrative, introduced through Chris' photography as scored by Childish Gambino's Red Bone* – before staying in that realm for its entire runtime, as well-meaning white folks who claim to love and appreciate Chris' blackness try to do so by stealing his autonomy.
*"Stay woke."
3. DUNKIRK (Christopher Nolan)
Dunkirk is perhaps the most gorgeous thing ever put to 70mm IMAX film. That it exists at all feels like a miracle, a narratively experimental World War II film out of the modern American studio system that isn't even about America's involvement. Then again, who in the past decade has been able to bridge the worlds of thoughtful, richly-layered cinematic storytelling and massive blockbuster entertainment like WB darling Christopher Nolan?
This year, he and his regular collaborators (editor Lee Smith, composer Hans Zimmer and dozens of others) have created what amounts to a collective magnum opus, collapsing and expanding time itself to align potent emotional beats by breaking traditional structures, in a film all about breaking down the structures that prevent humanity from moving forward. The mere act of survival as the ultimate cinematic victory is at once a daring subversion of Western storytelling, as well as a timely reminder that even when the cost is great, even when enemies encroach from all sides and all seems lost, there is still something better on the horizon. (Full Review)
2. THE WORK (Jairus McLeary, Gethin Aldous)
Folsom Prison, California. A documented four-day group therapy session. Violent men. Dangerous men. Calm men. Passive men. Men of all sorts, prisoners and outsiders alike, gathered to do battle with themselves. Men who want to get in touch with their emotions. Men who want to do better. Men who want to be better. Men who want to figure out why they are the way they are, using aggression as blockades for the emotions that make them vulnerable, inadvertently filtering those vulnerabilities through anger and violence.
In a year where cinema itself was defined by the unearthing of numerous, industry-wide sexual assault allegations, the realization that men need to introspect was a vital first step – but the desire to change is not enough. It takes work. Real work. That work is a dangerous, at times self-destructive process. The work can take days, months, or even years. But the work is urgent and necessary. Ultimately, the work is liberating…
…which brings us to the two (yes, two) films that occupy the number one spot. Now that the year is finally at its end, it only makes sense to look forward, with a pair of 2017 festival films awaiting theatrical release. I can't wait for us all to be able to watch them, discuss them, and learn from them together in the coming year, because they're the very best things I've seen recently, and their existence helps cut through the fog that keeps obscuring the immediate future.
So without further ado:
1. BODIED (Joseph Kahn)
The Rocky of battle rap and social politics, Joseph Kahn's Bodied is a fiery satire that will leave your jaw somewhere between the worlds of "agape" and "howling with laughter." An audacious, explosive exploration of the increasingly complex dynamic between free expression and offensive art, it follows young white academic Adam (Callum Worthy) as his poetry thesis takes him through the world of underground Hip-Hop and forces him and everyone else (including the audience) out of their comfort zones in order to zero in on the nexus of creation and ego.
After sweeping the audience awards at TIFF, Fantastic Fest and AFI, the film ended up becoming even more pressing as an industry-wide seismic shift made us take a long, hard look at who we put on pedestals, and why. Great art comes at a cost, but when is that cost too much and who among us decides? Bodied doesn't have the answer but it sure knows how to ask the questions, making your own responses to it shock you as you step in the ring to do battle with it. (Full Review)
1. THE RIDER (Chloé Zhao)
Chloé Zhao's first feature Songs My Brothers Taught Me was one of the best films of 2016. Her sophomore effort not only operates within the same emotional and cultural space – the struggles of modern Native Americans in rural U.S.A. – but will undoubtedly cement her as one of the most important voices in modern cinema come April 13th.
While filming Songs, Zhao met rodeoer and horse-wrangler Brady Jandreau, who plays the film's Brady Blackburn. His father plays Blackburn's father. His sister plays Blackburn's sister. His friends play Blackburn's friends, and his quadriplegic best friend Lane Scott plays the film's Lane Scott, an ace bull-rider who suffered a tragic accident while living his dream. Both Bradys almost suffered similar fates, with near-fatal head-injuries that ended their riding careers – the only skill they've ever known.
The Rider is a modern cowboy movie, but it isn't about getting back on the horse.
It's about what it means to be a man, and what it means to be at all, when you've had your life & identity stripped away from you. It's about finding ways to move on after losing something you love so wholly, so deeply and so completely that it lives within your veins. It's about finding ways to survive once your world has ended, but the world has moved on without you. It's as close to reality as movies can get, yet at the same time, it's as close to a religious experience as modern cinema has to offer.
The Rider is simply sublime, capturing loss and hope and life in all its beautiful colours. (Full Review)
Here's to the next twelve months, Godspeed, rebels.