Be Black, Baby: Five Female-Fronted Badass Bits Of Blaxploitation
With PROUD MARY opening this weekend, here's your intro to the bad mamas of Blax.
The BMD staff loves the exploitation genre - its rich, weird history, its evolution, and the way it continues to echo in contemporary cinema. So we're maybe unreasonably enthused that the black action heroine is making a long overdue return to screens this week with Proud Mary. None of us have seen it yet, but you can't possibly be surprised that we'd be all in for Taraji P. Henson starring in a pulpy blaxploitation throwback by the director of London Has Fallen. It's like they made it just for us.
We need to put that excitement somewhere, so all week we'll be presenting articles that cover this event from one angle or another. Who needs big-studio marketing to get hyped about Proud Mary? Not us. And not you. We got this.
Proud Mary is out this week. Get your tickets here!
---------------------
The term Blaxploitation was coined by former NAACP Hollywood Branch President Junius Griffin in 1972. It's considered the first subgenre to regularly feature predominately all-black casts, as well as soundtracks that were comprised of soul and funk music.These pictures were praised by those who worked in them for providing just that: work, during a time when being a creative individual in the film industry was nearly impossible for black folks. These movies' storylines tackled issues of race and community, while often painting "The Man" - figures of white supremacy - as the devilish bad guys looking to take our new heroes down. With this newfound sense of representation came an untapped audience, as black people loved seeing their image projected on screen in a fashion it never had before.
Men of the Blax era were strong, flashy types; pimps, detectives and vigilantes, who were allowed to be as cool and loud as they wanted. Like any other period, women had it worse; heroines of the Blax epoch were often damned for their revealing clothing and furthering black stereotypes. But fuck all that shit. The women were who truly made Blax movies special. For every John Shaft, there had a be a bigger, badder mama like Foxy Brown, scratching and crawling with twice the effort to try and make it in this rough and tumble world.
With the upcoming release of Proud Mary this weekend, we here at BMD thought it'd be cool to share a primer with you, showcasing the hardest-core, most beautiful, bad mothers who ever showed up on screen in Blaxploitation pictures. These were women who won your hearts with their smooth attitudes and sexier styles. Though don't you dare cross them, because they'll cut you down just as quick as they'll throw you on the bed and rock your world...

Coffy [1973] (d. & w. Jack Hill)
Coffy ('73) is the product of an independently-minded movie house: American International Pictures. Rushed out by producer Samuel Z. Arkoff in order to compete with a rival studio's Blaxploitation spoof (Warner Bros' Cleopatra Jones ['73]), writer/director Jack Hill was allotted a budget of $500,000 (the producers' cap for "black films" at the time) and left mostly to his own devices. Inspired by instant subgenre staples such as Sweet Sweetback's Badassss Song ('71) and Superfly ('72), Hill and his producers thought it'd be interesting to turn the urban hero on its ear and produce a picture that presented a female counterpoint to those successful afro-sporting alphas. Knowing he'd have limited time and resources, Hill kept the script sparse, but speckled it with stunningly precise speech; a true marvel of economic writing.
Unlike Tamara Dobson's Special Agent in Cleopatra Jones (whose "Bondian" traits could've just as easily been inhabited by a man), Hill wrote Coffy as a character whose primary weapon is her femininity. Thankfully, he tailored the part to Pam Grier - with whom Hill had worked on the Filipino Women In Prison pictures The Big Doll House ('71) and The Big Bird Cage ('72) - an actress born with a veritable estrogen bazooka. It's difficult to adequately quantify just how fucking perfect Grier is here; an already talented woman who wrangles a role written specifically for her and ends up manufacturing not so much a persona, but an extension of herself. The very best revenge tales are those that involve ordinary people (see Rolling Thunder ['77] for the male flipside to this coin) exacting extraordinary justice. Theirs is a struggle not only with a quest for vengeance, but also with the darkness that resides in their bellies because of the atrocities they've been unfortunate enough to witness and, in turn, commit. Grier not only sells this vulnerability, but also the viciousness it breeds. Because of this, Coffy is a near-perfect Blax film, and gave birth to not only an icon, but a whole series of movies dedicated to powerful black women.
Cleopatra Jones [1973] (d. Jack Starrett, w. Max Julien & Sheldon Keller)
The somewhat forgotten Bond-esque competitor to Coffy's streetwise sugar mama, Cleopatra Jones ('73) was designed to be the ultimate black warrior woman. Co-created by The Mack ('73) mastermind Max Julien, and directed by biker film auteur Jack Starrett (Run, Angel, Run! ['69]), Cleopatra Jones was initially pitched to AIP before WB scooped up the hot property. In a fit of embarrassment, AIP rushed Coffy into production, beating this globe-hopping adventure to theaters and largely overshadowing it. However, a second viewing shows that - despite their rather similar, female-centric marketing - these two motion pictures couldn't be more different if they tried.
Where Grier's gorgeous crusader was an amateur vigilante, Tamara Dobson's Jones is a government agent, kung fu master, and all around ass-kicking goddess. She's a world traveler, her supermodeling career acting as a cover to investigate international criminals. After laying waste to a poppy field in Turkey (ensuring brothers and sisters back home wouldn't have anymore smack to shoot), Jones incurs the wrath of a drug queen known simply as Mommy (Shelley Winters). Mobilizing a legion of dirty cops, the cartel empress strikes at the local projects in Jones' old 'hood, injuring our hero's hunky beau (Bernie Casey). Now, the fight against the poison pusher is personal, as not only is the community in jeopardy, but the man our super agent loves. While not nearly as memorable as Grier's impressive turns, Dobson does one hell of a job selling the spoofier elements and the straightforward action, as Starrett crafts a picture that feels even bigger than its already impressive (for the time/subgenre) $3 million budget. This mama's ten miles of bad road, ready to burn down every last pusher in town.
Black Emanuelle [1975] (d. Bitto Albertini, w. Ambrogio Molteni & Bitto Albertini)
Introduced via a short but stunning appearance in Emmanuelle II ('75), Laura Gemser quickly found herself cast in Black Emanuelle ('75) - the first in a series of globe-trotting erotic jaunts following famous fashion photographer Mae Jordan. Traveling under the titular alias, Mae recieves an assignment to document ancient African societies, in hopes of turning her photos into a glamorous shoot for the white Western world. Really, all this simple plot set-up is nothing more than preamble to a string of hyper-steamy sex scenes in exotic locations, showcasing loads of brown skin in pure softcore sexploitation style (though there was a XXX version, complete with hardcore inserts, that also made the grindhouse rounds). For many audiences in the Deuce, "black sex" was a totally foreign concept, and Italian schlockmeisters like Bitto Albertini capitalized on that fact by doubling down on the postcard-worthy backdrops.
The Black Emanuelle series combined smooth jazz sexiness with a leering gaze at the grotesque that feels pulled straight out of Italian Mondo shockumentaries. Gemser's nakedness is merely the passport for Albertini and his ilk - such as Joe D'Amato, who'd have Emanuelle meet The Last Cannibals ('77) - to cross pollinate the skin with whatever scum was currently raking in lira at the Italian B.O. This helps heighten the film's skeeviness, along with the fact that it's clear these filmmakers are simply using the erotic icon's presence as an excuse to craft whatever sort of exploitation their black hearts believed would earn a quick buck, pawning off the audience's complicit nature as Ms. Jordan's curiosity. No longer are we hoping to catch a glimpse of primitive circumcision rites, as Mae's stripping down with tribal chiefs, who keep the full headdress on as they demonstrate just how babies are made in the wild.
Lady Cocoa [1975] (d. Matt Cimber, w. Mikel Angel)
From the writing/directing duo that brought us the infamous Candy Tangerine Man ('75), Vegas lounge personality (and Sammy Davis Jr. understudy) Lola Falana plays Lady Cocoa ('75), a jailed woman who will not cooperate in the Feds' investigation into her mobster boyfriend (James A. Watson). Once she finally agrees to testify, Cocoa is released and accompanied by two bodyguards (Alex Dreier and Gene Washington) as she travels to the trial. Really nothing more than a screwball caper coated in a playful Blax shell, Cocoa - despite her life being in danger - decides to stop off and have herself a little vacation, hitting up the Las Vegas nightlife for some shopping and gambling, before ordering up room service, all while her caretakers fret about controlling the woman.
Not as patently offensive as The Candy Tangerine Man, Lady Cocoa owns an almost bouncy air despite the occasional violence that breaks up our heroine's self-styled escape to a hedonistic Vegas paradise on the government's dime. Perhaps the most fascinating element is how Cimber's movie is a perfect example of how these women fared in various forms of low-rent Blax picture-making. While Falana doesn't hold a candle to Pam Grier's domineering screen presence, she still owns a compelling blend of comedic innocence and steadfast strength, taking what she wants as she moves closer and closer toward dooming her powerful man's future. By the time the credits roll, you'll be trying to get the song "Pop Goes The Weasel" (the film's alternate title) out of your head, as it's integrated into the title track in a way that almost indicates the composer gave up halfway through, allowing the children's tune to ease us into these rather adult proceedings.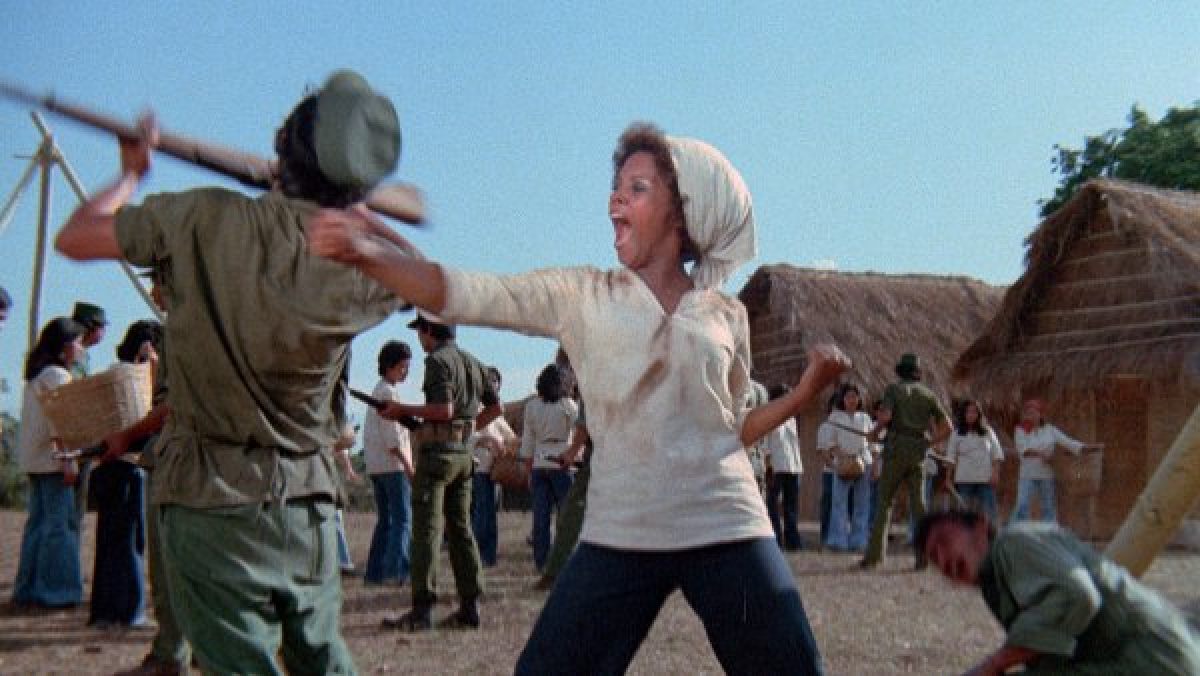 The Muthers [1976] (d. Cirio H. Santiago, w. Cyril St. James)
During the early '70s, Filipino producer/director Cirio H. Santiago teamed up with American exploitation maverick Roger Corman to produce two of the most well-known films of the WIP (Women In Prison) genre: Jack Hill's The Big Doll House ('71) and its follow-up, The Big Bird Cage ('72). The Phillippines were a hotbed for exploitation production, and Santiago was one of the leading filmmakers in the industry. One of his very best efforts was The Muthers ('76) - where a band of female pirates (led by Jeannie Bell and Rosanne Katon) go undercover on a ruthless baron's coffee plantation to find one of the girls' kidnapped sister. In true WIP fashion, it seems that breaking out of this sweat shop is a lot easier said than done, leading to the sub-subgenre's requisite steamy shower scenes and oddly choreographed kung fu.
Like Santiago's Savage! ('73) - which mixed Blax revolutionary tropes with lo-fi Filipino location shooting - there's plenty to love for fans of the genre. While never quite as good as Hill's WIP pictures, all of the leading ladies are incredibly convincing as tried-and-true badasses. Though The Muthers follows the WIP playbook fairly closely, it uses the template to mold its own unique heroines in this tropical world gone mad. Santiago was tapping into not only a new tradition that was forming within exploitation filmmaking, but combining several schlock forms into one rollicking adventure, delivering not one, but a whole band of bloodthirsty babes for us to root for.