The Drafthouse Austin Programming Team & AGFA Share Their 2017 Discoveries
The team that keeps the movies at Alamo weird and wonderful share the titles that blew their minds last year.
It's difficult to overstate what hard-working cinephiles the Alamo Drafthouse Austin Programming Team and AGFA Archivists are. They're filmic crate diggers of the highest order, making sure that audiences are getting glimpses at all the wildest and most historically-significant motion pictures the medium's offered up thus far. Whether you're ready to get the shit scared out of you at Terror Tuesday, your mind melted at Weird Wednesday, or your blood injected with bit of cult movie feminism via Cherry Bomb, the minds listed below help create the best theater-going experience in the entire world.
To celebrate another year in the books, the Austin-based Alamo Programming Team and the AGFA got together to pick the movies that they loved the most from 2017 - their own version of a "Face Melter" list that's got enough gems on it to keep you busy watching until 2019.
Take a look...
*****
Joe Ziemba
Director of AGFA and Genre Programming and Promotions
Terror Tuesday & Video Vortex Programmer
Disco Dancer (dir. Babbar Subhash, 1982)
This Bollywood action-musical uses Saturday Night Fever as a foundation to tell the story of a bubblegum rock star who is also an expert in supernatural karate. Filled with beautiful landscapes and sweet morals about the importance of family, this movie also features a scene where bad guys use an exploding guitar as a weapon.
Home Movie (dir. Chris Smith, 2001)
From the makers of the essential American Movie, this doc profiles four eccentric Americans and their even more eccentric homes. Fascinating and uplifting, the movie's mission to celebrate fringe lifestyles hits an apex when a guy accidentally trashes his living room while demonstrating his robotic La-Z-Boy recliner.
The Rambling Guitarist (dir. Buichi Saito, 1959)
Long walks on the beach! Cool rock 'n' roll hits! Yakuza angst! Stylized Japanese crime-noir doesn't get more immersive than this. Watching this movie is like melting down a pop-art painting and finding a David Goodis paperback hidden inside. It will make you happy.
Ship of Monsters (dir. Rogelio A. González, 1960)
Mexican genre movies from the 1950s and '60s are total magic, but this one is beyond that. Combining delirious sci-fi themes, gothic horror visuals, and weirdo dance breaks, this movie focuses on two lady aliens who zoom across the universe to collect monsters and find love. Everyone wins, including us.
Wicked World (dir. Barry J. Gillis, 2009)
Barry J. Gillis does it again. Many years after the miraculous Things, Canadian lunatic Gillis picked up a 16mm movie camera and made the ultimate hoser horror "movie." This is a slasher as viewed through a middle-aged stoner having a seizure at a funeral. There's a lot of gore, but some of it looks like it was ripped from a Nintendo 64 graphics card. Soundtrack by Barry J. Gillis.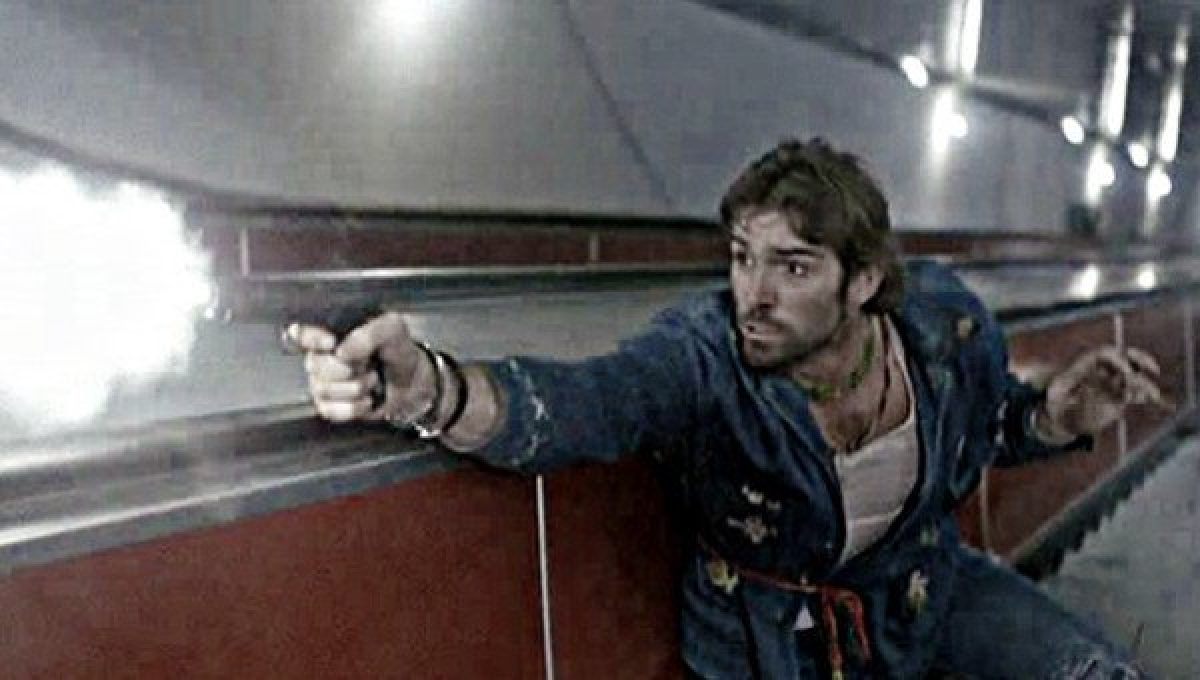 Laird Jimenez
Co-programmer: Weird Wednesday
Video Content Lead
Manhunt In the City (dir. Umberto Lenzi, 1975)
Amazon Prime has a wealth of Italian crime movies - some of them even decent transfers in the correct aspect ratio - such as this intense vigilante yarn starring the great Henry Silva as a father with a death wish. The late Umberto Lenzi was known for producing some of the nastier, meaner Eurocrime movies, and this is no exception. Surprisingly, though, there's some moral ambiguity that adds a bit of complexity to the conflict, whereas normally this kind of movie would just be about watching bad guys get blasted away by the righteous.
The Heroin Busters (dir. Enzo G. Castellari, 1977)
Enzo G. Castellari directed this action-packed poliziotteschi starring Fabio Testi, who appears to be doing most of his own stunts - running, jumping, and leaping to a far-out, bass-driven Goblin score. In the thrilling final act, a footchase turns into a dirtbike chase that turns into a plane chase. At one point Testi uses the dead body of a thug as a tool to grab his gun that is just out of reach!
Hakaider (dir. Keita Amemiya, 1995)
This short and wild tokusatsu feature takes a villain from the Kikaider TV series and turns him into a badass anti-hero who goes on a mission of vengeance against the fascist rulers of Jesus Town, including the angel Michael! What it lacks in budget it more than makes up for in design and spirit.
Club Life (dir. Norman T. Vane, 1986)
After Michael Parks died, I noticed this film on his IMDB page, and was pleasantly surprised by this proto-Road House action-drama about a new-to-Hollywood kid wanting to make it big in the night club world. Parks is great as his Sam Elliott-like mentor, but the cast also includes Tony Curtis as a sleazy club owner and Dee Wallace as his flirtatious wife. In between long rounds of neon and fog machine dance scenes, there are lesbian bar brawls, a ludicrous sex scene on a waterbed filled with fish and some very dramatic nunchakus.
Vengeance (dir. Chang Cheh, 1970)
Chang Cheh channels some extra style (maybe he was watching Seijun Suzuki and Point Blank?) in this minimalist revenge yarn that features Shaw star David Chiang in one of his most taciturn roles. Stylishly dressed, he mows through room after room of henchmen, leaving a body count behind that would make an '80s action star blush. Very, very cool.
Phantom of Chinatown (dir. Phil Rosen, 1940)
A rare instance from Classic Hollywood in which an Asian actor plays an Asian detective! In this case, the great Keye Luke plays Mr. Wong. The progressive attitudes don't stop at casting, either, as the movie acknowledges negative stereotypes (even while trafficking in others). When a racist detective is trying to put down an Asian woman, he says, "What'd she have for lunch, chop suey?" Her response: "Coffee and apple pie." This isn't necessarily a great movie, but definitely worth checking out for the performances!
Josh Brown
Head Projectionist
Programmer: Wonder-Rama
Harlequin (dir. Simon Wincer, 1980)
A sort of re-telling of Rasputin with a one-of-a-kind performance by Robert Powell (in a role meant for David Bowie). The tagline says, "ARE HIS POWERS MORE THAN MAGIC?". I don't know, but the movie sure is.

The Abominable Snowman (dir. Val Guest, 1957)
Val Guest (The Quatermass Xperiment) directs Peter Cushing in this exciting and atmospheric adventure through the Himalayas in search of the Yeti. The film re-invents the lore and history of that legend in a fascinating and alluring way. New favorite in the Yeti/Bigfoot genre.

Cruel Jaws (dir. Bruno Mattei, 1995)
Not a single film in the Jaws franchise has a Hulk Hogan lookalike who runs an aquarium, so clearly society picked the wrong shark movie to deem a classic. Give it time, however. Things can always change for the better.

The Peanut Butter Solution (dir. Michael Rubbo, 1985)
Having grown up close to the Canadian border, I've always had the sneaking suspicion that extraterrestrial beings have integrated into their society and have been living there unnoticed ever since. I finally have indisputable proof with The Peanut Butter Solution. This couldn't have been made by anything other than aliens pretending to be Canadian.

The Perils of Gwendoline In the Land of the Yik-Yak (dir. Just Jaeckin, 1984)
A sexploitation Indiana Jones rip-off from the director of Emmanuelle (1974), in which the heroes of the film find an underground all-women society that only uses men to continue their race before promptly murdering them. I don't think we know yet how prophetic this film will be.
Jake Isgar
Austin Programming
Programmer: AlamoScope
Co-programmer: Old Fashioned
Darling Lili (dir. Blake Edwards, 1970)
When a Blake Edwards movie fires on all cylinders, it borders on the sublime. Darling Lili is no exception. A romantic espionage thriller set during WWI, Julie Andrews — as a spy for THE GERMANS (!) — attempts to pull one over on American flyboy Rock Hudson. One of the great American epics.

Road to Revenge [a/k/a Get Even] (dir. John De Hart, 1993)
Former entertainment lawyer John De Hart turned writer/director/star/musician didn't invent the dad action wave of the '80s & '90s, but he may have perfected it. Thrown off the force with his raging partner Huck (an off the reservation Wings Hauser), Rick (De Hart) shimmy-slides into the heart of a young woman on the run from a satanic cult.

The Swimmer (dir. Frank Perry, 1968)
Writer/director Frank Perry adapts the John Cheever short story, keeping the psychological complexity while layering pictorial beauty on top. Burt Lancaster, rarely better, spends most of the movie literally naked before being stripped emotionally bare. You can prep your gut for that ending, but I doubt it'll do much.

One From the Heart (dir. Francis Coppola, 1982)
Also known as the venture that kept Coppola in debt for 20+ years, One From the Heart is a case of staggering ambition — a movie that feels out of time and space. Frederic Forrest and Teri Garr are a couple on the rocks in the outskirts of Las Vegas, both engaging in their own romantic interludes. Cosmically undervalued.

True Stories (dir. David Byrne, 1986)
A sweet-natured view on suburban sprawl and the folks populating them, David Byrne's only feature film credit is full of oddball poetry and digressions. Byrne wanders around like a proto-Bobby Hill philosopher, palling around with a lovelorn pre-Roseanne John Goodman and other sympathetic tabloid figures. Wild, wild life, indeed.
Alicia Coombs
Co-programmer: Cherry Bomb
Celia (dir. Ann Turner, 1989)
Ann Turner's debut film was intended as a historical drama about the threat of communism in 1950s Australia, and was marketed as a horror film. It's mostly a film about childhood, the fantasy life therein, and how that fantasy life relates to the traumas of youth. Occupies a strange place between Lord of the Flies and Heavenly Creatures.

The Plastic Dome of Norma Jean (dir. Juleen Compton, 1966)
Juleen Compton's barely-seen 1965 feature about a young clairvoyant, her brother, and a boy band who set up a giant plastic dome to create a tourist attraction out of their sleepy home in the Ozarks. A surrealist curiosity, rescued and restored by UCLA.

Lisa (dir. Gary Sherman, 1989)
A thoroughly tense movie that plays like an erotic thriller for the YA fiction set, Lisa is about a 14 year-old who isn't allowed to date, so she gets her kicks by tracking down the phone numbers of attractive men to flirt with by phone. When her latest mark happens to be a serial killer, her little game becomes far more dangerous. Is this kind of mess Harriet the Spy would have gotten into a few years down the line? I shudder to think.

Susan Slade (dir. Delmer Daves, 1961)
Based on a novel by Doris Hume, this Connie Stevens/Troy Donahue vehicle really outdoes itself in the melodrama department. 17-year-old Susan Slade and her kin face a cavalcade of miseries – teen pregnancy, suicide, fatal disease kept secret, babies playing with lighters – all in sparkling Technicolor.
Zane Gordon-Bouzard
Video Editor & Programmer
Eggshells (dir. Tobe Hooper, 1969)
After Tobe Hooper passed away last year, I felt duty bound to watch the remainder of his work which I hadn't yet delved into. Eggshells was such a delightful surprise - part experimental head trip, part hippie satire, and part time capsule of the "good 'ol days" in Austin, Texas. If you're interested in reading more, I wrote a piece about it here.

Malpertuis (dir. Harry Kümel, 1971)
Harry Kümel followed up his vampire classic Daughters of Darkness with this surreal, ambitious chamber drama, featuring a bed-ridden, tryannical Orson Welles using his dying wish to force his extended family into a sinister waiting game. Bizarre, dreamy, and defiantly uncategorizable, it's the kind of lunatic fever dream that makes for a thrilling, sometimes bewildering watch.

Malatesta's Carnival of Blood (dir. Christoper Speeth, 1973)
The dreaminess of Carnival of Souls meets the gore of Herschel Gordon Lewis, making Malatesta's Carnival of Blood a blood-soaked, strange little horror gem. It's kind of film that makes you forget whether you're asleep or awake, doling out nightmare logic just as assuredly as it does spurts of that 1970s paint-blood. A real must-see for oddball horror aficionados.

Winter Kills (dir. William Richert, 1979)
A whirlwind of conspiracy, assassinations, and John Huston lounging around in a speedo, Winter Kills is an underrated '70s conspiracy marvel. It's a unique take on the personal fallout of a presidential assassination, which floats along on a cloud of great performances from a who's-who of '70s character actors and wonderfully fun tonal whiplash. It definitely lives up to its vaunted reputation.

The Colossus of New York (dir. Eugène Lourié, 1958)
I loved this film so much that it inspired a whole series on movie robots at the Alamo Ritz. It's a wonderful atom-age re-working of the classic Frankenstein story, featuring a 12-foot robot with the brain of a dead scientist whose isolation from humanity drives him to insanity and murder. The Colossus of New York is schlock of the highest order, a perfect sci-fi parable of total robo-madness.
Jazmyne Moreno
Co-programmer: Weird Wednesday / Cherry Bomb
The Goddess (dir. John Cromwell, 1958)
I watched this based on a Morrissey suggestion. It's basically the story of Marilyn Monroe with a bit of Jayne Mansfield and Ava Gardner thrown in for good measure. While he may have his issues, Morrissey has great taste in films.
Maternal Instincts (dir. George Kaczender, 1996)
Delta Burke as an obsessive housewife bent on revenge after having her dreams of motherhood shattered following an involuntary hysterectomy. She kills her husband, kills her friend, and that's just the beginning. She sets her sights on the pregnant doctor who performed the procedure. Reason to watch: Delta Burke singing lullabies in an insane asylum. Watched this around Christmas, it was the best gift I could give to myself.
Wonderful World End (dir. Daigo Matsui, 2015) / Japanese Girls Never Die (dir. Daigo Matsui, 2016)
I cheated and did two, but it was mainly for director Daigo Matsui. On the surface, his work looks similar to the work of Sion Sono, but his films tend to have more of a navel gazing quality to them, not necessarily a bad thing when it works. Poppy, fun, featuring gothic lolitas in love and women on the run from themselves – unabashedly girly with a message.
The Brutes (dir. Roger Fritz, 1970)
Never have I seen a more thorough examination of toxic masculinity from the story itself to the director's questionable intentions. Straddling the line between arthouse and exploitation, scored to Can's "Soul Desert". Hands down, the best film I watched in 2017. Shocking, horrifying - it makes good on its title.
Birds In Peru (dir. Romain Gary, 1968)
Jean Seberg stars as a tortured nympho housewife, driving her husband mad with her exploits in this poetic cross between Boom, Armando Bo's Fuego, and an aviary obsession, which all works to strangely compelling effect. Directed by Romain Gary, who was a great writer but crap director, and possibly, a terrible husband for this schlock.
Tiernan O'Rourke
Pojectionist
Programmer: Enter The Chamber
Ghostwatch (dir. Lesley Manning, 1992)
Presented as live television in front of an unsuspecting BBC1 audience on Halloween night, this ghost-hunting mockumentary shocked tens of thousands of UK citizens who perceived it to be real. The production hired actual BBC news presenters running an investigative report on a family's house being haunted by a troublesome poltergeist outside of London. A surprisingly convincing and early entry to the "found footage" subgenre.

The Creeping Flesh (dir. Freddie Francis, 1973)
Peter Cushing unearths an oversized skeleton that he believes to be an embodiment of pure evil. Using the creature's regrown flesh, he attempts to make a serum that would counteract the evil and injects it into his own daughter. Turns out, that's not the best idea. Meanwhile, the skeleton creature gets wet and comes back to life!

Double Team (dir. Tsui Hark, 1997)
Legendary martial arts film director Tsui Hark makes his United States debut with this wonderfully insane and underappreciated gem! With a plot vaguely resembling a counter-terrorist agent missing his last hit and dealing with the repercussions, the importance of this film lies on the interactions between Jean-Claude Van Damme and Dennis Rodman. Plus, Rodman has enough colorful outfit changes, hair styles and basketball puns to slam dunk your brain before the clock runs out.

A Hero Never Dies (dir. Johnnie To, 1998)
Two assassins caught on either side of a Triad gang war are betrayed by their bosses and left for dead after a brutal battle. Once the two gangs enter a truce, both assassins lay hospitalized, one legless, the other's girlfriend horribly scarred. Together, they seek revenge on their former employers. Cue some of the most glorious gun battles ever caught on film.

The Guns of Navarone (dir. J. Lee Thompson, 1961)
Gregory Peck, David Niven and Anthony Quinn light up the screen in this explosive WWII adventure. The Allies gather a group of commandos and send them to sea with an impossible task - take out the giant superguns on the island of Navarone to help rescue 2,000 marooned British soldiers. Each soldier boasts a special talent, but none are more awesome than Stanley Baker, as the group's expert knife fighter!
Sebastian Del Castillo
Chief Archivist at AGFA
The Dungeon of Harrow (dir. Pat Boyette, 1962)

Satan's Baby Doll (dir. Mario Bianchi, 1982)

A Thousand Pleasures (dir. Michael Findlay, 1968)

Evil Come Evil Go (dir. Walt Davis, 1972)

Christina (dir. Francisco Lara Polop, 1984)

Beyond the 7th Door (dir. Bozidar D. Benedikt, 1987)