BMD Picks: Jacob's Favorite John Hurt Roles
To celebrate both the birth and passing of the legendary character actor, we count down five of his essential roles.
Last year, we lost a titan when John Hurt passed. I could try and sum up the man's storied legacy as a character actor, but BMD's own Phil Nobile Jr. already did so rather succinctly, saying in his brief but beautiful obituary:
Hurt died five days after his 77th birthday. It's one of those deaths that illustratively answers the question of why celebrity deaths make us sad in the first place. It's because here was an actor who made us feel for decades, quietly doing the work and not clouding the connection to his audience with offscreen nonsense or personal effluvia. He acted, and he did it so well that no matter how many times he turned up we believed him. What actor could ask for more?
To celebrate the anniversary of both the actor's birth and passing, I wanted to share a handful roles that defined the ever-shifting chameleon who was John Hurt. After you're done perusing these selections, be sure to chime in with your own picks from his gigantic body of work (200+ titles!). He was a legend for many reasons, but here are my main five...
*****
The Elephant Man [1980] (d. David Lynch, w. Christopher De Vore, Eric Bergren & David Lynch)
Painting a real-world offshoot of the universe Henry Spencer trodded about in Eraserhead ('77), David Lynch molds 19th Century London into an industrial wasteland; the byproduct of a revolution that filled the streets with factory steam. Freddie Francis' cinematography seizes the damp blackness engulfing the alleys and serving as a constant shadow for the deformed, bag-headed "John" Joseph Merrick (John Hurt) to hide in. Meanwhile, the interiors of the upper crust parlors Dr. Frederick Treves (Anthony Hopkins) inhabits feel like a self-made aristocratic prison, drowning the elite surgeon in a sea of privilege that distances him from the classes below. Once Treves decides to rescue and rehabilitate Merrick from his life as a lowly circus freak, his sheltered sentience is upended by the raised eyebrows of his peers and neighbors.
But it's Hurt who recreates not only the soul of Merrick, but the indomitable spirit of the downtrodden and cast out in all societies. Hurt's "Elephant Man" becomes an avatar for the oppressed and misunderstood, whom we as a people sometimes fail to even attempt to identify with. It may sound somewhat condescending, but - beneath pounds of prosthetics - Hurt is reminding viewers of their capacity to feel for those completely unlike them. But that's the universality that Lynch and Hurt's The Elephant Man taps into: the imperfection of homo sapiens as a whole. We all, at one time or another, have probably turned our nose up at the "freak", the "weirdo", the "geek", or someone from another societal group that is completely different from ours. Like kindly brothers patting us on the shoulder, these artists are simply asking us to open our eyes, take a second, and feel for everyone around us, regardless of what our preconceived notions may be. It's a powerful, simplistic message that only an artist of Hurt's stature could deliver with such delicate grace.
Midnight Express [1978] (d. Alan Parker, w. Oliver Stone)
Midnight Express is one of the most controversial movies of its era, whose authenticity has been challenged by its own subject. However, questions of accuracy don't take away any power from Alan Parker's cinematic representation of American Billy Hayes (Brad Davis), who's arrested at an Istanbul airport with hash taped to his chest, and tossed in prison to endure rounds of systematic torture at the hands of sadistic prison guards before managing to escape. Express showcases several instances of brutality, most notoriously a moment in which Billy - in slow-mo close-up - bites out a guard's tongue. The entire affair is a harrowing, traumatic test, probably only best experienced once, as many images are forever seared into the audience's memory going forward.
Among those haunting portraits is John Hurt's portrayal of pensive heroin addict Max, which earned him an Academy Award nomination for Best Supporting Actor. Hurt's narrow frame and balding head are accented by his cracked glasses, replicating the way this corrupt system has forced these prisoners to view the world due to their horrible experiences. It's a wonderful, dynamic performance, punctuated by stillness and simmering rage - standing out in a sea of unwashed, huddled faces, all praying to someday feel a pang of hope again. The movie may have turned out to be total bullshit, but Hurt's turn still rings totally true.
The Hit [1984] (d. Stephen Frears, w. Peter Prince)
Following a decade of contemplating his existence in the plains of Spain, supergrass Willie Parker (Terence Stamp) is rudely jarred back to the real, tough world by two hit men who've come to take him back to Paris and settle a thought-dead beef. However, Willie is now an altered spirit, completely accepting of this inescapable demise; his zen-like approach unnerving the killers as they escort him on this road to a French nowhere. Stephen Frears makes his triumphant return to cinema following Gumshoe ('71) and a long stretch helming stories for the small screen; the wide, sunlit vistas of Spain igniting a visual knack for splendor in the English workman.
Perhaps the most remarkable element of The Hit - which is a near perfect picture to begin with - is the way Frears makes use of Hurt's angular, aged graveyard of a face (not to mention the way Hurt utilizes his greatest tool, as well). Hurt moves like a silent movie golem, stalking amongst the high grass and letting his bright but sunken eyes survey the terrain, both conveying his world-weariness, as well as the keen sense of experience his days as a hired gun have earned him. Hurt's Braddock is a man of very few words, but much deadly action, marking Stamp's enigmatically giddy would-be victim one of three distinctly defined opposites for him to hunt. It's a masterful turn in a wonderful piece of ethereal pulp fiction that's well worth your time.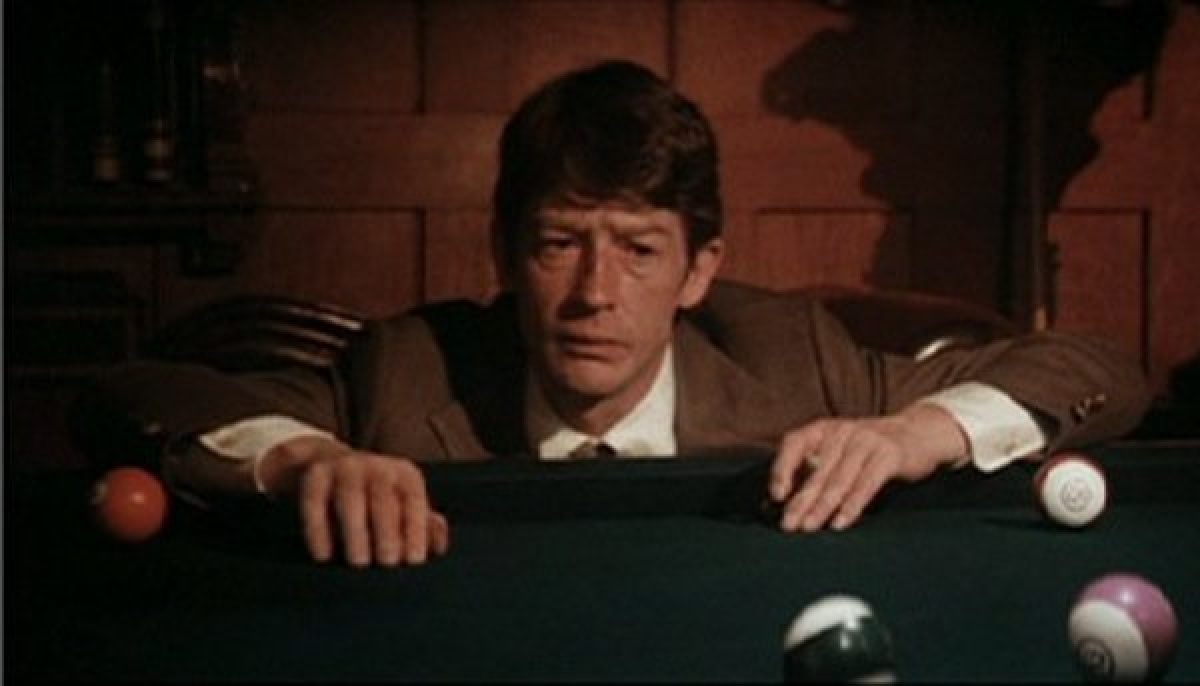 Heaven's Gate [1980] (d. & w. Michael Cimino)
The label "revisionist history" gets tossed around when talking about Michael Cimino's big, bold, studio bankrupting American epic Heaven's Gate - both in terms of how it re-envisions the American West, and how critics approached it many years after its initial monumental failure. But Cimino's overlong, over-stuffed, hyper-gorgeous Western is still an essential work of cinema, lingering on age-old themes of greed and masculinity that had become romanticized and ingratiated into the country's own self-mythologizing ways of recounting the days of sun-licked fields full of immigrants and cattle. Is Cimino's egotistical folly a tough sit? Sure. Is it worth it? Totally.
Part of the reason the movie is so endlessly watchable is due to actors like Hurt, who injects a drunken sense of truth-telling into Billy Irvine. We first meet the orator at an extended Harvard graduation sequence with his best friend James Averill (Kris Kristofferson). Cimino's unhurried, magisterial opening allows us to linger with these privileged minds before they journey off into the world, and Hurt's slow deterioration into jaded, liquor-stinking melancholy sells us on the movie's themes of moral decay better than any beautifully shot burning barn or Chris Walken's merciless man of death ever could. Heaven's Gate is proof that even in the biggest of pictures, Hurt could boil their essence down to performance, bringing us into each widescreen moment with his intimate grasp of humanity.
Dead Man [1995] (d. & w. Jim Jarmusch)
John Hurt and Jim Jarmusch collaborated on several occasions - their last endeavor together being the vampire hang out picture Only Lovers Left Alive ('13) - calling each other more than colleagues, but "friends" (Lovers being a result of their shared belief in Christopher Marlowe having been responsible for Shakespeare's writing). Perhaps this is why Hurt slipped into Jarmusch's normally large ensembles so well, yet still always seemed to stick out: they were both operating on the same wavelength of intellectual, amber-encased hipsterism. Jarmusch's languid, thoughtful takes on existence were the perfect fit for the raspy chameleon, who always injected a sizable dose of color into the idiosyncratic auteur's cinema.
With only a few minutes, Hurt becomes memorable in Dead Man ('95), Jarmusch's black and white psychedelic Western. The actor's greasy hair and hunched manner match the trademark circular spectacles on his face, as he barks at Johnny Depp's Blake that he has no employment in the office of the Dickinson Metalworks. In such a large collective of haggard visages, Hurt knew he needed to make an impression to stand out, and does so with his cheap cigar and condescending cackle, telling Blake the position's already been filled, and to hurry along as Mr. Dickinson doesn't pay him for idle conversation. In a weird way, this bit part might be one of the ultimate roles in his entire filmography, regardless of how small it is: he crafted a complete person, whose backstory we filled in with our imaginations, due to a series to tics and mannerisms. To create characters was John Hurt's job, and he was one of the best who ever lived.