BMD Picks: Our Favorite Films Of 2018 (Thus Far)
The gang gets together and chooses the best stuff they've seen during the year's first three months.
Every year is a "good year for movies" if you put the effort into catching the titles you truly want to see. However, 2018 has made it so you barely need to try to have a stellar time at the theater. The first three months have been so jam packed with great shit - from fest darlings to big studio comedies to arguably the most culturally important superhero picture ever made - that even if you skipped out on cinema for a few weeks, there's a solid chance you'd be able to cobble together a sturdy Top 5 of your own.
So, with that in mind, the BMD crew got together to toss out their own Picks for the Best of '18 (Thus Far), resulting in quite the eclectic collection of motion pictures. Take a look...
*****
Mandy (d. Panos Cosmatos, w. Aaron Stewart-Ahn & Panos Cosmatos)
We see a lot of movies each year. Many of them are great. But few hit me right in my particular sweet spot the way Mandy did when I saw it at Sundance. You guys don't know yet, but this is the best movie of the year. Might as well shut it all down right now.
From its eerie, experimental first half, to the madcap violence of the second, Mandy takes every opportunity to be insane, memorable and over the top. This is a movie where an unleashed Nicolas Cage still has to reach a bit to meet the film's tone. He succeeds, of course, yet his performance yields more pathos than laughter by the time it's all over. That by itself is a major achievement. I'm rarely so excited for a movie to come out and share its genius with the world. - Evan Saathoff
A Quiet Place (d. John Krasinski, w. Bryan Woods, Scott Beck & John Krasinski)
Around this time last year, we were still reeling from Get Out and saying shit like, "who knew noted TV comedian Jordan Peele had it in him?" Well, we're gonna be doing that again this year with A Quiet Place, a meticulously-crafted horror experience that comes to us from...John Krasinski, better known as Jim from The Office. Seriously, who knew he had it in him?
A Quiet Place is great for any number of reasons - the performances, the film's commitment to silence (eventually someone will count how many lines of dialogue there are in this thing, and I'm willing to bet it's less than fifty), the outstanding creature design - but my favorite thing about Krasinski's film is how willing it is to explore its own reality. I've seen plenty of horror films that start with a great concept, only to do nothing with it after it's been established, and A Quiet Place is not one of those movies.
From the impending birth of a child (which is basically a ticking time bomb in a world where loud noises mean certain death), to the horrifying little detours the narrative takes along the way (meeting other survivors isn't necessarily a good thing), to the clever bits of world-building we see throughout (bonfires and Christmas lights are used to great effect here), A Quiet Place is always doing something intriguing with its premise, and doesn't let up from the moment it begins until the credits roll about 90 minutes later.
See this movie. See it as soon as possible. But don't see it with someone who likes talking during movies. - Scott Wampler
Love, Simon (d. Greg Berlanti, w. Isaac Aptaker & Elizabeth Berger)
Queer cinema is almost always pigeonholed into being an exploration of oppression and identity shame, but thankfully American culture has hit something of a turning point in the last decade or so in how gay, lesbian, and bisexual identities are accepted and normalized for up and coming generations. So, how does one make a film that acknowledges that social progress without minimizing the struggles still inherent in coming out? The solution Love, Simon comes up with is to treat its protagonist's struggle with identity as normalized as possible, free of the shame we are usually told must accompany every queer protagonist's reveal to the world. The result is essentially the gayest film John Hughes never made, smart and funny with a perfect ratio of crowd-pleasing moments to saccharine drama. It's a film that is quietly revolutionary by demonstrating that queer identity is well on its way to being a normalized fact of life, and watching it with a theater full of queer folks clapping and cheering was one of the best cinematic experiences I've had in a long time. - Leigh Monson
Foxtrot (d. & w. Samuel Maoz)
The Best Foreign Language category for the Oscars is weird. Every other category insists on a theatrical release in a given calendar year, but not Foreign Language. Often, distributors will time their theatrical around the ceremony for maximum awareness. This strategy can backfire if an expected film gets snubbed by the Academy. This past awards cycle, Sony Pictures Classics had a stranglehold on the category with several of their acquisitions getting high profile international festival recognition. Sony focused their efforts on their eventual winner – the terrific A Fantastic Woman – but in doing so, several excellent films didn't get the awareness they might have gained in another year, or with a different distributor.
Samuel Maoz's second feature Foxtrot was one of these films. Shockingly snubbed by the Academy's foreign language branch, Maoz's dramedy fits right into the tradition of classic war films that build their narratives around the absurdity and randomness of military conflict. Episodic in nature, Foxtrot's narrative deals with the Israeli occupation of Palestinian territories, and the toll it takes on soldiers conscripted into military service, their families back home, and the Palestinians trying to live their lives under occupation. The title is symbolic of the major theme of the film, as it's a dance that ends up in the same place it begins. Brilliantly constructed, Maoz's film only comes together in the final moments, so when you feel the emotion of the entire narrative, you become aware it's one of the best films to ever come out of Israel, and easily one of the finest works in the first quarter of 2018. - James Emanuel Shapiro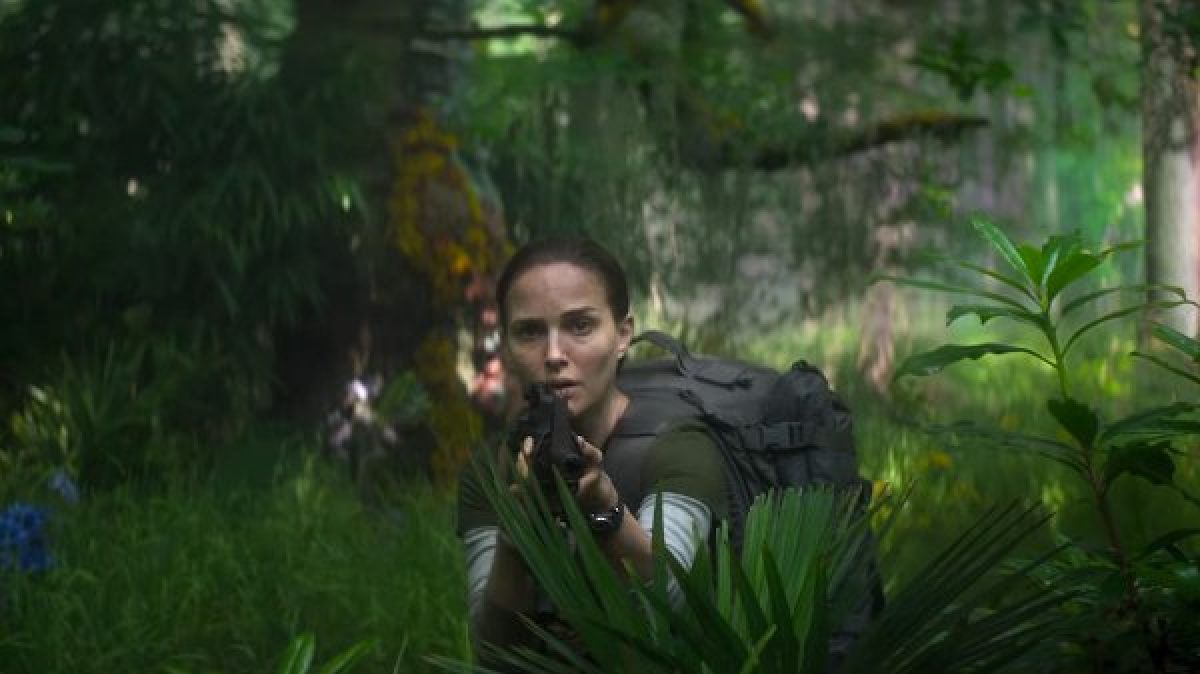 Annihilation (d. & w. Alex Garland)
Much like today's younger genre fans have trouble believing that films like The Thing and Blade Runner were flops when they were first released, it will likely be tough for some horror/sci-fi loving kid in 2035 to wrap their head around the fact that not only was Annihilation a box office dud, it was practically buried by its distributor (Paramount, who might not be around anymore by then if they keep this up). The rare genre film to perfectly balance weighty ideas with genuine scares and creep-out moments (that human-voiced bear has/will cause so many nightmares), Alex Garland's minor masterpiece will not be used as a punchline or flat out forgotten like most of the studio's recent genre output (Rings, anyone? How about Paranormal Activity: The Ghost Dimension?).
Using Jeff Vandermeer's novel as a springboard (there are major changes), Garland took its nameless characters and gave Natalie Portman one of her most memorable lead roles with Lena, a biologist who agrees to join a mission into "The Shimmer" - a mysterious fog-like area that has appeared around a lighthouse. Unlike most of her teammates (including the great Tessa Thompson as Josie, the resident physicist) her interests are more personal: her husband was on a previous recon mission into the area and came back "off". As much as she's interested in the biological aspects of the strange world, she's determined to find out what happened to her man, and see if he can be returned to normal.
Things, of course, do not go as planned, and as they get closer to the lighthouse the team is torn apart by all sorts of surprises, making it one of the few modern genre films where we don't have most of it spelled out for us in the first ten minutes. It's the kind of film you'll keep thinking about and discussing with others, and will likely be one of the best go-to examples of why a film's box office numbers don't mean shit in the long run. - Brian Collins
Black Panther (d. Ryan Coogler, w. Joe Robert Cole & Ryan Coogler)
Every time you turn around there's a new superhero movie. That's not a complaint by any means, but when you have so much of one genre hitting theaters at once, it can be hard for films to stand out. Then you have directors like Ryan Coogler who look at the mold they're supposed to shape their film to fit and promptly toss it out the window.
Black Panther doesn't try to simply be a good superhero jam, but a good story. It succeeds in both while also being visually stunning and culturally poignant. Between the beats of heavy social commentary are hilarious moments you find yourself giggling at well after your first viewing. It gives us a vulnerable T'Challa (Chadwick Boseman), where before all we saw was the noble king (and briefly Prince) while bringing new and irreplaceable players to the game. Shuri (Letitia Wright) and Okoye (Danai Gurira) have just entered the MCU, and it's already difficult to imagine the universe without them.
On top of all that, Black Panther still manages to deliver what was arguably the MCU's best villain yet. Killmonger (Michael B. Jordan) wasn't just relentless. A part of him was also right. His methods were questionable, but the motive that drove them was sound, making his death all the more heartbreaking. The best of stories have fault on both sides of the proverbial fence, and seeing T'Challa try to reconcile that is one of the many moments that prove Boseman was meant for this role and all of the cultural responsibility it entails. - Amelia Emberwing
Loveless (d. Andrey Zvyagintsev, w. Oleg Negin & Andrey Zvyagintsev)
While Andrey Zvyagintsev's latest did get an Academy nomination, like Foxtrot, it clearly wasn't pushed by Sony Pictures Classics, so they could focus on the eventual Oscar winner for Best foreign language film, A Fantastic Woman. Only one film can emerge victorious, and as much as I loved the winner, I would have voted for Loveless simply because it's the latest classic from a filmmaker I view as probably the best international director in the world.
Ridiculously high praise, but Zvyagintsev is Russia's heir apparent to Tarkovsky and Eisenstein. It's remarkable he can make such brilliant cinema in a country whose film industry is burdened with corruption, and have his films partially financed by the Russian government despite being highly critical of that regime. Even if Loveless can't match the sheer precision of Zvyagintsev's last film, Leviathan - which is such a perfect work it drives this writer to tears even after several viewings - it's an exceptional effort from a master at the peak of their powers.
On the surface, Loveless is about a couple going through a horrible divorce, whose son has run away to escape the chaos and anger. Under that surface, Zvyagintsev designs a picture about a society in harsh decay. Throughout its runtime, the weather is oppressive and the news radio reports on fictional events depicting a country on the verge of collapse. You can't help but get emotionally wrapped up in the weight of both the narrative and its symbolism. Layer in the complete perfection of Zvyagintsev's technical skill - so formal but so beautiful - and you're left with something to be treasured. It's my favorite film released thus far in '18 and I implore you to seek it out. - James Emanuel Shapiro
First Reformed (d. & w. Paul Schrader)
First Reformed is the result of an artist putting restraints on himself. For his last picture - the much-maligned Nic Cage crime ditty Dog Eat Dog - Paul Schrader eschewed any playbook he'd ever used, going as far as to employ first time filmmakers behind the scenes to try and free himself of any preconceived notions regarding the creative process. First Reformed inverts that philosophy, as Schrader returns to the texts on "Transcendental Style" he penned as a critic before picking up a camera (which cover the works of Yasujirō Ozu and Robert Bresson, amongst others).
The result is a mature marriage of Schrader's previous meditations on diseases of the soul with a very specifically measured formal approach, as a faith-tested priest (Ethan Hawke) becomes obsessed with the decaying nature of our planet, pushing himself toward potential violence. He's essentially Travis Bickle with a white collar, and Schrader's frame works to crush him, little by little, putting the audience on edge as we wait for an explosion. However, the end of First Reformed may surprise you, as Schrader is obviously confronting the rage and loneliness that have consumed his characters for the majority of his career, resulting in a work that is, in itself, utterly transcendent. - Jacob Knight
Game Night (d. John Francis Daley & Jonathan Goldstein, w. Mark Perez)
Nothing about Game Night really suggested it'd be anything special. Its cast, led by Jason Bateman and Rachel McAdams, were talented thesps who'd been stuck in middle-of-the-road studio comedy fare. The directors' only prior feature credit was the Vacation remake - just such a middle-of-the-road movie, and further evidence that Game Night would be yet another in-flight time-passer.
But for whatever reason, everyone involved in Game Night stepped up their game, delivering one of the most well-made comedies to come out of a major studio that I can remember. The direction is full of inventive shots and visual flourishes; the editing is tight and snappy; the cast absolutely pings off the screenplay and each other, creating an extremely likable ensemble of characters. There's even a virtuoso long-take action sequence to rival the biggest-budget blockbusters. I actually gasped at how well-constructed it was at times.
It's not too much of an exaggeration to say that the film frequently feels like a collaboration between Edgar Wright and David Fincher. That's half due to the story, which is essentially The Game played as a relationship comedy, but mostly due to the film's exquisite, sometimes even meticulous craftsmanship. If all mainstream comedies were this good, the world would be a much better place. We'd certainly laugh more. Because oh yeah: in addition to all this, Game Night is funny as fuck - and just quietly, one of the best movies of the year so far. - Andrew Todd
Paddington 2 (d. Paul King, w. Paul King & Simon Farnaby)
If you're in need of a momentary escape from these dark and cynical times, your train awaits at Paddington station. In this charming followup to 2015's Paddington, the little bear from "Darkest Peru" has settled into a loving home with the Browns. A popular and beloved member of the Windsor Gardens community, Paddington Brown (voiced by Ben Whishaw) imparts good cheer and kindness upon everyone he meets. When dastardly actor Phoenix Buchanan (played with phenomenal finesse by Hugh Grant) frames the bear for the theft of an antique pop-up book, Paddington is sent to prison. Even behind bars his infectious spirit and delicious recipe for marmalade liven up the place, gaining him many new friends. But Paddington struggles to stay positive as he waits for the Browns to clear his name, fearing that he may never return home to his family.
Once again Paul King and Simon Farnaby cast a delightful spell with their uplifting vision of Michael Bond's cherished children's series. With a supporting cast, including cinematic treasure Sally Hawkins and Brendan Gleeson as the gruff but gentle prison cook Knuckles McGinty, Paddington 2 has the power to make you believe, if only for a moment, that "if we are kind and polite the world will be right." I'm prepared to give a hard stare to anyone that comes away from this endearingly wholesome movie without a smile on their face and hope in their heart. - Emily Sears