Cover to Credits: LITTLE WOMEN
Louisa May Alcott's cherished classic continues to welcome us home.
"The book was better" is a phrase heard often in conversations about book-to-film adaptations. "Don't judge a book by its movie" is another common jab. While we've all uttered some version of this sentiment at one point or another, there have been those rare occasions when the opposite is true. As a lifelong bookworm and cinephile, I've discovered that whether I read the book before or after seeing the movie can have a profound influence on my enjoyment of the story across both mediums. In this column, I'll be checking out old and new adaptations to further explore both sides of that experience. In the process, I hope to unveil how these two vastly different mediums work together to tell the same story, from cover to credits.
---
"I don't like to doze by the fire. I like adventures, and I'm going to find some."
- Louisa May Alcott, Little Women
The recent announcement that Greta Gerwig is helming another adaptation of Louisa May Alcott's Little Women was met with the usual wave of outcries for original content. Understandable, considering the classic novel has already been adapted a dozen times across film and television, with a variety of familiar faces in the roles of the March sisters – Katherine Hepburn, June Allyson, Janet Leigh, and Elizabeth Taylor, to name a few. However, none of these versions have quite measured up to the talented ensemble in Gillian Armstrong's 1994 feature, starring Susan Sarandon, Trini Alvarado, Winona Ryder, Kirsten Dunst, Claire Danes, Samantha Mathis and Christian Bale. Nearly a quarter century later, Gerwig will embark on reinventing the story for a new generation with Meryl Streep, Emma Stone, Saoirse Ronan, Florence Pugh, and Timothée Chalamet – a cast with more than enough potential to rival Armstrong's. What remains apparent about Alcott's novel is that readers and filmmakers alike continue to return to it because it is a rare and timeless look at coming-of-age female. As a result, the voices crying out for more stories about women by women are overpowering those complaining about original content.
Aside from the cast, what separates Armstrong's Little Women from the previous features is that it was the first to be written and directed by women. The prior films from George Cukor in 1933 and Mervyn LeRoy in 1949, while well received, lacked the feminine authenticity that Armstrong and screenwriter Robin Swicord were able to glean from the novel. Undoubtedly, the appeal of Alcott's story has always been its strong and relatable female characters, and regardless of how many times it is read or retold, the content becomes original based on the individual's point of view. Obviously, a story about the intricacies of growing up from girlhood to womanhood will be better served when told by someone with firsthand experience on the subject. Armstrong and Swicord may have set a precedent with their film, but following Gerwig's resounding success with her directorial debut, Lady Bird, it's obvious she too has a talent for tapping into the intricate experiences of a young woman seeking her place in the world.
"Some books are so familiar reading them is like being home again," Jo March (Winona Ryder) observes in the film. Despite what age readers may be when they pick up Alcott's novel, it feels very much like home, in the way that Orchard House remains home in the hearts of the March sisters. No matter how many times you revisit Marmee and her girls huddled around the fire reading father's letter from the war, it never ceases to warm your heart. The March's home is located in Concord, Mass. where the four sisters – sensible Meg (Trini Alvarado), willful and restless Jo (Ryder), shy and sickly Beth (Claire Danes), and spoiled and headstrong Amy (Kirsten Dunst and Samantha Mathis) – struggle to maintain selflessness and generosity in light of their own poverty and hardships. Under the tutelage of their mother, the noble and virtuous Marmee (Susan Sarandon), the little women constantly strive to better themselves under the guidance of her gentle yet firm manner.
Armstrong and her team so impeccably transported these characters from page to screen that the film, like the book, has become a familiar haven of warmth to be visited again and again. The story, while filled with morals and incentives to teach the girls propriety, is also an intimate guide about perseverance and finding one's way in a world set in opposition. Each of the March sisters has such a distinct personality that generations of girls have easily drawn comparisons to their own upbringing while reading their adventures. Alcott has given us an enduring cast of female characters so familiar yet different enough from one another that their story continues to connect with women young and old after more than a century.
The ambitions and feminist leanings of the beloved and prominent character Josephine March stretch far beyond the gender constraints of the era in which she was born. A lover of literature and a writer of fantastical stories, Jo's resistance to settle for or accept the role assigned to her has made her one of the most important characters in literature. She is, no doubt, the unwavering strength among the sisters and her unwillingness to follow the rules in a world unprepared for her extraordinary gifts is the driving force of the story. Winona Ryder's tenacity and humor as Jo on screen remains the performance to beat. In an era when it was a woman's duty to become little more than someone's wife, Jo and her sisters exhibit Alcott's desire to expand not only the minds of her characters, but society's perception of a woman's place in a man's world.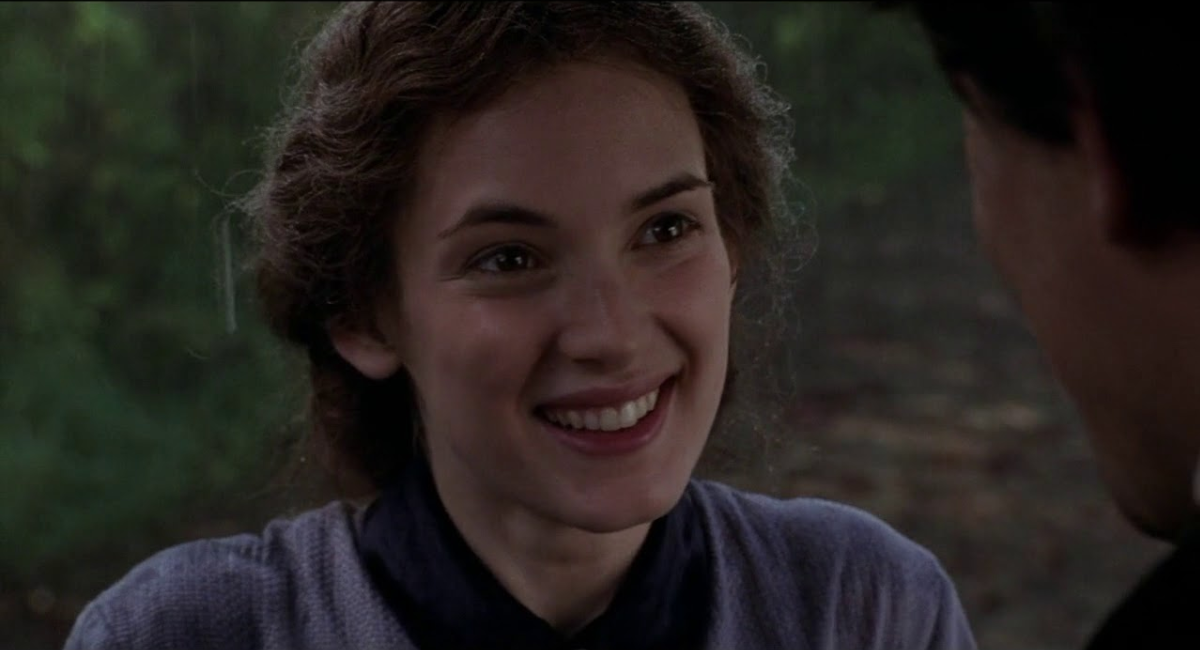 In the film and book, the male characters are secondary, which is not to say they aren't important. However, to put it simply, this story is not about them. The wealthy and crush-worthy boy next door, Theodore "Laurie" Laurence (Christian Bale), garners the most attention from the girls. While he starts out as quite a mystery to them, this changes once Jo makes it her mission to get to know the boy. The two of them bond over a shared awkwardness in public, quickly becoming a match made in impropriety. A lifelong friendship develops between Laurie and the girls, and his love for the family causes him no small amount of heartache, as he inevitably falls in love with and proposes to no less than two of the spirited sisters. His presence alongside Mr. March (Matthew Walker), Mr. Brooke (Eric Stoltz), and Mr. Bhaer (Gabriel Byrne) complements the ladies' upbringing and helps to illustrate the different choices they make on their path to adulthood.
So far, adaptations of Little Women have followed the timeline set forth in Alcott's novel. Originally published in two parts, the first arriving in 1868, followed the young girls and their efforts to maintain a ladylike composure and a positive outlook despite being reduced to poverty during the Civil War. The second, arriving in 1869, caught up with them three years later to explore their trials adjusting to life away from home, including Meg's marriage, Jo's attempts to become a writer in New York, Beth's failing health at home with Marmee, and Amy's artistic adventures in Europe with Aunt March. While Armstrong's film covers both parts, she focuses primarily on the formative years, ending briefly on their lives as adult women. According to Robin Swicord, who will return to Orchard House as a producer on Gerwig's version, the new film will focus more on the lives of the March sisters' after they've left home, cutting back and forth in time to portray their earlier years. A creative choice that promises, along with the talents of a stellar new cast, to add a fresh perspective to Alcott's cherished and timeless tale.