Daniel Danger's NINE INCH NAILS Posters Belong In A Museum (Or On Your Wall)
Danger and NIN: 2018's best crossover?
As you've probably heard by now (because we won't stop talking about it), Nine Inch Nails is currently on tour across North America, and you know what that means: awesome gig posters. Awesome gig posters everywhere.
Tonight, the band hits Atlanta, Georgia to play the first of two shows on consecutive nights. Art collectors attending either of those shows will be excited to learn that our ol' pal Daniel Danger was commissioned to create a set of prints for the band's two-night stay in Atlanta.
Unsurprisingly, the results are excellent.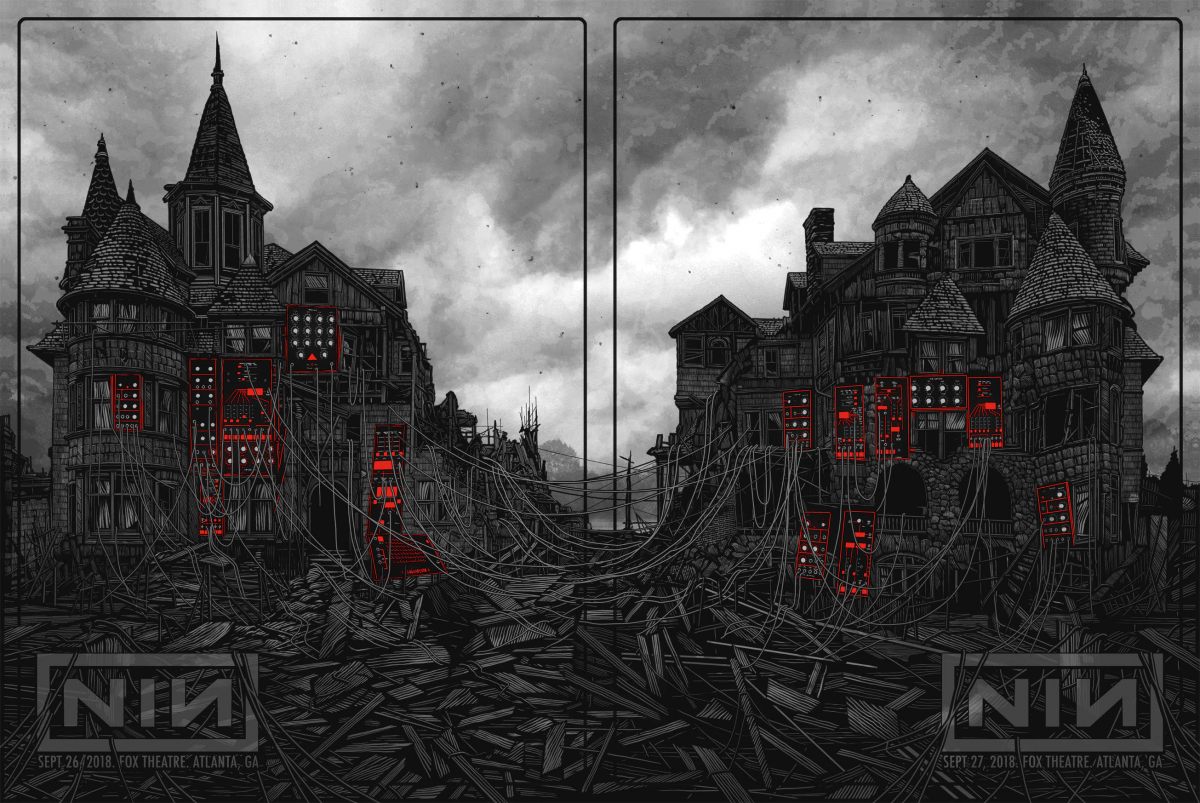 The regular edition (above) will be sold at NIN's Atlanta shows as two 18x24" prints, with a different half being released each night. Those of you who aren't attending tonight or tomorrow's show will be excited to learn that, sometime tomorrow, Danger will be selling AP sets of these prints - along with several uncut, 36x24" versions - via his website.
But that's not all: fans attending tonight or tomorrow's Atlanta show will also have a chance to pick up the hyper-rare, metallic-red version of the two-print set seen above. Danger will also have a very limited number of uncut, 36x24" versions of this piece available on his site tomorrow.
Here's what Danger had to say about the creation of the prints:
"I have reason to believe Trent Reznor is very much like myself, an obsessive vintage music gear nerd who loves the modular MOOG meets LEGO approach of just connecting one weird thing to another weird thing and running it through another weird thing as the signal degrades, multiplies, expands, or falls apart; and then just hitting record. For their two nights in Atlanta I wanted to combine old school vintage analog synths, with their web of crossing patch cables and knobs and pulsing lights, with a pair of houses that are degraded echos of each other, looping and feeding into one another, building and growing. One of the hallmark notions of analog synths of that era, and really any experimental music, is how difficult it is to ever recreate the place you've found yourself, a humanistic truth as well. Seeing the news that NIN were playing songs they'd never played live before, specifically because the difficulty of recreating studio experiments from 20 years ago, was a pleasant surprise."
But, wait: there's more! Danger's also releasing a signed, uncut art print version of the poster via his site, limited to just 80 copies.
"The art print version, made with love for other fans of weirdo music, features a couple favorites from my own army: the Synare PS-1 percussion synth and Octave Cat analog synth from the 1970s, and a DOD Grunge, a classic wall-of-feedback launch button."
Lots of options here! Uncut versions, two-print sets, regulars, metallic variants, an art print edition (which, by the way, is titled "attack decay sustain release"). Of course those of you attending either of the Atlanta shows are gonna want to bring poster tubes with you, while everyone else will need to keep a close eye on Danger's site all day tomorrow for the online drop. I suggest giving him a follow on Twitter if you wanna be notified the moment they go on sale.
So, which version are you folks gunning for? I'm leaning towards the uncut metallic, but the two-print regular set is also calling my name. Decisions, decisions.