PSA: Please Help Our Friends Get Married By HELLBOY
One of your RTs could help one couple's dreams come true.
Once upon a time, two of our friends - SYFYWIRE contributing writer Carly Lane and ComingSoon's executive editor, Spencer Perry - met, moved in together and fell in love. Theirs was a love borne of shared nerdery, and we were happy to know they'd found one another.
Shortly thereafter, Carly and Spencer announced they were engaged. The film blogger world rejoiced to see such romance blossoming from within their horrifying little industry: if these two kooky kids could make it, well, surely there was hope for all of us.
Not long after that, Spencer - perhaps the biggest Hellboy fan in the industry, if not the entire world - hopped on Twitter and swung for the fences.
That's Spencer challenging David Harbour, owner of the world's rockingest Dad Bod and star of Neil Marshall's forthcoming Hellboy reboot, to officiate he and Carly's wedding ceremony...in full Hellboy regalia. If you follow Harbour on Twitter, you know he's no stranger to this sort of stunt: he once agreed to appear in one high school's senior's class photo in exchange for a certain number of RTs, so it didn't seem outside the realm of possibility that he'd accept Spencer's challenge.
Over the weekend, he did.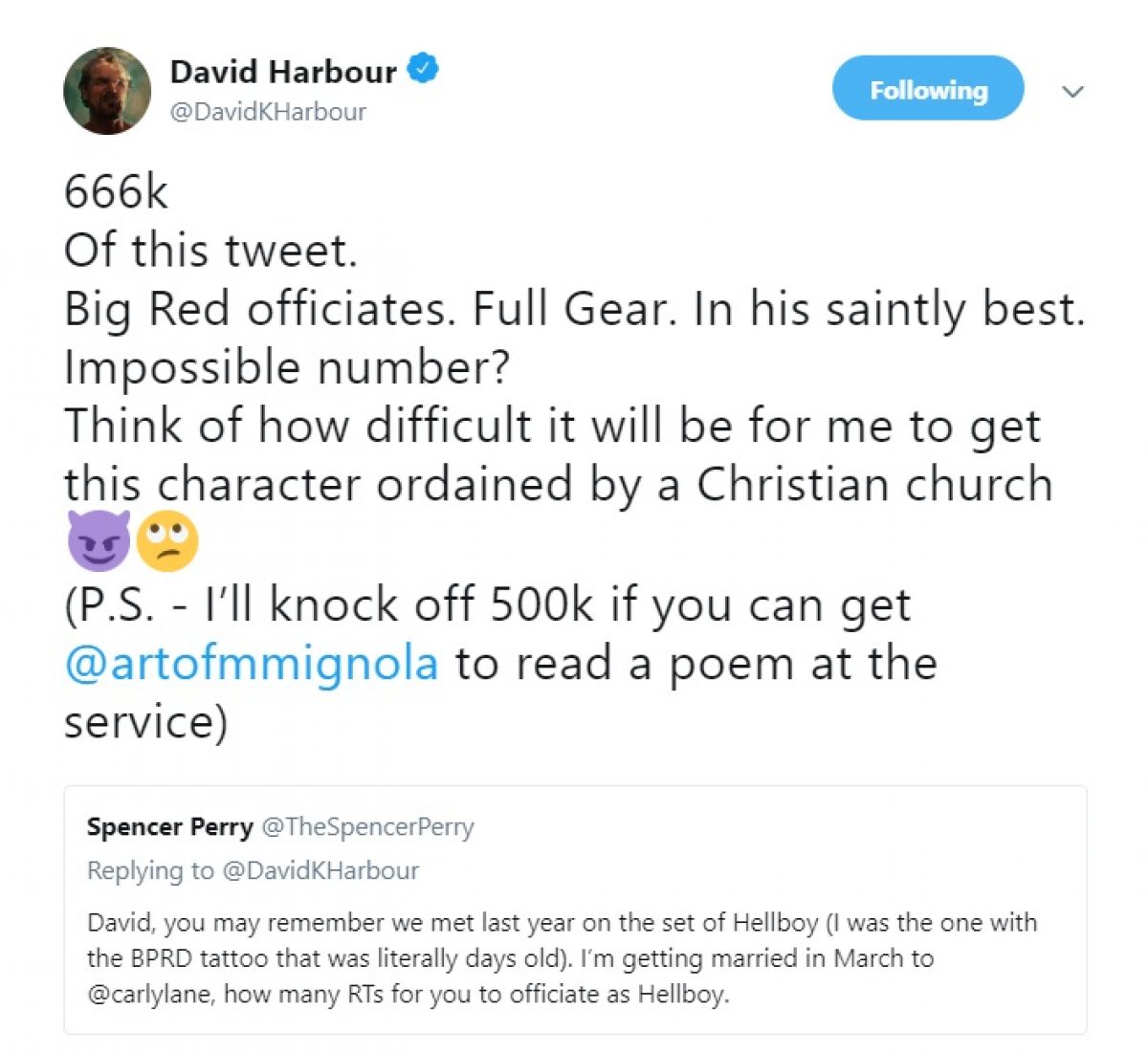 As you can see, that's Harbour agreeing to officiate Carly and Spencer's wedding (in full Hellboy makeup) for the low, low cost of just 666K RTs...a number that would be drastically marked down should Hellboy creator Mike Mignola agree to read a poem at the ceremony.
Well, guess what?
So, this is where we're at, folks: David Harbour will show up at our friends' wedding in full Hellboy gear and officiate the ceremony and write an original poem to be read out loud by Hellboy creator Mike Mignola if Harbour's original tweet hits 166K RTs. As of this writing, that tweet is at 20K RTs. Still a ways to go, obviously, but we're confident we can push this one up over the top with a little help from the BMD readership.
Please consider heading over to Twitter and RTing this tweet to help our friends' dream of a Hellboy-themed wedding come true. Make this happen and I swear I'll bring back some excellent photos (I'll probably also buy Harbour a nice bottle of bourbon; he will have earned it). In the meantime, we'll keep you updated on this situation as it develops.
Hellboy opens on April 12th, 2019.