Leigh's Top Ten Films Of 2018
I had such an ordeal trying to narrow this down.
Compiling my top ten movie list for any given year is something I take very seriously. In fact, I probably take it a bit too seriously. Historically, I become something of a recluse and an obsessive this time of year, plowing through films I need to catch up on, following awards from critic associations and other top ten lists to let me know what I'm missing out on, and hitting the theater as soon as Oscar contenders start playing. The problem has only gotten worse this year with the addition of awards screeners to my life, which has made the past month and some change a difficult situation for my loved ones. (Sorry, loved ones.)
But here's the really weird thing: this year, almost none of that frenzied catch-up mattered. In fact, every single one of the films listed below is one I either saw of my own casual volition or as part of my usual duties as a reviewer, and only one of them was seen during the rush of awards season. This says to me a couple of things: First, I really need to chill the hell out. Seriously. Second, this year's crop of supposed awards contenders has been, at least in my opinion, pretty weak. Not free of gems, but I am just devoid of investment in most Oscar contenders this year, which is an anomaly. Third, regardless of that weakness, this year has had some amazing films, so many that I feel guilty about a lot of the ones I'm leaving off this list.
So believe me when I say this was a very difficult list to compile. The top five or so were assuredly getting in, but after that, my conviction wavers. Who knows if this is how I'll feel in three, six, or twenty-seven months from now? But what I do know is that these are all films worthy of recognition this year, and if there's a film you know for a fact I really enjoyed or seems like something I would love, it's probably in that nebulous next few spots of my hypothetical Top Twenty or Thirty. This list just about broke me, so without further self-indulgence, here are my Top Ten Films of 2018.
10. Hereditary
This was such a hard slot to decide on, for many of the reasons I described above, but I still can't shake the intense emotions that Ari Aster's directorial debut left me with after seeing this for the first time. There are so few films that feel so completely like an anxiety attack from beginning to end, mounting pressure that breaks the boundaries between insanity and the supernatural in one of the most terrifying climaxes I've experienced in a theater. This film shook me hard, in no small part due to excellent performances from Alex Wolff and, of course, Toni Colette. Perhaps the only thing more terrifying is that Hereditary isn't even the only horror film on my list this year.
To change gears completely, Won't You Be My Neighbor? is a revelation of an entirely different sort: one of radical kindness. I enjoy documentaries well enough, but they often don't stick with me long, or if they do it's for all the wrong reasons. The story of Mister Rogers, though, is presented so powerfully, in such awe of the inherent goodness of this one man who simply wanted to bring self-esteem and compassion to as many children as he could, that I can't stop thinking about how I could do better in my own life. Hell, the one thing the filmmakers were able to find to incriminate Fred Rogers was an of-the-time prejudice against a gay actor that was mostly born of self-preservation for his TV program; this should be the thing that most alienates me from the man, regardless of the film's presentation, but even now I see a truly good man just trying to do his best. I cry every time I watch this. Not many movies do that to me.
8. Love, Simon
Love, Simon also makes me cry, but for very different reasons. I really strongly considered giving this spot to Eighth Grade, since the films occupy a similar space of adolescent angst in my mind, but Love, Simon is being woefully under-recognized this year, so I feel obliged to carve out a space for it. This is a film about the terror of coming out, not as a fear of how others will treat you poorly, but of how others will treat you differently, and what it means to accept a part of yourself that you haven't had the opportunity to fully explore. Simon is a character I relate to strongly, and his story is told through a lens of empowerment and empathy with an excellent cast that delivers some of the most resonant scenes of the year, at least resonant with my experiences. Please don't let this one be forgotten in the annals of teen comedies. This is exactly the sort of film I wish I'd had growing up.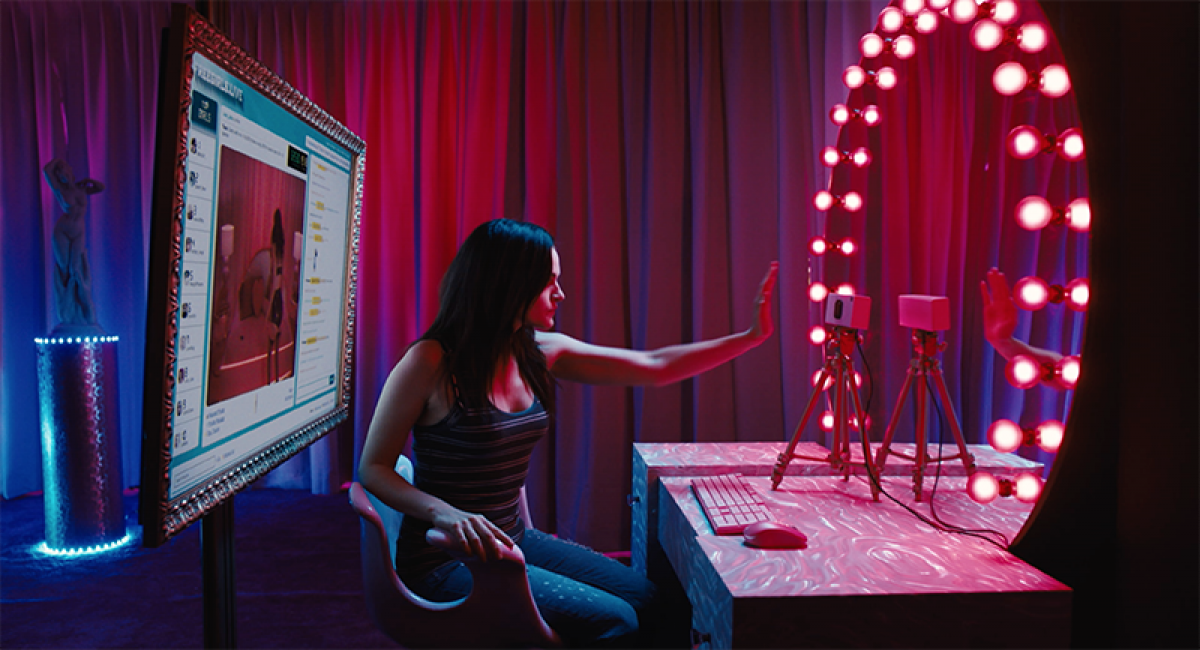 7. Cam
Cam was easily my favorite film out of Fantastic Fest, and it has been the one I think of most when people ask me what films have flown under people's radar this year. (Okay, it's more like I shout at friends and co-workers to just watch this damn movie already, it's on Netflix, what are you doing with your life, don't you walk away from me, etc.) Rarely do you see sex work portrayed so compassionately and nonchalantly as in Cam, and the terror of this horror film isn't rooted in the fictional hyperbolic traumas of being a consenting sex worker as portrayed in popular culture, but in how being an online personality makes one especially vulnerable while being a sex worker unjustly deprives one of the necessary supports to remain safe in that career. Visually stunning with a fantastic script by Isa Mazzei and a stellar performance from Madeline Brewer, Cam is a cult classic revolution waiting to happen. It's the best explicitly sex-positive film of the year, and it deserves every set of eyes it receives.
6. The Hate U Give
The Hate U Give is a film that I really wish more people had gone to see in the theater, mostly because I feel that what it has to say is too important to ignore. Following the story of a black teenage boy's killing at the hands of a white police officer and a black teenage girl's choice of whether to speak up about what she saw, this is a story that feels all too familiar yet necessary to recount to those who don't live this experience daily. Sporting one of the best ensemble casts of the year, led by the fantastic developing talent of Amandla Stenberg, The Hate U Give translates the template of a young adult resistance narrative to a cause worthy of real-world resistance, offering fair shake to all sides of the issue but ultimately coming to the necessary conclusion that revolutionary action is necessary to fight and prevent death and oppression that happens every day in America. If you have a stubborn family member who can't quite wrap their head around the necessity of the Black Lives Matter movement, show them this film. It might make a difference.
I have never been a fan of Yorgos Lanthimos. I generally respect his work, and I get why people gravitate towards it, but it's just never been for me. And yet, The Favourite converted me. This queer period piece dark comedy won me over with its hilariously shocking vulgarity, its otherworldly cinematography, its richly layered trio of leading ladies, and its astute perception of how our sympathies as an audience rightfully shift with the balance of power. There are very few films that can make me reverse my opinions of characters so completely over the course of a couple hours, but The Favourite is seamless in its character studies that equate the possession of power with the power to do evil, except of course when the person with the most power is incapable of executing it. Lanthimos' biting cynicism is put to good use here, and now I will never stop giving him chances to impress me.
4. Spider-Man: Into The Spider-Verse
I had a very, very hard time deciding whether this belonged in the Number Three spot, but my gut is telling me to put it here just because I haven't had the opportunity for multiple viewings yet. Into The Spider-Verse is a jaw-dropping feat of animation, using the medium to convey one of the best superhero origin stories ever told on a roller coaster of emotions that swings wildly between laughter and tears. This movie balances the introduction of multiple instantly iconic incarnations of Spider-People like it's nothing, but it makes Miles Morales a recognized equal to the legacy of Peter Parker. He's not an imitation; he's his own Spider-Man. There is too much that rules about his movie to talk concisely about it. Just see it already. You won't need me to explain a damn thing once you do.
Ryan Coogler forever. T'Challa forever. Wakanda forever. Black Panther was an event this year, and rightly so. Not only is it a strong bit of superhero action spectacle, but it is an ambitious epic that grapples with notions of black liberation and embracing globalism. Michael B. Jordan delivers a career-best performance as a sympathetic villain who isn't wrong for his philosophy, only his methods, and the rest of the spectacular cast informs a whole world of possibilities through the culture and traditions of Wakanda, an idealized and uncolonialized African nation. This will forever be known as the movie that popularized Afrofuturism in operatic scope, and its impact on the zeitgeist cannot be understated. This is popular cinema at its finest, the birth of a modern Star Wars in narrative scope and cultural impact, and it makes me excited for the art it will inspire in its wake.
2. Annihilation
Annihilation is easily the most thought-provoking film I've seen all year, a bona fide masterpiece that matches visual splendor with philosophical meditation. The visual effects of an alien force reconstructing life in an unconscious effort to suit its needs are terrifyingly beautiful to behold, and the revelation of life that grows by transforming other life without consuming it carries Earth-shattering implications for the ethics of being a living being that does live off destruction and consumption. But this is also a story about accepting one's personal damage, as the five women at the center of this story take part in this mission as an escape from their problems, and the terrifying truth is that sometimes annihilation is the only way for their pain to ever truly end. And even if you're left standing at the end of an apparently transformative experience, maybe you won't be left with any profound truths, only yourself, changed yet unchanged. Bravo, Alex Garland, for making the most unsettling piece of fiction I have internalized over the last twelve months.
Sorry To Bother You is the rawest, funniest, angriest film of the year, and I haven't been so motivated to promote any other film quite so heavily as Boots Riley's feature directorial debut. Attacking the foundations of capitalist thought through a satirical interpretation of reality television, wage slavery, the exploitation of black talent, the co-opting of resistance iconography into consumable products, and the thin line between surviving under capitalism and thriving off the exploitation of others, Riley has crafted a tale so bonkers and so disturbingly close to reality that it's hard to walk away from it without a sense of righteous fury. The exaggerations of the narrative are facially ludicrous – one in particular more so than the rest – but their import to our modern dystopia is obvious as it is troubling, and Sorry To Bother You understands that the best way to impart such a message and make it stick is to be damn entertaining. There are few films that pack as much of a stylized and emotional punch as this one, and it's a gift to be able to consider it the best film of 2018.