Let's Take A Look Inside Mondo's A TWIN PEAKS INTERPRETATION Showcase
No one interprets David Lynch quite as successfully as Greg Ruth.
Disclosure: BMD and Mondo are both owned by the Alamo Drafthouse.
Last night, our friends at Mondo unveiled one of their most ambitious projects yet - The Art of Greg Ruth: A Twin Peaks Interpretation, a solo showcase featuring over sixty posters based on (you guessed it) David Lynch's Twin Peaks. The sheer number of prints on display, combined with Ruth's possibly coded, definitely surreal imagery, made for an experience that bordered on the overwhelming. I stuck around this show for several hours, just soaking up that singular Twin Peaks feeling, one which combines the beautiful with the disturbing.
Below, you'll find a bunch of photos I took at the show. The vast majority of these prints were much smaller than normal - 8x8" or so - and I'll preface what follows by saying that photographs really just don't do Ruth's artwork justice. These pieces, all of which were rendered in pencil, take on a truly uncanny 3D feel in person. If you're in town for SXSW, I strongly recommend you swing by the Mondo Gallery (it's located at 4115 Guadalupe St.) to see these pieces with your own two eyeballs.
That said, here's some of what I saw...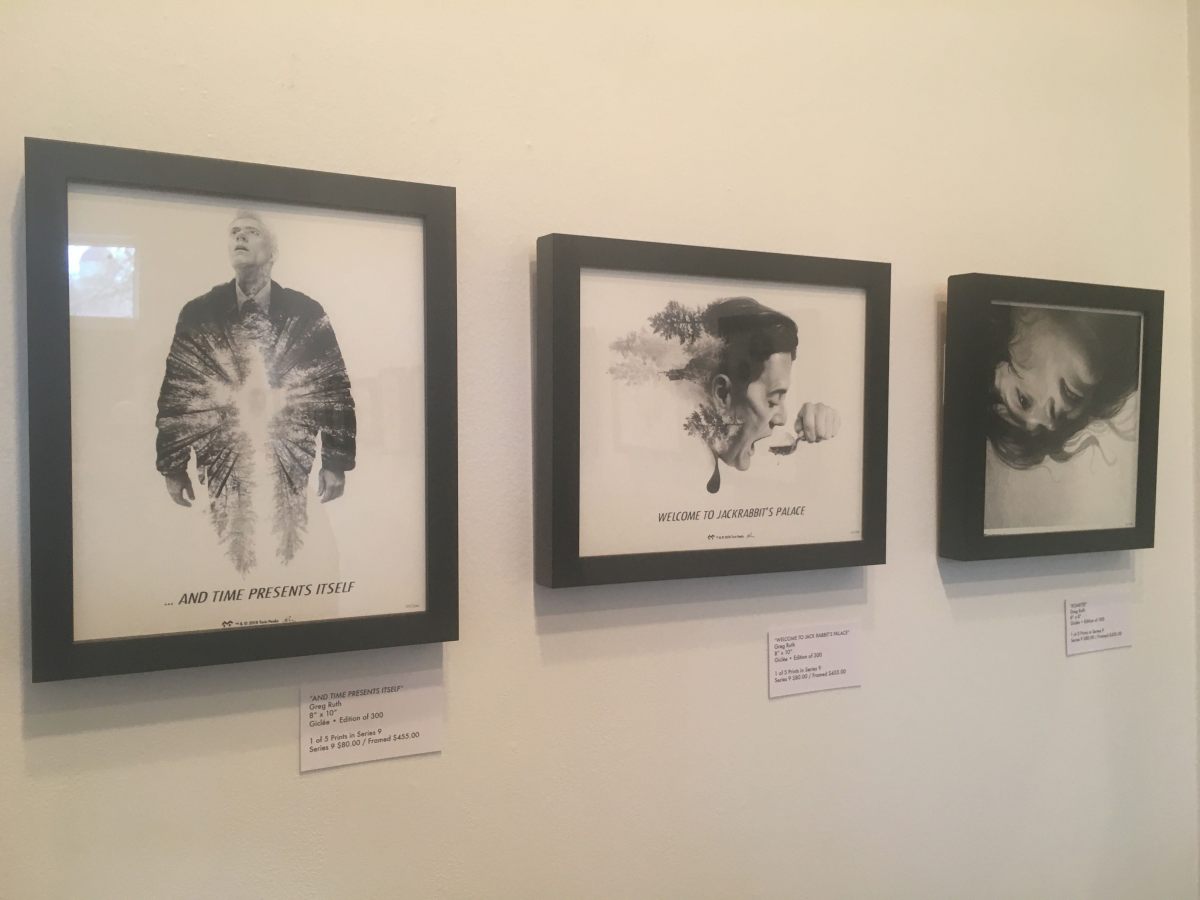 As was previously announced, Ruth's Twin Peaks series (comprised of 60 prints) has been split into a dozen sets, each containing five prints. It was not possible to mix and match between sets, though I imagine there'll be a bustling trade network on these once they've all made it out into the wild (each set will be made available online in due time, or you can pick them up in person if you're in town this week). Every set purchased came in its own "Blue Rose" FBI file, a clever touch that also served to keep everyone's posters safe after leaving the show. Here's my friend Melissa showing off hers.
In addition to the sixty giclee prints, there was also a pair of 24x36" screenprints, which will also make their way online at some point, assuming they don't sell out during this week's showcase. Here's what they looked like (I picked up one of the red variants, because duh).
All in all, this was a stunning showcase, easily one of my all-time favorite Mondo Gallery shows and a real treat for anyone who counts themself a fan of David Lynch's dark, weird world. Ruth's an incredible talent, and I can't wait to see what else he does with our friends at Mondo going forward.
Did you attending The Art of Greg Ruth: A Twin Peaks Interpretation? If so, what'd you pick up (in addition to the variant screenprint, I also picked up the set that included the Bowie/"We're not going to talk about Judy" piece)? If not, what are you hoping to snag once future sets make their way online? Sound off in the comments below, and stay tuned for more out of this year's SXSW as the week goes on.