TERMINATOR: THE MUSICAL Is Real, And It Looks Spectacular
Come to this musical if you want to live.
Of all the movies that might inspire musical adaptations, Terminator was one of the least likely possibilities... until now. James Cameron's sci-fi action classic – along with its blockbuster sequel, T2: Judgment Day – serves as the basis for Terminator: The Musical, a wild and crazy musical parody from the mind of Breanna Bietz. The show is set to take over the Fallout Theater in Austin, Texas this Friday, May 3 with all the leather and sunglasses and gruff one-liners you can handle – in musical form, of course. Bietz, who wrote and directed this brilliantly bonkers production, gave us an exclusive sneak peek at "Programmed to Kill," performed by T and the Terminatrixes – Bietz describes them as a "hyper-aware element," like the three fates or how Crystal, Ronette, and Chiffon served as a Greek chorus in Little Shop of Horrors. Each of them play different characters and are murdered in different ways throughout the entire musical. Below, you can see T and the Terminatrixes in action:
Featuring choreography by Maci McFarlin and musical direction and arrangements by Mars Wright, Terminator: The Musical takes the iconic sci-fi actioner to its logical conclusion with singing and dancing T-800s, murderous musical numbers, confusing time travel, and so much more. Check out these rad promotional photos of the cast, including Robert Slack (aka local wrestler Pluto Mars) as T, Lena Long as Sarah Connor, and JP Bremer as John Connor. If this doesn't look like a delightful way to spend your Friday or Saturday night, then perhaps you should reevaluate your current interests.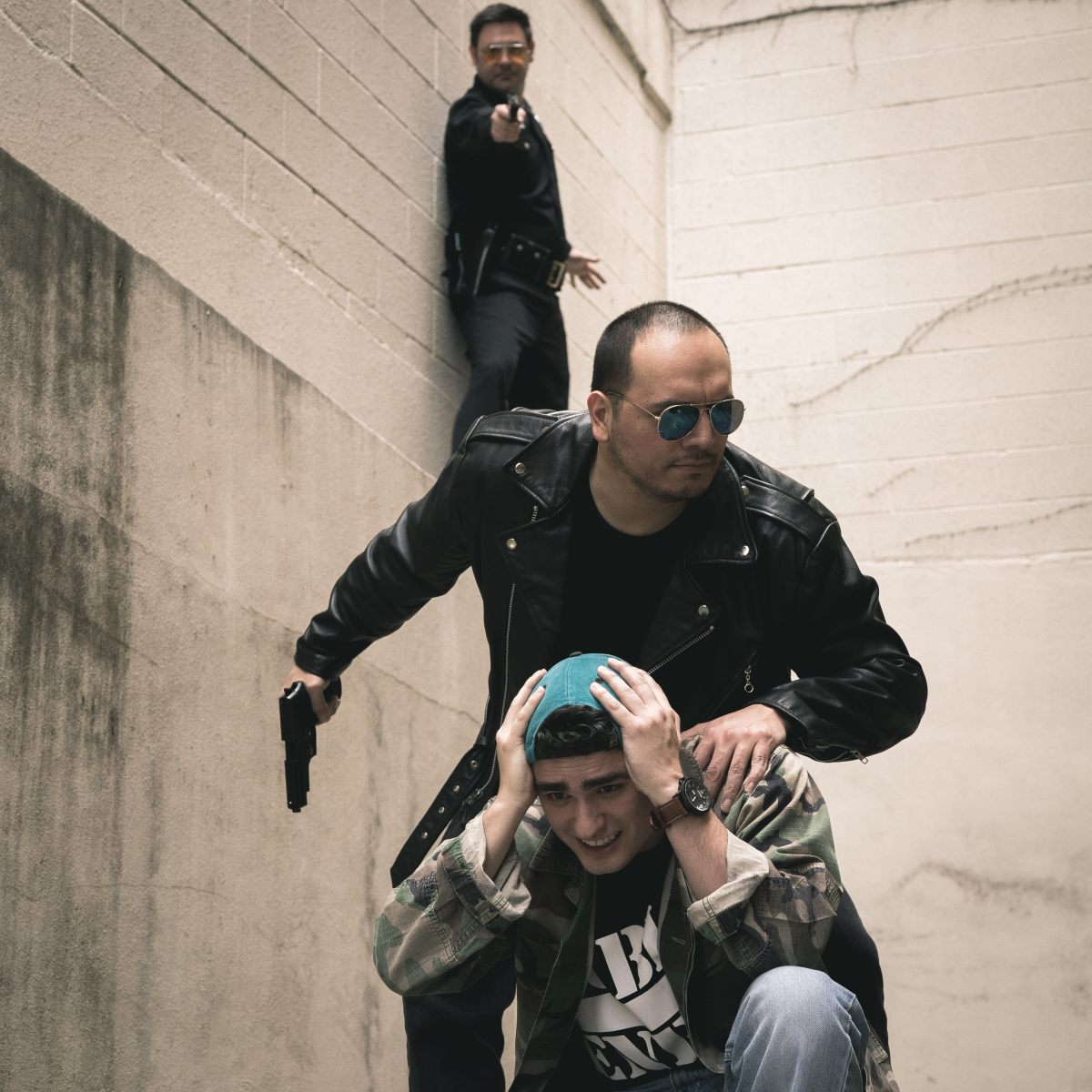 Terminator: The Musical also stars Kyle Irion as Kyle Reese, Jon McMahan as T-1000, and Mars Wright as Miles Dyson, with Caitlin French, Chelsea Beth, and Kathryn Lane as the Termniatrixes. The musical is playing at the Fallout Theater every Friday at 8 p.m. and Saturday at 7 p.m., beginning this Friday, May 3 and continuing through May 25. Tickets are $18 if you purchase online in advance and $20 at the door. It might go without saying, but while this is an all-ages affair, the musical features some PG-13 and R-rated material. That said, grab your friends/loved ones/begrudging relatives and children and get your rear down to the Fallout Theater for a truly bananas pop-culture event.
(Note: all photos by Colton Matocha; video by Jon McMahan)