Here's Our First Look At Richard Stanley's COLOR OUT OF SPACE
It's Stanley doing Lovecraft with Nic Cage. What more do you need to know?
In case you hadn't heard, the Toronto International Film Festival unveiled its 2019 Midnight Madness lineup today. The list contains a number of interesting titles, but none moreso than Richard Stanley's Color Out of Space, starring Nicolas Cage and based on the H.P. Lovecraft story of the same name.
We've been keeping a very careful eye on this one for months now, and today we're excited to be getting our very first look at Stanely's film (unveiled as part of TIFF's announcement). Let's take a look and see what we can see...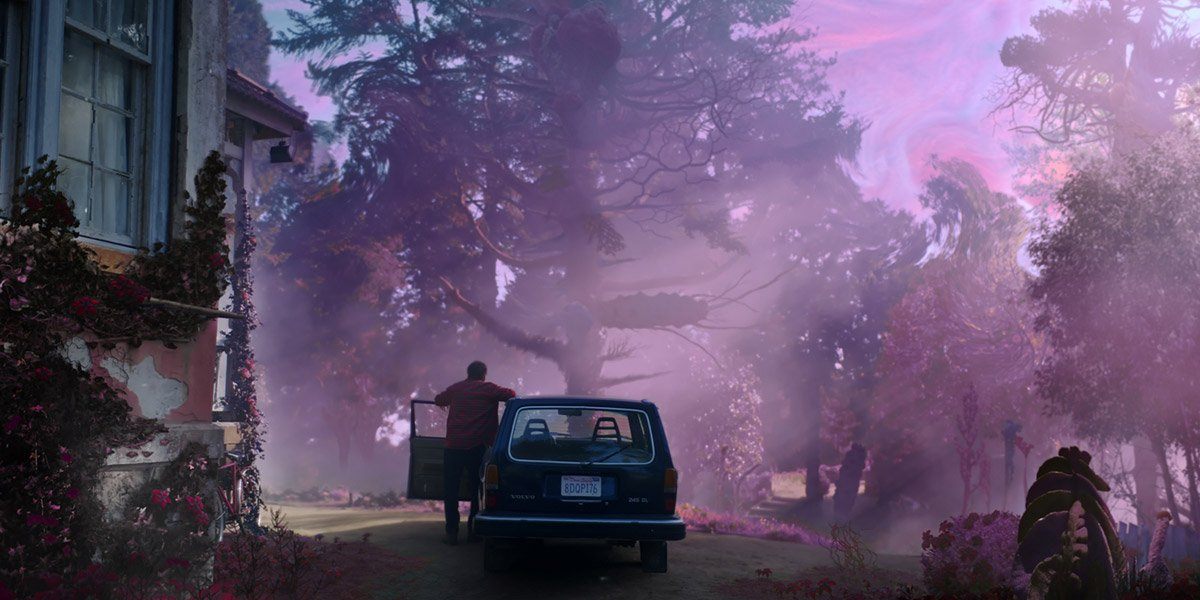 So, that's Cage in the foreground, standing next to a station wagon and marveling at the scene before him. Like the story that inspired it, Color Out of Space revolves around a meteor crashing into the Earth and raising all kinds of Hell for everything in the immediate area. In the Lovecraft original, that meteor causes the local flora and fauna to undergo some very disturbing changes, and the photo above is giving us a glimpse at how those changes might appear in Stanley's film. Looks kinda like Alex Garland's Annihilation, with the added bonus of being from the first Richard Stanley movie in many, many years.
Speaking of which: do y'all realize how amazing it is that we're getting this film? Those of you who've seen Lost Soul: The Doomed Journey of Richard Stanley's Island of Dr. Moreau know that Stanley's had a rough go of things in Hollywood. Chewed up and spit out by a studio system that either didn't know what to do with him or didn't want to deal with his eccentricities, Stanley hasn't directed a feature film since that project fell apart. Now he's back thanks to the folks at Spectrevision, and on top of all that he's adapting one of H.P. Lovecraft's most well-known stories. If Color Out of Space is as good as we think it's gonna be, this whole thing's gonna feel like quite a triumph.
Anyway, no word on when Color Out of Space might land in theaters, but it's very high on our must-see list, so rest assured that we'll keep you informed as further updates roll in. In the meantime, make sure you're all caught up with Lost Soul (it's streaming on Amazon Prime, and I've helpfully linked you to it below) before Stanley's film arrives. I suspect that context will only accentuate your enjoyment of this one.