Holiday Gift Guide 2019: Art!
This installment of the 2019 Holiday Gift Guide puts the spotlight on pop culture prints!
Welcome back to the Holiday Gift Guide and happy Thanksgiving to my American brethren. Yesterday brought not one, but two whole articles on the lovely Blu-Ray and 4K UHD offerings this year. If you missed out, you can read Part 1 Here and Part 2 Here. Today kicks off with one of my favorite sections (don't tell the others) and that's Art.
Here we've got giclees and screenprints covering all kinds of geek properties. The only problem with these pop culture prints is they tend to sell out, especially the ones offered by Mondo (you may have heard of them). As of the writing all these prints were still available, but if you see something you like I wouldn't wait too long to scoop it up.
Alright, art fiends. Lets get at'er.
Moderate ($25.00-$70.99)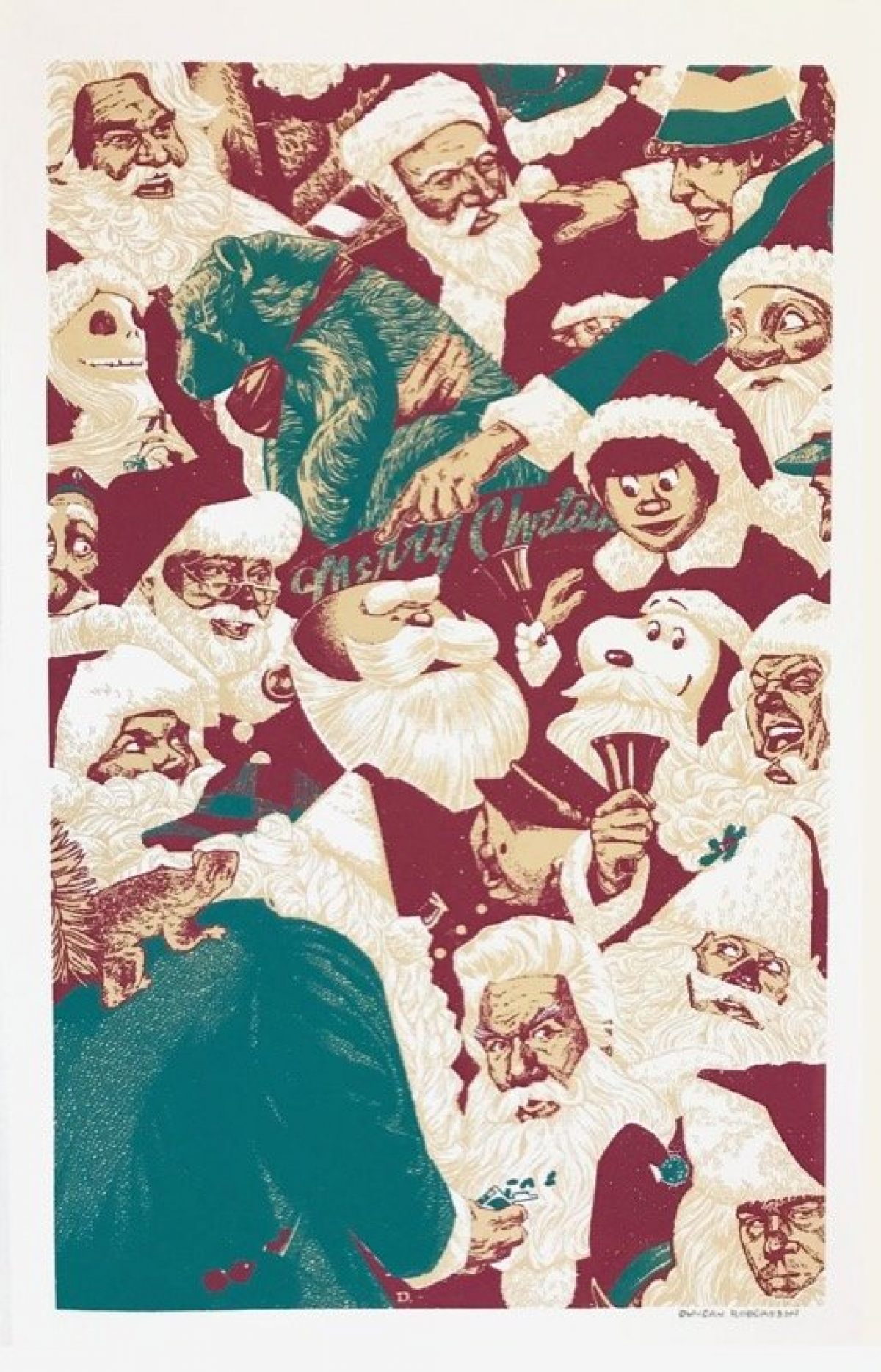 Gallery 1988 just unveiled their Christmas show and the piece that jumped out to me. It's a collage of pop culture Santas, from the Rankin Bass and Jack Skellingtons to the murderous Santas from Tales From the Crypt and Silent Night Deadly Night and alt-right cokehead Santa. Yes, that was a Tim Allen dig. Point is everybody is represented in this signed and numbered 11x17 print limited to only 50 pieces.
Vance Kelly knocked this Gremlins print out of the park and that's before you get the full effect of the blacklight inks used for this print. Limited to 425 pieces and measuring an easily frameable 36x24.
Vance Kelly also turned out this print for the good folks at Hero Complex Gallery this year, celebrating the underrated Addams Family film. I revisited both the '90s films recently and they held up even better than I could have imagined. And I watched them with my young nephews who will now carry the gospel of Raul Julia to the younger generation. You're welcome. The print measures 24x36 and is limited to 225 pieces.
One more Vance Kelly piece. This one a neat Dark Crystal screenprint, printed with fluorescent inks. It'll certainly make any visitors to your home cock their heads and make a pleased "Hrmmmmmm…" sound. You know, like the Skesis dude in Dark Crystal? Get it? 24x36, limited to 350 pieces.
Ridley Scott's Legend is a bit of a miracle. Can you imagine that movie being made today? I can't. And this print from Casey Callender captures all the wonder and WTFness of the movie, including sexy goth Mia Sara, young Tom Cruise in his chainmail miniskirt, that elf boy who is really, like, 45 years old or something and our lord and savior Devil Tim Curry standing over them all. The 24x36 Giclee is a limited edition 150.
Poltergeist is one of my all time favorite movies and it has very little decent art. I'm an original one-sheet guy. I love movie posters, but the Poltergeist one is boring and for whatever reason Poltergeist doesn't get the pop culture print love that stuff like Gremlins does. So I was very happy to see this lovely Giclee by David Henry Lantz. Measures 36x24 and is limited to 275 pieces.
Marko Manev is one of the more underrated pop culture print artists out there, in my humble opinion and here's his absolutely striking Let the Right One in screen print. Don't tell the other very good art pieces but I think it may be my favorite one on the list this year. There are 225 of these suckers in the world and they measure 24x36.
You know a Craig Drake piece the second you see it and his take on Elvira is certainly no exception. Elvira was a big deal for many of us young horror hounds when I was growing up. Yes, there were the boobs, but there was also the unbridled enthusiasm for the macabre. It's great to see a tribute to her here. The Limited Giclee is 24x36 and limited to 185 pieces.
I swear Craig Drake don't just specialize in busty portraits. These just happened to be two of his pieces still available this holiday season! Here is his colorful take on Jessica Rabbit. It's a screen print made with fluorescent inks (which is why the color pops so well), measures 24x36 and is limited to 185 pieces!
There's not nearly enough art celebrating Taika Waititi. Thankfully Kevin M. Wilson (Ape Meets Girl) has got us covered on that front with this sweet 36x24 print for What We Do In The Shadows. There are even some Swearwolves! See them? Limited screenprint, edition of 300.
Kevin Wilson's also got this awesome Beetlejuice print out. Love the use of color (blacklight reactive, by the way) and the decision to set it in the DMV-esque purgatory waiting room. Limited to 350 pieces, 36x24.
Just glancing at this print is gonna make me cry, isn't it? Damn you, Spielberg! From the emotional farewell at the end of ET comes this impressive giclee from Orioto. Limited to only 100 pieces, measuring 24x18. Beeee goooooooooodddd...
This Orioto motherfucker is bound and determined to produce art for the sole purpose of making me cry. What the hell is your problem? ET's sad good-bye wasn't enough, you had to take a run at the Swamps of Sadness scene from Neverending Story? Yeah, sure, you did a great job with it, but I see your emotional manipulation angle. I see what you're doing. Another giclee edition of 100, measuring 24x18.
Finally, an Orioto piece that isn't aimed at making me sob. The only tears you're going to get from me on this one are tears of joy at the sheer feminine power on display. Look at all those badasses! Same deal as the previous two, it's a giclee measuring 24x18 and limited to 100 pieces.
I'm a sucker for a print for a great movie that never gets any pop culture love. The Prestige was made back to back with The Dark Knight and, for me, will always stand as one of Christopher Nolan's best. Chris Koehler did a bang up job with this beauty. This screenprint is a run of only 100, measuring 24x36.
We got a lot of great Halloween prints last year with the release of the legacy sequel, but that doesn't mean 2019 isn't allowed any sweet-ass Halloween art. Enter Barret Chapman's screen print titled "The Shape." I like many things about this one, most notably the prominent placement of Donald Pleasence's Dr. Loomis. Limited to 300 pieces, measuring 24x36.
Hey, look! It's Dat Boi (tell Wampler I'm stealing his schtick and never giving it back) in a print of his own. Again by Barret Chapman with an odd emphasis on a whole lotta dead, floating children. But it works, so you go with your dead kids strategy, Chapman. Screen print, created with fluorescent inks, and a run of 285 pieces that measure the standard 24x36.
I'm surprised there are still prints of this one left. When Neil Davies' amazing Eyes Wide Shut print hit earlier this year I was blown away by it. The use of color, the likeness of Nicole Kidman, and like I said earlier I'm just naturally drawn to prints for titles that don't get a lot of pop culture love. I suppose not everyone can pull off a semi-naked Nicole Kidman art piece on their wall, but damn if this isn't one of the prettier prints to hit the market this year. Printed with fluorescent inks, in a run of 185 and measuring 24x36.
Timothy Anderson comes ready to play with this fluorescent ink screen print that totally captures tickles the ol' nostalgia joy center of my brain. You got He-Man and his bad Prince Valiant haircut, Battlecat ready to tear some shit up, Ram Man, Teela, Beast Man, Lock Jaw and everybody about to rumble. Limited to 155 prints, measuring 18x24.
Here we have Into the Spider-Verse represented in this long and strong 12x36 fluorescent ink screen print by Danny Haas. Only 135 of these babies were run, so if you need some funky nerdy color on your wall then this is the print for you!
Danny Haas also gave us this badass Tron print, which is still on the market. The guy understands how to interpret unique art styles. Both pieces showcased here prove that. This Tron piece is a limited edition screen print of 250, printed with fluorescent inks and measuring 18x24. End of line.
Those who have seen Riki-Oh know know why this print rules, for one, and also will be jumping for joy that it even exists in the first place. The movie is a bone-breaking, head-smashing cult favorite and this art from Chris Koehler knocks it out of the park. Hero Complex claims it's a limited edition, but doesn't given an edition size. We do know it's 36x24, though.
I'll never get tired of seeing Monster Squad's slow take over of the world. It ruled in the '80s when no one saw it except us awesome kids and it rules today. This screen print is by Dan Mumford and measures 18x24 in an edition of 250.
Legendary poster artist Drew Struzan draws good. Controversial opinion, I know, but I'm a man with red hot takes. He's done some great work with Mondo that has sold out and is now worth a small used car and now he's got another limited print that's still available for purchase. This is his take on Boris Karloff's The Mummy. Limited to 200 screen prints that measure 18x24. Have at it!
If you're more of a Lugosi person (insert Ed Wood "Karloff? Sidekick?" quote here) then fear not, Mondo's got you covered with this Sara Deck Dracula print! Bela is captured very well here in a style that's not unlike the look of the movie poster art of the time. It's very cool, measures 24x36 and is limited to 225.
Mondo's got all kinds of creepy posters this time of year! Here is Randy Ortiz's tribute to Mario Bava's Black Sunday. It's also a tribute to Barbara Steele's crazy eyes! Hell of a likeness from Ortiz here and love that he embraced the black and white as well. 175 of these exist, and it measures 24x36.
Ships December 2019. $50.00
Jumping to a more modern psychological horror movie, but keeping the same black and white shadowy style is this great Babadook print from artist Greg Ruth. It may be a sad, melancholy, creepy print for a Christmas present, but you gotta temper that overbearing holiday cheer somehow, right? Edition of 300, 24x36.
Here we got another Sara Deck print, this one capturing the final moments of John Hughes' Sixteen Candles (spoilers, Sara! Dang!). Yep, this right before Molly Ringwald leans in for her big kiss and her dress catches on fire and gives her permanent third degree burns. After that I think she hunts teens in their dreams. Granted, it's been a while since I've seen Sixteen Candles so my memory might be a little fuzzy, but I'm pretty sure that's what happens. Limited edition of 200, measuring the standard 24x36.
JC Richards has a couple prints I want to highlight. They are both Jaws prints because of course I'm obsessed with anything Jaws. This first one I love because for the common viewer it seems to be a nice beach art piece, but those who recognize the distinctive red and white striped tents will know some poor bastard's about to be chewed up. His first run of this print sold out, but he still has some Artist Proofs up in his store. You gotta click on the image and scroll down until you see it, FYI. There's no single landing page for it. The print is 36x12.
Scroll a little bit further down and you'll find this one, titled The Departure, showing our three heroes leaving port to go hunt themselves a bad fish. I love how it's done in the style you'll find in just about every New England motel room. I adore this one. At 24x9 it'll require a custom frame job, but well worth it, I say.
And that's what I got for Art. Stay tuned for the next section of The Guide, coming shortly.