Holiday Gift Guide 2019: Books, Part 1!
This chapter of the Holiday Gift Guide takes a look at the nerdy books of 2019!
Welcome to the next chapter in your nerdy Sears Wishlist compiled by me, Eric Vespe. Here's what we've got so far:
Now we're on to books. This'll be another two-parter. In both parts you'll find memoirs, biographies, authorized deep dives, unauthorized deep dives, comics, art ofs, photography books, cookbooks and more covering a wide array of geeky subject matter from Disney to DC, Alien to Overwatch, Star Wars to a book of anti-Trump poetry written and illustrated by a beloved star of the stage and screen. What I'm saying is there's some good stuff this year. 
Cheap ($24.99 and Under)
I've long been fascinated by movies that never came to be. These unproduced mysteries outnumber films that were actually made by about 10,000,000 to 1 and sometimes you get one of these unmade movies that spark the imagination of film fans. One such title is famed cyberpunk author William Gibson's nearly-made follow-up to James Cameron's Aliens, especially since Fincher's actually made Alien 3 wiped out every character except for Ripley and half of Bishop. Gibson's script kept Newt and Hicks front and center hunting a xenomorph stowaway in a space station. We'll never get that movie, but we did get a comic book adaptation from Dark Horse and this graphic novel collects the limited series.
TAKING SHAPE: DEVELOPING HALLOWEEN FROM SCRIPT TO SCREAM
The lore behind Halloween is… rocky… to say the least. For me it's clear that the less backstory Michael Myers has the more effective The Shape is as a horror icon. His blank mask is a screen for every single audience member to project their worst fears on to. But that's not an opinion shared by just about everybody who took a stab at Halloween post-original film. We got a familial connection reveal, we had a whole trilogy devoted to the Thorn cult being behind the monster and don't get me started on Rob Zombie's bullshit. This book takes all that in and lays it out with filmmaker interviews and the works. There's a lot to unpack in this series and this book exhaustively covers every corner of Haddonfield and beyond.
Andy Muschietti's two-movie adaptation of one of Stephen King's best books isn't perfect, but it's so much better than it has any right to be and it also somehow managed to capture the world's imagination again. That first film is top to bottom great, in my humble opinion, and the second is flawed and unwieldy, but has it where it counts. This is the official making of book for both theatrical chapters and takes a deep dive into the prep and production of these films with exclusive interviews with the cast and crew to help guide the way.
Speaking of Stephen King, his newest brick of a novel hit this past fall and… it's good! It does feel a little bit like he's mixing some of his greatest hits (Carrie, The Talisman, Firestarter, The Shining) in this story about a young, keenly intelligent boy who also has a little psychic spark to him. He's abducted by a mysterious organization and placed in the titular institute to be studied and much worse. What's interesting about this story is how the boy's supernatural touches aren't really all that helpful to him, but his regular ol' problem solving prodigy brain is his best defense against the evil people holding him and a bunch of other special kids in captivity. King's talent for writing characters you give a shit about is still on full display here. For as big of a book as this is it's a quick read.
Keeping it in the family, I had to include Joe Hill's newest collection of short stories called Full Throttle. I haven't had a chance to read it yet, but believe me it's at the top of my stack. I'm a big fan of Hill's work, from novels like Heart-Shaped Box to his comic book work Locke & Key, but I particularly liked his early short collection 20th Century Ghosts. Much like his dad, Hill has a talent for the short form and he doesn't need to sell me at all on a new collection.
STAR WARS THE RISE OF SKYWALKER: THE VISUAL DICTIONARY
One of the most appealing things about Star Wars is the attention to detail, the little bits of costuming and weaponry and ship design that hint at a mountain of lore. That's why I've become a big fan of Pablo Hidalgo's Visual Dictionaries over the course of the Disney-era films. He's got one coming out for Rise of Skywalker. Naturally you can't get your hands on it until the film comes out, but if you pre-order it you'll for sure get it before Christmas rolls around. I may not have survived Pablo's Twitter Snap (™), but I'll still be a faithful reader!
Pre-Order, December 20th. $15.99
A LONG TIME AGO IN A CUTTING ROOM FAR, FAR AWAY
There are many unsung heroes of filmmaking. The director and cast seem to get all the credit with some writers and producers getting a little sliver of the spotlight, but there are many others that helped shape the films you love, especially film editors. And one of the top editors working today is Paul Hirsch, who cut Carrie, Ferris Bueller, Footloose, Mission: Impossible, Planes, Trains and Automobiles… and a little film called The Empire Strikes Back. Here's his book with insights on what went on in the editing room that helped craft raw footage in cinema history.
With Kenny Baker gone Anthony Daniels is the only actor left that connects every single one of the Skywalker Saga Star Wars films. Daniels was always game to revisit the character, from commercials to animated adventures to Disneyland's Star Tours, he's embodied 3PO since 1977. Here Daniels puts his experiences with Star Wars and life in general down in a memoir for all of us to share in. He was even kind enough to share some never before published photos.
Bob Iger has unquestionably been a great CEO for Disney. Whether you love or hate the giant monolithic corporation it has grown into it's undeniable that Iger has made some incredibly smart business moves. From buying Marvel and Lucasfilm to the massive Fox merger and it's impressive entry into the world of streaming providers, Disney feels unstoppable at the moment and that's in large part to his leadership. His biography might be a little one-sided, as all biographies are (I haven't read it, so I'm assuming here), but it's sure to offer important insight to the moving and shaking that has changed the way the movie industry works.
Much like Willam Gibson's Alien 3, this book explores unmade attractions and lands at the Disney Parks as well as Disney film and TV prospects that never happened (like a Jim Henson Little Mermaid TV show). Fans of Disneyana and What Ifs will eat this one up.
HOME WORK: A MEMOIR OF MY HOLLYWOOD YEARS
Julie Andrews is the best. We all agree on this. Who in their right mind could hate on Mary Poppins? She's practically perfect in every way and whatnot. So that means her memoir on her film work will appeal to every man, woman and child on this spinning globe we call home. Her last memoire covered her time on the stage, this one is focused on her films, so prepare for her recollections on Sound of Music, Poppins, Victor/Victoria, etc.
THE LADY FROM THE BLACK LAGOON
This book got a lot of love earlier this year, so you may have already picked up your copy. If not, now's your second chance. Don't waste it. Mallory O'Meara gives all the love to the great Milicent Patrick who designed one of the most iconic movie monsters of all time, the Creature from the Black Lagoon. The problem is dudes back then didn't like a lady getting any of the credit for such amazing work so she fell into obscurity. O'Meara sniffs out the truth behind the mysterious legend and gave us one of the year's must-read books for movie fans.
ALFRED HITCHCOCK: THE COMPLETE FILMS
This one is a big love letter to Hitchcock's works, detailing his films from the silent-era work all the way up to his final film, Family Plot. Tons of BTS photos and details about each project. It may not be a revolutionary book, but it'll delight any Hitchcock fan.
BRUCE SPRINGSTEEN: THE STORIES BEHIND THE SONGS
I may not be the target audience for this one, but I know The Boss has a rabid, diverse fanbase that feel about him the way I feel about The Beatles. Springsteen's work is chronicled by Rolling Stone writer Brian Hiatt where each one of his studio albums and tracks are explored, put in context and filled out with interviews with Springsteen's collaborators and even the man himself.
Mister Rogers had an impact on multiple generations of children. I know I was a regular viewer growing up (and he still reminds me of my grandpa every time I see a clip of him). This book takes a behind the scenes look at Mister Rogers' Neighborhood with exclusive BTS pics, interviews and stories from some of the famous people he inspired over the years.
John Candy is a hero of mine. It's not often large fellas get to have an icon to look up to on the silver screen. Candy was big, but somehow avoided a lot of the "funny fat guy" stereotypes and worked his way into the hearts of just about everybody who watched him. I mean, what's Thanksgiving without a viewing of Planes, Trains and Automobiles which will guarantee an emotional heart-stab when it comes time for his "I like me" speech? This book interviews many of his collaborators over the years, including Mel Brooks, Carl Reiner, Dave Thomas and more. It also tells his story as a young Canadian rising through the comedy scene and into the hearts of movie fans around the world.
We just lost Robert Evans, who established himself as an iconic personality in an industry overflowing with bigger than life personalities. You've seen him parodied over the years, but there's nothing like reading his braggadocious biography yourself and getting the skinny on what it was like being a huge producer in 1970s Hollywood. One of the best Hollywood memoirs ever written.
OVERWATCH: THE OFFICIAL COOKBOOK
Forgive the lack of segue here, but we go from an important Hollywood memoir to a video game-themed cookbook. That's how I roll. It may be a tad nerdy to include an Overwatch cookbook on this list, but I must admit I'm curious. Blizzard's characters are from all over the world and this cookbook goes out of its way to theme recipes to the different character's country of origin. Is there a Genji stir fry dish and if so how often does it say it needs healing? This one is dedicated to my Overwatch team who I've been neglecting in the weeks I've had to focus on this Guide. Miss you, boos.
DUMPTY: THE AGE OF TRUMP IN VERSE
Did you know that John Lithgow (yes, that John Lithgow) wrote a book of anti-Trump poetry? Well now you do, goddamnit! And he illustrated it, too! Will wonders never cease? Imagine the joy of gifting this to your MAGA in-laws...
BMD STAR WARS EPISODE IX ISSUE
Get ready for some self-promotion! The printed fancy-pants Birth.Movies.Death magazines are mostly all sold out, but there are a few copies still available for some back issues. Before we get to them, how about a plug for the new Star Wars Episode IX themed issue? The Last Jedi issue is long gone, so if you want to be completionist better grab this one while you can!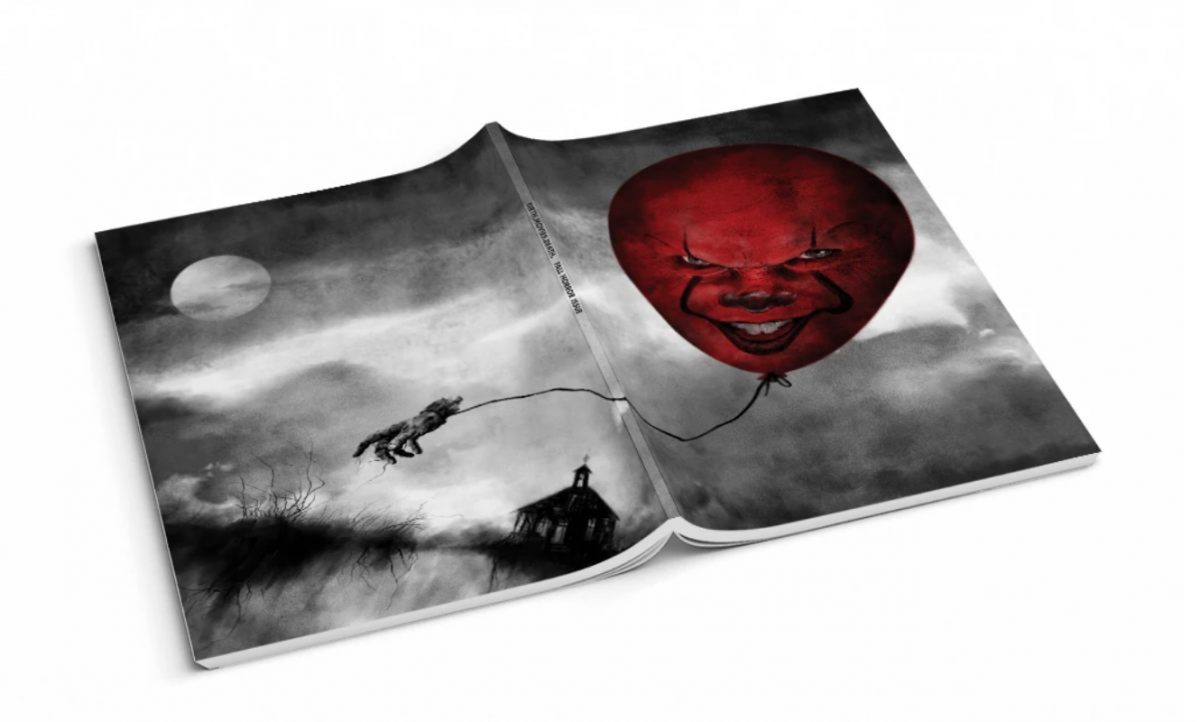 The BMD staff and friends went all out to cover the horror movies of Fall 2019, including essays and interviews and whatnot related to movies like It: Chapter 2, Scary Stories To Tell In The Dark, The Lighthouse and more!
The Stephen King issue came out back in the innocent days before we know for absolute certain The Dark Tower was a disaster and It was going to kick off a new Stephen King renaissance. This mag takes a look at not just those (at the time) upcoming releases, but also at over four decades of printed work from the master of horror.
Moderate ($25.00-$70.99)
It's no secret that Jaws is my favorite movie, so of course this new book from production designer Joe Alves going into detail on his design of the shark and compiling his entire set of storyboards for the film. Also included are tons of work in progress and BTS pictures, blueprint scans and his detailed daily notes from the filming of the movie. This one's definitely the most up-my-alley making of release this year!
Pre-Order, December 3rd. $27.97
JW Rinzler is the gold standard researcher and author of Making Of books working today. No question. His deep dives into the minutiae of the original Star Wars trilogy is a massive achievement and his Indiana Jones collection is aces, too. He's ventured out of the Lucasfilm world recently with a great Planet of the Apes book and this year he gave us this look at Alien. Titan Books put out this tome filled to the brim with rare BTS photos and a detailed accounting on how one of the most influential science fiction films was made.
True story: I visited the set of Moon. I happened to be in London visiting an edit bay for one of the Narnia movies. Duncan Jones read the website I wrote for back then and asked if I wanted to come by his low budget set. I had no idea who he was or what the movie would ultimately become, but I agreed because he said it was a sci-fi film with Sam Rockwell and practical effects. I won't pass myself off as an expert on the film, but I did spend a few hours watching Jones shoot and got to tour the practical effects workshop to see some of the miniatures, which was rad as hell. I say all this not to brag (okay, to brag a little), but to say that from my personal experience I can vouch that what went on behind the scenes of Moon is interesting and well worth a nice comprehensive dive in Making Of form. New interviews from the creative forces behind the movie, concept art, BTS images, the works. You know the drill.
ONCE UPON A TIME IN THE WEST: SHOOTING A MASTERPIECE
While the Man With No Name films get most of the love, hardcore spaghetti western fans consider Once Upon A Time In The West to be Leone's masterpiece. I still go to bat for The Good, The Bad and The Ugly, personally, but OUATITW is incredible. This book is packed with interviews, design concepts, pics and info on how the film came together. Not surprisingly Quentin Tarantino, a massive Leone fan, wrote the intro.
ENNIO MORRICONE: IN HIS OWN WORDS
The maestro himself has called this book the most authentic, detailed and well-curated book about him ever made. For the three people reading this that might not know, Ennio Morricone is the living legend who composed the music for most of Sergio Leone's films, including the iconic score for The Good, The Bad and The Ugly, as well as Carpenter's The Thing, Cinema Paradiso and Tarantino's The Hateful Eight. The book covers a years-long conversation between Morricone and fellow composer Alessandro De Rosa where they talk about their lives, influences and work.