Holiday Gift Guide 2019: Books, Part 2!
Part 2 of the Book section of the Holiday Gift Guide features some of the pricier tomes on the market today!
Welcome to Part 2 of the Books Section of the 2019 Holiday Gift Guide! Part 1 can be found here!
We left off with Ennio Morricone and pick up with Tom Savini! How's that for a segue?
SAVINI
I have no idea why Tom Savini's hardcover biography is this expensive, but we can all agree that Savini is on the Mount Rushmore of Makeup Effects Artists so I'll allow it. His work on Dawn of the Dead, Day of the Dead, Friday the 13th, Creepshow, The Prowler, etc is groundbreaking by itself, let alone the fact that he played Sex Machine in From Dusk Till Dawn. With this book Savini has the opportunity to tell his life story and fill us in on the films he helped bring to life.
Unmade projects seem to be an emerging theme in the book section of the Holiday Gift Guide this year. Harryhausen: The Lost Movies focuses on the stop motion master's unmade ideas for movies that never happened and alternate ideas that scrapped for films that did end up getting made. That means you'll get to see a bunch of creature designs from the guy who brought The Seventh Voyage of Sinbad and Clash of the Titans to life. Neat, right?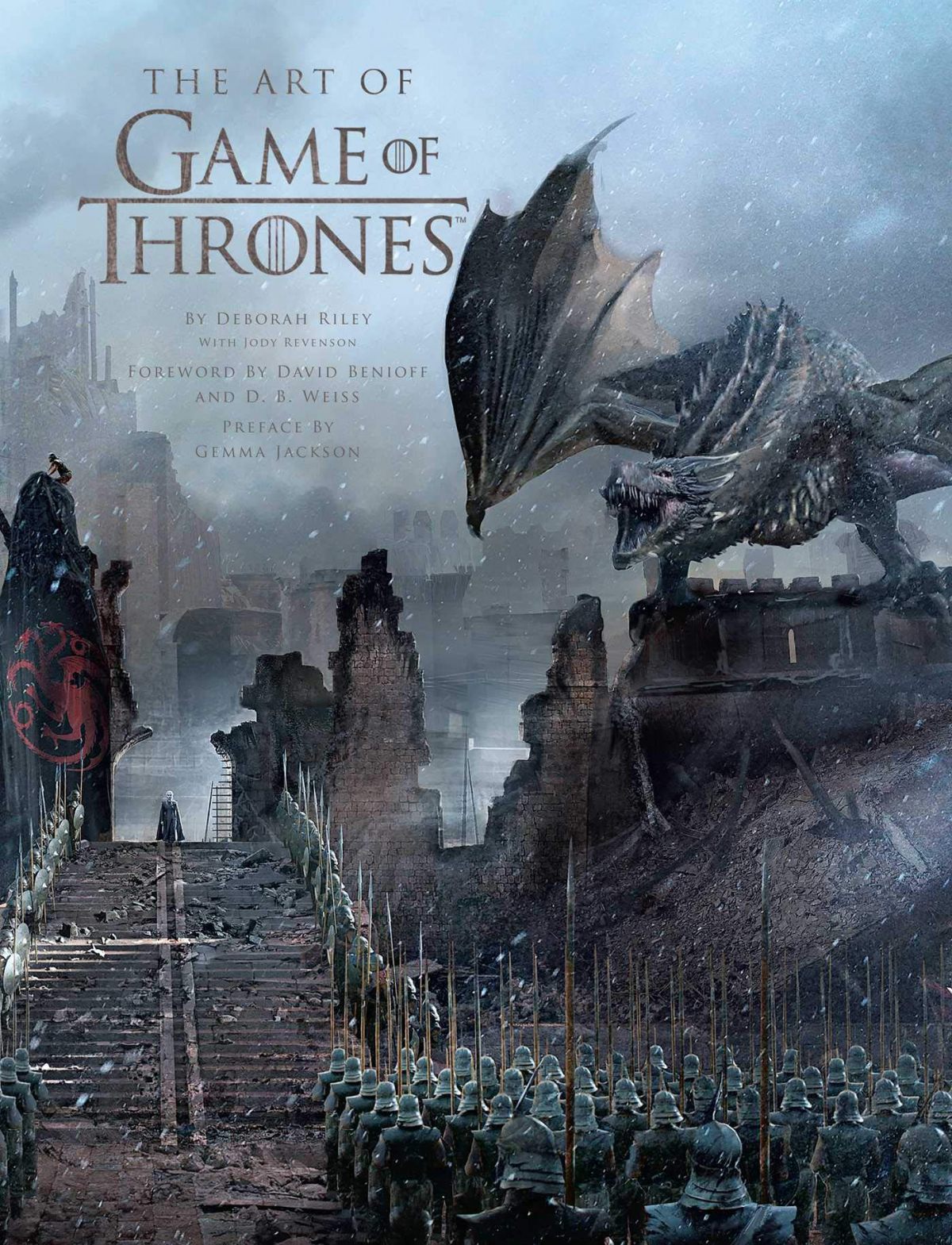 The world-building for HBO's Game of Thrones is the most massive since Peter Jackson's LOTR trilogy, which means there's a whole lot of ground for this one to cover. All eight seasons and concept art of every corner of the seven kingdoms. Plus you get interviews, behind the scenes stories and more in this big 400+ page coffee table book.
THE PHOTOGRAPHY OF GAME OF THRONES
If you're more of a photography GoT fan, then we got this book out this holiday season as well. You get over 850 photographs from the filming of all eight seasons, the great majority of which have never been seen outside the production. As a certified lover of behind the scenes images this one is certainly up my alley.
THE ART OF GODZILLA: KING OF THE MONSTERS
Mike Dougherty's Godzilla flick was insanely pretty. In fact, one of the criticisms I saw leveled at it was that it felt like Concept Art: The Movie. Fair statement, but if it looks great who cares? Now critics and fans alike can compare and contrast the actual art that went into the making of the movie.
THE ART OF SPIDER-MAN: FAR FROM HOME
Marvel's Art of Books are always top notch and this one has a lot of fun stuff to cover, especially considering how crazy they get to go with Mysterio's illusions. I'm sure the Night Monkey gets his due as well...
Art of Avengers: Endgame contains nearly 400 pages of concept art and evolution of design discussion. I haven't flipped through a copy myself, but I imagine there's at least 75 pages on how they settled on the right look for Fat Thor. Don't tell me if I'm wrong. I don't think I could handle the disappointment.
THE ART OF STAR WARS: THE RISE OF SKYWALKER
Also on the docket this year is a Rise of Skywalker Art Of book that'll take you into the creative development of the look of the final film in the Skywalker Saga. It's always fun to pour through these after seeing the movies and picking up on details you may have missed or get a more fleshed out feel for the universe.
Pre-order, December 20th. $25.78
STAR WARS: GALAXY'S EDGE COOKBOOK
I went to Galaxy's Edge over the summer and had a blast, but the only food item I bought was one of those thermal detonator Cokes because I'm poor and couldn't justify spend $12 on a wrap. But I'm told they're delicious and they did smell good. Maybe now that this cookbook is out I can make my own at home and pretend I'm in the hour and a half long line for the Millennium Falcon ride while it's cooking...
THE ART OF STAR WARS JEDI: FALLEN ORDER
Star Wars Jedi: Fallen Order was a big surprise hit among Star Wars fans. I guess it shouldn't have been a surprise that the game is fun as hell since Respawn has a history of giving gamers quality work (remember when the campaign for Titanfall 2 ended up being, like, the best video game anything in years?). The story is great and looks amazing. So here's the hardcover Limited Edition Art Of book for your consideration. It comes in a nifty slipcase and you even get a limited edition litho with it as well.
No matter which side you fall in the Hideo Kojima Wars of the 21st Century you know that man has an eye for detail like no other game developer, which is why I've included the Art of Death Stranding book from Titan even though it doesn't come out until January of next year. No word on if you get your own portable fetus with the book or not.
Pre-order, January 28th, 2020. $33.99
SPIDER-MAN: FROM AMAZING TO SPECTACULAR
God forgive me for giving my colleague Matt Singer a plug, but when you make a book as cool as Spider-Man: From Amazing to Spectacular I have no choice. Tons of interviews with Spidey artists and creators over the years, people like Alex Ross, Brian Michael Bendis, Mark Millar, J. Michael Straczynski, Tom DeFalco and more in this art-filled book that takes a look at how everybody's favorite friendly neighborhood Spider-Man has evolved over the years and across many different mediums.
BATMAN: THE DEFINITIVE HISTORY OF THE DARK KNIGHT IN COMICS, FILM AND BEYOND
The Dark Knight gets the same treatment ol' webhead above got with this book that takes a look at Batman in the comics, on TV, in video games and on film over the years. If there's not a chapter on the Schumacher Nipple Suits I'll be very disappointed.
THE DARK CRYSTAL AGE OF RESISTANCE: INSIDE THE EPIC RETURN TO THRA
Here we have a look behind the curtain at the Jim Henson's Company revival of the Dark Crystal universe in the recent Netflix prequel show. I'm sure you know what to expect here. BTS pics, concept art, progress looks as they build their puppets from design to final product, etc. The artistry on display on that show is next level. Lots of stuff to feature in a book like this.
THE WALT DISNEY STUDIOS: A LOT TO REMEMBER
This one takes a look at the 90+ year history of the actual Disney Studios Lot in Los Angeles, formed by Walt and Roy Disney and home to many of the animated and live action classics you've grown up with. Not everybody can get a tour of the lot, but this book allows you a backstage pass to the history of the movie studio.
THEY DREW AS THEY PLEASED VOL. 5
There's a whole series of They Drew As They Pleased books that cover different eras of Disney animation. This newest volume is particularly interesting because it covers a very chaotic time at the studio, the '70s and '80s. This is a double whammy for me because these are the new Disney films coming out when I first started being exposed to them, so I have a nostalgia for them, but as a grown ass man looking back with an eye towards the bigger picture this is also when the studio was floundering and not really finding its footing. This one covers films I love like Sword and the Stone, Robin Hood and The Black Cauldron.
Speaking of Hollywood history, here's Letters From Hollywood, a book that tracks down some of the industry's most interesting, historical or just plain entertaining correspondence from the biggest stars and most powerful directors. You'll see telegrams and memos and letters to and from people like Alfred Hitchcock, Humphrey Bogart, Marlon Brando, Jane Fonda, Tom Hanks and more. Feels a little bit like reading famous people's diaries, but that's why it's so fun, no?
Born to Bad tracks down as many 1970s and 1980s villains as they can and gets them on the record about their dirty deeds. Like, why was Martin Kove so mean to the Karate Kid? He was just a kid who wanted to learn karate! Other notable lovable assholes interviewed are RoboCop's Ronny Cox, Commando's Vernon Wells and The Warriors' David Patrick Kelly.
When I was a tween I was such a movie dork that I used to scrapbook my movie-going experiences. I'd take the ticket stub and cut out the local ad for the movie and plaster them in a book. It's safe to say that if I pull out my old books I'll find many of the same print ads featured in the second volume of Ad Nauseam, which covers the genre movies of the '90s and aughts. Don't think there's going to be a volume three, though, because I'm pretty sure newspapers don't exist anymore.
The world still hasn't quite recovered from Garry Shandling's passing, but at least we have Judd Apatow here to reopen those wounds for us by lovingly curating this book that gives us a look at Shandling's insightful journal entries, deep thoughts and snide jokes. We miss ya', Garry!
Expensive ($71.00-$249.99)
When Rick Baker sets out to make a book he doesn't fuck around. Metamorphosis is a huge two volume set that covers the legendary make-up man's work, designs, art over his entire lifetime. Over 1600 images comprise this book set that weighs, no shit, almost 19 pounds. Baker's work speaks for itself, from his apprenticeship under Dick Smith on The Exorcist to his Academy Award winning work on An American Werewolf In London to the ridiculously inventive animatronic work on the Men In Black films. It's appropriate that a man of his talent and legacy get a doorstop like this.
TRANSFORMERS: A VISUAL HISTORY
As a child of the '80s the look of the Transformers is always going to trigger a nostalgic response in my brain, and I'm saying that as someone who didn't really play with those toys or watch the cartoon all that much. I was a Ninja Turtles and He-Man purist. But the Transformers were so omnipresent that seeing those designs always takes me back to childhood. This 400+ page Visual History takes us through all the toys, cartoon and comic book designs throughout the years. Plus this limited edition comes with an exclusive cover and collectible prints of your favorite Autobots and Decepticons.
Now, The Star Wars Archives came out last year, but it's so massive and has so many incredible images that it's worth being included a year gone. Taschen is known for their high quality collectible books and this 600+ page beast is no exception. Covering the entire Original Trilogy you get an even greater insight into the most influential film series in the last 50 years than you've gotten before.
With the Star Wars book you get an in-depth look at making the illusion of real life spaceships and alien planets. With this NASA Archives book you get the real deal. Here you get over 400 photographs from NASA's 60 year history, from the construction of their rockets to space stations, a great chapter with rare BTS shots from Kubrick's production of the moon landing, and some humbling deep space photos from the Hubble telescope. There's a fib in there maybe, but I ain't telling.
And that's a wrap on the books section! Stay tuned for Music, Apparel, Gaming, Housewares and Toys & Collectibles which will roll out over the next few days!
Already up are: