Holiday Gift Guide 2019: Music!
From limited edition CDs and collector's edition vinyl LPs this section of the Guide features some amazingly geeky music!
Welcome back to the Holiday Gift Guide. By now my fellow Americans are probably just about back to normal after indulging in a ridiculous amount of food yesterday. Now it's time to pull out some leftover turkey and stuffing, have a snack and take in the next section of the Holiday Gift Guide!
In case you missed the previous installments here are some handy links:
This section covers some nifty music on the market. Now, the focus is going to be on movie, TV and video game related music. Trust me, the last person you want recommending real deal bands and stuff to you is me. I'm pretty out of the loop on any current music and my tastes in pop and rock are pretty boring and old fashioned, as you'll see with the first and last items in this section.
But I do have a good ear for soundtracks and a decent eye for some of the cooler geeky music releases. So, with that out of the way let's dive into some good music, shall we?
 
Cheap ($24.99 and Under)
Abbey Road is one of the greatest albums of all time and this year it got a new release that has been blowing away Beatles fans. Not only do you get some of the best music ever recorded in a spiffy new studio remix you also get a bonus disc with alternate takes, studio demos and instrumentals, most of which has never been heard before. Win win!
Ludwig Goransson's score for The Mandalorian has been praised to the high heavens. Obviously Disney is hearing that because they've been releasing MP3 albums for each episode as they air. As of this writing that means there's three chapters worth of music. Goransson had a big job here. He's not relying on traditional Star Wars themes, but he's having to turn in work that evokes the same feeling as some of the best work from one of the best film composers of all time. And he's pulling it off!
Chapter 1 is $8.99, Chapter 2 is $8.99, Chapter 3 is $8.99 and Chapter 4 is (you guessed it) $8.99
Obviously this isn't the official soundtrack cover, just the placeholder image until it's released. Still, the link takes you a pre-order for a physical CD for John Williams' ninth and likely final Star Wars score. If there's anybody on any franchise that deserves a blind soundtrack buy it's John Williams on Star Wars. His scores for the prequels are incredible and those are the prequels! However The Rise of Skywalker turns out we're guaranteed the music is going to kick all the ass. Did you hear the reprise of Duel of the Fates in the latest TV spot? Can't wait to listen to this thing.
Pre-order, December 20th. $13.95
Nathan Johnson's score for The Brothers Bloom is one of my go-to soundtracks when I need a little writing inspiration. It's no surprise that Johnson knocked it out of the park again for Knives Out. It's a bouncy, fun score that perfectly sets the tone for Rian Johnson's hugely entertaining Whodunnit. Mondo had the honors of putting together a nice LP release (included below), but if you need it the MP3s then you can get the whole album instantly with a button click.
Tarantino always delivers when it comes to his soundtracks. With Once Upon A Time In Hollywood taking place in a particularly interesting time for music that gives him all the excuse in the world to collect some fascinating needle drop tracks. The physical CD purchase via Amazon automatically comes with full MP3 album as well (and it's cheaper than just buying the MP3s only for some reason).
Hildur Guonadottir' score for Joker is a nice piece of work that fully understands the fractured psyche on display in this hugely successful DC stand alone movie. Well, it was a standalone movie and now that it has made a billion dollars suddenly they're rethinking that. Either way, the score is good stuff and if you're going to embarrass yourself by doing the Joker dance down a set of stairs in a public place you might as well have this blasting in your ears while you're doing it.
It took me a little while, but I really warmed up to Alan Silvestri's Avengers theme. Over the years his Avengers scores have become the standout MCU soundtracks (Black Panther excluded, of course) and with Endgame he has a lot more emotional beats than he usually gets to tinker with. The links above and below go to the physical CD, which comes with the album in MP3 form as well.
There's two really solid uses for this soundtrack. One is, obviously, for the enjoyment of yourself and your family. That's all well and good, but the real reason to gift this CD to someone is for their ever loving torment. In order for this to work you have to have a friend of close family member with a little girl. Say your niece's parents. Don't give this to the adults. They'll conveniently forget to pass it on. But if you gift it to the young lady directly you're guaranteed to drive her parents up the fucking wall for at least 6 months. You're welcome.
Ludvig Forssell's score for Death Stranding can be nabbed in MP3 form at this very moment. Hideo Kojima makes highly cinematic games, so naturally Forssell's score follows suit. And that's all I have to say about that.
Michael Abels' score for Jordan Peele's Us is another perfect compliment to the material. Disturbing and a little sad, it gets the blood pumping. And yes, the "tethered" remix of I Got 5 On It is included. CD comes with the MP3 album as well.
Intrada released this score for one of the most criminally underseen movies of the 1980s back in 2017, but now it's on the brink of going out of print and wanted to give it a little more love before it disappears forever. The Lady in White starred Lukas Haas as a boy who gets locked into a school wardrobe by some bullies over Halloween night and he witnesses a young girl ghost which starts him down a path of solving a horrific murder. It sounds heavy (and it is a little bit), but the overall package is a nostalgic look at childhood in a small town. It's a wonderful movie and the writer/director also wrote the lovely score. So, before it disappears forever grab your copy.
Silent Night, Deadly Night might not be the best movie to put on while the family gathers around the Yule log, not unless you want some serious side-eye from granny during the opening sequence when a killer in a Santa outfit rapes and murders a kid's parents in front of him, but for horror fans this scuzzy low budget flick holds a special place. This 35th anniversary soundtrack release is chaotic pick for music to get you into the mood of the season, especially since they had to invent their own Christmas music out of budgetary necessity so it's almost like a long lost Christmas album. This limited release is two discs, the first containing Perry Botkin's score and the second comprised of 10 tracks of Christmas songs made for the movie by Morgan Ames.
La La Land Records put out a Friday the 13th soundtrack box set a few years back and it's looooong out of print, but if you missed out on that then you can at least pick up this standalone release for the fan favorite sequel Friday the 13th Part VI: Jason Lives, the film that brought Jason back from the dead for the first time. The rest of his resurrections kept him quasi-human and this is the movie that said "Fuck it, he's a zombie now." This release has an hour of music, some tracks which never even made it into the finished film.
Franz Waxman pretty much invented the horror score and his Bride of Frankenstein work is a doozy. It embraces the gothic horror aspect, but also the fantastic nature of the material. This limited release (3000 copies) is sourced from the original acetates from the composer's archives. As Frank himself might say, CD goooood. Gooooood.
Michael Kamen pretty much scored every macho man movie of the '80s. From the Die Hards to Lethal Weapons to the sweatiest Swayze movie this side of Dirty Dancing. Road House gets this 30th anniversary limited edition release from La La Land and MGM. 2000 units of this remastered and expanded score exist. No need to rip throats to get your own copy. All you gotta do is click the price below!
Celebrate the 35th anniversary of Axel Foley's Los Angeles hijinks with this La La Land limited CD release of Harold Faltermeyer's catchy score. Yes, you not only get his score (including the iconic Axel F track, which is most likely what's been playing in your brain since you saw the above image) you also get some of the super '80s needle drops from the movie, too. Neutron Dance by the Pointer Sisters, The Heat Is On by Glenn Frey, etc.
Speaking of '80s pop synth scores, you can't get more pop synth these days than Kyle Dixon and Michael Stein's Stranger Things scores. The latest season in particular is super duper '80s and the score reflects the light, fun mall-going era. Both the CD and Vinyl options linked below come with the full MP3 version of the album.
Trent Reznor and Atticus Ross have quickly become the biggest badasses of film and TV scoring and their work on HBO's Watchmen is next-level good. They've been slowly releasing special editions of their score on vinyl. The first volume is already selling for triple on the secondary market, but you can still get pre-orders in for Volumes 2 and 3 at a reasonable price.
Vol. 2 is $23.49, and Vol. 3 is $23.02
Moderate ($25.00-$70.99)
Mondo is doing the Lord's work most of the time, but in particular with this release. This is the soundtrack for Popstar: Never Stop Never Stopping on a collectible vinyl. They've released multiple covers replicating the fictional Conner4Real album covers from the movie. I picked Thriller, Too because it rules too hard to ignore.
Michael Giacchino celebrated the 15th anniversary of Lost's premiere by curating and conducting 18 selections of his score from the groundbreaking show in one massive live performance. If you didn't have the chance to attend the Dublin live performance Mondo's got you covered with this 3XP set, complete with liner notes from Damon Lindelof, Carlton Cuse, Tim Grieving and Giacchino himself.
Here's the brand new release of Mondo's Knives Out soundtrack. Like brand, brand new. We talked about why this score rules above with the MP3 album, so you don't need me to cover the whys and hows of Nathan Johnson's great work here again. The packaging is certainly way cooler than just having a digital file on your computer/phone and you'll certainly feel more aristocratic listening to the soundtrack this way. Maybe while smoking a pipe and sipping some brandy? In a bathrobe. Yeah, that's the ticket.
Hello! This double LP set covers Season 3 of Twin Peaks. This is a score-focused album featuring the work of  Angelo Badalamenti (natch), Johnny Jewel, David Lynch and Dean Hurley. Of course Mondo went the extra mile with the die-cut cover.
As an '80s kid I grew up with some really fucked up movies. I was both a Jason and Freddy fan, but Freddy always had the edge and a big reason for that is his movies got under my skin in a way that the Fridays never did. The tone set in that very first movie is eerie as all hell and Charles Bernstein gets a lot of credit for that. His score for the original A Nightmare On Elm Street is disorienting at times, beautiful at other times and really sells the dreamlike haze that hovers over a good chunk of the movie. Now you can get his score in this gorgeous Mondo LP release.
Tenebre might not get the same love as Argento's more famous movies like Suspiria or Deep Red, but it's one of my favorite giallos from the maestro (second only to the insanity that is Phenomena which features both a psychic bug-controlling Jennifer Connelly and a revenge-seeking primate wielding a shaving razor. I'm not making this up, I swear!). His usual cabal of talented musicians that made up Goblin had disbanded while he was making this movie. Three of the team came back to record this score that will stick in your head for days after listening to it. So, great music lovingly pressed into wax and covered by this amazing Randy Ortiz art. Winning release all around.
Continuing the theme of underappreciated masterpieces from famous horror directors comes the rockin' John Carpenter and Alan Howarth score to Prince of Darkness. I hold that Prince of Darkness is Carpenter's scariest movie by a large margin. I'd never say it's his best movie, but scariest? Absolutely. And as usual the score rules, too. This green Mondo vinyl release features cover art by Sara Deck.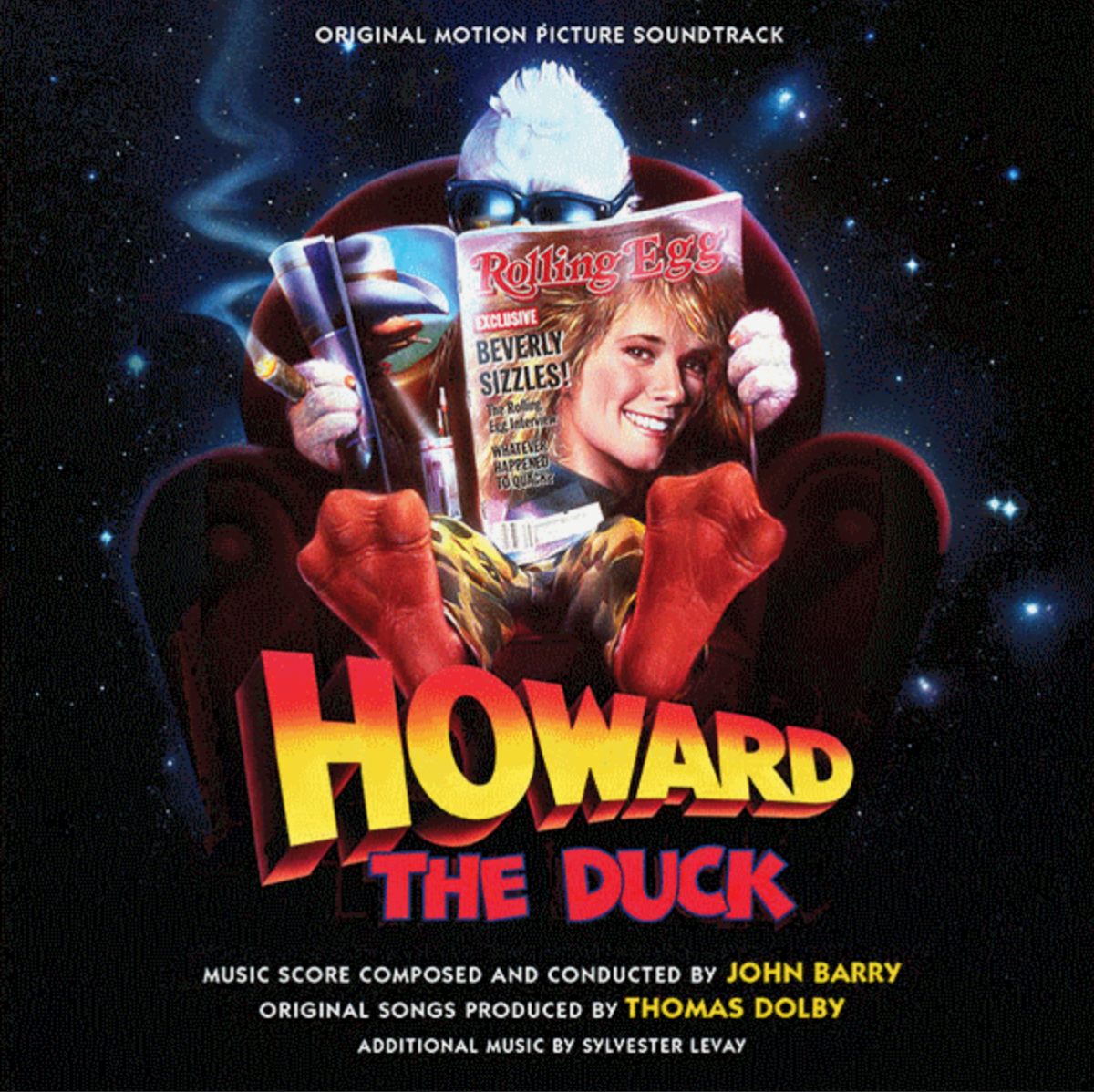 I refuse to give up hope that Intrada's 3-CD limited edition release of John Barry's Howard the Duck score is permanently sold out. The site says temporarily out of stock, but I couldn't resist including it in this Guide for a couple of reasons. One, the score rules. Say what you will about the movie, but the score is pure '80s orchestral greatness. The movie might be a punching bag, but keep in mind this is the film that features sexy punk rock Lea Thompson giving a wise-cracking duck a feather boner. And it's a kid's movie! And an early (first?) Marvel movie! Two, I'm optimistic that it will come back in stock because the only other option is finding it on the secondary market at triple the price. The release is nuts. Three CDs with every bit of score that made it into the movie, tons of score that was cut and all the punk rock songs that ended up in the movie.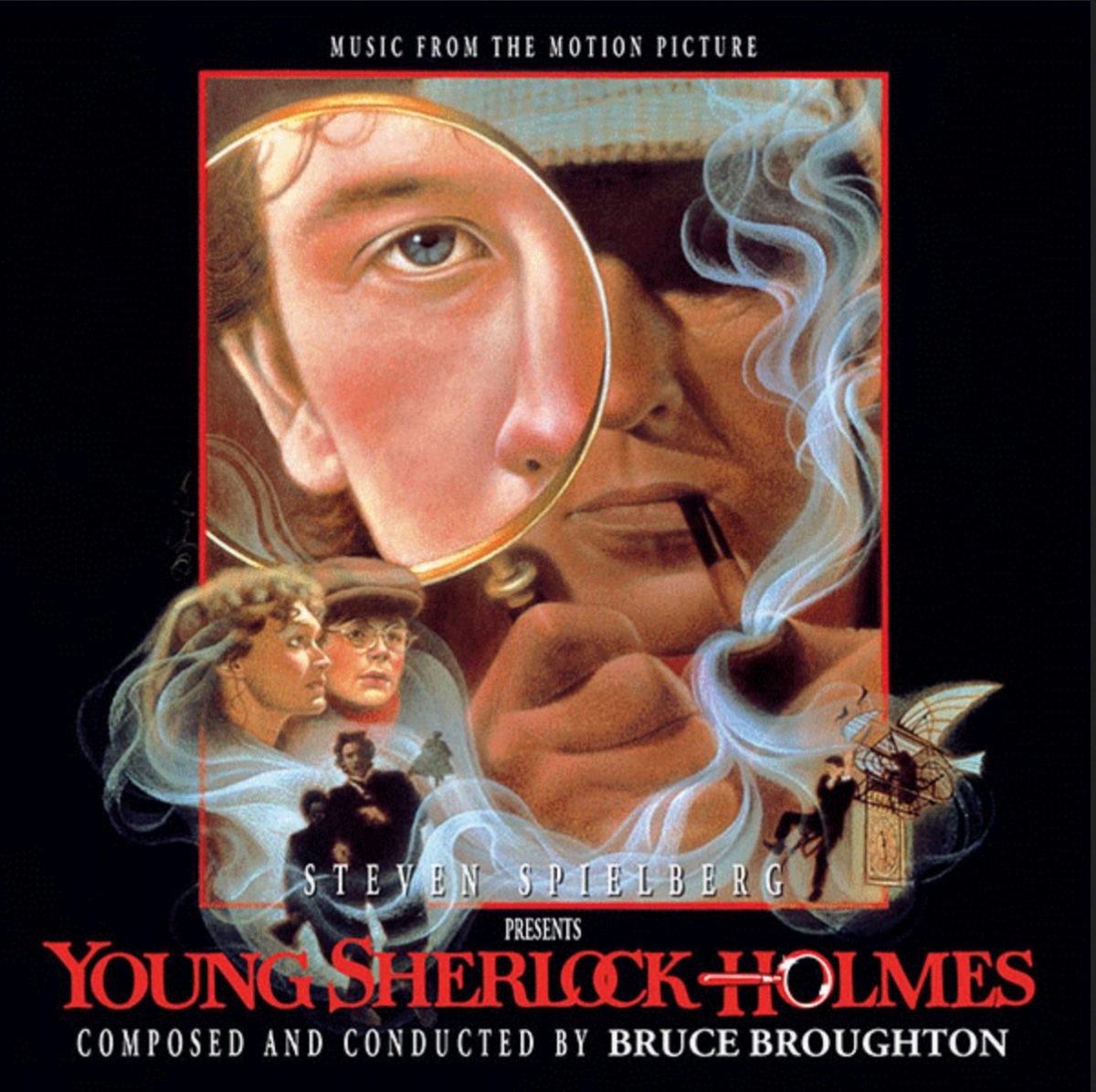 Ready for a name drop? Here it comes! I interviewed Michael Giacchino once and asked him who he thought was one of the most underrated composers working today. His answer? Bruce Broughton. My ears perked up because I was a huge fan of his Monster Squad score. He's done tons of work you'd know and love, like Young Sherlock Holmes, produced by Steven Spielberg and directed by Barry Levinson. Intrada released this 3-CD set featuring 3 hours of material, from as complete a score as possible, extra bonus tracks and the full original stereo, edited soundtrack release.
I feel like a lot of people are rediscovering the super dark and traumatic "kids" movie Return to Oz now that it's included on Disney+. This movie fucked up a whole generation of kids. We can relive that trauma via David Shire's score in this 2-CD set. It came out a few years back, but it's down to under 100 copies for sale now, so if you ever wanted it now's the time. It's about to go out of print.
It's not Christmas without the age old debate about whether or not Die Hard is a holiday movie (it is) and now you can have those shouting matches with Michael Kamen's score pumping in the background. Hands down one of the best action movie scores of all time and La La Land knew this so they went all out for this 3-CD limited edition release. That's a lot of score, plus needle drops like Run DMC's Christmas in Hollis.
What you get here is a 5-CD box set containing the remastered scores of all the original Planet of the Apes films. That's Planet of the Apes, Beneath the Planet of the Apes, Escape from the Planet of the Apes, Conquest of the Planet of the Apes and Battle for the Planet of the Apes. Some of the best sci-fi scores of all time (thanks in large part to the genius composer Jerry Goldsmith) all in one handsomely produced set!
Early to mid-aughts Spielberg is getting a bit of a reappreciation right now. A.I. is a masterpiece that is just now getting re-appraised, cinephiles are finally coming around on War of the Worlds and also Minority Report. John Williams' score for Minority Report is interesting because it's recognizably John Williams but he plays a little bit out of his comfort zone with electronica. It makes for a unique score and La La Land gives it the love it deserves with this limited edition 2-CD release. They made 3500 of these and when they're gone they're gone.
Expensive ($71.00-$249.99)
This limited edition 7-CD set of John Williams' Harry Potter scores is back in stock while supplies last, which is good news because the secondary market already has this set for double the price. No need for the upcharge if you act fast. That's 3 CDs dedicated to Sorcerer's Stone, 2 CDs to Chamber of Secrets and 2 to Prisoner of Azkaban, all packaged in a deluxe hardcover slipcase. Each movie gets a 24 page booklet filled with notes and trivia about each release and there's a bonus 44 page booklet that covers the work on the whole. Get it while you can!
If you're a more dedicated (and deeper-pocketed) Beatles fan you can choose this deluxe version of Abbey Road instead of the $18 regular version. The deluxe version gets you more stuff (of course), with 3 discs of the re-edited Abbey Road, bonus tracks of alternate takes and rehearsals, as well as a Blu-Ray disc that gets you one of the best albums of all time in a Dolby Atmos mix. You also get a hardcover book that details the history of the Abbey Road recording sessions (with a forward by Paul McCartney, so you know it's legit) as well as never before published images from the recording and scans of their handwritten lyrics. So, it's very expensive, but they make it worth your while.
CD for $86.98, Vinyl for $72.99
And that's the end of Music. Stay tuned soon for the remaining installments of the Holiday Gift Guide! We still have Apparel, Gaming, Housewares and Toys/Collectibles to go!