Holiday Gift Guide 2019: Apparel!
Tees, Jackets, Watches, Socks and Ugly Xmas Sweaters, Oh My! So Much Wearable Geeky Stuff!
Welcome back to the 2019 Holiday Gift Guide! We're nearing the finish line. If you guys haven't exhausted your bank accounts or your window shopping desires we've got a new section covering wearable geek stuff. Apparel will cover tees, sweaters, socks, watches, backpacks and even a nerdy helmet.
If you've missed any of the other sections, here are links for all the good stuff that's posted so far:
Apparel has a wide variety of geeky branding, from Stephen King to Haunted Mansion and Star Wars and Letterkenny and Nintendo and beyond. Let's take a look!
Cheap ($24.99 and Under)
The Star Wars community was rocked by a carefully placed timebomb, a final present from Papa George Lucas planted just before he sold the farm to Disney. When Disney+ launched folks were excited to watch the Original Trilogy in HD and were blindsided by yet another change to the Han Vs Greedo scene. Turns out when Lucas was planning the 3D rerelease of the OT (which never came to be after the prequels' 3D re-releases didn't draw an audience) he added in a little exclamation from Greedo before the blasters start firing and if you've spent any time around Film Twitter you've undoubtedly seen the celebration of "Maclunkey." Etsy was all over it, of course, and here's a nifty sew on patch. Maclunkey indeed!
Speaking of Etsy to the rescue, all your Baby Yoda needs can be met there. There are knitted dolls, magnets, ornaments, cups and just about anything you can imagine. Of course the quality varies wildly, but this cute Baby Yoda Santa tee-shirt caught my eye. He's so little and cute and peeking out of your pocket!
I try to stay away from politics on the guide, but this is a protest shirt I can get behind. From the good folks at Super Yaki comes this Make Guillermo del Toro's Haunted Mansion Movie, You Cowards tee-shirt. As a Haunted Mansion super fan I appreciate the attention to detail. The font is right on the money, the colors evoke the Mansion and the message is right on.
If there's a better shirt to represent 2019 I haven't seen it. The Hellraiser II quote has been memed to death this year, for good reason, and now you can carry that into the real world with this tee!
Is this Pennywise umbrella not real enough for ya'? How about when I throw in that it's a regular white umbrella until it starts raining. When it gets wet the blood pattern shows up. And it is an umbrella so there's a good chance that it's going to get wet at some point. Unless you don't know how to use an umbrella. If that's the case I'm sure there's a YouTube tutorial for you.
Stephen King-related socks? Of course they made it into the guide. As a Stephen King obsessed kid I never in a million years would have thought someone would make Pet Semetary socks and here we are living the dream thanks to Fright Rags.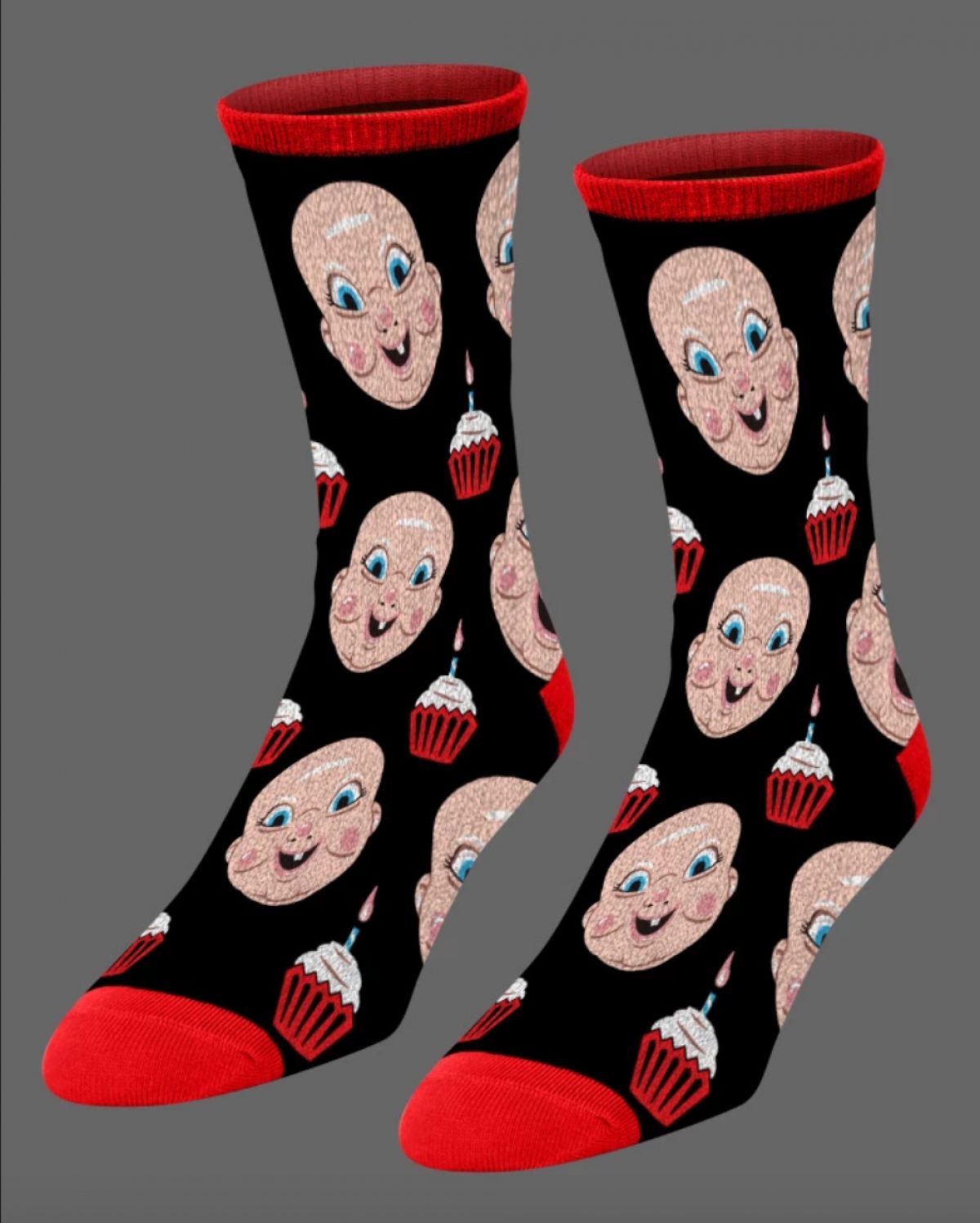 Here's a more modern horror sock for your viewing pleasure. I'd certainly consider giving these to a friend on their birthday instead of Christmas because of the whole "It's your birthday" hook to the Happy Death Day films, but you know your horror friends better than I do.
These are probably my favorite of all the nerdy socks featured on the Guide this year. Mars Attacks rules, first off, and I just love how colorful these are. Plus the dominant colors are red and green, so they're totally Christmas-y.
Socks socks and more socks! These Ghostbusters socks that'll keep your tootsies warm (and help with that whole stink problem that happens when you savages insist on stuffing your bare feet into regular shoes) are simple in design and get your nerdiness across.
Before I say goodbye to the geeky socks, I wanted to include these Warriors socks on the list because they're a bit more niche and gets us out of the sci-fi/horror realm a little bit. Gotta have a little something for everyone on this Guide. Can you dig it? Caaaaaannnn yooooouuuu dig it?
I know this is regular old Yoda and not the new Baby Yoda hotness, but don't be ageist. Old Yoda still got the job done and now he can adorn your comfy lounge pants while you sit by the fireplace and sip hot cocoa or whatever.
You didn't think I was going to leave out some ridiculous apparel for your pups, did you? Yeah, so who hasn't wanted to dress their dog up like an '80s iconic child murderer? The bastard son of a thousand maniacs has been merchandised everywhere else, so why not have a Freddy Krueger dog costume? It's kinda cute, I gotta admit... Rat dog not included.
Moderate ($25.00-$70.99)
Need a nerdy watch? How about a plastic digital wristwatch that looks like an old school Gameboy? The buttons on the front of the watch are functional in that they set the time, date and alarm. It does not come with Tetris or that 1989 Batman game that was super badass. Remember that?
Mondo has this sweet Godzilla shirt on the market this holiday season. This Unisex tee comes in XS-4XL. The art by We Buy Your Kids is an eye-catcher and sure to impress fellow original old school Man In Suit fans.
It's about time William Sadler's Death from Bill and Ted's Bogus Journey has achieved the cult fandom he's deserved since the movie came out. Damn right! This Mondo tee is designed by Matt Ryan Tobin and comes in XS-4XL sizes. The back says "How's It Hangin', Death?" by the way. Now you have something nice and comfy to wear while you're waiting for Bill and Ted Face the Music (which will feature the return of Death) to come out.
We can all agree that UHF is one of the best movies ever made, right? Right. I love it when these tee-shirt companies can make a geeky shirt that isn't absolutely obvious to the average person. Most people will not get this shirt and not think twice about the strange dude or dudette with the Spatula City shirt. But those who know will flip out and voila! You've made a new best friend. This Fright Rags release is available in SM-4X.
It's pretty obvious why this shirt is on the Holiday Gift Guide. You don't need me to explain Die Hard's relevance to the holiday. I just think it's a fun shirt that speaks the truth and features our dearly departed prophet Alan Rickman. We miss you, Alan.
Michael Dougherty's Krampus is a delightfully dark fucked up holiday horror movie, as is fully underlined by this disturbing tee-shirt. If you want terrify the kids you come across while grocery shopping this holiday season then this shirt is for you!
How great is this tee shirt? Stephen King at his desk surrounded by artifacts of his work speaks to me on a deep level. The fact that they squeezed in Roland's gunbelt is the cherry on top. I'd wear the hell out of this shirt. Hell, I'd wear it every day of the week. I think I'm gonna get this shirt… Fright Rags has it in stock, sizes SM-5X.
We're not done with horror shirts honoring the best and brightest of the genre. Here we have a shirt that gives credit to one of the genre's most beloved scream queens, Ms. Barbara Crampton of Re-Animator fame. It's a very well designed shirt and is proving to be really popular. There are only a few sizes left in stock, so if you want it I'd hurry over and put in your order.
Super Yaki is back on the list with this comfy sweatshirt that has the Music By John Carpenter credit. Another nice, nerdy shirt that'll keep you all warm and toasty in the wintertime while also encouraging nods of recognition from your fellow geeks out in the wild.
I'm not exactly sure what a Haunted Mansion perfume would smell like… If it smells like the ride… well, that does some very primal things for me, but I imagine smelling like a musky, dusty theme park attraction might not be for most people out there. The only description is "light, floral scent" which is just vague enough to be anything. All I know is it's cool looking and has Leota right on the bottle.
If you're going to lounge around your place contemplating the orgasmic glory that is the Zack Snyder Cut of Justice League then you might as well do it in comfort and style of this fleece Superman bathrobe. There's no better ensemble to have on while hunched over your computer searching for strangers to yell at on Twitter than this lovely robe.
On the Marvel side of ridiculous bathrobes here's this nifty Black Panther robe. I don't 100% think it's appropriate for white dudes to order this and wear it around, but I'm also not convinced it's a solid case of cultural appropriation either. Better to be safe than sorry. Sorry, white guys.
I know there are super nerdy, but I have very fond memories of ugl Xmas sweaters with LED lights in them. My grandparents gave me one (who else?) when I was a kid and I remember having to walk around with a 9v battery in my pocket, hooked up to the blinking monstrocity I was wearing. It definitely turned eyeballs. If you're going to go ugly Xmas sweater I say go all the way. This is a ladies Xmas sweater put out by Disney. It's a knit sweater and the castle lights up with Christmas lights. Awwwww.
I just about jumped for joy when I saw there was a real deal Letterkenny themed Xmas sweater on the market this year. The show is unbelievably good and now you can show your holiday spirit with this Pitter Patter Let's Get At'er fightin' shirt. It's not one of the high end knitted shirts, but it has the appearance of one.
Continuing this theme of punchy ugly Xmas sweaters is this one themed around Rocky. This is the first of a line of high quality knitted sweaters put out by Numskull. Once again, I like this one a lot because it's not your typical geek film that gets love in merchandising like this. Don't get me wrong, we'll get to some more high profile geek stuff, but it's nice to see an Oscar winning '70s drama get some love, too. You are guaranteed to lose any fight you get into while wearing this shirt, though. This is the first Rocky, not any of the sequels, so you'll impress with your gumption and staying power, but you ain't winning.
See, I told you we'd be back to the more high profile geek properties pretty quickly. And what a lovely ugly Xmas sweater. Like the others from Numskull, these are the real deal high end knitted beauties, not a printed sweatshirt. You can tell. They just look right when it's a knitted sweater. Cool design and a big no-prize to the first person to run into Bill Murray doing one of his crazy public shenanigans while wearing this shirt.
Merry Christmas from John, Paul, George and Ringo. The Fab Four promised they were more popular than Jesus and now they're coming for his holiday! Another nice knitted sweater from Numskull.
There are a surprising amount of Star Wars themed ugly Christmas sweaters out there. This was my favorite design, once again from Numskull. The Luke v Vader silhouette is nice on a holiday sweater and I dig the Rebel insignia on the Luke side shoulder and the Imperial insignia on the Vader side. It's like having an angel on one shoulder and the devil on the other.
Why is there a random handkerchief on this geeky guide? Well, what you're seeing there isn't your standard handkerchief. It's a Hanks Kerchief. That's right, Colin Hanks started his own Kerchief business and he's not messing around. These things are legit high end. The design above is called the Coltrane. Not only is it high quality, a portion of sales goes to a charity that helps build housing for veterans. If you really want to feel super fancy you can even have your initials stitched in. That's some Richie Rich shit, but if you're going to carry around a handkerchief you're already well into fancy-pants territory so you might as well go whole hog.
Keeping things fancy (and nerdy), here's a silver-plated tie clip that is designed to look like Luke's Return of the Jedi lightsaber. This one's definitely for my fellow nerds who did the smart thing and actually have a good, high-paying job that requires a suit and tie.
Expensive ($71.00-$249.99)
If your winter plans take you to a snowy tundra of some sort and you are worried the penguins aren't going to know you're a Star Wars fan while you're all bundled up, then prepare yourself for this bad boy! You can now buy an official Star Wars brand Han Solo Hoth Jacket, complete with fuzzy hood. Sizes S-3XL available.
I actually struggled a bit about whether or not to include this Black Series Luke Skywalker Battle Simulation helmet in this section or to put it into the Toys and Collectibles section. Ultimately I decided that since you can wear this 1:1 prop replica that it fit better in Apparel. I know these looks behind the scenes of the Holiday Gift Guide are fascinating and you're welcome for pulling back the curtain for you. So this sucker is built 1:1, has working lights and movie authentic sounds. You know you want it, nerds. I can tell you do because I want it.
Geeky backpacks are a dime a dozen, but I really dug this Captain America one because they're going for a WW2 era Cap feel with it. It's a cool looking backpack anyway and the extra layer of comic book and comic book movie nerdery only makes more appealing.
Maybe it's just nostalgia, but I was instantly taken with this Halloween-themed nylon jacket. It reminded me instantly of the windbreakers I'd wear as a kid. Do adults wear windbreakers? I certainly haven't in my adult life. It's either cold enough for a jacket or maybe a hoodie. There's no step in-between anymore. Anyway, it's a neat design and looks sharp.
Now if that leather jacket looks familiar to you you're not mistaken. That's a replica of Harrison Ford's Indiana Jones jacket from Raiders of the Lost Ark. What's extra special about this, though, isn't that it's made from the highest quality leather (which it is), it's who is making it. This comes from Wested Leather Co., the UK shop hired by Lucasfilm to create the original screen-used jackets for the Indiana Jones movies. So you're getting a replica that looks and feels right because it's made by the same company using the same materials. Badass, right? They also have a Temple of Doom jacket that rules, too, but it's not as instantly iconic as this one. It's also not as expensive as you'd expect for what it is.
And that wraps up the Apparel section! Just two more to go: Housewares and Toys/Collectibles! Coming soon!