Holiday Gift Guide 2019: Housewares!
From a BB-8 pizza cutter to a Necronomicon pillow, this section of the Guide covers geeky stuff for your abode!
Welcome to the Housewares section of the 2019 Holiday Gift Guide. This is where you're going to find some creepy, funny and nerdy items for the ol' homestead. Cookware, lamps, blankets, pillows, mugs, toiletries and even Christmas Cards.
Here are the sections that have already published:
Now, let's look at some fun and weird stuff for your domicile.
Cheap ($24.99 and Under)
Beetlejuice: The Wall Clock! In the movie this sign pointed to the Ghost with the Most's resting place. At your house it'll probably point to a book shelf or something, but it's a neat idea for a bit of merch and would make a fun gift, for yourself or someone else.
Who else grew up infatuated with Winona Ryder's Lydia Deetz? Can't just be me. She made it okay to be strange and usual and now she's immortalized… in a floaty pen! Yep, this writing instrument re-enacts the finale of the movie, the Belafonte song that sends you out happy. Lydia floats up and down. It's up to you to belt out Jump In The Line. The pen is on sale through Cyber Monday, so if you want it for the sale price put your order in now!
Jason Voorhees's famous horror mask has been used in a lot of ways over the years, but I never would have thought it would be a perfect pencil holder for your desk. I mean, it makes sense when you see the above image however I would have thought Pinhead would've been the first '80s horror icon in line for this job. Too slow, Pinny old boy. Too slow. Currently out of stock, but you can sign up to be first in line for the next batch.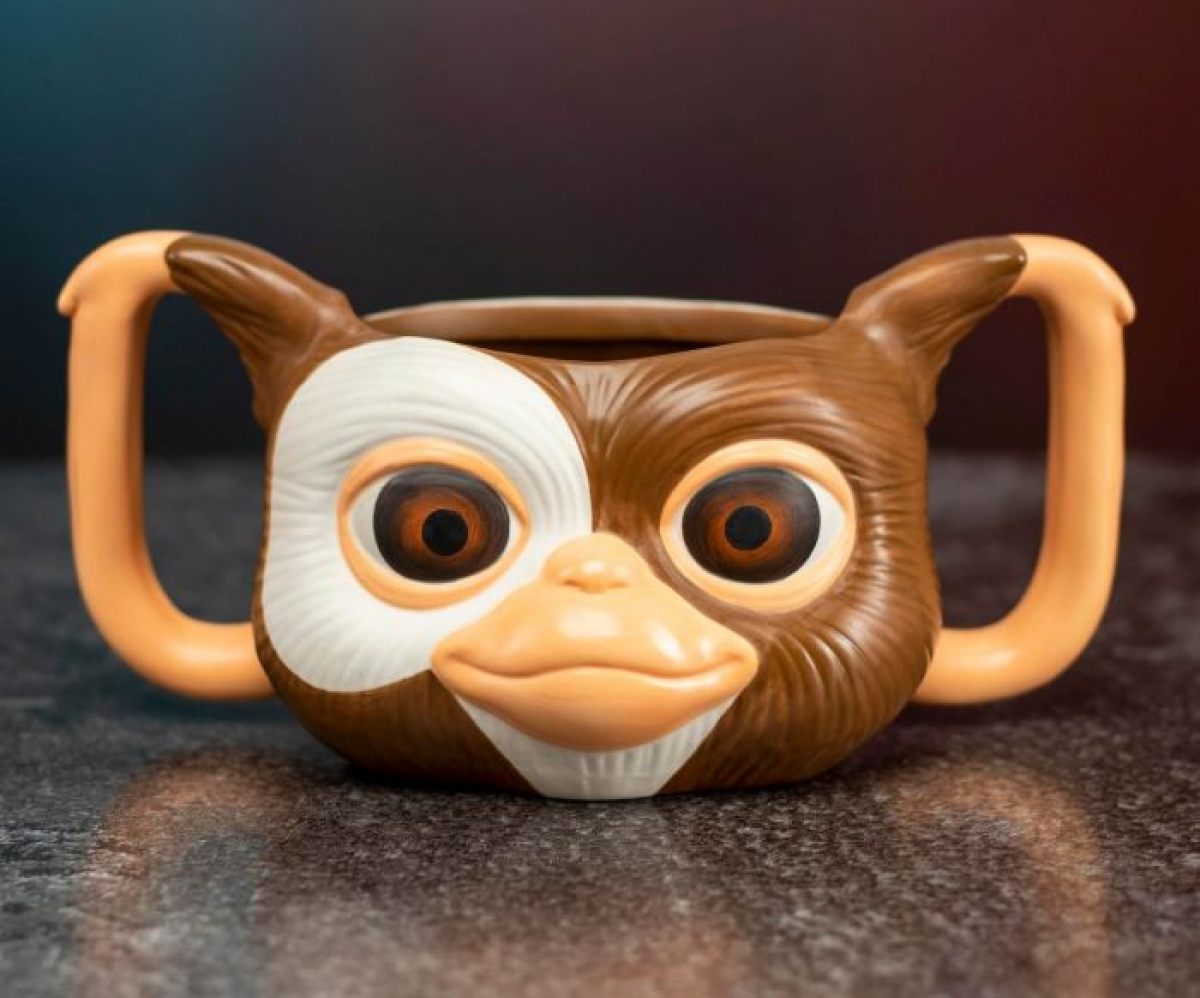 Before Baby Yoda we had Gizmo and we were just fine! There's more than enough room in geekdom for two tiny baby-sized giant-eared cutie pies. To celebrate Giz how about this 19oz ceramic mug? The ears look like he went through a body modification phase in college and took the gauges out, but I'll give that a pass.
So, this is not exactly the same design as the coffee cup that makes such an impact in Rian Johnson's Knives Out, but it's the same phrasing. It's a nice topical gift idea. Those who get it will really appreciate it and for everyone else it looks like your typical kitschy coffee mug.
We can all agree that Rick and Morty is a great show just as we can all agree that the vast majority of its most vocal fans are gigantic dipshits. Now that we've established this inarguable set of facts, let's look at the first of a couple Rick and Morty items in this section of the guide. This is a set of four lenticular coasters, each one featuring different characters and designed to keep your tabletops from being ruined by your sweaty beverage of choice.
No, this isn't a murder weapon cleverly disguised as a loveable rolly droid. I mean, I guess anything can be a murder weapon in the right hands, but this blade is meant for pizzas, not people. The BB-8 pizza cutter is about the most logical extension of the droid's design I can think of.
For those with inventive kids or with an inventive kid spirit still alive and well inside them. You can build your own Super Mario level on your fridge with this magnet set. A great stocking stuffer, I think.
If you'd rather have a more gothically nerdy fridge then perhaps this Haunted Mansion magnet set is in order? Floating candlesticks, hitchhiking ghosts, black widow brides, bat stanchions, Leota's floating crystal ball and even Master Gracey is represented here.
Granted this one is a little bit of a niche selection, but for those of you who fall into the center of the pothead/chef Venn diagram this is a perfect selection. Or as a funny gift for your straightlaced mom or grandma.
This is also a fun gift for your friends who are parents or for your significant other should you have some asshole kids. I mean, all kids are assholes, which is why this is funny and why kids rule, but you get what I was saying.
Speaking of asshole kids, how about something for the children? You could do a lot worse than this light up Olaf lamp. It looks a tad creepy when lit and I imagine in a dark room it looks especially eerie, but all kids stuff is at least a little creepy.
Creepy Company has a pretty sweet plush cushion that just happens to be fashioned after the book of the dead. The Necronomicon from the Evil Dead films would be a perfect place to rest your butt. I'm sure Bruce Campbell would agree. It's a pretty big pillow and looks very comfy. On sale through Cyber Monday.
I stumbled across this while doing research for this section and it made me laugh so now you have to look at it. I'm pretty sure this isn't official merchandise, but it's a funny idea. This is a door sticker that is just the right size to put on the inside of your bathroom door and recreate the iconic "Here's Johnny!" moment from The Shining. It's reusable and says it won't damage your door, so what've you got to lose?
Keeping in theme, I really dig this Shining door mat. Just the rug pattern would probably be better (and didn't Mondo do one of those many moons ago?), but I do like the gaudy Overlook logo. It's like something you could see being sold by a hotel like that. Anyway, there are worse things to wipe your feet on before you enter your house.
Moderate ($25.00-$70.99)
Alright, this is rad. They took the Beaches Closed sign poor ol' Polly had to do the printing on and turned it into a door mat. Just in case people didn't get it they went ahead and took a shark bite out of the corner and put "Jaws" on it somewhere, but still it's a neat nerdy-ass idea for a piece of branded merch and I'm here for it.
Pre-order, January 2020. $36.99
If you'd rather wipe your feet on something more gamer-nerdy instead of movie geek-y then there's this door mat that resembles the original NES controller. I don't know if I could have this though because I know I wouldn't be able to resist the urge to tap out the Contra cheat code like it was the piano from Big every time I walked into my house.
The nostalgia wheel keeps on turning. This here is a digital alarm clock in the shape of an original Gameboy. The kicker? The alarm ring is the Super Mario Land theme. If it were custom made for me it'd probably play the Tetris theme song. That or the Ducktales game. Those were the two I played the most often. Sooooo much Tetris on long car trips...
If you're team Sony and want a geeky game alarm clock I got one for you, too. This alarm clock is modeled after the PS1 console. I don't think this one has any special alarm themes, but it does project a Playstation logo on your ceiling if you want it to. I don't know why you'd want it to, but it does do it.
Jumping back to the Nintendo world real quick, there's also this Nintendo controller lamp with a Mario lampshade. It's a neat design and a cool idea.
Speaking of neat designs, I love this TIE fighter desk lamp. The TIE design is just so fun and focusing the light from the cockpit window just automatically makes things feel noir-y, which is what every desk needs to feel like if we're getting right down to it.
Tarkin kept Vader on a short leash in A New Hope and now you can keep your puppers on a short leash, too. This LED lead glows in the dark, has a Vader saber handle and the red glowy line makes it look like a very long lightsaber!
If you thought your bowel movements were complete without a helping hand from Rick Sanchez then I'm afraid you're just straight up wrong. Don't you want Rick to happily handle your toilet paper for you? I know I do! There's also a Pickle Rick Variant (priced at $36.58) if that's more your cup of tea.
Well, well, well. You'll never ever guess who commissioned artist PJ McQuade to make this Thicc Santa Thanos Christmas card design. I'll give you a hint: it's Scott Wampler. Sorry, I'm bad at hints. Being the benevolent guardian of Thiccness that he is, he's allowed Mr. McQuade to offer this highly inappropriate Xmas card to the masses. So if you want to give granny the shock of her life, you've got the right card to do it with. (Also worth noting that McQuade has a ton of great geeky Xmas cards and ornaments, so shop around when you click over).
From Creepy Company, who brought you the Necronomicon pillow featured above, comes this neat giant fleece blanket that just happens to be an accurate reproduction of what the VHS covers (front and back) for Halloween looked like. They have a whole line of these things, including Texas Chain Saw Massacre and Evil Dead. This is on sale through Cyber Monday, FYI.
Mondo's line of Tiki mugs are all pretty choice, however this one takes the cake. It could be my personal affinity for Jaws that is showing through here, but I just think it's a neat design. Breaching shark, giving the same POV as the poster, complete with the naked woman swizzle stick to complete the image. Bravo!
Expensive ($71.00-$249.99)
Outside of the Thicc Thanos Xmas card, this section's been fairly light on Marvel stuff. We'll fix that up right quick with this machine that lets you make a cup of coffee... that pours out of Iron Man's chin. Can use capsules or ground coffee. Just don't make it an Irish coffee. One, that's playing into a stereotype and two, Mr. Stark doesn't fuck with booze no more. I guess he doesn't fuck with anything anymore, but that's besides the point.
I kind of love Bradford Exchange. They make the kind of nicknacks my grandparents used to decorate their house with, but now it's mostly geeky shit instead of carousels and whatnot. This is a limited edition Yoda stein, made of porcelain, that stands 10" tall and holds 30 oz of liquid. The quote on the bottom there is 22k gold as well. Fancy! And limited. Still available
For The Super Rich Only ($250.00 and Up)
There's a Star Wars brand tie in for everything, but the craziest to me is this line of Star Wars cookware put out by Le Creuset. If you cook at all you should be familiar with Le Creuset. They make the kind of heavy duty cookware that is meant to last a lifetime. They're expensive, but like real deal stuff, not the cheap crap you get at Target. Most of this collection is sold out online, including the above-pictured Han in Carbonite Roaster, but the website does have an option for searching the nearest Le Creuset store to you, so perhaps there'll be on in stock you can nab if you got some serious cash you want to drop on some even more seriously nerdy cookware.
It seems a little crazy to me to spend this kind of money on something designed to sit outside totally unprotected, but what the hell? It's super neat. This is a lawn ornament or outdoor statue that is designed to look like a flying saucer crash-landed in your lawn. It weighs 40lbs and stands over two feet tall.
And that wraps up housewares, leaving us with just one category left: Toys & Collectibles is coming very soon. The end is almost here!