Holiday Gift Guide 2019: Toys & Collectibles, Part 2!
In this, the final installment of the Holiday Gift Guide, we take a look at some of the more expensive Geek Furniture on the market!
Welcome back to the Toys & Collectibles section of the 2019 Holiday Gift Guide! This is the final Holiday Gift Guide article. Dry those tears! We had a great run! And it's not over yet!
We left off with some Alien goodies in Part 1 and continue on with the really expensive stuff… Let the window-shopping begin!
For The Super Rich Only ($250.00 and Up)
Ah, this… uh, magnificent statue shows us Dr. Ian Malcolm at his most sensual. Shirtless Jeff Goldblum has inspired many memes and probably also awakened some new feelings in many '90s girls and boys and now the moment is immortalized in this piece by Chronicle. It amuses me to no end that some very talented artist had to make sure he or she got Jeff Goldblum's nipples exactly right. This quarter scale statue is over 18" long and 12" tall.
Pre-order, April-June 2020. $599.99
The wow moment from Jurassic Park that changed cinema forever. Seeing the Brachiosaur grab a branch from the top of the tall tree was the first time a digital character had been believable on the big screen. This Iron Studios statue is perhaps the most bang for the buck item in this section of the guide. It's expensive at $600, but it also stands over 30" tall. Hand-painted and limited to only 90 in the whole wide world.
Pre-order, shipping December 2019-February 2020. $599.99
The Dilophorsaurus was my favorite of all the Jurassic Park dinosaurs. I loved the design, how it sounded and how it was used in the movie. This is a gorgeous statue from Chronicle Collectibles that captures the attitude of the creature as well as the great colors. Limited edition, hand-painted statue and quarter scale.
Pre-order, shipping April-June 2020 $899.00
This Legendary scale Sideshow statue has Yoda standing 18" tall, which isn't all that much shorter than that little dude was anyway. The design is stunning and the fabric work for his robes is the icing on the cake. I choose to believe him sitting on the log is just Sideshow's tip of the hat to Weird Al's Yoda.
Sideshow's Premium Format statues are the best high end nerd collectible, what my buddy Drew McWeeny once called "Geek Furniture." Super detailed, very impressive pieces. This Han Solo Premium Format statue captures the smuggler as he appeared in The Empire Strikes Back. He stands over 20" and comes equipped with his trusty blaster and a stern look on his face. No finger of doom, though, which is a shame.
Wanna get psyched up for that upcoming Ewan McGregor Obi-Wan Disney+ show? How about this Sideshow sixth scale Mythos Obi-Wan figure? More Alec Guinness than Ewan McGregor, but it showcases Obi-Wan in the years between the events of the prequels and before the Original Trilogy.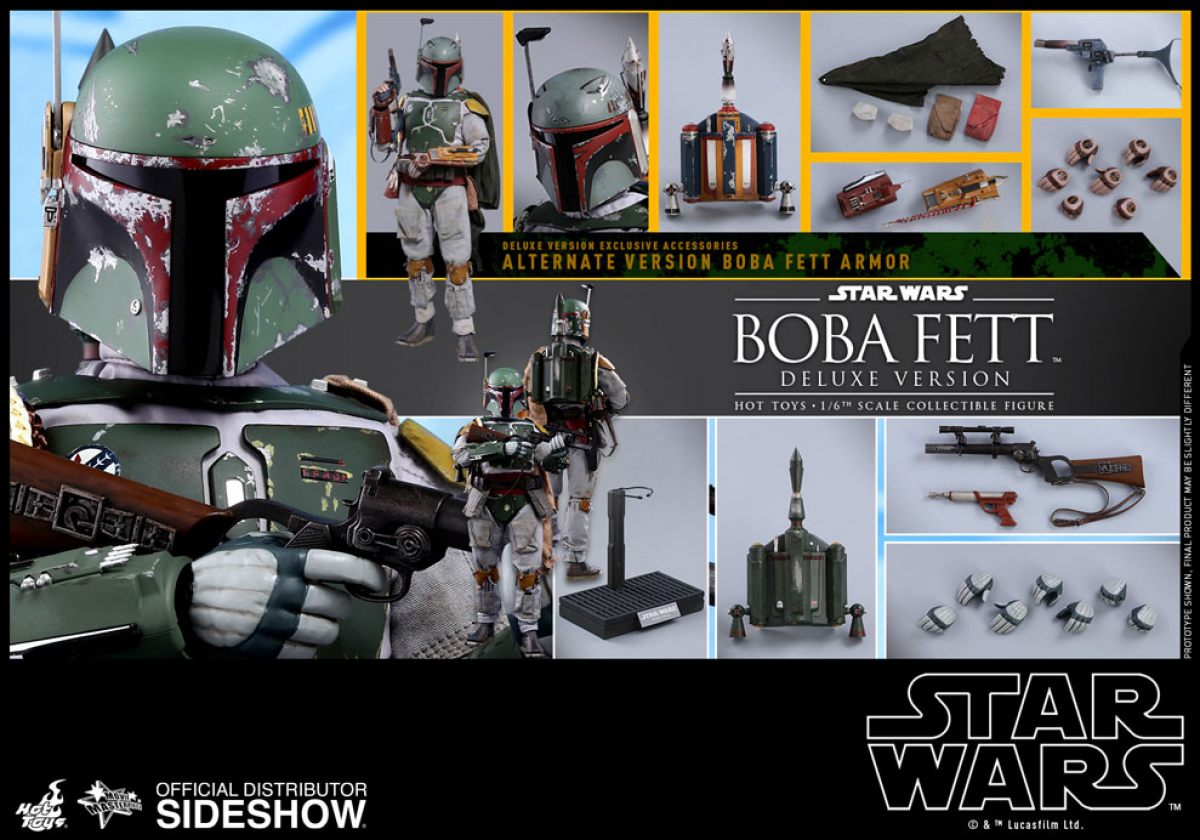 The Mandalorian Hot Toys figure is a looooooong time off, but you can get your bounty hunter fill with this Hot Toys Deluxe Boba Fett as seen in The Empire Strikes Back. Ready to ship right now!
What you can (supposedly) get by Christmas is this 1:1 scale replica of the Mandalorian's helmet. Put out by those talented people at Chronicle and limited to 750 pieces worldwide, this shiny Mando armor piece is sure to impress. Just don't put it on or you're gonna be stuck that way for the rest of your days. That is the way.
Pre-order, shipping this month. $699.99
To be honest the second I saw that Infinity War Thor's eye lit up I knew this was going in the Guide. That's just too neat. Plus I love this look for Thor. Not as much as I love Fat Lebowski Thor, of course, but that's a given. This sixth scale Hot Toys is a great sculpt, as usual, and should ship this month.
Pre-order, shipping this month. $267.00
If this isn't the most pleasant entry on the guide, I don't know what is. I'm very happy that Stan Lee gets his own Hot Toys and I particularly like that it's this cameo from Guardians of the Galaxy Vol. 2 that they settled on. This was a Convention exclusive and as such it's very nearly sold out. In fact, it's so nearly sold out that the only option available at the moment is a waitlist, but that does mean that it's still possible to get one. Good luck, or as Stan would say… excelsior!
Pre-order, shipping this month. $274.00
Captain Marvel comes with Goose! Sold already! This Hot Toys Deluxe figure gives you all the options. You can go with Carol Danvers in her flight jacket or crazy full on fire mohawk Captain Marvel.
Pre-order, shipping this month. $266.00
Hot Toys has you fans of the crazy-good Spider-Man video game covered, too. This sixth scale figure comes dolled up in Spidey's starter duds from the video game. Lots of neat accessories, too, from Spidey plushes, different web bombs and other goodies, but my favorite is the neat way they incorporated the spidey sense.
This very dynamic diorama from Sideshow shows Sir Batman in a bit of a confrontation with Mr. Superman. This Exclusive Edition comes with Mr. Superman's pissed off laser eyes variant head, which looks pretty great, I must admit. Wouldn't want to piss that dude off, would you? This whole thing is over 23" tall.
Now, if you don't want any Superman mixed in with your Batman geek furniture, then this one's for you. This is what Batman looked like in the comics I read growing up. Tweeterhead made this impressive maquette of the Dark Knight standing 18" tall and watching over us lowly civilians.
Why settle for just Batman when you can get his sweet ride, too? This Iron Studios creation captures the '89 Batman and the very distinctive Batmobile. I believe this is the same Batman sculpt I featured a few items back, but the real draw is the pairing of both. Nearly 30" long and weighing well over 40lbs, this is certainly designed to impress.
Pre-order, July-September 2020. $1,000.00
Hot Toys don't always stick with the sixth scale stuff. Sometimes they jump up to the substantially bigger quarter scale realm, like they have with this Heath Ledger Joker. He stands over 18" tall and has all the incredible detail you expect from Hot Toys' sixth scale sculpts.
Dat Boi is bigger than ever in this seriously ridiculously huge Pennywise statue from Prime 1 Studio. He's 44" tall, which I think means he's tall enough to ride Space Mountain. I'd absolutely love to own this, especially with as detailed as the base is (poor Georgie!), but I'm afraid the only time I'm allowed to drop this kind of money on something scary is when I have to pay my property taxes.
Pre-order, February-April 2020. $1,999.00
Speaking of really big scary dudes, how about The Shape himself? The OG Michael Myers standing at the top of the stairs giving you the side eye. Like for real. The way they sculpted the head you can see the eyes underneath the mask. This polystone statue is over 33" tall and apparently the knife he's holding is real metal, so I guess be careful around this dude. He's stabby and can do real damage.
Pre-order, shipping this month. $999.99
William Stout's Red Rider is an iconic figure for sci-fi/fantasy fans, especially older fans. Those in the know will remember this as the key image from Ralph Bakshi's Wizards. It's super cool that Sideshow's giving this one some love.
Pre-order, June-August 2020. $350.00
Speaking of super cool, I flat out love that Sideshow put some effort in classic Hollywood figures as well as the modern geeky stuff. First up is Audrey Hepburn from Roman Holiday, complete with her 1951 Vespa. And it's a substantial piece, too. At quarter scale she stands nearly 18" tall.
Pre-order, March-May 2020. $749.00
Keeping with the classics, here's Bogie in full Casablanca mode. This black and white piece from Infinite Statue is smaller than Audrey above, standing only 11" tall. Still, that's almost a foot of Bogart, which is better than no Bogart at all.
Infinite Statue also did this Le Mans Steve McQueen sixth scale statue. An interesting McQueen to focus on, but timely considering Ford V. Ferrari is bringing all the dads to the theaters. 12.5" tall, limited edition of 400.
A company called Blitzway is putting out this detailed ode to one of our best badasses, Bruce Lee, who is about to celebrate his 80th birthday. Real fabric clothing, polystone statue is almost 22" tall.
Pre-order, Q2 2020. $499.99
I know it's cooler to say you liked the Black and White Ninja Turtles from the comic book. They were more punk and darker and all that, but if I'm honest this is my Michaelangelo. The Saturday morning cartoon is my TMNT and this goofy bastard was my favorite. This very large quarter scale statue is the Sideshow exclusive that comes with the pizza box and smiling head variant.
Pre-order, July-September 2020. $550.00
The train at Disneyland is one of the lowkey best rides in the park. One, there's a ton of history to it, since Uncle Walt was super into trains and personally conducted some of the trains still in use today before he passed away. Two, sometimes you just need a place to rest your tired feet and take a breather. Three, it has dinosaurs on it. It's true! This Lego set recreates the Disneyland train station on Main Street. It's a big set, nearly 3,000 pieces and includes both the train and the station.
One of my fondest video game memories is my first playthrough of Bioshock. I still adore that world, the look of it and the design of every single aspect. So of course this Big Daddy and Little Sister statue caught my eye and the second I saw it I knew it had to be included here. At 20 inches tall, this statue is substantial. The quarter scale piece is limited to 1000 worldwide and each one comes individually numbered.
Pre-order, January-March 2020. $750.00
Prime 1 created this Aliens Wall Art that is really neat. It's designed to come out at you, not just be a flat piece. This shiny xenomorphic orgy is made of polystone and is around 20" tall. Game over, man!
What's there to say about this bad boy? It's a 1:1 RoboCop bust. 30" tall and painstakingly detailed. I don't know what most people need with RoboCop's head and chest, but it's undoubtedly cool.
Pre-order, Q2 2020. $1,399.99
If you prefer your armored enforcers to have arms, legs and plasma rifles then this one's for you. Oh, and also you really do have to be like crazy rich for this one. Before you is a full 1:1 scale set of T-51b power armor from the Fallout games. The whole deal stands over 7 feet tall, made of fiberglass, metal and resin and made by Chronicle in a super limited edition. Only 50 of these beauties will be made, so if you have a spare 10 grand lying around and can't think of anything better to do with it then this is an option.
Pre-order, Q2 2020. $9,999.99
Can you believe it? That wraps up the entire 2019 Holiday Gift Guide. It's been quite the journey and I think you very much for taking it with me. If you missed any piece of it over the last week here's a rundown of everything we've covered.
Hope you guys have enjoyed it. If you haven't had enough of me by now you can always give me a follow on Twitter (@EricVespe).
Happy holidays and happy new year!