Let's Take A Look Inside The Final WATCHMEN Soundtrack Release
Trent Reznor and Atticus Ross' three-album journey arrives at a spectacular finish.
The first season of HBO's Watchmen will end its run this Sunday evening, and with it comes the arrival of Trent Reznor and Atticus Ross' third soundtrack album. We've covered each of these releases as they've arrived on our doorstep (check out the first volume here; second volume's over here), and much like the show itself, we've been hugely impressed by the depth, attention to detail and world-building that have gone into these alternate-reality albums. Each has had its own flavor, both aesthetically and musically, and each has been very cool in its own unique ways. The pair's final Watchmen album, which is available to purchase over on Amazon while supplies last, is no exception. It might even be the coolest one yet.
Let's take a look inside.
As you can see, the Watchmen: Vol. Three soundtrack is presented as a Nine Inch Nails album - excuse me, a The Nine Inch Nails album - called The Manhattan Project. That's good ol' Dr. Manhattan on the cover there, probably experiencing multiple timelines simultaneously and thinking about what to build next, and there's two stickers attached. Let's take a closer look at those.
The first, at the bottom, indicates that listeners suffering from "11/2 PTSD" (read: anyone still dealing with the fallout of Ozymandias' deadly squid trick) should use an "EDS filter" to "insure a risk free immersive experience".
Up at the top, we get our first indication of what this album's meant to be: The Manhattan Project, a long lost NIN album that's only just seeing a release (overseen by Atticus Ross and Peter Christopherson, who NIN fans might recall as the director of the notorious Broken movie). According to this sticker, this is also one of NIN's Halo releases, coming in hot at number 10. If you're thinking that means The Nine Inch Nails produced less music in the Watchmen reality, you're not wrong...but we'll get to that in a minute.
Here's a look at the back cover, which reveals the tracklisting and the fact that The Manhattan Project was recorded in "The Crater". We'll get to that in a minute, too.
Here's a closer look at the tracklisting.
A look at the inner sleeve, which contains more production notes...
...and the flip-side of the inner sleeve, all in Manhattan blue.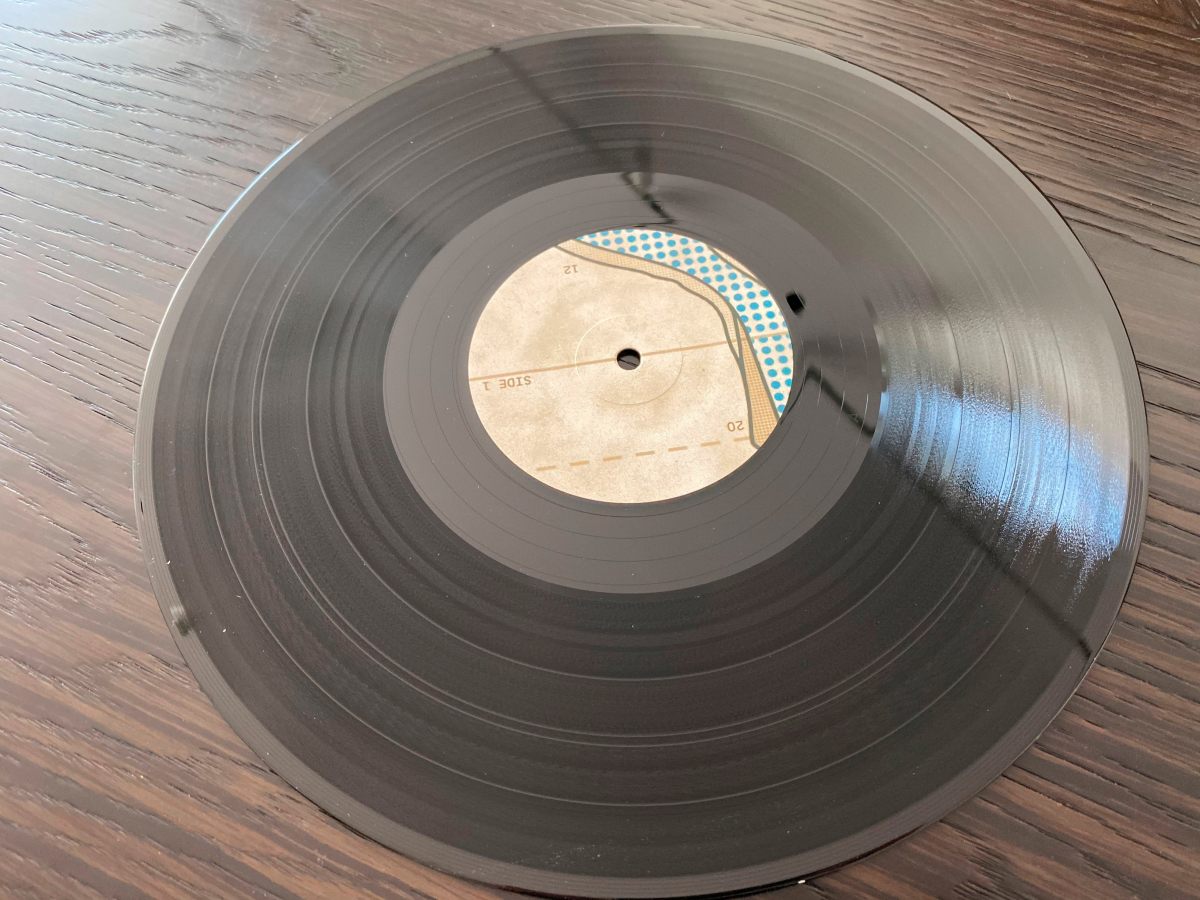 Here's a look at the record itself. Not sure what that image is at the center - looks a bit like the edge of a map, doesn't it?
Also included in the package is this essay, "He's Gone Away", which is where things get really interesting.
Over the course of eight pages, "He's Gone Away" offers an alternate account of The Nine Inch Nails history, mostly in relation to Dr. Manhattan's disappearance from Earth. This thing is a goddamn treasure trove for NIN nerds: here we learn that Sean Parker (yes, that Sean Parker) suggested adding the "The" to the band's name; that Trent Reznor has not been seen since 1995, when he walked off stage in Saigon after yelling "Fuck you!" to the heavens; that Cameron Crowe wrote the liner notes for a 2018 reissue of TNIN's entire discography; and that The Manhattan Project was recorded (on a dare, no less!) at "The Crater", the name given to the empty field in North Wales where Cartwithen Castle used to be (hint: Ozymandias has been living in that castle, but it definitely ain't in North Wales anymore).
I'll leave the rest of the details for you to discover and explore on your own, but trust me when I say that this thing is an absolute pleasure to read, especially if you're a big NIN nerd. After an album that gave us the fictional history of Sons of Pale Horse and another which offered up a deeper look at American Hero Story (Watchmen's in-universe answer to American Crime Story), it's fucking awesome to see so much attention devoted to Reznor, Ross and Nine Inch Nails. What a perfect way to wrap this thing up!
Ah. Here's a look at the backside of the essay, should that please you.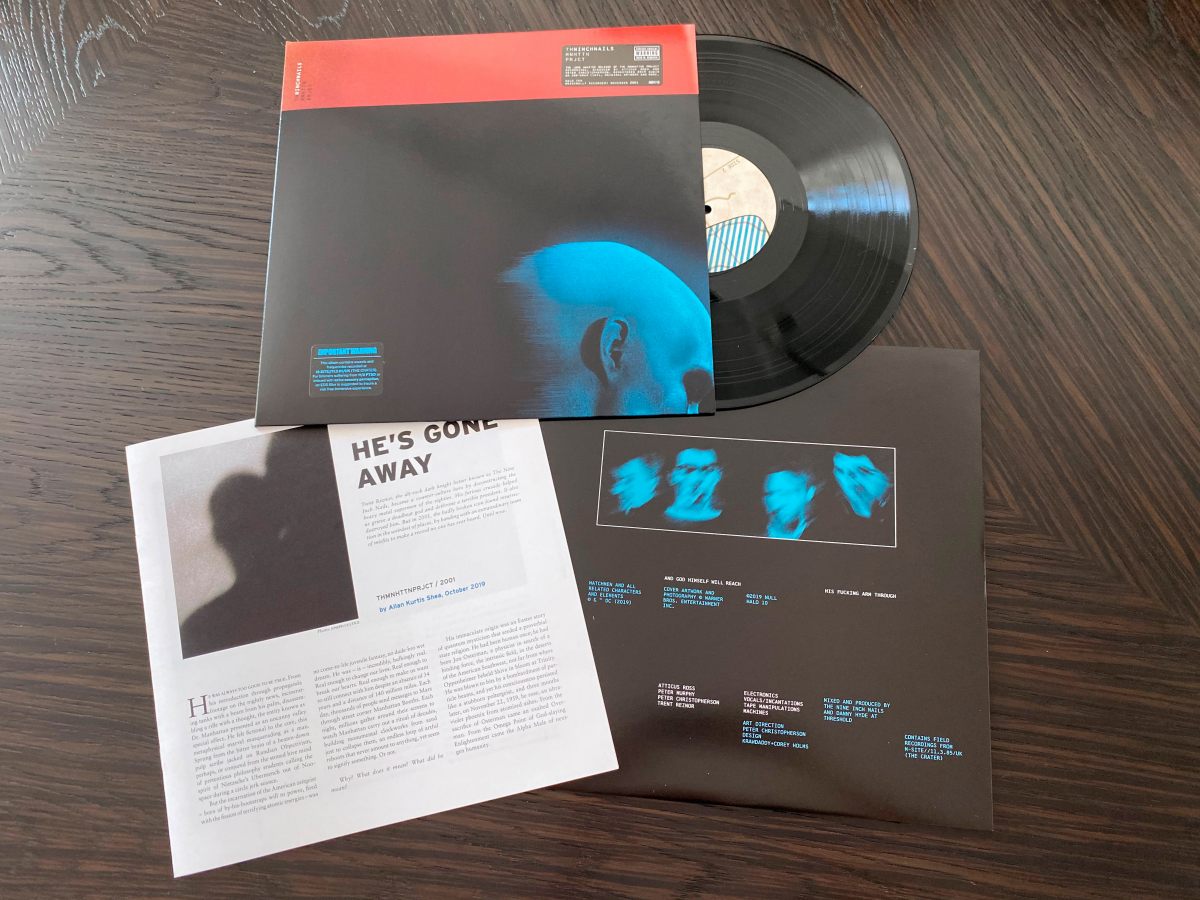 And here's the whole thing, laid out piece by piece. It's a really sharp-looking piece of work.
It's been quite a year for Nine Inch Nails fans, hasn't it? We got three new Reznor/Ross soundtracks built around Watchmen, one of which had a David Bowie cover on it, another full-length soundtrack for Trey Edward Shults' Waves, and yet another one for Netflix's Bird Box. Black Mirror (somewhat infamously) used one of NIN's biggest songs as the hook for one of its weirdest episodes. Oh, and Reznor/Ross wound up winning a Country Music Award. The rest of this year's been a full-blown disaster, but at least us NIN fans have had many, many things to celebrate. Here's hoping next year's just as productive (maybe we'll finally hear something on another live album? Fingers crossed).
The Watchmen: Vol. Three soundtrack can be purchased on Amazon via the link below. We highly recommend it.