Amelia's Top Ten Films of 2019
EDITOR'S NOTE: Amelia forgot to add a subheader to this post.
It's funny. This is my third year writing my Top Ten here at BMD. Every year, I comment on the state of the world. Every year, it keeps getting worse. And somehow, every year, I continue to have some pithy comment about how hope and art matter. Well guess what, chumps? Nothing's changed!
I guess that's not entirely true - I'm a lot more tired, a little bit more bruised, and infinitely more annoyed. Unfortunately, I'm far too much of a contrarian to just give up. So, here we are again. We're all still getting our asses kicked, we're all still doing the best we can, and we're all just trying to find something to connect with in the art we love. And, with that, I give you a whole new list filled with horrors, hopes, and plenty of pop culture. Sometimes all in one movie, even! You can find the more nuanced and infinitely smarter Top Tens of my lovely colleagues here.
10. Booksmart
Directed By: Olivia Wilde
Written By: Emily Halpern, Sarah Haskins, Susanna Fogel and Katie Silberman
"Dude, scissoring is not a thing."
Olivia Wilde's directorial debut was an all-timer, even if it was mostly ignored at the box office. It's not so much that we've never gotten any coming-of-age stories about women. It's more that they're usually a lot fluffier than Booksmart feels the need to be. While the nerd girls of yore have been used as a prop to beautify into a love interest, Amy (Kaitlyn Dever) and Molly (Beanie Feldstein) are just your average, awkward, run-of-the-mill smarties who realize they may have squandered their high school years far too late. What unfolds after that realization is an hour and a half of hilarious and relatable misadventures of two girls just navigating their shit the best they can. And I dare you to walk out of this movie not utterly enchanted by Billie Lourd's Gigi.
9. Midsommar
Directed By: Ari Aster
Written By: Same dude
"I think I ate one of her pubic hairs."
I can't really think of a film more cathartic than Midsommar? A world of beauty surrounds Dani (Florence Pugh) as she navigates devastating grief in the company of her less-than-stellar boyfriend Christian (Jack Reynor) and his mostly insufferable friends. There are so many little things about this movie that make it all come together as the hugely emotional gut punch that it is. We all rightfully praise Pugh's performance. Part of what makes that performance so incredible is just how easy it is to relate to the character's relationship woes, even if your sister didn't pull off a murder-suicide right before a big trip. A lot of that relatability lies in Christian's character never being overtly malicious but absolutely being a complete twerp.
This film is stunning. It's aesthetically gorgeous, soul-crushingly empathetic, and curiously grotesque. Bad boyfriends beware. Girls everywhere got a crash course on just how toxic your softboi nonsense can be, and we're pretty confident in our ability to find some bears!
8. Parasite
Directed By: Bong Joon Ho
Written By: Bong Joon Ho and Jin Won Han
"They are nice because they are rich."
You've likely heard endless praise by now, but I'd like to reiterate that Parasite is the business. While it'll definitely hit a little harder for those who grew up in lower-class households, Joon Ho's storytelling abilities ensure even those who didn't have to hunt for food growing up feel the impact of the class gap in the film. It's a story of the effects of classism as told through an ever-shifting number of genres. Each shot has a purpose, and each line razor sharp. It truly is immaculate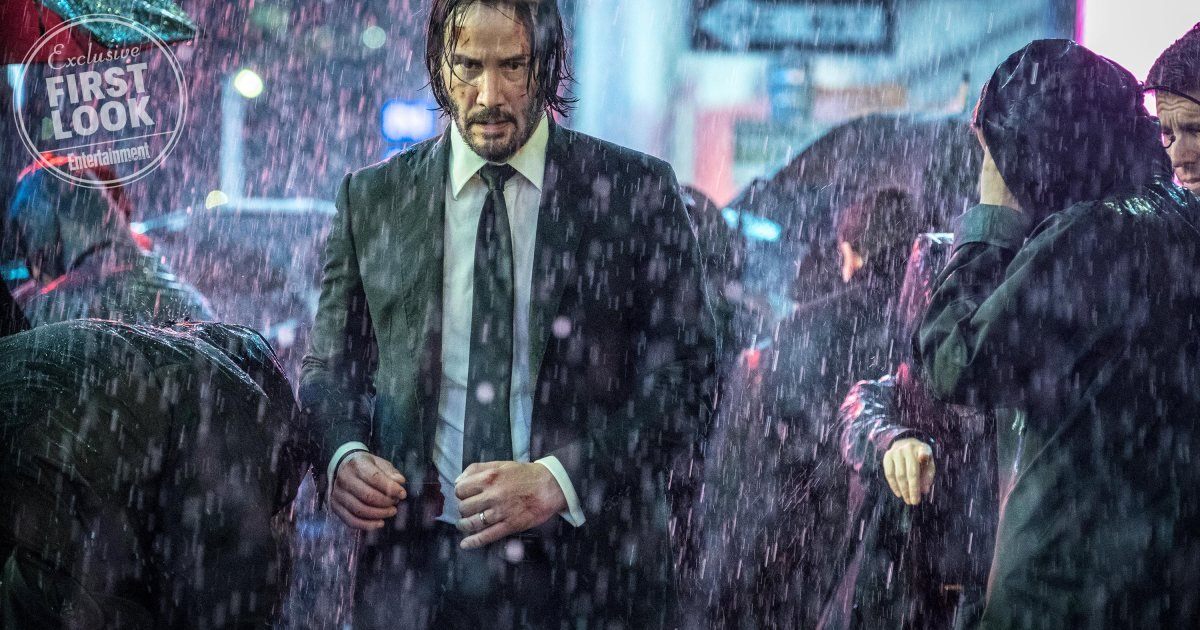 7. John Wick: Chapter 3
Directed By: Chad Stahelski
Written By: Derek Kolstad, Shay Hatten, Chris Collins and Marc Abrams
"He shot my dog."
The John Wick franchise excels on so many levels. With so much going on, these movies ensure that there's a little bit of something for everyone. For me, the major draw is the lore. I can't get enough detail on The Continental, The Code, The High Table, the subgroups… all of it. I want to gobble up every bit of information that I can. At the same time, I love that they only give us tidbits with each new film. Those new details bring new questions and round and round we go! Chapter 3 was no different. And, though it didn't top my favorite moment in the franchise (Gianna D'Antonio's death is exceptional in every possible way), it still brought two new very good puppies, stellar action sequences, exciting new characters, and a brand-new vendetta. I want twelve more of these movies and five new spinoffs, ASAP. I am not sorry.
6. Us
Directed By: Jordan Peele
Written By: Same dude
"Once upon a time, there was a girl…"
It's hard to write (and direct) a film. What's even harder is bringing your sophomore showing to the table and it having it be completely unique from your first movie while still maintaining the same level of excellence. Enter Jordan Peele and Us. Every little moment has meaning, whether it be Adelaide (Lupita Nyong'o) being slightly off-beat or the story's deep roots in the bible's book of Jeremiah. Even further is the story's connection to the Island of Ōkunoshima, government testing, and the island's bunny inhabitants. What I'm saying is that this movie is a theology and history nerd's dream while also being exceptional horror.
5. Hustlers
Directed By: Lorene Scafaria
Written By: Same lady!
"The game is rigged, and it does not reward people who play by the rules"
You've heard Hustler's compared to a bunch of different films by now, but the fact of the matter is it isn't the female version of anything, it's just the first Hustlers. Unless, of course, you're comparing it to the article that inspired the film. Constance Wu and Jennifer Lopez both give incredible performances, but even the smaller roles stand out in Scafaria's lady-led crime dramedy. In any other circumstance, it might be difficult to get your audience to care about a bunch of strippers drugging some stockbrokers to get by. Then again, it's twelve years later and we're all still playing the same rigged game.
4. Avengers: Endgame
Directed By: The Russo Brothers
Written By: Christopher Markus and Stephen McFeely
"That is America's Ass."
After a little over a decade with these movies, it was hard to imagine that they'd be able to pull off an entry that would close out the epic in a satisfying manner. Enter Endgame, and many of us practically dancing in our seats like we were children again in more than one moment. I wrote endlessly about its treatment of the female members of the team, but it's far from the only area that Endgame shines. It's still jammed packed with emotional weight, and a hell of a lot of stakes. But it also spends a large amount of time giving fans moments that they'd waited their whole lives to see on the big screen. Even better, it manages to do so without any of those moments feeling cheap or fan-servicey.
3. Ready or Not
Directed By: Matt Bettinelli-Olpin and Tyler Gillett
Written By: Guy Busick and Ryan Murphy
"Fuck your family."
I am absolutely enamored of Ready or Not. I connected with Samara Weaving's Grace the moment she was introduced, and spent the entirety of the film having a blast with her extremely real human reactions to the absolutely insane idea that the love of your life's family is going to hunt and kill you. The movie's a hilarious and exciting ride throughout, and finds the time to weave in conversations about perceived purity, Final Girl expectations, and how easily dull men can disguise just how mediocre they are until it's too late. Sharp writing, pitch-perfect casting, and one hell of a final act put this lovely thing near the top of my all-time favorite horror flicks.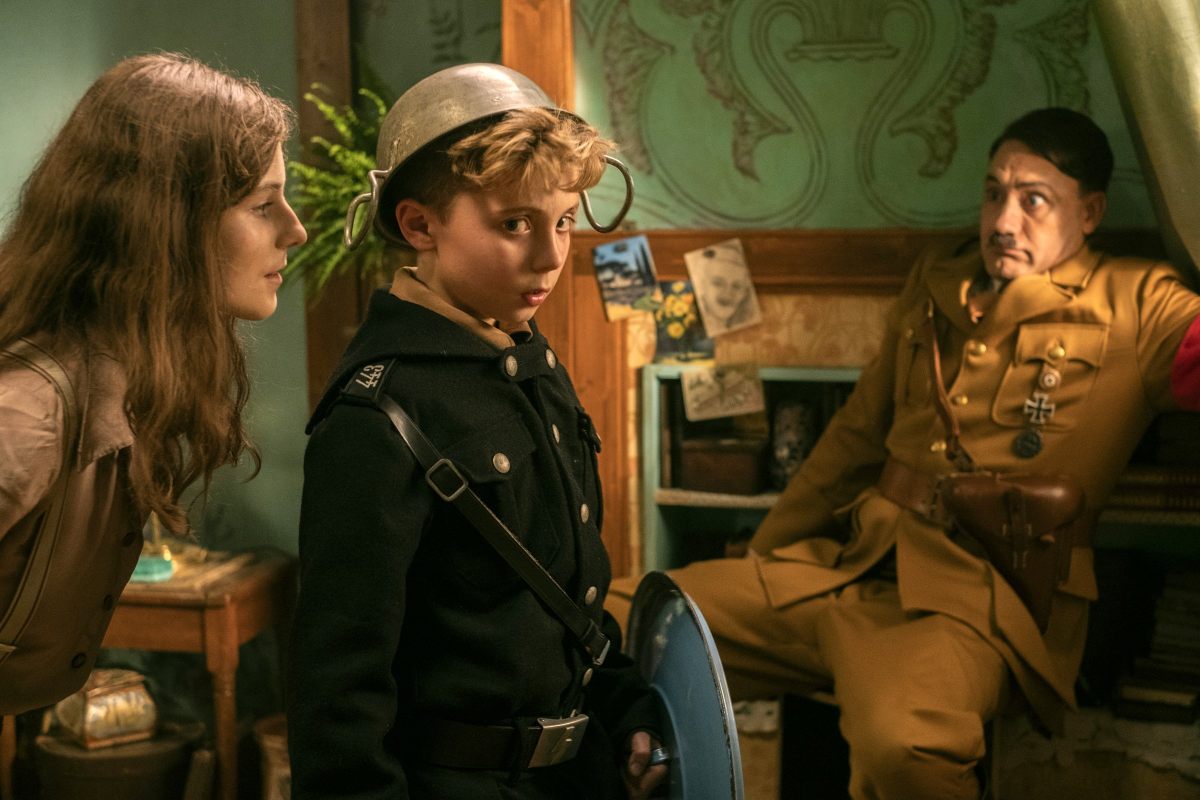 2. Jojo Rabbit
Directed By: Taika Waititi
Written By: Same dude
"Jojo Betzler, you are ten years old. Today? Just do the best you can."
*Top Tens are subjective, but I feel the need to note that I absolutely toiled over whether to put Jojo Rabbit or Knives Out in the number one slot. I will not be taking questions at this time.*
Jojo Rabbit floored me. I both laughed out loud and sobbed several times throughout the duration of the film. It balances over-the-top absurdity with a harrowing tale in a way that only Waititi could. Caricatures dance through a war-ridden world, all surrounding a conflicted Jojo (Roman Griffin Davis) and a trapped Elsa (Thomasin Mckenzie). Parody can be an important tool to get people engaged with history. Jojo Rabbit uses humor to acknowledge important historical details that often get overlooked. Such as the fact that the first country Adolf Hitler occupied was his own, or that some found themselves as Nazis out of fear of persecution themselves.
They say those who forget history are doomed to repeat it. If you live in several of the major world powers and have looked around lately, you might find yourself thinking of that notion more often than you'd like. Jojo Rabbit is funny and fun and poignant, but stories such as this one matter in the landscape many of us around the world have found ourselves in. I wish more folks made it out to see it.
1. Knives Out
Directed By: Rian Johnson
Written By: Same dude
"It's a weird case from the start. A case with a hole in the center. A donut."
Y'all, bless Rian Johnson's Knives Out. I missed it at Fantastic Fest, and had expected the endless hype I'd heard to tarnish a movie that I'd otherwise find thoroughly enjoyable. I couldn't have been more wrong. This hilarious, joy-filled, absolute ride of a movie is everything I wanted and nothing that I expected. It's hard to get original movies made in the swarm of remakes and adaptations out there. It also ain't easy to bring a fresh take to the whodunnit table. Knives Out does both effortlessly while also telling a highly enjoyable and alarmingly relevant story. You find yourself wanting to protect Marta Cabrera (Ana de Armas) with your life, and laughing along with the ridiculousness of Detective Benoit Blanc (Daniel Craig) with ease. Not to mention the fact that Ransom Drysdale (Chris Evans) is the perfect follow-up to Evans' Cap career. The fact that Rian was clever enough to jump on that is, as they say, *chef's kiss*. Be sure to see this one with the fam!