Emily's Top Ten Films Of 2019
"That was the best acting I've ever seen in my whole life."
Well, friends, we've reached the end of 2019. Here's a list of movies that stood out for me among the wide selection of cinema gifted to us this year.
10. The Dead Don't Die
There are few things I get a kick out of more than seeing a movie with my husband where it feels like we're the only two people in the theater in on the joke. While Jim Jarmusch's The Dead Don't Die may not have connected with everyone, it ended up being one of my favorite theater experiences this year. I thought Jarmusch's deadpan sense of humor vibed perfectly with the talents of his amazing cast, including Bill Murray, Adam Driver, Tom Waits, and Tilda Swinton. It was a fun night out at the movies, and you know what, sometimes that's enough.
9. The Souvenir
Director Joanna Hogg also penned this semi-fictionalized love story based on her experiences at film school. Featuring magnificent performances from Honor Swinton Byrne and Tom Burke, the unconventional narrative depicts snapshots of the doomed relationship between an ambitious film student and a seductive but secretive older man. Visually and tonally reminiscent of Paul Thomas Anderson's Phantom Thread, the beautifully crafted tale is a solemn reminder that we can't choose who we love, and that, regrettably, our love can't save them either.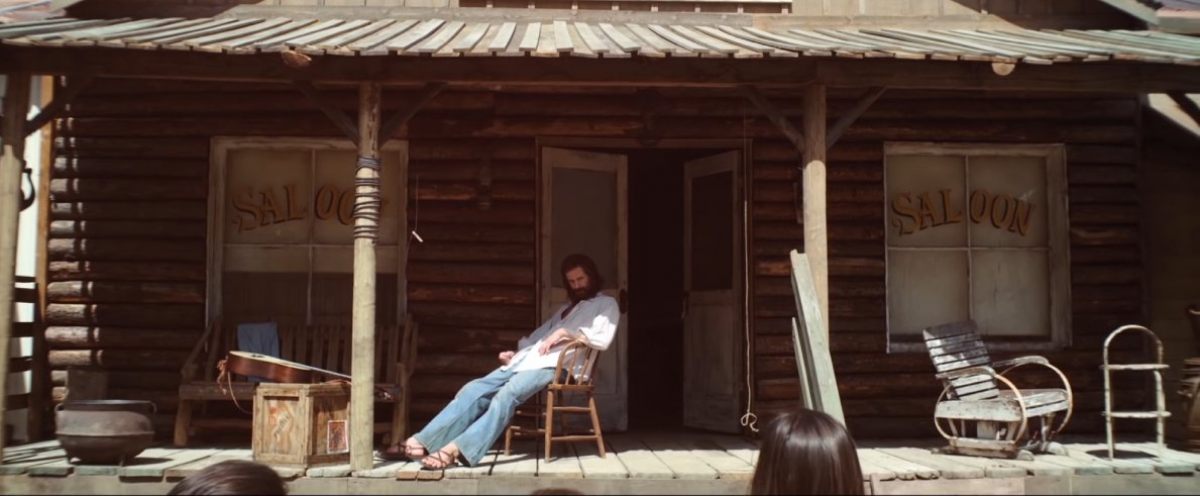 8. Charlie Says
First of all, I was not expecting Matt Smith as Charles Manson to make me so uncomfortable, but here we are. Secondly, we do not deserve Merritt Wever.
As criminologist/teacher Karlene Faith, Wever's job in Charlie Says is to attempt to rehabilitate Leslie Van Houten, a.k.a. "Lulu" (Hannah Murray), Patricia Krenwinkel/"Katie" (Sosie Bacon), and Susan Atkins/"Sadie" (Marianne Rendon), widely known as the members of the Manson family responsible for the brutal murders of Sharon Tate and her friends in 1969. Director Mary Harron (American Psycho) takes a fascinating look inside what life was like for the three women at Spahn ranch, where they were emotionally manipulated and abused under the watchful eye of the "charismatic" cult leader. Without ever taking sides, the film ponders whether it's possible to conjure sympathy for the devil, as the three imprisoned women slowly come to terms with the fact that they were conditioned to take everything "Charlie says" as gospel.
7. John Wick Chapter 3: Parabellum
Keanu! Bullets! Ballerinas!
Keanu on a horse.
Halle Berry and her dogs join the fight.
Motorcycle sword fights.
Keanu!
I mean, did you really think this one wouldn't make the list?
Seriously, though, John Wick Chapter 3 stands out as another fun experience at the theater this year. This is without contest my favorite action franchise and while my undying love for Keanu has a lot to do with that, I really love the imagery of these films. I'm consistently blown away by the style and sheer brutality of the action sequences, and I'm a big fan of the immersive worldbuilding. So, as long as Reeves is game and Derek Kolstad and Chad Stahelski have more John Wick adventures to offer, you can count me in!
6. Rocketman
I'm a casual Elton John fan at best but I thought the decision to make his biopic a straight-up musical was an inspired one. Structurally, tonally, and glamorously held together by the pitch-perfect combo of John's music and a Broadway-worthy version of his life story, this was one of those rare moments where I walked in with zero expectations and walked out having seen one of the more memorable movies of the year.
5. Parasite
Beyond the brilliant performances, what I love most about Parasite is that it is at once hilarious and thought-provoking. Not many filmmakers have the skill to surprise today's desensitized audiences, which is what I think makes Bong Joon-Ho's latest so impressive. I went in knowing absolutely nothing about the plot and was completely riveted by the unpredictable journey of this unique and likable family. I don't think I'll ever stop thinking about that ending. Everyone should see this film.
4. Once Upon a Time in Hollywood
Very few writer-directors get me excited about the art of filmmaking in the way Quentin Tarantino does. Even watching the opening titles of one of his films has a certain buzz to it. The way he infuses his love of cinema into his own style of visual storytelling never fails to captivate and inspire me. While the prospect of watching Brad Pitt and Leonardo DiCaprio drive around LA grooving to a killer soundtrack and changing the horrors of history is alluring enough on its own, with Tarantino behind the camera it's not just a movie, it's a goddamn experience.
3. A Beautiful Day in the Neighborhood
Marielle Heller's A Beautiful Day in the Neighborhood is the ideal tribute to the life and work of Mr. Fred Rogers. While less about him than the indelible impact he had on the lives of others, I can't think of a better way to honor a man whose mission in life was to make the world better a better place through acts of kindness. Whether you grew up watching Mister Rogers' Neighborhood or not, this film's uplifting and heartwarming message is – like the show always was – an absolute pleasure to watch.
You can read my full review here.
2. Portrait of a Lady on Fire
Portrait of a Lady on Fire is the kind of film that slowly washes over you, sweeping you up in the waves of its exquisite atmosphere without ever preparing you for how the story will end. I didn't want it to end.
The heartfelt performances from Noémie Merlant and Adèle Haenel make you root for their characters to remain forever on the gorgeous isolated island where their romance unfolds. I'm a big fan of beautifully devastating love stories, and with this film director Céline Sciamma has crafted one of the more breathtaking tales of forbidden love I've seen since 2017's Call Me by Your Name.
1. Jojo Rabbit
When I go to the movies, I go to see stories that move me emotionally. Beyond the satire executed with humor and heart by Taika Waititi in Jojo Rabbit, it's the relationships the titular character (Roman Griffin Davis) has with his mother (Scarlett Johansson), Elsa (Thomasin McKenzie), his best friend Yorki (Archie Yates), and Captain Klenzendorf (Sam Rockwell) that act as the beating heart of this film. It's through these connections that Jojo's perspective evolves, teaching him a valuable lesson about empathy in the midst of so much hatred and destruction.
I laughed a lot during this movie, but it was the moment when I started crying and couldn't stop that ultimately pushed it to number one on this list. The happy-sad ending when that perfect song becomes the soundtrack to a once in a lifetime moment between Jojo and Elsa devastated me emotionally. And, by my standards, when your film leaves me a blubbering mess, you've accomplished something pretty special.
Honorable mentions: The Irishman, The Nightingale, Slut in a Good Way, Doctor Sleep
Here's to watching lots more movies in 2020. Happy Holidays!