Mondo's GODZILLA: A POSTER SHOW To Storm Austin During SXSW
Mondo's latest gallery showcase will be Kaiju-sized.
Disclosure: Mondo and BMD are both owned by the Alamo Drafthouse.
One of SXSW's many pleasures is the annual Mondo Gallery Showcase which kicks off the busiest week in Austin, TX. These shows tend to be big, centering around iconic properties or popular themes, and this year's showcase is no exception: this time, we're getting an entire show based on Toho International's Godzilla franchise (our managing editor, Evan Saathoff, did not survive this news and will be missed).
Take it away, press release!
"After the release of their most comprehensive apparel capsule to date in 2019, Mondo is proud to continue its unprecedented relationship with Toho International to present ゴジラ| GODZILLA: A POSTER SHOW opening Friday March 13, 2020.

This extraordinary poster show will tackle the Shōwa, Heisei and Reiwa eras of the Godzilla film catalog with 24 posters by 11 artists, including Godzilla fanatic, Tom Whalen - whose TERROR OF MECHAGODZILLA poster can be seen below, and Attack Peter, an artist we've been eager to work with who specializes in beautifully handcrafted linocut artwork printed on Lokta paper."
Mondo's Creative Director of Toys and Collectibles, Brock Otterbacher: "He's been many things over his many years - a symbol of the horrors of war, nature's wrath, a hero, a villain, and even the collection of angry souls taking revenge on the living. One thing he's always been, however, is beloved across many generations of fans, children and adults alike. The King of the Monsters comes to Mondo's Gallery for a kaiju-sized show featuring the city stomping giant, along with many of his friends and foes. Dozens of fantastic artists bring their appreciation to the various eras of Toho's monster movies, and I, as a huge fan myself, feel there's something for every kind of Godzilla fan. Whether you have love for Jet Jaguar, Mothra, Gigan, Destoroyah, or Godzilla himself, I think you'll be stoked for what we have in store for you!"

Along with the incredible array of posters, Mondo will also have the latest additions to their ever-growing apparel collection on hand. Visitors to the gallery will have the first shot at brand new items from Becky Cloonan and Attack Peter - alongside a preview of upcoming officially licensed collectibles.
And what'll those posters look like? We've got a preview of two of 'em, both from the great Tom Whalen:
TERROR OF MECHAGODZILLA by Tom Whalen (Regular)
36" x 24" Screenprinted Poster
Edition of 250
Printed by DL Screenprinting
$55
TERROR OF MECHAGODZILLA by Tom Whalen (Variant)
36" x 24" Screenprinted Poster
Edition of 125
Printed by DL Screenprinting
$75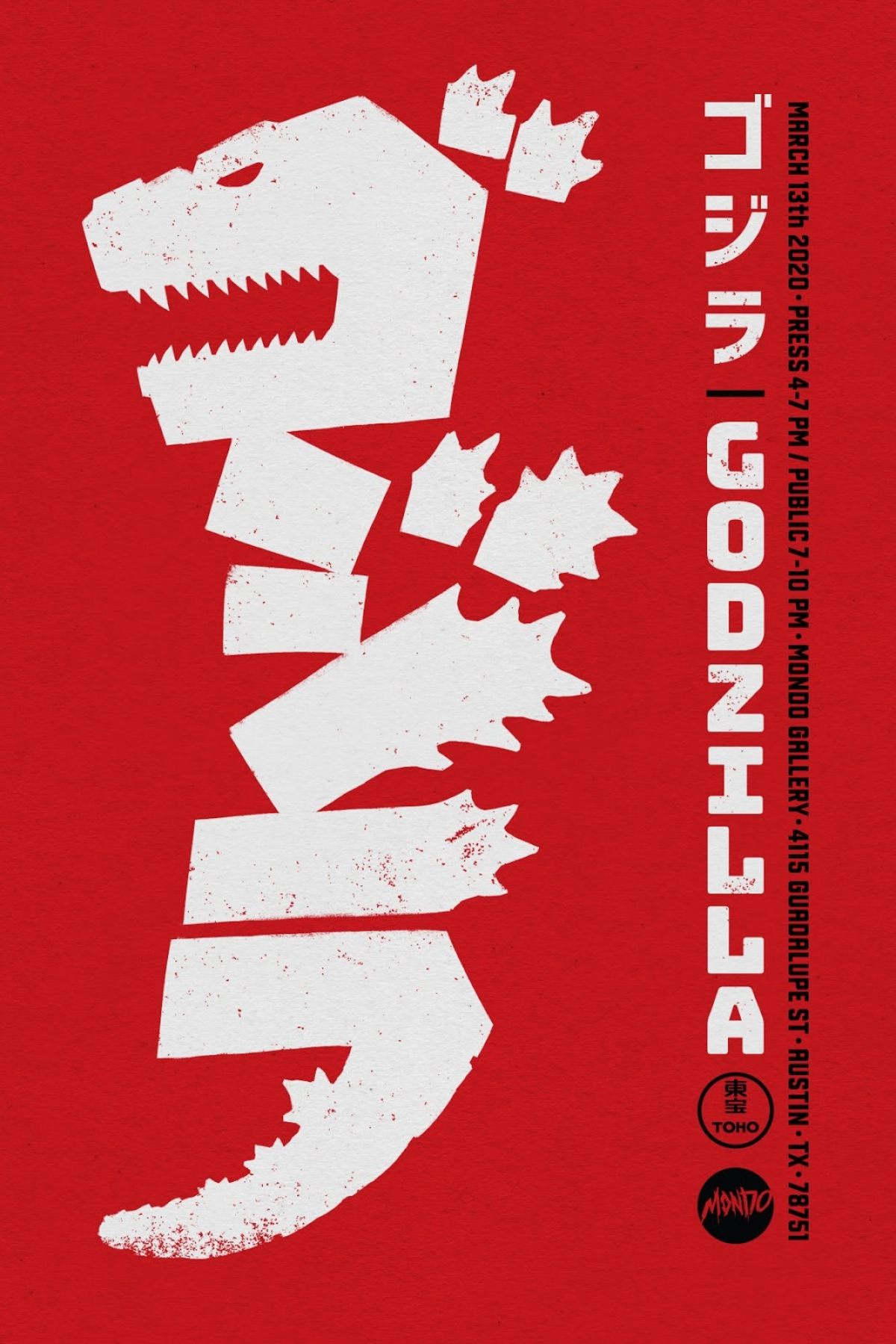 Team BMD will obviously be on-hand for this showcase, and will report back with our findings just as soon as we recover from the experience. Stay tuned for that - as well as further SXSW coverage - in the weeks ahead.