The BMD Black Lives Matter Fundraiser: Part One
Help us raise money for the #BlackLivesMatter movement, maybe win some exceptionally cool stuff.
A few years ago, the BMD readership helped us raise over $10K for the good folks at the Texas Civil Rights Project. We launched that fundraiser in response to the horror we felt upon seeing immigrant families torn apart upon crossing the Texas border, and were both humbled and awed by the overwhelmingly generous response from BMD readers. Now, two years later, and in the midst of yet another horrific crisis, we're asking for your help again.
This week, BIRTH.MOVIES.DEATH. is raising money for #BlackLivesMatter (via ActBlue Charities). For any readers who are unfamiliar with the BLM movement, here's how the foundation describes itself:
#BlackLivesMatter was founded in 2013 in response to the acquittal of Trayvon Martin's murderer. Black Lives Matter Foundation, Inc is a global organization in the US, UK, and Canada, whose mission is to eradicate white supremacy and build local power to intervene in violence inflicted on Black communities by the state and vigilantes. By combating and countering acts of violence, creating space for Black imagination and innovation, and centering Black joy, we are winning immediate improvements in our lives."
The fact of the matter is, our country is sick with racism. This sickness has been at the heart of things for as long as anyone reading this has been alive, and it's once again found itself at the forefront of our national conversation following the on-camera murder of George Floyd (along with a healthy reminder about police brutality, the unchecked militarization of our police forces, and the institutional corruption that continues to allow these elements to feed off one another). We know all too well that a fundraiser on a movie blog won't cure this country of what ails it, but we can help bring visibility to the issue, and we can leverage the platform we have to do a tangible good for an organization that works every day to combat the problem.
We're asking you to join us in that endeavor.
Much like the raffle/fundraiser we held for the Texas Civil Rights Project, this one features a number of giveaway prizes, each one donated by members of the BMD staff, colleagues from other websites, artists, collectors, screenwriters, authors, and various other friends who wished to help out. The sheer number of people who kicked something in has necessitated that we group these prizes into bundles, and each one is pretty goddamn cool. We've got signed memorabilia, limited edition vinyl, game bundles, screenprints, one-sheets, rare books - all kinds of stuff. By making a minimum $25 donation to #BlackLivesMatter between now and Wednesday, June 10th (cutoff: Noon, CDT), you will be entered to win one of these prize bundles.
We'll get to the prizes in a moment. First, here's how all this is gonna work:
Go to BlackLivesMatter.com.
Click "Donate" in the top-right corner of the homepage.
Donate a minimum of $25.
Make sure you enter your current shipping address when prompted to do so.
Once your donation has been processed, you will receive an email containing a receipt that looks like this:
Forward your donation receipt from ActBlue Charities (not a screencap) to [email protected].
Next Wednesday (June 10th), we will randomly select 15 entries from that inbox as winners.
Each winner will be randomly assigned a number between 1 and 15.
If you are selected, you will hear from us on the morning of Thursday, June 11th.
Winners will be contacted in the order of the numbers assigned to them. #1 will get first pick from the prize bundles, #2 will get second pick, and so on. All the way down the list, until all bundles have been claimed.
Prizes will be shipped directly from those who donated them, which means bundles may arrive in separate shipments.
This fundraiser is open to everyone. Worldwide.
You may be wondering what happens if you donate more than $25. Totally understandable! You can donate as much as you'd like: each forwarded $25+ donation receipt we receive will count as one entry in the giveaway. If you want to donate $100 across four separate donations, thus entering the giveaway four times - great! Want to donate $1,000 and enter yourself 40 times? Also fine. (Note: All winning entries will be cross-checked against all other entries to ensure that no duplicate entries have been made; anyone caught doing that will be immediately disqualified). As long as your entries are separate, you're good (this is to ensure that each entry has the same "weight"). The idea here - the most important thing here - is to raise as much money as possible, and we don't want to inhibit that. Furthermore, we want you to feel like you have some control over your odds of collecting the exact prize bundle you want.
Now. A word about these prize bundles. There are fifteen of them. Some of them contain only one prize; some of them contain a variety of prizes. The idea was to bring some balance to the thing, and to acknowledge that some of these prizes are, quite frankly, rarer than others. Why are they split across multiple pages? Well, the problem we ran into while initially building this fundraiser was: our back-end did not allow us to include every prize on one page. The BMD back-end is ancient and weak (feeble, even) and, as a result, we had to spread the damn thing across THREE SEPARATE PAGES. Believe us when we say this choice was not made voluntarily - it was made after our Managing Editor, Scott Wampler, spent 7 hours on Monday plugging everything into the system, only to have our back-end delete the whole thing. You've never seen someone so Mad Online.
Anyway, all of this is to say that what you're looking at on this page is only one-third of our fundraiser. The rest will appear on two separate pages: here's PART TWO and here's PART THREE. Your donations/entries will be going towards all fifteen of these prize bundles, not just the ones you see on this page. We know this is not ideal, but we gotta work with what we got, and do hope that you'll work with us in the same way.
Now. With all of that said, let's see what our friends donated.
PRIZE BUNDLE #1 Includes:
MONDO'S COMPLETE SET OF TYLER STOUT STAR WARS VARIANTS
"When I contacted our friends at Mondo to see if they'd like to chip in something fun for this fundraiser, Senior Creative Director Eric Garza immediately stepped up with an all-timer donation: a complete variant set of Tyler Stout's STAR WARS prints. These are long-since sold out, and only available now via a secondary market that would have you taking out a second mortgage on your house in order to afford them. It's an insanely generous donation, and so valuable that we're making the set its very own prize bundle. A sincere thank you to Eric Garza and the rest of the Mondo team, from everyone here at BMD." - BMD managing editor Scott Wampler
_________________
PRIZE BUNDLE #2 Includes: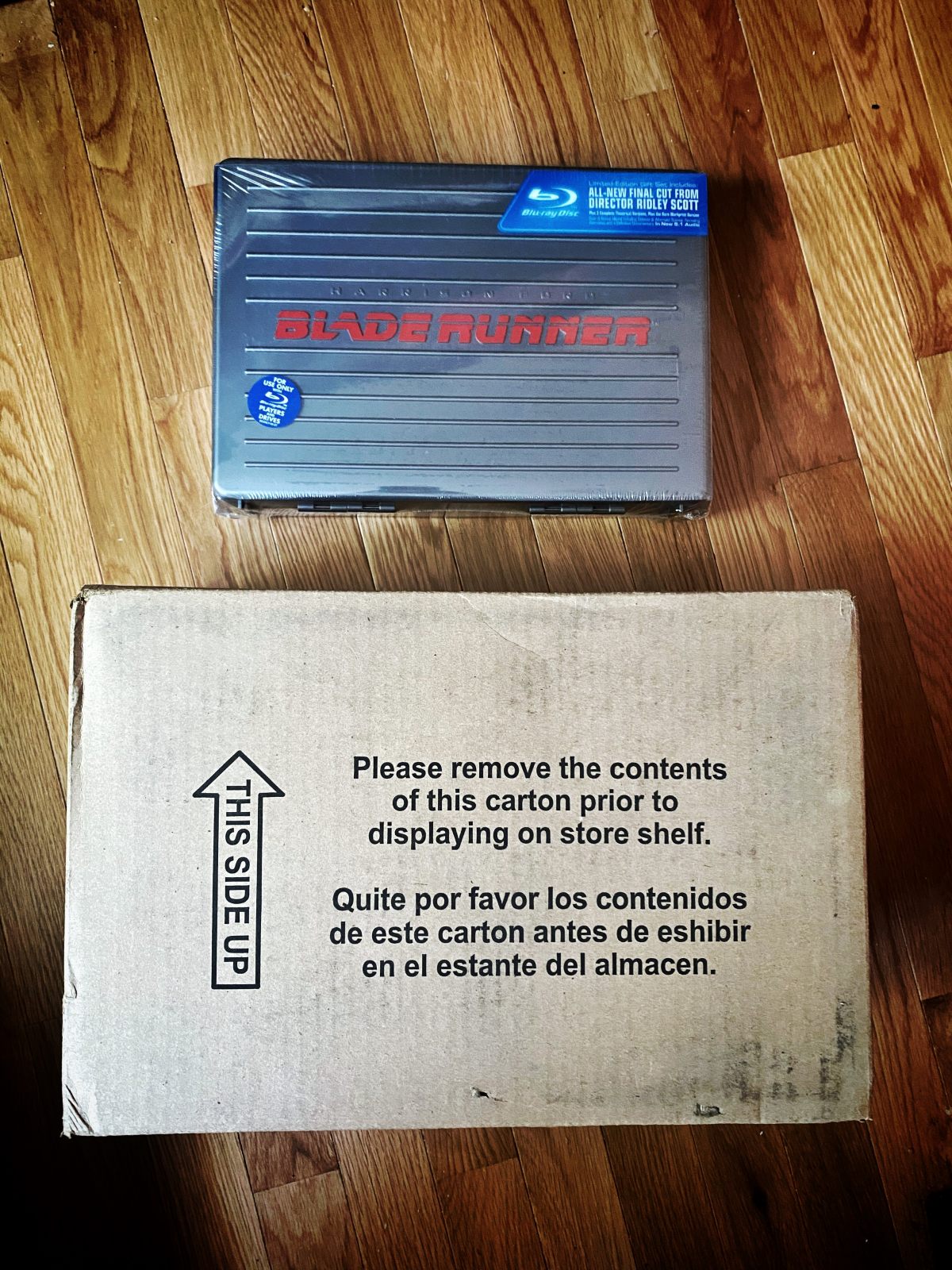 FACTORY-SEALED 5-DISC BLADE RUNNER BLU-RAY SET
"In 1982, the dark and dystopian fictional future of BLADE RUNNER's 2019 seemed like a far-off cyberpunk nightmare that would never come to pass. Nearly 25 years later, when I was collaborating with a small army of talented, hard-working humans in creating the film's Final Cut and its in-depth "making of" content, the world had changed enough that 2019 almost seemed like it would be a fun place to visit. Now, having witnessed almost half of our real (and decidedly hellish) 2020, I'd say that BLADE RUNNER was a cautionary tale that few people in charge actually heeded. I'm not sure there's any truly appropriate commentary I'm clever enough to make at this moment in connecting a sci-fi cult classic with what's happening in our streets, in our hospitals, in our homes. But if you love the film -- or if you haven't even seen it -- this mint, factory-sealed, out-of-print Ultimate Collector's Edition (with five versions of the film, a three-and-a-half hour documentary, 47 minutes of deleted and alternate scenes, etc.,) is worth your time if you have it to spare, and is my humble offering in the hopes of raising a few bucks for a very important cause." - Charles de Lauzirika, documentarian
SIGNED FALLOUT 4 SWAG HIDDEN IN A CEREAL BOX
"This limited edition commemorative t-shirt packaged in a novelty in-world FALLOUT 4 Sugar Bombs cereal box was distributed only at the official Fallout 4 Launch Party. This special piece of Fallout history will arrive to you signed by numerous members of the star-studded cast, including: Courtenay Taylor - "Nora", Brian T. Delaney - "Nate", Courtney Ford - "Piper", Katy Townsend - "Cait", Peter Jessop - "Paladin Danse", Noshir Dalal - "Knight Rhys", lead performance director Kal-El Bogdanove, Matt Mercer and more!" - FALLOUT 4 lead performance director Kal-El Bogdanove
LIMITED KARL FITZGERALD STAR WARS POSTER
"This is a rare screenprint Karl Fitzgerald did as part of a private commission back in 2016 (only 75 copies). This was before the suits and lawyers were aware of the project (the plan was the whole of the original trilogy) so unlike the other STAR WARS prints he's done, this one actually has a credit block. There is little bit of Gorilla Grip on this, so if you are hardcore poster nerd you should be aware of that. I don't think it should be visible once framed. It's lived in my flat file for the past 4 years, so I would rather see it do some good." - film editor Chris Tonick
_________________
PRIZE BUNDLE #3 Includes:
MIXTAPE MASSACRE - THE WHOLE BLOODY AFFAIR BUNDLE
"For when you want it all...You get both games, both expansions, and all the boosters packs! MIXTAPE MASSACRE is a tabletop board game where up to 6 players play as slasher archetypes or survivors in a fictional 1986 killing spree to be remembered. With tons of jokes and references to 1980's pop-culture and horror tropes – MIXTAPE MASSACRE will have you and your friends laughing while you're slashing all game night!" - Brightlight Media creative director Freddie Carlini
JOCK'S STUNNING CANNIBAL HOLOCAUST POSTER
"Thank you for supporting Black Lives Matter and fighting for racial equality and confronting police brutality. It's been so disheartening and excruciating to see the amplification of racial inequity in the last four years particularly, and in this house we stand for Black lives, an overhaul of our country's police departments, and ensuring in any way we can that we're using our privilege to move towards a radical change. In this house we also buy a lot of posters we never hang up! Years ago my husband bought this gorgeous Mondo CANNIBAL HOLOCAUST poster by Jock. He never hung it up, and so it has waited patiently in its cardboard tube for its forever home. Now that home is yours! It would probably not look good hanging over our baby's crib, but I bet it's going to look awesome wherever you choose to hang it." - BMD contributor Kolleen Hoepfner (and Fritz Hoepfner)
KILLER KLOWNS FROM OUTER SPACE TEE
"Clowns (KLOWNS) are inherently scary. Whether they're from outer space, or a Stephen King novel, they're just plain creepy and unsettling. Wanna know what else is absolutely terrifying? Racism, blatant acts of injustice, and the murder of fellow human beings right before our eyes. That's real life. That's an American nightmare we need to wake up from. I know this T-shirt won't make a giant impact on the state of the world, but I sincerely hope it helps bring joy and happiness in some way." - Aaron Crawford, Cavitycolors
____________
PRIZE BUNDLE #4 Includes:
A ONE-YEAR SUBSCRIPTION TO FANGORIA
"A one-year subscription to FANGORIA means 400 pages of exclusive, never-online horror content from the biggest and most talented names in the genre. Fango is now a quarterly, and the winner of this prize will get a new 100-page issue of the magazine this coming fall, winter, spring and summer." - donated by Team FANGORIA
SIGNED POSTER FOR A DANNY DEVITO MOVIE WHICH DOES NOT EXIST
"In 2016 Todd Solondz made the film WIENER DOG, which I still haven't finished watching. Nevertheless, I was sent this poster, signed by both Solondz and my hero Danny DeVito. As you can see, the poster is a BANANAS riff for a fictional film named APRICOTS! made by Devito's character, Dave Schmerz. This is the best movie swag I ever received and it's not even close. Much as I love it, I am more than happy to send this to a better home. Also, I would have finished watching APRICOTS! were it a real film." - BMD editor-in-chief Evan Saathoff
OUT OF PRINT A BAND CALLED DEATH COLLECTOR'S SET
"Extremely rare and out of print copy of a special Blu Ray/7" Vinyl 45 made in support of the film A BAND CALLED DEATH. The Blu Ray is the entire official DHF release and the 45 is a re-pressing of the original pressing of POLITICIANS IN MY EYES and KEEP ON KNOCKIN. We only made a few of these and they immediately sold out. This item comes from my personal collection and only left its protective plastic cover less than half a dozen times, including for these pictures. It is in excellent condition. I receive a ton of emails each year about making more of these, so its in high demand." - BMD contributor James Shapiro
ONE OF THREE 2-DISC UNTIL THE LIGHT TAKES US SETS
"My partner, Aaron Aites, and I made this film about the early 90's Norwegian black metal uprising because we were fascinated by this group of young metal musicians who believed they could change the world. Right or wrong, whether you like their art and music, agree with the violence committed by many among their ranks, or even with the simple premise of our film - that those in power establish the dominant reality, which overrides any core truth that gets in its way - the fact that these guys did everything they could to reject co-option and set out to change that narrative was compelling. Aaron died in 2016, but he would absolutely join me in supporting the Black Lives Matter movement of today, just as he did while alive. I hope everyone stays as safe as possible while creating change, and does their best to take care of each other. Ram Dass said, "We are all just walking each other home." Thank you for doing what you can to walk our Black family home. And please wear masks!" - UNTIL THE LIGHT TAKES US director Audrey Ewell
_____________
PRIZE BUNDLE #5 Includes:
THE MEREDITH BORDERS FANGORIA COMPLETIONIST PACK
"I'm donating one copy each of FANGORIA Vol. 2 issues 1-7, every issue to date since we launched FANGORIA Vol. 2. Most of these collectible issues are out of print and Issue 1 in particular is nearly impossible to find. They include bylines by the likes of Jordan Peele, Paul Thomas Anderson, Barbara Crampton, Chuck Palahniuk, Tananarive Due, M. Night Shyamalan, Phil Nobile Jr. and yours truly, 100 pages in each issue of thoughtful, juicy, exclusive content that is not available anywhere online. Also included in this package: the limited edition poster by artist Zbigniew M. Bielak that subscribers received with Issue 1, and a limited edition enamel pin box set Fright Rags put out for FANGORIA's 40th anniversary. I will also write the recipient a cute note with stickers. Does that sweeten the pot at all?" - FANGORIA managing editor Meredith Borders


AUTOGRAPHED COPY OF THE LADY FROM THE BLACK LAGOON
"I'm donating a signed paperback of my book THE LADY FROM THE BLACK LAGOON. Thanks to the dystopian pandemic hellscape we're in, I won't be doing signings for a long time, so this is a rare chance to get a signed book from me! I'm donating it because Black lives fucking matter." - LADY FROM THE BLACK LAGOON author Mallory O'Meara
DANIEL DANGER'S HARD-TO-FIND DOCTOR STRANGE POSTER
"Back in 2007, when "pop culture art shows" were a fairly new concept not yet worn to the nub, I was invited by Gallery 1988 to do a piece for a tribute to Stan Lee, a childhood hero of mine. So much so that I actually worked on a four-month research project on Stan Lee Vs The Comics Code in the 8th grade as part of National History Day competition and got to the "State finals" where the judges took one disinterested look at my huge elaborate display about the attempted censorship of 1970s Spiderman comics and moved on. Twelve years later, before the opening at G1988, I was given the chance to spend some time with Stan, and I relayed this story and asked him to sign my copy of Amazing Spiderman #97, which my mother had surprised me with after finishing the project. He called me a hotshot and punched me. Its still one of the highlights of my life. This print has always meant a considerable amount to me, as both a validation of how far I had come for him to even be standing next to my work in a gallery, and as a starting point of my work for the years to come." - artist Daniel Danger
_________________
REMINDER: THIS IS ONLY ONE-THIRD OF OUR PRIZE BUNDLES!