The BMD Black Lives Matter Fundraiser: Part Two
Help us raise money for the #BlackLivesMatter movement, maybe win some exceptionally cool stuff.
A few years ago, the BMD readership helped us raise over $10K for the good folks at the Texas Civil Rights Project. We launched that fundraiser in response to the horror we felt upon seeing immigrant families torn apart upon crossing the Texas border, and were both humbled and awed by the overwhelmingly generous response from BMD readers. Now, two years later, and in the midst of yet another horrific crisis, we're asking for your help again.
This week, BIRTH.MOVIES.DEATH. is raising money for #BlackLivesMatter (via ActBlue Charities). For any readers who are unfamiliar with the BLM movement, here's how the foundation describes itself:
#BlackLivesMatter was founded in 2013 in response to the acquittal of Trayvon Martin's murderer. Black Lives Matter Foundation, Inc is a global organization in the US, UK, and Canada, whose mission is to eradicate white supremacy and build local power to intervene in violence inflicted on Black communities by the state and vigilantes. By combating and countering acts of violence, creating space for Black imagination and innovation, and centering Black joy, we are winning immediate improvements in our lives."
The fact of the matter is, our country is sick with racism. This sickness has been at the heart of things for as long as anyone reading this has been alive, and it's once again found itself at the forefront of our national conversation following the on-camera murder of George Floyd (along with a healthy reminder about police brutality, the unchecked militarization of our police forces, and the institutional corruption that continues to allow these elements to feed off one another). We know all too well that a fundraiser on a movie blog won't cure this country of what ails it, but we can help bring visibility to the issue, and we can leverage the platform we have to do a tangible good for an organization that works every day to combat the problem.
We're asking you to join us in that endeavor.
Much like the raffle/fundraiser we held for the Texas Civil Rights Project, this one features a number of giveaway prizes, each one donated by members of the BMD staff, colleagues from other websites, artists, collectors, screenwriters, authors, and various other friends who wished to help out. The sheer number of people who kicked something in has necessitated that we group these prizes into bundles, and each one is pretty goddamn cool. We've got signed memorabilia, limited edition vinyl, game bundles, screenprints, one-sheets, rare books - all kinds of stuff. By making a minimum $25 donation to #BlackLivesMatter between now and Wednesday, June 10th (cutoff: Noon, CDT), you will be entered to win one of these prize bundles.
We'll get to the prizes in a moment. First, here's how all this is gonna work:
Go to BlackLivesMatter.com.
Click "Donate" in the top-right corner of the homepage.
Donate a minimum of $25.
Make sure you enter your current shipping address when prompted to do so.
Once your donation has been processed, you will receive an email containing a receipt that looks like this:
Forward your donation receipt from ActBlue Charities (not a screencap) to [email protected].
Next Wednesday (June 10th), we will randomly select 15 entries from that inbox as winners.
Each winner will be randomly assigned a number between 1 and 15.
If you are selected, you will hear from us on the morning of Thursday, June 11th.
Winners will be contacted in the order of the numbers assigned to them. #1 will get first pick from the prize bundles, #2 will get second pick, and so on. All the way down the list, until all bundles have been claimed.
Prizes will be shipped directly from those who donated them, which means bundles may arrive in separate shipments.
This fundraiser is open to everyone. Worldwide.
You may be wondering what happens if you donate more than $25. Totally understandable! You can donate as much as you'd like: each forwarded $25+ donation receipt we receive will count as one entry in the giveaway. If you want to donate $100 across four separate donations, thus entering the giveaway four times - great! Want to donate $1,000 and enter yourself 40 times? Also fine. (Note: All winning entries will be cross-checked against all other entries to ensure that no duplicate entries have been made; anyone caught doing that will be immediately disqualified). As long as your entries are separate, you're good (this is to ensure that each entry has the same "weight"). The idea here - the most important thing here - is to raise as much money as possible, and we don't want to inhibit that. Furthermore, we want you to feel like you have some control over your odds of collecting the exact prize bundle you want.
Now. A word about these prize bundles. There are fifteen of them. Some of them contain only one prize; some of them contain a variety of prizes. The idea was to bring some balance to the thing, and to acknowledge that some of these prizes are, quite frankly, rarer than others. Why are they split across multiple pages? Well, the problem we ran into while initially building this fundraiser was: our back-end did not allow us to include every prize on one page. The BMD back-end is ancient and weak (feeble, even) and, as a result, we had to spread the damn thing across THREE SEPARATE PAGES. Believe us when we say this choice was not made voluntarily - it was made after our Managing Editor, Scott Wampler, spent 7 hours on Monday plugging everything into the system, only to have our back-end delete the whole thing. You've never seen someone so Mad Online.
Anyway, all of this is to say that what you're looking at on this page is only one-third of our fundraiser. The rest will appear on two separate pages: here's PART ONE and here's PART THREE. Your donations/entries will be going towards all fifteen of these prize bundles, not just the ones you see on this page. We know this is not ideal, but we gotta work with what we got, and do hope that you'll work with us in the same way.
Now. With all of that said, let's see what our friends donated.
PRIZE BUNDLE #6 Includes:
LITERALLY A STOLEN PIECE OF THE STUDIO 60 ON THE SUNSET STRIP SET, A STUDIO 60 ON THE SUNSET STRIP SCRIPT, AND A FIVE-MINUTE SCRIPT READING FROM STUDIO 60 ON THE SUNSET STRIP STAR NATE CORDDRY VIA ZOOM (YES, REALLY)

"Donating the stolen piece of set decoration I literally ripped from a wall on my last day of shooting on Stage 19 at Warner Bros in 2007. It was up from the pilot til the final episode in a hallway in the main theater set. It has lived in my garage for 13 years. Time for it to live in YOURS! (26 inches in diameter). I'm also including my shooting script from an early episode, which includes my highlighted lines. Just imagine young Nate pouring over these words, feeling how IMPORTANT this show was going to be. Wink emoji. Then, as an added bonus, should this go to one of the 11 die hard STUDIO 60 fans on Earth, I will personally read any 5-page scene from any episode with you via Zoom. (yes, even the "they're called sketches" scene)." - STUDIO 60 star Nate Corddry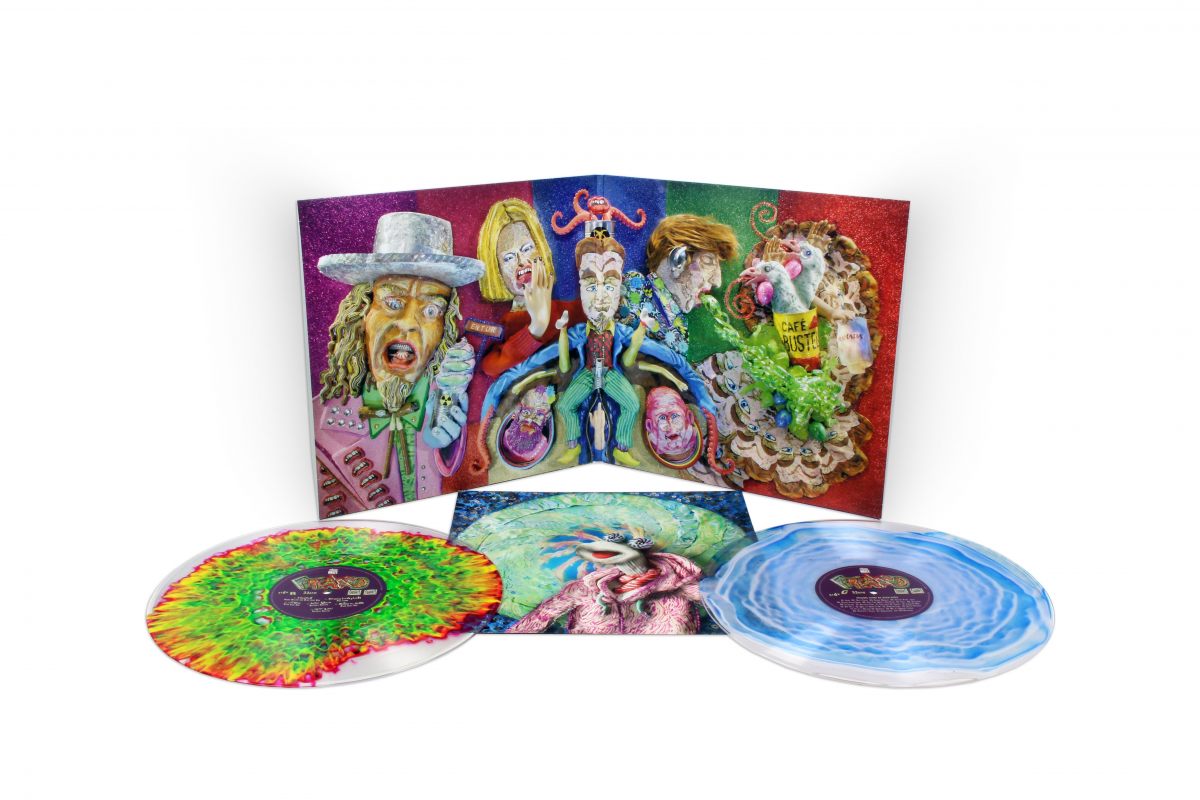 UNREASONABLY LIMITED EDITION OF THE FREAKED SOUNDTRACK ON VINYL
"Earlier this year we pressed a never-before-released soundtrack to the 1993, punk rock comedy FREAKED. Directed by Alex Winter and Tom Stern, this release took over 20 years to make a reality due to rights issues and general disinterest from major corporations. When we finally did get it on the presses, we decided to be celebratory about it and press a super limited amount of copies for the crew of filmmakers, and to entice people to show up to a reunion screening. 25 is the magic number. Between all the ones that were given out, and the copies that now reside in the hands of the creators, only about 2-3 of these remain without a home. We'd like you to be one of them." - Mo Shafeek, Mondo Creative Director (Music Division)
ONE IMPOSSIBLE-TO-FIND DANGEROUS MEN PROMO CASSETTE TAPE
"These cassette tapes were only manufactured to be given out as a promotional item for everyone who attended the secret screening of DANGEROUS MEN at Fantastic Fest 2015. It is a fully functional cassette tape of the theme song that was not available for purchase anywhere. You just had to be one of the lucky folks who went to a secret screening and then watched DANGEROUS MEN. The film is the holy grail of Holy Fucking Shit movies and feels like it was beamed in from another dimension. I have three still sealed and they were never used. The cassettes were made in partnership with Mondo." - BMD contributing writer James Shapiro
_______________
PRIZE BUNDLE #7 Includes:
SIGNED YOU'RE NEXT POSTER & AN OFFICIAL YOU'RE NEXT MASK
"I am so saddened by the pain of lives lost due to police brutality. The horrible death of George Floyd has touched everyone, black or white, who has a heart and soul. This should not have happened. Yet things like this keep happening. We all need to help end violence and racism. We need more care, love, respect and justice for those who have been wronged by an unequal system. I offer these items from a film that means a lot to me and I hope they will make a genre fan happy. Mint condition original poster and mask signed by me, from YOU'RE NEXT. My family in this film turned on my character and members of their own family for their own selfish desires. But the real truth is that no one can ultimately win with greed and violence. Things will surely end badly for all, as they did in our story. We have a chance to make things better in our own real life. We MUST do better. We are one human family and we must treat everyone with honor and dignity so that all can feel safe and have the opportunity to live a prosperous life Black Lives matter..." - YOU'RE NEXT star and absolute horror legend Barbara Crampton
AUTOGRAPHED COPY OF THE POST SCRIPT & AND POSTER (ALSO AUTOGRAPHED!)

"We are donating a signed copy of the final shooting script of THE POST as well as the original teaser poster for the film. We stand with the principles of Katharine Graham and Ben Bradlee: it is the duty of us as a people to tell truth to power; to stand up to bullies, whatever House they might live in. Systemic racism and the brutal police misconduct we've continually seen needs to be eradicated immediately. It is long overdue. This country needs to be led by people willing to address and confront the hundreds of years of discrimination and violence Black people have been unlawfully and inhumanly subjected to. Black Lives Matter." - THE POST writers, Liz Hannah & Josh Singer

ONE-OF-A-KIND, AUTOGRAPHED COPY OF OUR LADY OF THE INFERNO
"This is a one-of-a-kind proof copy of FANGORIA's OUR LADY OF THE INFERNO. When the text was initially sent to the printer, they accidentally re-formatted it. I had to go through the book page-by-page and notate what needed to be re-italicized, paragraph breaks that needed to be fixed, etc., as well as conducting a final copy-edit to correct misspellings and missing words. This copy contains all of my annotations and is the hard-copy I gave to art director Ashley Detmering to fix the text before the final copies were printed. I have also autographed it and authenticated it for this auction. When I wrote the book, I wanted to accomplish a few things. One was to memorialize the fictional version of the 1980s I'd cooked up in my head watching old horror movies as a teenager. The other was to effect some positive change in the world- I wanted to create more places for women in the horror community by writing interesting, multidimensional roles and providing representation to types of individuals not usually seen in horror. It only seemed appropriate that this copy of the book go to benefit some worthy cause; and I can't imagine a more worthy cause right now." - OUR LADY OF THE INFERNO author Preston Fassel
AUTOGRAPHED NATURAL BORN KILLERS PRINT
"This NATURAL BORN KILLERS print features imagery from the animated sequence in the 1994 film and is signed by Oliver Stone. I'm actually regifting it—a friend gave me this print for my birthday a while back, and I never got around to having it framed. I love NATURAL BORN KILLERS, and Stone's cynical satire of the sensationalism (and fetishism) of violence in the media—particularly as it pertains to white criminals, often painted as fascinating anti-heroes through whom a largely white male viewership can live vicariously—just as relevant today as it was in 1994, if not more so. I'm happy to contribute this item in an effort to drive more donations to Black Lives Matter. While money cannot assuage generations of racist violence, trauma, and righteous anger, I hope it helps someone right now in a way my words cannot." - BMD contributing writer Britt Hayes
______________
PRIZE BUNDLE #8 Includes:
EXTREMELY RARE COPY OF A STAR WARS POSTER WITH A HUGE WHOOPSIE ON IT
"Several years back, the good folks at Bottleneck Gallery NYC released a helluva STAR WARS Trilogy poster, beautifully rendered by the incomparable Gabz. When it came time to run test prints, the printer discovered that a surprising error had somehow made its way through production: the poster had the wrong dang tagline on it! This printer's proof copy of that mistake print is incredibly rare: never sold, never made available (or shown, as far as I can tell) to the public. In all likelihood, only a few avoided getting destroyed. I have long made a habit of collecting weird, one-off prints like this, and this is one of my crown jewels. I hope someone with a taste for ultra-obscure STAR WARS memorabilia snags it, and that they give it a very loving home. Also, fuck the police." - BMD managing editor Scott Wampler
EVERY DAMN MOVIE DREAD CENTRAL HAS EVER RELEASED ON BLU-RAY (INCLUDING, YES, LASSO)
"We as a society are long past taking meaningful action on this issue. Many of us have seen this injustice with our own eyes and cannot remain silent. Far too many fans, filmmakers, artists, business owners, family members, friends, neighbors, and colleagues are suffering. People that we know and love need us to stand with them. Standing up to injustice does not mean you also stand for looting and rioting. The two are not mutually exclusive and many who say otherwise want to freeze you into inaction. It's our hope that our contribution here helps in some way to begin healing and making real and lasting change. Engage, Listen, Understand, Act." - Dread Central's Jon Condit
MONDO'S HIGHLY COVETED THE HOLY MOUNTAIN POSTER (BY FLORIAN BERTMER)
"For the Black Lives Matter giveaway, I'm donating one of Mondo's trippier posters from my collection, Florian Bertmer's interpretation of Alejandro Jodorowsky's THE HOLY MOUNTAIN. This 2010 print is hand-numbered (44/125) and has been sold out for a decade. There's a little crinkle damage on the back of the print, but it doesn't show up on the art at all. Good luck!" - Eric Vespe, co-host of THE KINGCAST Podcast
_______________
PRIZE BUNDLE #9 Includes:
MONDO'S IRON MAN POSTER (BY KEVIN TONG)
"So this Kevin Tong IRON MAN print from Mondo's AVENGERS series was the first Marvel-related print I was lucky enough to get. But it feels appropriate to give this one away, as THE AVENGERS was all about a group of people coming together for a greater good. Sure, that's decidedly corny -- but I've got to believe the only way we're going to make it through all of this is together, united as one. It's hard to hold onto optimism during times like these, but if a self-described billionaire, playboy, and philanthropist can learn what it means to sacrifice for the greater good maybe others can too." - William Goodman, freelance writer
SIGNED FALLOUT 4 SWAG HIDDEN IN AN OVERSIDE BOX OF CLEANER
"This limited edition commemorative t-shirt packaged in a novelty in-world FALLOUT 4 Abraxo Cleaner box was distributed only at the official FALLOUT 4 Launch Party. This special piece of Fallout history will arrive to you signed by numerous members of the star-studded cast, including: Courtenay Taylor - "Nora", Brian T. Delaney - "Nate", Courtney Ford - "Piper", Katy Townsend - "Cait", Peter Jessop - "Paladin Danse", Noshir Dalal - "Knight Rhys", lead performance director Kal-El Bogdanove, Matt Mercer and more!." - FALLOUT 4 lead performance director Kal-El Bogdanove
BLOOD-STAINED SHAUN OF THE DEAD CRICKET BAT
"Attached is a picture of a cricket bat that was a promotional item for Rogue Pictures' SHAUN OF THE DEAD. It was given to me by a friend of mine who managed a movie theater out in Bee Cave, TX. It was stained with fake blood and is a real cricket bat, so it's quite heavy. Perfect for movie lovers, sports fans, and home security." - Brian Salisbury, co-host of the JUNKFOOD CINEMA Podcast
__________________
PRIZE BUNDLE #10 Includes:
THE PHIL NOBILE JR. HORROR NERD STARTER PACK
"From my house you get: A hardcover copy of GHOULISH: THE ART OF GARY PULLIN by April Snellings. Gary is one of my absolute favorite artists out there, and this book is a glorious presentation of his work. Signed!; A copy of the occasionally out-of-print HORROR NOIRE: BLACKS IN AMERICAN HORROR FILMS FROM THE 1890s TO PRESENT by Dr. Robin R. Means Coleman. This is an essential text (don't worry; I still have my copy) and is of course the basis of the Shudder documentary of the same name; The increasingly rare mini-FANGORIA published for last year's Fantasia Film Festival, with articles by Michael Gingold, Heather Buckley, Kier-La Janisse and others; This amazing TEXAS CHAINSAW magnet set from Pseudo Ludo, featuring depictions of every(ish) Leatherface and a few reimaginings. And Gunnar Hansen. Something about this franchise just lends itself to outsider folk art, and I love stuff like this; And, finally, an out-of-print 24" x 36" WOLF MAN poster, created for Mondo by Laurent Durieux. Hand-numbered, from an edition of 380. Never found the space for it; still in the tube! Thanks to BMD for organizing this. I'm proud and grateful that they're providing this giveaway as a nexus for what I know is a huge, shared urge to help out right now." - FANGORIA editor-in-chief Phil Nobile Jr.
INSANELY RARE, BOOTLEGGED DOOM SOUNDTRACK ON VINYL
"I'm a huge collector of vinyl soundtracks, especially video game stuff. The crown jewel of my collection is this unofficial bootleg version of the music to 1993's game DOOM. Every track is a banger, and if you sunk the time into it that I have over the years, each note just shoots every ounce of dopamine into your brain with a shotgun. But it is up for sale today because it is probably the most expensive record I own. This pressing, one of only two releases from this European label NightTremors, is limited to only 100 hand-numbered copies. This bootleg was a labor of love and it sounds fantastic. It is literally impossible for you to get it anywhere else. You are bidding on a legitimately priceless item. Give it a good home. [P.S. The police are bad.] - Brock Wilbur, editor-in-chief of The Pitch KC
ONE OF THREE 2-DISC UNTIL THE LIGHT TAKES US SETS
"My partner, Aaron Aites, and I made this film about the early 90's Norwegian black metal uprising because we were fascinated by this group of young metal musicians who believed they could change the world. Right or wrong, whether you like their art and music, agree with the violence committed by many among their ranks, or even with the simple premise of our film - that those in power establish the dominant reality, which overrides any core truth that gets in its way - the fact that these guys did everything they could to reject co-option and set out to change that narrative was compelling. Aaron died in 2016, but he would absolutely join me in supporting the Black Lives Matter movement of today, just as he did while alive. I hope everyone stays as safe as possible while creating change, and does their best to take care of each other. Ram Dass said, "We are all just walking each other home." Thank you for doing what you can to walk our Black family home. And please wear masks!" - UNTIL THE LIGHT TAKES US director Audrey Ewell
_____________
REMINDER: THIS IS ONLY ONE-THIRD OF OUR PRIZE BUNDLES!