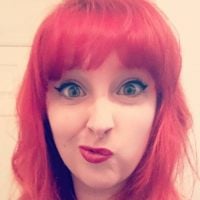 Amelia Emberwing
Join Date: Nov 22, 2016 • Last Entry Date: Feb 17, 2019 • Articles: 379
Amelia loved many things as a kid, but Harry Potter and Batman were what really brought her in to the world of fandom. Her tastes are eclectic and she firmly believes that one doesn't have to choose between Marvel and DC or Star Wars and Star Trek. Charities and well developed female characters are the way to her heart, and she survives on a steady IV of caffeine, rants, pixie dust and fangirling. Connect with her on Twitter @BrowncoatAuror!
Every single member of the DCTV universe wishes they were as brave as Iris West Allen.

It's murder chili time! In an episode about murder!

Saving people, hunting things, Christ, where are my tissues?!

I ship it. I ship all of it.

Do the ends justify the means?

So, when do we get to watch this documentary?

*Aggresively screams the lyrics to "Carry On My Wayward Son"*

No one's innocent in Crime Town.

We see your OG Killer Frost sweater, Caity!

You know what they say about the sins of the father.