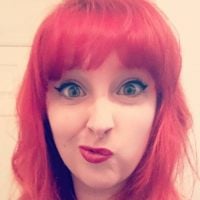 Amelia Emberwing
Join Date: Nov 22, 2016 • Last Entry Date: Jun 18, 2018 • Articles: 285
Amelia loved many things as a kid, but Harry Potter and Batman were what really brought her in to the world of fandom. Her tastes are eclectic and she firmly believes that one doesn't have to choose between Marvel and DC or Star Wars and Star Trek. Charities and well developed female characters are the way to her heart, and she survives on a steady IV of caffeine, rants, pixie dust and fangirling. Connect with her on Twitter @BrowncoatAuror!
They never showed Brainy a single Star War!

If you're in the Denver area, don't miss this!

"This planet is my son's home. I intend to save it with him"

Goodbyes are hard, even if they're just a "see you later"

In which Mon-El casually heals a child and leaves a miracle cure in his hands like it's nothing.

"They're super, I'm just Guardian."

Turns out all that wheel spinnin' actually had a point!

Riverdale High is for everyone.

How you gonna sqaunder that much talent, STAR WARS?