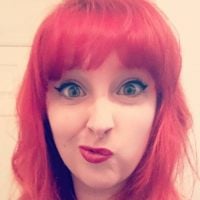 Amelia Emberwing
Join Date: Nov 22, 2016 • Last Entry Date: Oct 15, 2019 • Articles: 456
Amelia loved many things as a kid, but Harry Potter and Batman were what really brought her in to the world of fandom. Her tastes are eclectic and she firmly believes that one doesn't have to choose between Marvel and DC or Star Wars and Star Trek. Charities and well developed female characters are the way to her heart, and she survives on a steady IV of caffeine, rants, pixie dust and fangirling. Connect with her on Twitter @BrowncoatAuror!
The beginning of the end.

In which Supergirl punches a T-Rex in the face.

What happens when your hero and the person you blame for your biggest trauma turn out to be the same person?

The demons have joined the streaming war.

A living legend gets the documentary he deserves.

The biggest feud of every wrestler's career is the one with their physical limitations.

A better hand at humor would have made this so much better.

Check out LUCHA UNDERGROUND, too, while you're at it.