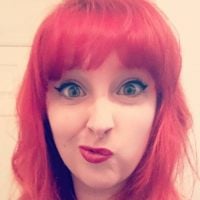 Amelia Emberwing
Join Date: Nov 22, 2016 • Last Entry Date: Sep 24, 2018 • Articles: 307
Amelia loved many things as a kid, but Harry Potter and Batman were what really brought her in to the world of fandom. Her tastes are eclectic and she firmly believes that one doesn't have to choose between Marvel and DC or Star Wars and Star Trek. Charities and well developed female characters are the way to her heart, and she survives on a steady IV of caffeine, rants, pixie dust and fangirling. Connect with her on Twitter @BrowncoatAuror!
Neil Gaiman fears no God!

Alright, boy scout, you've got us.

Our pain is our origin story.

And Danny gets a pretty neat mask.

Not surprising, but delightful all the same.

We won't let a little thing like not being open yet keep us from throwing a party!

The hero for hire seems to have found himself lost.