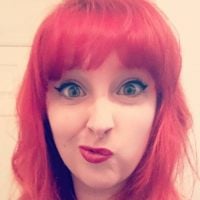 Amelia Emberwing
Join Date: Nov 22, 2016 • Last Entry Date: Feb 21, 2019 • Articles: 380
Amelia loved many things as a kid, but Harry Potter and Batman were what really brought her in to the world of fandom. Her tastes are eclectic and she firmly believes that one doesn't have to choose between Marvel and DC or Star Wars and Star Trek. Charities and well developed female characters are the way to her heart, and she survives on a steady IV of caffeine, rants, pixie dust and fangirling. Connect with her on Twitter @BrowncoatAuror!
You know what they say about the sins of the father.

Her boyfriend's back and it's gonna be real awkward (hey la, hey la!)

We didn't ask for these emotions.

Ronnie at least had the decency to wait a month or so.

Criminally, the term "fambly" is not used once.

We're going back to Gotham, fam.

Because the mask always fits eventually.

And a step in the right direction with Susie and Rosalind.