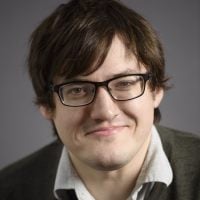 Gaming Editor
Andrew Todd
Join Date: Jan 06, 2014 • Last Entry Date: Mar 17, 2020 • Articles: 956
Andrew is a New Zealand-born writer, filmmaker, and theatre practitioner living in Montréal. He can be read at Birth.Movies.Death., SlashFilm, IGN, Polygon, and elsewhere. His favourite movie is MIRACLE MILE, his favourite band is the Manic Street Preachers, and his favourite commenters are the ones who read the article first.
An end-of-the-world scenario you can actually control, for once.

2017's best game finds a bigger audience.

Please let it be theatrical.

Another domino in the entertainment-industry event calendar.

Takeshi Kovacs gets an upgrade in Netflix's handsome sci-fi series.

Takeshi Kovacs returns. That's what he does.

And we wish we could stop writing about it.

The first of many Netflix/Dahl shows.

What to expect when you're expecting horror's THE ROOM.