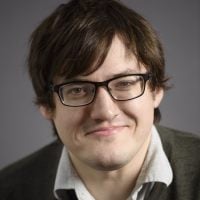 Gaming Editor
Andrew Todd
Join Date: Jan 06, 2014 • Last Entry Date: Jan 18, 2019 • Articles: 784
Andrew is a New Zealand-born writer, filmmaker, and theatre practitioner living in Montréal. He can be read at Birth.Movies.Death., SlashFilm, IGN, Polygon, and elsewhere. His favourite movie is MIRACLE MILE, his favourite band is the Manic Street Preachers, and his favourite commenters are the ones who read the article first.
A strong tonal reboot for, hopefully, a strong second season.

Dan Trachtenberg will direct Tom Holland as Nathan Drake...eventually.

Plus, a deviation into the country's domestic abuse problem.

Using the Old West to talk about the Dutch East.

This show can't come out soon enough.

Amanda Ripley is back - and smaller than before.

An embarrassment of cinematic riches.

Of spiders, raccoons, bears, and more.