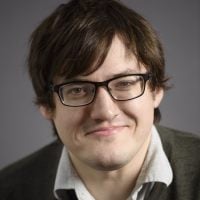 Gaming Editor
Andrew Todd
Join Date: Jan 06, 2014 • Last Entry Date: Jan 23, 2020 • Articles: 920
Andrew is a New Zealand-born writer, filmmaker, and theatre practitioner living in Montréal. He can be read at Birth.Movies.Death., SlashFilm, IGN, Polygon, and elsewhere. His favourite movie is MIRACLE MILE, his favourite band is the Manic Street Preachers, and his favourite commenters are the ones who read the article first.
CBS' new TREK title makes it so, but takes it slow.

Get ready for the deep grief of "species loneliness."

David Bowie's legacy stretches far beyond his music.

CATS' problems run far deeper than shonky visual effects.

The perils of writing a script through reverse engineering.

This article is not exclusively about STAR WARS. (Mostly, though.)

Plus a lengthy appreciation for his favourite franchise.

Get ready to ejaculate fire.

Culled from many more than ten.