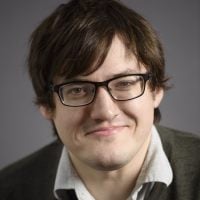 Gaming Editor
Andrew Todd
Join Date: Jan 06, 2014 • Last Entry Date: May 19, 2019 • Articles: 843
Andrew is a New Zealand-born writer, filmmaker, and theatre practitioner living in Montréal. He can be read at Birth.Movies.Death., SlashFilm, IGN, Polygon, and elsewhere. His favourite movie is MIRACLE MILE, his favourite band is the Manic Street Preachers, and his favourite commenters are the ones who read the article first.
Id and Avalanche team up for a game with no clear identity.

Teen idol, indie darling, and now superhero.

A project based on the Christchurch mass shooting raises thorny issues.

Marvel finally lets its characters react to trauma - for a bit.

Guns and government in a slowly-refilling swamp.

Another uncompromising melee masterpiece from From.

A weak season finale with a strong setup for Season 3.

Possibly the most insane episode of this show yet. But there's plenty of competition.

"The Fuckbox" is one of the less weird things in Claire Denis' English-language debut.

Is this DISCOVERY's most controversial plot twist yet?