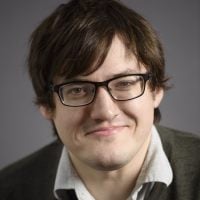 Gaming Editor
Andrew Todd
Join Date: Jan 06, 2014 • Last Entry Date: Aug 13, 2019 • Articles: 883
Andrew is a New Zealand-born writer, filmmaker, and theatre practitioner living in Montréal. He can be read at Birth.Movies.Death., SlashFilm, IGN, Polygon, and elsewhere. His favourite movie is MIRACLE MILE, his favourite band is the Manic Street Preachers, and his favourite commenters are the ones who read the article first.
A more narrative-driven film this time, perhaps.

Busting ghosts ever so gently.

The South Korean "MMA plus exorcisms" film isn't quite what you'd expect.

An intriguing piece of drama as cultural criticism.

A hilarious and bloody "f***-you" to the 1%.

Jennifer Reeder's new film is a cult favourite in the making.

Better CATS' side of the Uncanny Valley than THE LION KING's.

Father, son, and holy shit.