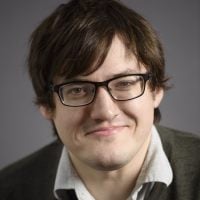 Gaming Editor
Andrew Todd
Join Date: Jan 06, 2014 • Last Entry Date: Dec 07, 2018 • Articles: 768
Andrew is a New Zealand-born writer, filmmaker, and theatre practitioner living in Montréal. He can be read at Birth.Movies.Death., SlashFilm, IGN, Polygon, and elsewhere. His favourite movie is MIRACLE MILE, his favourite band is the Manic Street Preachers, and his favourite commenters are the ones who read the article first.
Let us guide you through the Game Awards' advertising onslaught.

Taking on an issue close to many film-lovers' hearts.

The bloody Scottish maniacs!

How does "Meal Ticket" connect to the Coens' own meal ticket?

A spoonful of seawater helps the medicine go down.

No financial worries for the rest of Disney's days.

Not a great movie, but a movie with REALLY good "good bits."

Bethesda nukes its own storytelling with a baffling series of design decisions.

Maybe it'll actually happen this time.

Can Ben Wheatley fill Alfred Hitchcock's shoes? Will he even try to?

Including one from THE GOOD PLACE's Megan Amram!