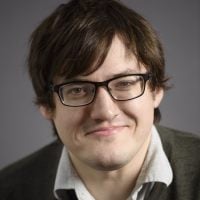 Gaming Editor
Andrew Todd
Join Date: Jan 06, 2014 • Last Entry Date: Sep 20, 2019 • Articles: 890
Andrew is a New Zealand-born writer, filmmaker, and theatre practitioner living in Montréal. He can be read at Birth.Movies.Death., SlashFilm, IGN, Polygon, and elsewhere. His favourite movie is MIRACLE MILE, his favourite band is the Manic Street Preachers, and his favourite commenters are the ones who read the article first.
The R-rated version of the 1993 kids' movie delivers.

A flawed but ambitious all-star follow-up to HER STORY.

Remedy's latest mind-bender goes a step further and bends reality itself.

Sometimes two Nazi-killers aren't better than one.

Singular madness from a Parisian nightlife icon.

A movie that feints at EVIL DEAD madness but doesn't go the distance.

A more narrative-driven film this time, perhaps.

Busting ghosts ever so gently.

The South Korean "MMA plus exorcisms" film isn't quite what you'd expect.

An intriguing piece of drama as cultural criticism.