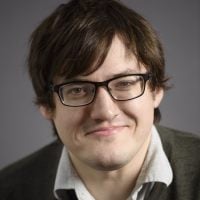 Gaming Editor
Andrew Todd
Join Date: Jan 06, 2014 • Last Entry Date: May 29, 2020 • Articles: 961
Andrew is a New Zealand-born writer, filmmaker, and theatre practitioner who sometimes lives in Canada. He can be read at Birth.Movies.Death., SlashFilm, IGN, Polygon, and elsewhere. His favourite movie is MIRACLE MILE, his favourite band is the Manic Street Preachers, and his favourite commenters are the ones who read the article first.
The movie is a year and $20 million away from existing.

Looks good to players; looks better to developers.

Calling on the world's most time-obsessed filmmaker to wait a little bit.

An end-of-the-world scenario you can actually control, for once.

2017's best game finds a bigger audience.

Please let it be theatrical.

Another domino in the entertainment-industry event calendar.