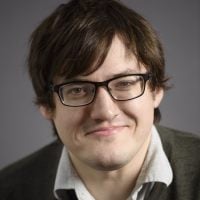 Gaming Editor
Andrew Todd
Join Date: Jan 06, 2014 • Last Entry Date: Feb 18, 2020 • Articles: 935
Andrew is a New Zealand-born writer, filmmaker, and theatre practitioner living in Montréal. He can be read at Birth.Movies.Death., SlashFilm, IGN, Polygon, and elsewhere. His favourite movie is MIRACLE MILE, his favourite band is the Manic Street Preachers, and his favourite commenters are the ones who read the article first.
"Ooh, ah" - that's how it always starts.

Scorsese's first Western will deal with Native American exploitation.

What's even better than remakes? Sequels to remakes!

Editing is a hell of a drug.

Get ready for more podcast-to-screen adaptations, too.

Our long Moranis drought is at an end.

Colin Trevorrow's leaked STAR WARS script raises interesting issues.

Is she playing Loki? Could be! Anyone could be.

Actors in glass houses shouldn't throw stones.

PARASITE's win is a big deal. Not all wins are.