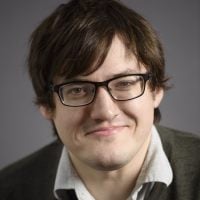 Gaming Editor
Andrew Todd
Join Date: Jan 06, 2014 • Last Entry Date: Jul 12, 2019 • Articles: 866
Andrew is a New Zealand-born writer, filmmaker, and theatre practitioner living in Montréal. He can be read at Birth.Movies.Death., SlashFilm, IGN, Polygon, and elsewhere. His favourite movie is MIRACLE MILE, his favourite band is the Manic Street Preachers, and his favourite commenters are the ones who read the article first.
Jesse Eisenberg's karate obsessive is one of his weirdest, finest roles.

Sadako must be tired by now. SADAKO definitely is.

Now out on Criterion Blu-ray, John Cameron Mitchell's musical still rocks.

A descent into madness, indeed.

Let's hope it's better material than JURASSIC WORLD 2.

The film that predicted Three Mile Island and affected the response to Chernobyl.

Can't set up an exclusion zone in a submarine.

A movie made by horror fans, for those same horror fans.

Neither exceptionally violent nor even remotely erotic.

Likeable characters face a sea of rodents in this gross, engrossing adventure.

See the short that propelled the Kiwi director to Hollywood.