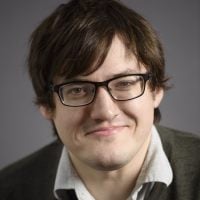 Gaming Editor
Andrew Todd
Join Date: Jan 06, 2014 • Last Entry Date: Jul 16, 2018 • Articles: 656
Ever played video games for so long your skin adhered to the couch?

Keith David chews scenery magnificently in this horror anthology followup.

Always erase and install when you buy a used computer.

Late nights can be killer.

Willis, Jackson, and McAvoy return.

The ANT-MAN movies give a refreshing alternative to movie cliches about families.

James Cameron's directing remains chef-kiss good in the mo-cap world.

A look through the dino-sequel's great, squandered concepts.

Choose your victims...or lack thereof.

Is Nintendo's portable console right for you?

The WHAT WE DO IN THE SHADOWS spin-off launches in New Zealand very soon.