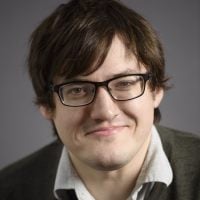 Gaming Editor
Andrew Todd
Join Date: Jan 06, 2014 • Last Entry Date: Sep 17, 2019 • Articles: 888
Andrew is a New Zealand-born writer, filmmaker, and theatre practitioner living in Montréal. He can be read at Birth.Movies.Death., SlashFilm, IGN, Polygon, and elsewhere. His favourite movie is MIRACLE MILE, his favourite band is the Manic Street Preachers, and his favourite commenters are the ones who read the article first.
Better CATS' side of the Uncanny Valley than THE LION KING's.

Father, son, and holy shit.

This ought to be uncontroversial.

The feel-good child soldier movie of the year.

What oddball delights will he bring to this one?

Which monosyllabic M-word will this one use for its title?

Game of Thrones, Mrs Maisel, and Chernobyl are the big dogs this year.

No loopholes for this guy.

Jesse Eisenberg's karate obsessive is one of his weirdest, finest roles.