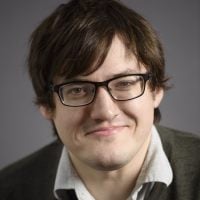 Gaming Editor
Andrew Todd
Join Date: Jan 06, 2014 • Last Entry Date: Dec 18, 2018 • Articles: 770
Andrew is a New Zealand-born writer, filmmaker, and theatre practitioner living in Montréal. He can be read at Birth.Movies.Death., SlashFilm, IGN, Polygon, and elsewhere. His favourite movie is MIRACLE MILE, his favourite band is the Manic Street Preachers, and his favourite commenters are the ones who read the article first.
Can Ben Wheatley fill Alfred Hitchcock's shoes? Will he even try to?

Including one from THE GOOD PLACE's Megan Amram!

"Whether we wanted it or not, we've stepped into a war with the Kaiju."

It's...as bizarre as you'd expect.

The Old West, in glorious, excruciating detail.

Netflix's first European first-look deal produces its first title.

Welcome to your new very-probable cinematic universe.

Melissa McCarthy stuns in Marielle Heller's caper-y new drama.

Probably not, but read our shareable content anyway.

The acclaimed WWI doc could hit worldwide cinemas this year.