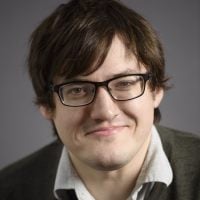 Gaming Editor
Andrew Todd
Join Date: Jan 06, 2014 • Last Entry Date: Mar 17, 2020 • Articles: 956
Andrew is a New Zealand-born writer, filmmaker, and theatre practitioner living in Montréal. He can be read at Birth.Movies.Death., SlashFilm, IGN, Polygon, and elsewhere. His favourite movie is MIRACLE MILE, his favourite band is the Manic Street Preachers, and his favourite commenters are the ones who read the article first.
Sign us up for this madness.

Bringing some of that SPIDER-VERSE magic to family togetherness.

A CEO steps down, an era ends, and we take stock of Disney.

Big news for directorial process nerds.

There could be a lot at stake for Lucasfilm here.

Yes, those are Academy Award winners George Clooney and Laura Dern.

If you like shopping at Best Buy.

Scorsese's first Western will deal with Native American exploitation.