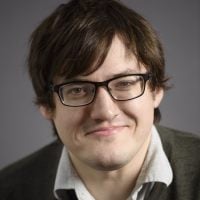 Gaming Editor
Andrew Todd
Join Date: Jan 06, 2014 • Last Entry Date: Feb 22, 2019 • Articles: 822
Andrew is a New Zealand-born writer, filmmaker, and theatre practitioner living in Montréal. He can be read at Birth.Movies.Death., SlashFilm, IGN, Polygon, and elsewhere. His favourite movie is MIRACLE MILE, his favourite band is the Manic Street Preachers, and his favourite commenters are the ones who read the article first.
Off to see the wizard, weekly, on television.

Let's hope they get it right.

Some people got no sense of humour.

It all comes down to these tough, tough choices.

Harrelson returns to playing a true detective.

There are many, many characters in this movie.

And it only requires a $2,295 Magic Leap headset!

Who could possibly replace John Hurt?

HBO's two-part documentary event is sure to polarize.

Turns out hiring notorious harassers has consequences.