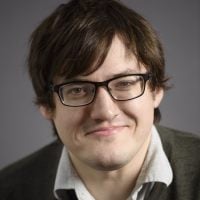 Gaming Editor
Andrew Todd
Join Date: Jan 06, 2014 • Last Entry Date: Aug 13, 2019 • Articles: 883
Andrew is a New Zealand-born writer, filmmaker, and theatre practitioner living in Montréal. He can be read at Birth.Movies.Death., SlashFilm, IGN, Polygon, and elsewhere. His favourite movie is MIRACLE MILE, his favourite band is the Manic Street Preachers, and his favourite commenters are the ones who read the article first.
The film that predicted Three Mile Island and affected the response to Chernobyl.

Can't set up an exclusion zone in a submarine.

A movie made by horror fans, for those same horror fans.

Neither exceptionally violent nor even remotely erotic.

Likeable characters face a sea of rodents in this gross, engrossing adventure.

See the short that propelled the Kiwi director to Hollywood.

Game looks spectacular; faces don't.

Play the game and watch the movie without leaving your console.

The creators of DARK SOULS and GAME OF THRONES team up for...something fantastical.

CD Projekt Red airdrops Baba Yaga into E3.

JEDI KNIGHT II + UNCHARTED is a fairly winning combination.