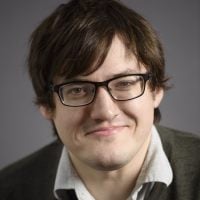 Gaming Editor
Andrew Todd
Join Date: Jan 06, 2014 • Last Entry Date: Jun 12, 2019 • Articles: 857
Andrew is a New Zealand-born writer, filmmaker, and theatre practitioner living in Montréal. He can be read at Birth.Movies.Death., SlashFilm, IGN, Polygon, and elsewhere. His favourite movie is MIRACLE MILE, his favourite band is the Manic Street Preachers, and his favourite commenters are the ones who read the article first.
Possibly the most insane episode of this show yet. But there's plenty of competition.

"The Fuckbox" is one of the less weird things in Claire Denis' English-language debut.

Is this DISCOVERY's most controversial plot twist yet?

"[We've] always tried to make the world a better place," says company partnering with Goldman Sachs.

Layin' cable with Jesse & Alex.

An episode about life, death, time, love, and sex.

Wherein the characters are as alien as the aliens.

Lt.Cmdr Airiam gets her first - and probably last - featured appearance.

The newest STAR TREK episode is a direct sequel to the oldest.

Ubisoft turns in an interesting sequel with the same old gameplay.

The search for Spock ends, as new searches begin.