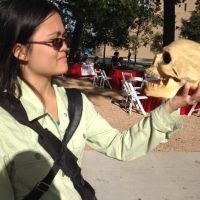 Caroline Cao
Join Date: Nov 30, 2016 • Last Entry Date: May 03, 2019 • Articles: 28
Caroline Cao is a Houstonian Earthling surviving under the fickle weather of Texas. When she's not angsting over her first poetry manuscript or a screenplay about space samurai, she's doing cheesy improv performances for BETA Theater, experimenting with ramen noodles, doing YouTube reviews of books, or hollering vocal flash fics on Instagram. Her aspirations in life include: becoming the next Margaret Atwood, mastering geekspeak, finishing everything on Netflix, completing Star Wars fanfiction, and mugging people with tickets to "Hamilton."
A magnificent cast keeps Sam Gold's befuddling KING LEAR in motion.

The latest Disney Broadway adaptation is entertaining while short of enchantment.

Words and lyrics can't fully explain the spell of this Tony Award Best Musical of 2018.

Matthew Broderick and Géza Röhrig slaughter and bury a pig for a decomposition experiment.

Broadway reinvigorates Tina Fey's classic teen comedy at the August Wilson Theatre.

How the adaptation of Kevin Kwan's breakout novel accentuated the cultural conflict in the pages.

Cartoon Saloon's THE BREADWINNER should win the Oscar for Best Animated Feature Film of 2017.

After a hiatus lasting over a decade, SAMURAI JACK attains closure.

The past catches up in Isao Takahata's underappreciated ONLY YESTERDAY.

The new BEAUTY AND THE BEAST takes a stab at being real.